Metal Tiles Modern Curve Adding Contemporary Flair to Interior Design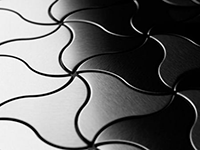 black tiles, steel tile mosaic
floor decoration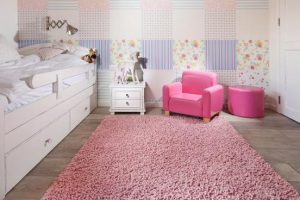 Wall and floor tiles are practical and attractive modern decorating ideas for kitchens and bathrooms. Walls and floors are large surfaces, and their design style, color and texture are very important for creating stylish look of your living spaces. No wonder interior designers are focusing on tiles for floor and wall decorating, including stylish stainless steel tiles that add a unique flair to room.
Tiles are most popular kitchen and bathroom wall or floor decorating ideas. Interior designers offer interesting modern tile designs that are attractive choices for contemporary wall decorating. Various kitchen and bathroom wall or floor tiles, including modern metal tiles or glass mosaic tiles, are available today for functional decorating in style. Kitchen or bathroom wall and floor tiles offer unlimited choices of patterns, colors and textures.
Stainless steel tiles from contemporary designer Karim Rashid look unusual, post modern or retro, but for those, who like unique metal wall or floor tiles and metallic mosaic tiles, there are impressive metal tile designs to consider for stylish home decorating.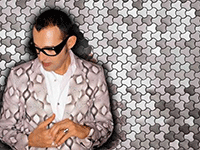 Metallic mosaic tiles
Mosaic tiles are always popular. Today you can buy glass, ceramic or steel wall and floor tiles, choosing one or a few mosaic tile patterns for your interior decorating ideas. Modern metallic mosaic tiles can be made of different metal alloys, including stainless steel, tin or copper tiles.
Modern wall wallpaper and modern curve patterns
Eco wall tile designs for modern lifestyle
Modern kitchen designs from K.Rashid
Mosaic wall and floor tiles are great for creating attractive tile patterns, and the latest computer technology made the process of designing metal tiles much faster and easier. Now computer programs take care of prepared sketches of metallic mosaic tiles for all custom made tile designs and interior decorating ideas.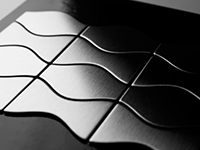 Karim Rashid came up with creative interior decorating ideas that celebrate metal alloys and traditional mosaic tiles properties. In collaboration with Australian company Alloy Design, which developed a unique contemporary stainless steel tiles design technology, he created a collection of stainless steel tiles for modern kitchen and bathroom decorating.
8 contemporary stainless steel tile designs show a modern soft curve on a metal edge. Stylish and attractive stainless steel tiles in curvy shapes are perfect for extravagant, hi-tech or futuristic interior decorating ideas. Even a very small bathroom after remodeling and decorating with metal tiles will look stylish and elegant. Metal wall tiles and mosaic patterns on the wall or on the floor transform living spaces bringing a contemporary flair into interior design. Black stainless steel tiles offer bold decorating ideas for contemporary homes.
Stainless steel tiles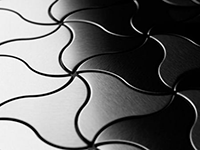 Metal wall tiles can be custom made of stainless steel, copper, brass, titanium, tin or raw steel that is not protected from corrosion. Each of mosaic tile patterns by K. Rashid has its unique name: Flux, Infinite, Karma, Kismet, Karma & Kismet, Ninja, Kink, and Ubiquity. The price is $5 for each tile.
The modern curve of steel tiles designs adds a unique flavor to contemporary interior decorating ideas. Black metal wall tiles are great not only for kitchen and bathroom walls. Stainless steel tiles look exciting in every room.
Black metal wall tiles are strong enough for modern floor decorating also. Functional stainless steel tiles with an attractive modern curve pattern can be installed anywhere in the house, including the entry, bathroom, kitchen, living room and outdoor patio. Stainless steel tiles are very durable and practical, and that makes the selection of wall and floor tiles for home interior redesign and decorating easier.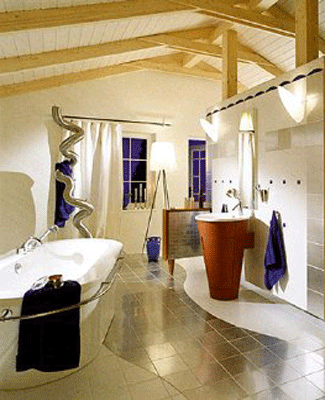 Modern ideas for interior decorating
Decorating interior in sky-blue for spacious look
Kids room decor with playful shadows
Interior design of the year: ideal women car
Modern metal tiles for interior design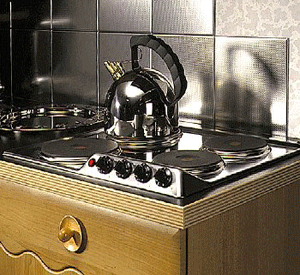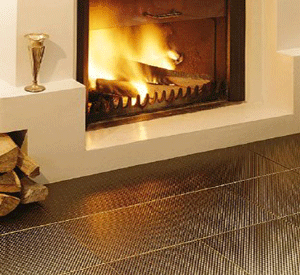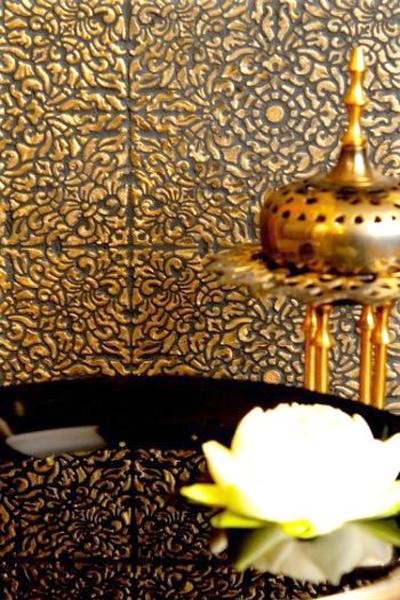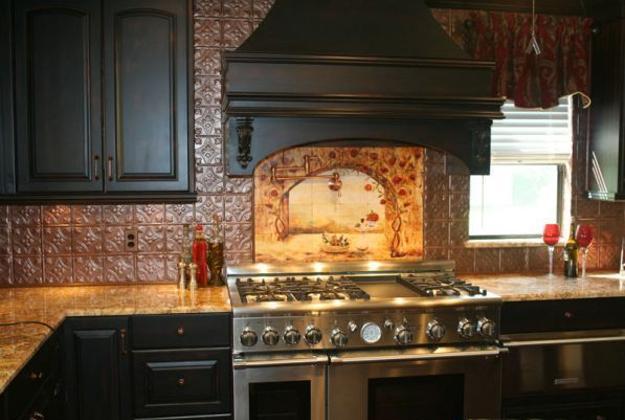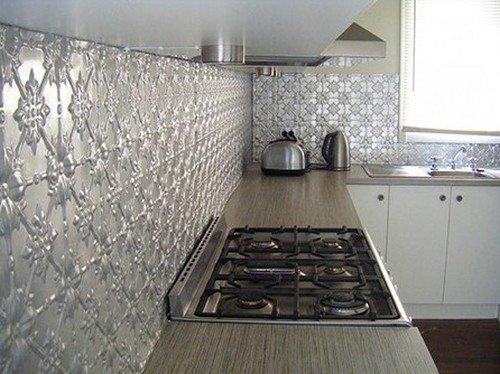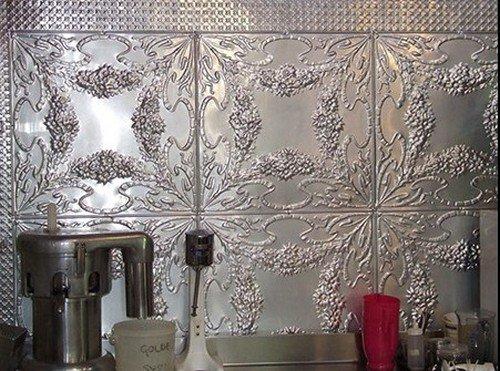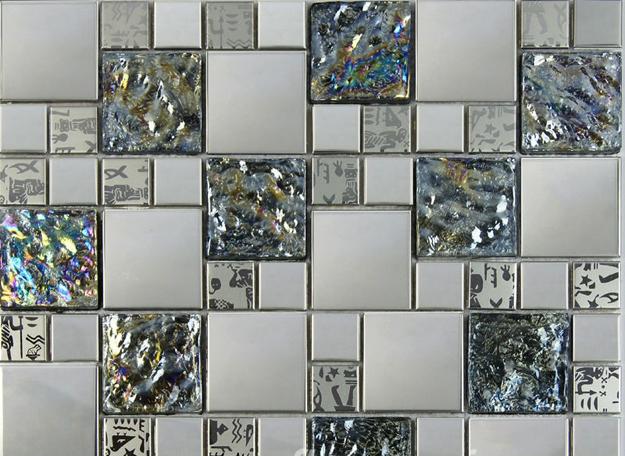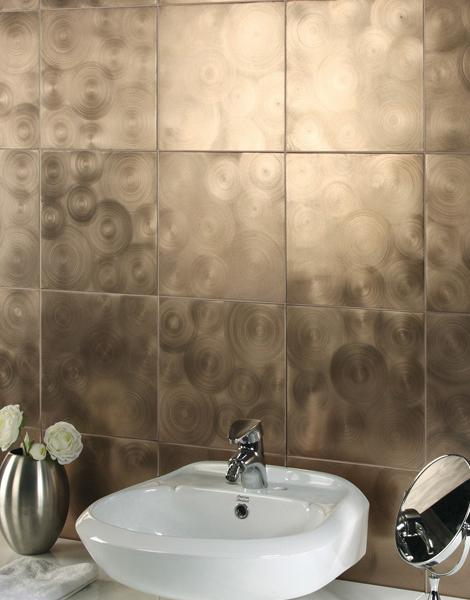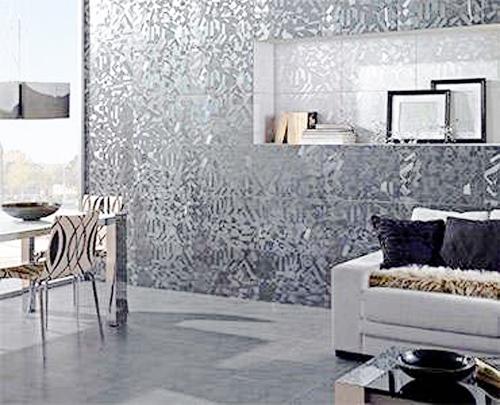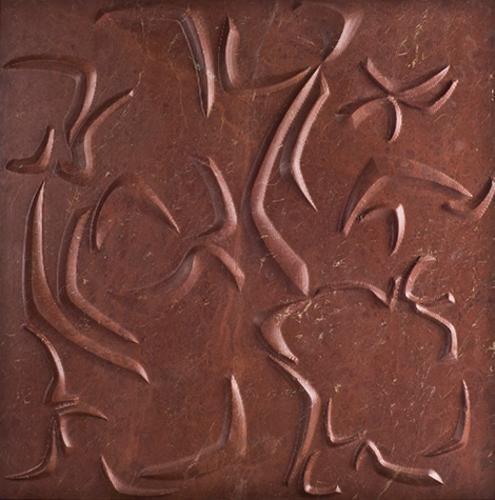 More from modern interiors

Bright home interiors and amazing views of the ocean make this beach house a dream place. Large windows, light, neutral room...
and enjoy free articles sent to your inbox