Bath Accessories and Room Heaters for Luxury Decorating and Home Staging

Bathroom Ideas

Decorating Ideas

Lights Appliances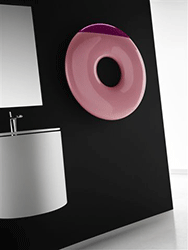 Towel ring, bathroom heaters
bathroom decorating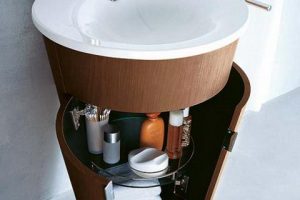 Bath accessories and modern small appliances, electrical towel warmers and bathroom heaters slowly became the necessities. An ordinary towel rail for drying towels on the bathroom wall does not look convenient, attractive or comfortable enough for modern bathroom decorating and design.
People want to experience pleasantly warm towels, getting used to a modern curve and warmth of heated towel warmers that are an important part of contemporary bathroom decor now. Modern bathroom heater or heated towel rail designs add more luxurious accents and interest to bathrooms.
Bathroom heater and towel warmers
Modern bathroom decorating includes attractive towel warmers or bathroom heater designs, that allow  to set up the rooms temperature, according to personal comfort preferences. Convenient bathroom heater and towel warmer create luxurious room decor style with decorative elements and functionality.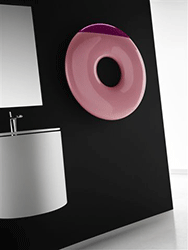 Heated towel rail is practical and stylish. It is worth to go the extra mile to add soft radiant heat of an elegant wooden towel warmer to contemporary bathroom decor.
Stylish towel warmers and designer radiators talk about bathroom decorating luxury like nothing else.
Modern bathroom accessories
Every year designers develop exciting and functional bathroom accessories to create pleasant and comfortable bathroom decor.
Stylish shelves for small bathroom accessories beautifully decorate walls. Space savers help organize bathroom items and make life easier.
Elegant stainless steel or glass bath accessories add light accents, bringing beauty and comfort to modern bathroom decorating style.
Interesting heated towel warmers and bathroom heater designs look great with stainless steel or glass bath accessories, creating light and warm atmosphere to enjoy.
Today small home appliances are not only functional items, but elegant decorative accessories, which add stylish black, white and red color accents to bathrooms and dramatically change their look.
Unique towel warmers for modern bathroom decor
Made of wood bathroom heater
There are many stainless steel heated towel warmers and contemporary wood bathroom heaters on the market.
Designers regularly introduce new bathroom decorating ideas and accessories, interesting bathroom heater models and electric towel rails that help create pleasant and comfortable bathroom interiors for modern lifestyle.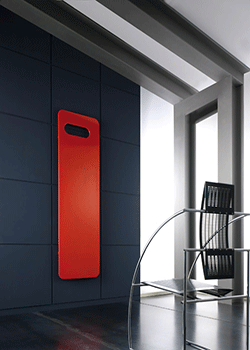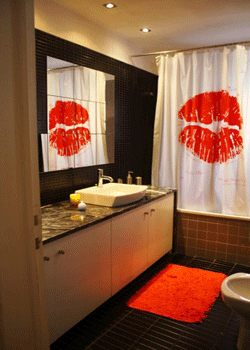 No simple pipe designs on walls any more. Modern heated towel warmers can look like a circle or a bagel. Exciting bathroom heater designs, inspired by human silhouettes or stylish geometric shapes, bring white, brown, black and red colors and cheerful accents to modern interior decorating.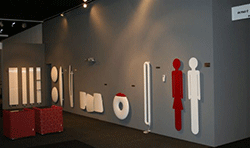 Shiny stainless steel or dark wood towel warmers, elegant white and black, or warm brown and red bath accessories look great, adding comfort and style to bathroom decorating.
New electric towel warmers are so interesting, that can inspire people to start bathroom remodeling or redesign projects to create more space and make bathroom interior lighter and more functional with luxury bath accessories and stylish new fixtures.
Unique electric towel warmer
Various electric towel warmers, from minimalist designer radiators to traditional stainless steel or wooden bathroom heater, are presented in Aeron collection.
Wall mounted  electric towel radiators and free standing heated towel warmers, small towel rails and large electric heaters are available in various colors and finishes. The collection of retro style cast iron radiators includes stylish free standing towel warmers and attractive heated towel rails.
Bench-shaped room heater, designer radiators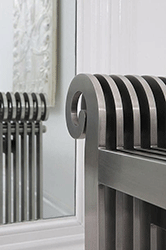 The latest design, the electric bathroom heater that looks like a bench, is perfect for entryways, kitchens or kids room decorating. These radiators are the benches and towel warmers at the same time. Because people enjoy seating on warm rocks and sand, Aeron designers decided to offer them to sit more comfortably on the warm bench at home. That's how Grandeur radiator and towel warmer was born.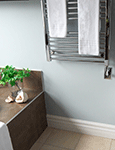 Modern bathroom decorating and home staging tips
Luxury bath accessories, fixtures and stylish small home appliances are important elements of modern bathroom decor that creates enjoyable and inviting atmosphere. Attractive designs, relaxing bathroom decorating and stylish color accents help create beautiful homes and present a comfortable lifestyle to potential buyers.
Feng Shui home, bathroom decorating
Home staging game Clutter Hunt
Modern bathroom decor, top 10 trends
Home staging creates spotlessly clean, airy, organized and thoughtfully decorated modern bathroom interior, helping prospective buyers to fall in love with a property and buy it right away.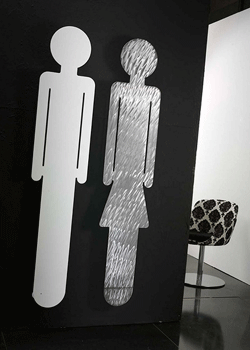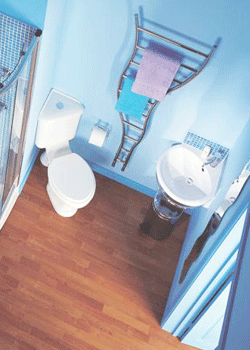 More from interior design

Bright home interiors and amazing views of the ocean make this beach house a dream place. Large windows, light, neutral room...
and enjoy free articles sent to your inbox