Fabulous Kids Treehouse Design Beautifully Integrated into Backyard Landscaping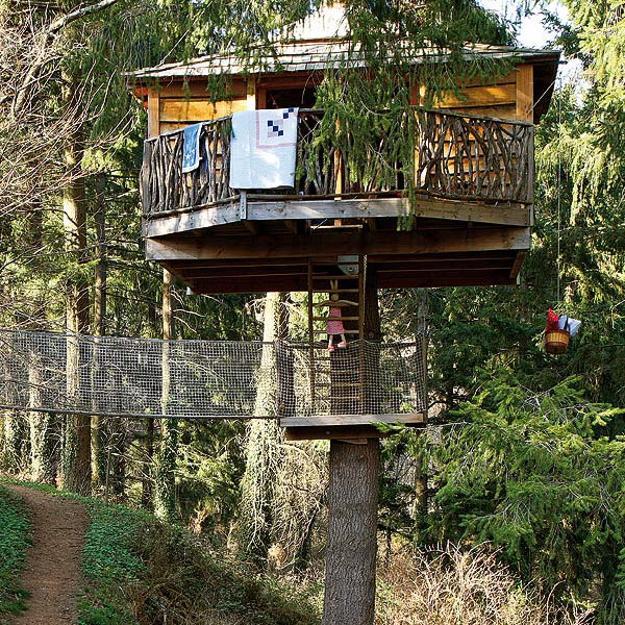 Treehouse design with terrace and rope bridge
kids playroom ideas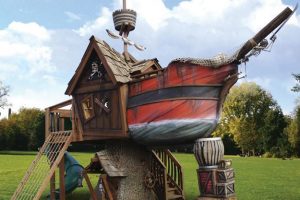 This playhouse design harmoniously blends with landscaping by a rope bridge and offers a charming kids' tree house to enjoy summer. Creative and very attractive, the treehouse features a square-shaped roofed space and an open terrace. Fantastic for play and rest, this treehouse, designed for a little girl, adds fun to outdoor summer activities and personalize landscaping ideas.
The tiny treehouse creates a unique world that feels like a home away from home, offering an intimate and beautiful room for kids. Perfect to build on a mature tree, this playhouse adds a spectacular detail to landscaping and creates a unique opportunity for kids to have their own house. Building a tiny treehouse for kids in your garden is an excellent idea if you enjoy the property with large trees. Treehouses look fantastic and make kids happy to play in the air. This unique tree-house design looks like a nest, safe and inviting, with easy access even for very young kids.
The treehouse design and interior decorating create a beautiful space for a girl, but you can quickly change decorative accents and design an excellent treehouse for a boy. Get inspired to add a small but creative and charming tree house design with a rope bridge to your backyard landscaping if you have large trees and a sloping hill on your site. The treehouse is an excellent way to beautify your property and make your kids happy and proud of their home.
Two-floor kids treehouse design, inspiring DIY backyard ideas
Castle-like treehouse design with charming vintage decor
DIY treehouse design idea allowing to watch nesting birds
Kids treehouse design and interior decorating ideas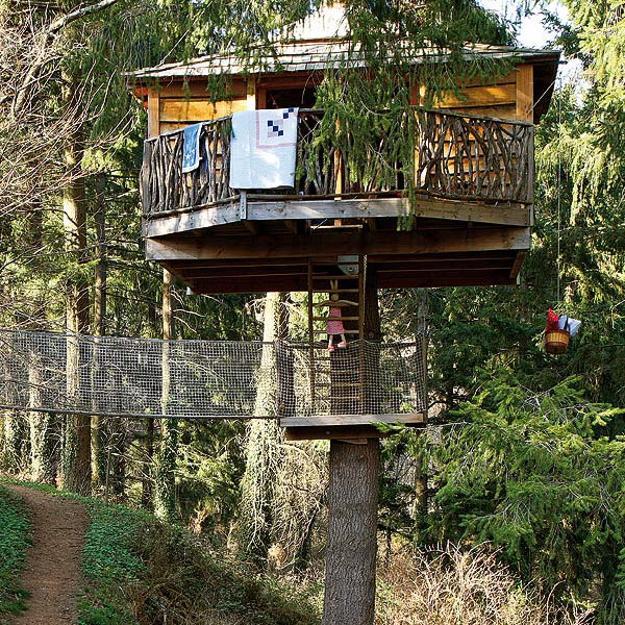 The tree trunk should be thick and healthy to hold the load and provide a safe base for your treehouse design. Treehouse design around a tree trunk adds lovely tree bark texture to the interior. Children love having tree trunks inside their rooms, feeling like playing in a giant nest on the tree.
Suspended treehouse-cabin offering a unique dining experience with gorgeous views
Treehouse design ideas to fill backyards with fun
Check out these inspiring treehouse design, building, and decorating ideas. They are easy to implement, versatile, and suitable for all kids, even preschoolers. The nest-like treehouse is cozy and beautiful, and the wooden structure elevated above the ground is high enough to feel in the air while providing a safe and robust design.
The suspended terrace with a safe railing made of thin logs and twigs adds character to this treehouse design. It personalizes the playhouse and surrounding landscaping, stretching kids' rooms in the main house to outdoors and blending interiors with nature. A wooden sliding door can be left open, creating an even bigger space to play, or it can be closed on cooler or rainy days, providing a dry and cozy nest-like room under the roof.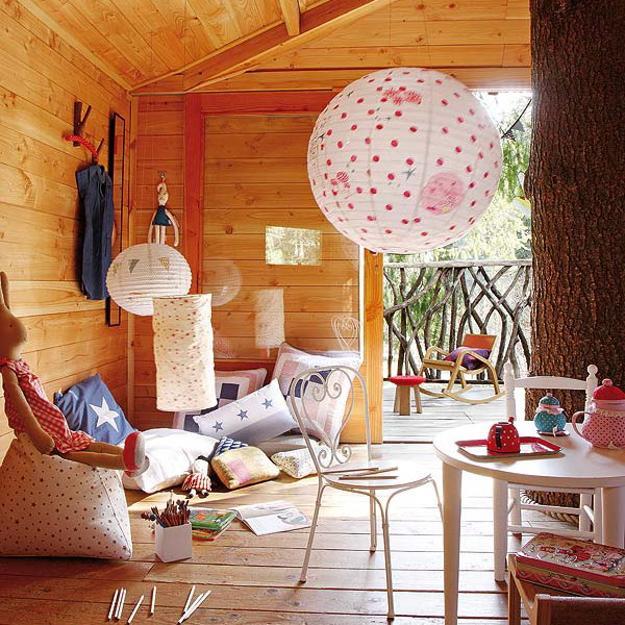 A small window invites natural light and keeps the treehouse interior bright. There is a small built-in table in the corner, offering an excellent place to enjoy art and craft projects. Home furnishings are light, colorful, and charming, perfect for summer decorating. Bright colors and contrasting color scheme looks cheerful and very attractive. Natural wood colors feel cozy and comfortable, combined with white furniture and decor accessories.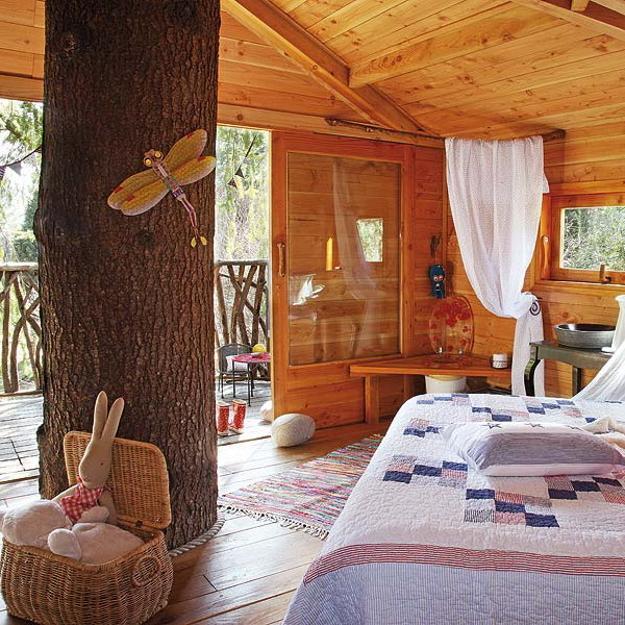 A small metal-frame bed with a canopy made of sheer fabric offers a romantic place for rest while protecting a child from bugs. The white bed canopy and window curtain fabric add charm and an airy feel to interior decorating. Gorgeous brown colors and white furniture create a warm and light interior design, spiced up with colorful accents ideal for summer decorating. Colorful toys, butterflies, dragonflies, beetles, birds, birdhouses, and decorative pillows add charming details and enrich treehouse interior design with summer decorating accents.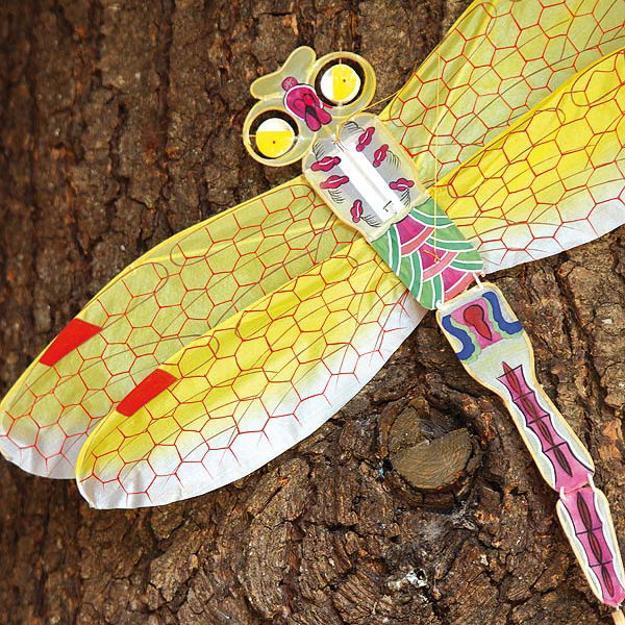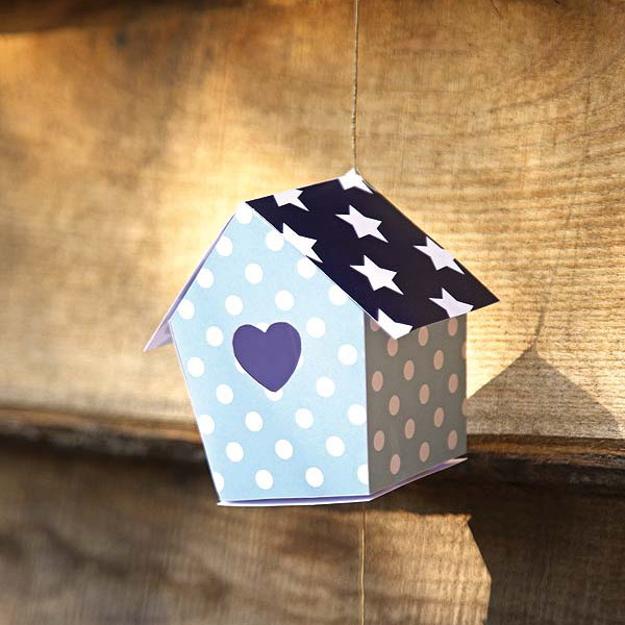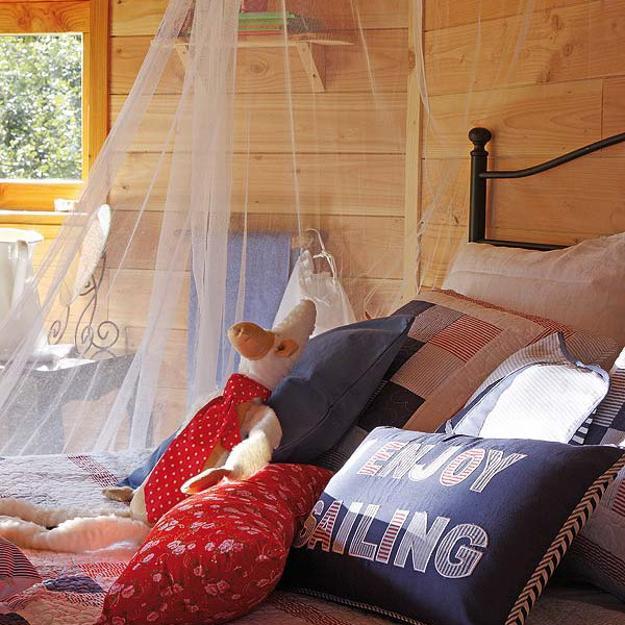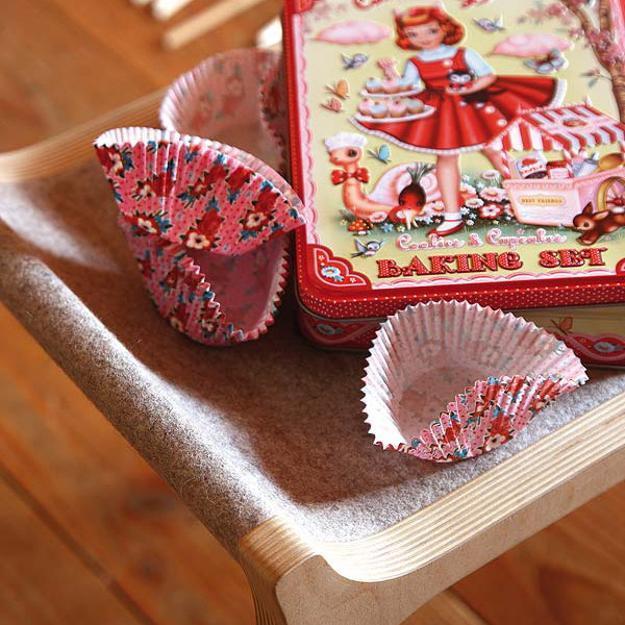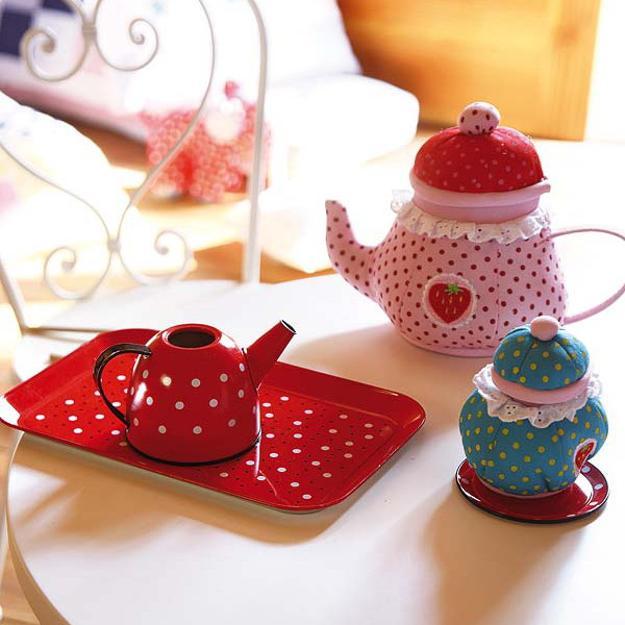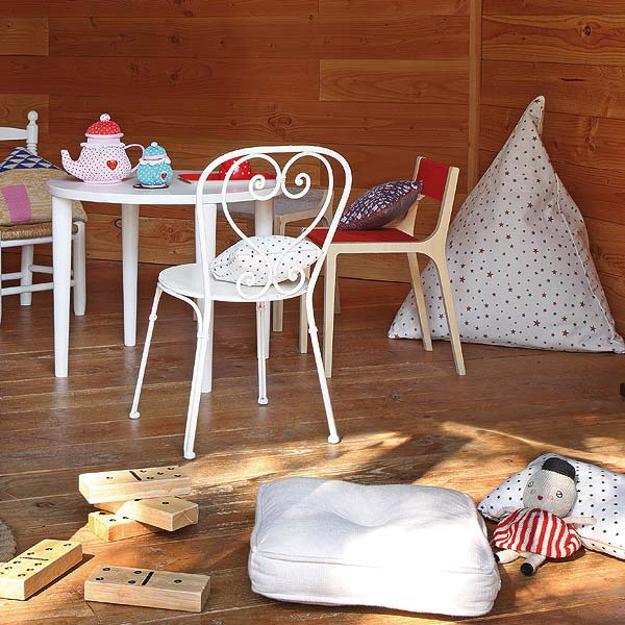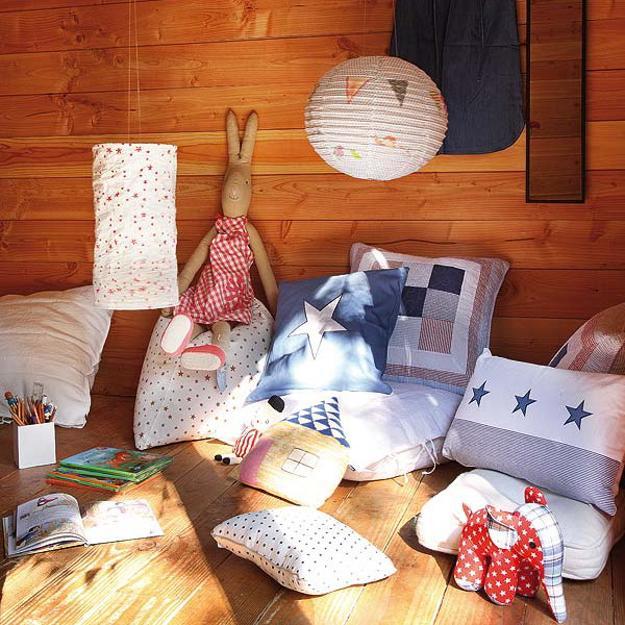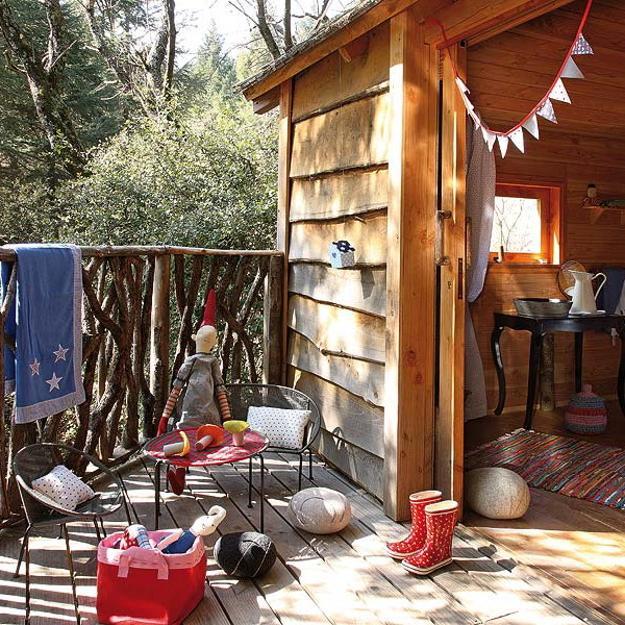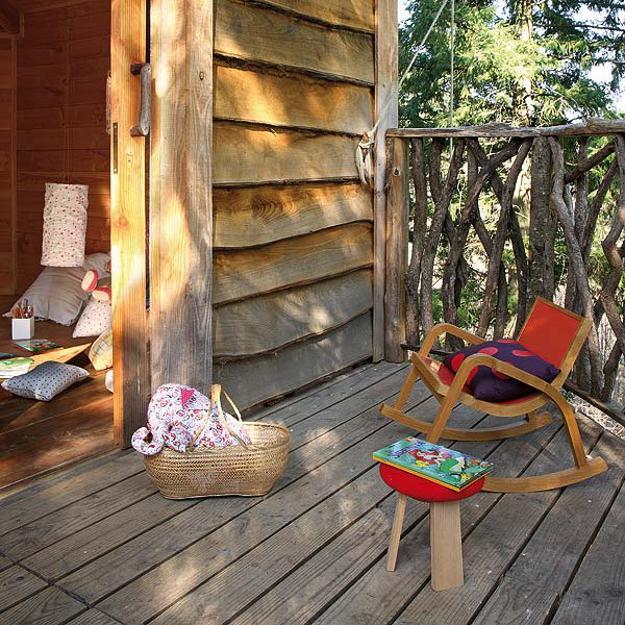 Modern house design in Japanese style celebrates the functionality and elegance of minimalism. Airy, bright rooms look inviting and comfortable. Natural...
and enjoy free articles sent to your inbox