Interior Decorating with Sky Blue Color for Spacious Look and Airy Feel

Bedroom Designs

Blue Room

Living Room

color schemes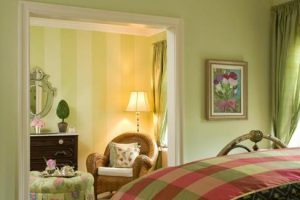 Are you thinking about sky blue color, decor accessories or light blue paint? If so, you are doing the right thing. Light blue is the color of stylish light interior design and decorating, the color that creates attractive and spacious look, visually increasing rooms size. Dulux, English Institute of Color Trends named the main interior decorating color for 2010 and provided a nutshell description of the exact light blue color for modern and airy room decorating.
Sky blue color was suggested by the incredible International Team of color experts as the result of their ongoing worldwide Color Trends research and forecasting.  Interior Design & Color Team analyzes a lot of colors and the information that is coming from many sources, including interior design research groups, color marketing, trade and retail exhibitions.
Interior colors selection is influenced by various design concepts and modern decorating ideas from the world of fashion, popular culture, technology, architecture, music and nature. This results in a contemporary interior design color schemes that are driven by society's changing moods and interests. Light blue home decor color represented the accumulation of energy and creativity.
Sky blue hue, modern interior design color
Red-blue-white color schemes, dining room decorating
White-blue-brown colors for bedroom decorating ideas
Light blue color in interior design
Does light blue color look good in every room in the house? Yes, go blue, light blue paint colors and furnishings create modern, airy and pleasant interior design. Light blue is a clean color, sky blue paint and home decorating accessories work well for all rooms and interior design styles. Bedroom decorating ideas with sky blue wall painting or a classic plaid pattern in the kitchen look gorgeous.
Playful blue polka dot living room decorating cushions or blue laundry room decor feel light and relaxing. White-blue wall painting and modern decor accessories create inviting bathroom designs with floral or polka dot patterns, abstract or stylish stripes on white and blue curtains.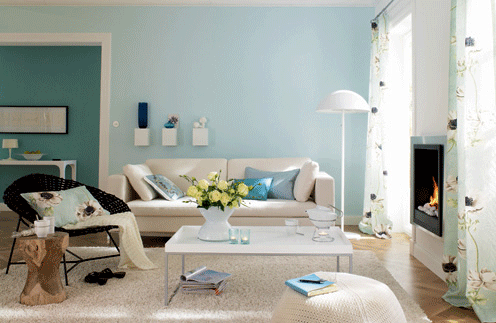 Light blue color schemes for modern room decorating
Paint colors for home staging to create spacious interior design
Light blue color is never boring. Light blue paint colors are favorite of both genders. Turquoise colors are excellent for kids room decorating ideas. Pink-blue and turquoise-blue color schemes are great for baby room decor. Color psychology specialists use light blue paint colors for cooling and soothing treatment. Light blue paint, interior design ideas and room decorating accents help fight stress and insomnia.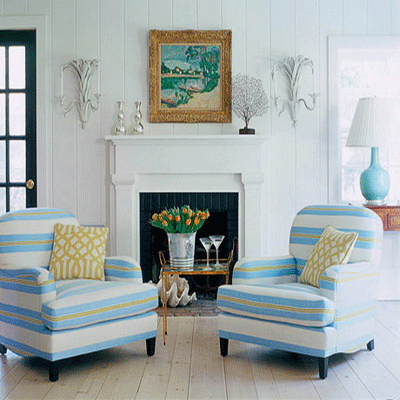 Sky blue curtain or wall paint offer peaceful bedroom decorating ideas. Light purple-blue or white -blue curtain, wall decor or bedding color schemes help people relax and feel more spiritual.
Blue room decorating ideas inspire creativity. Pale blue color schemes, home decor accents, wallpaper, wall painting design that includes blue matching interior design colors, create fresh and airy interiors. The choice of color intensity depends on what kind of energy you want to bring with colors.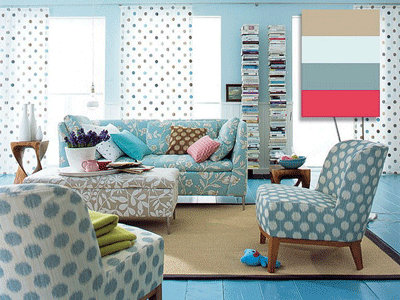 Red-blue, blue-black and blue-yellow color schemes are wonderful for recreation areas. Blue-gray or blue-green color palettes can be used for family and living room decorating ideas, when you want to create relaxing and peaceful atmosphere.
Kids room decorating ideas, creative wall designs
Light blue paint colors improve productivity. Blue-orange or blue-gold color schemes work well for for kids rooms and library interior design.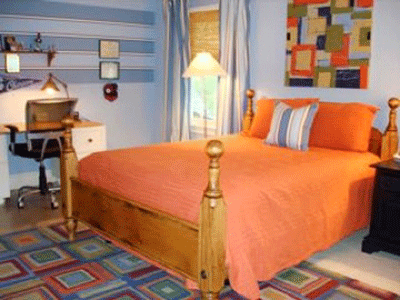 Blue tones are associated with creativity. Light blue room decorating ideas are recommended for home office and craft room interior design. Ideal color schemes for home office decorating include yellow-blue or light purple-blue decor accessories to stimulate mind.
Brown-yellow room decorating accessories add beautiful accents to sky blue wall paint or wallpaper. Modern interior design ideas and color schemes, that unites yellow-blue paint or wallpaper with orange room decorating details, increases concentration and improves personal organization.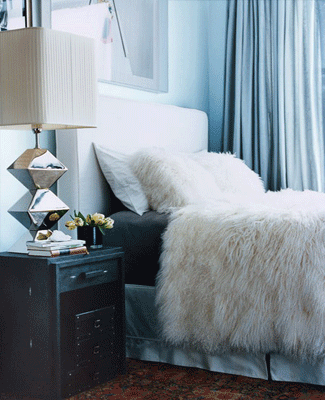 Interior decorating ideas
Blue gift of roses with personal notes on the petals
Feng Shui home, bathroom and bedroom decorating secrets
Green color for decorating home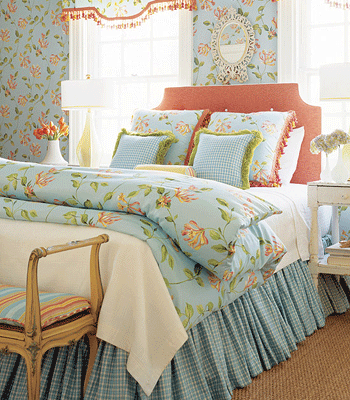 More from home decorating ideas

Bright home interiors and amazing views of the ocean make this beach house a dream place. Large windows, light, neutral room...
and enjoy free articles sent to your inbox