Interior Design with Lights that Change Room Colors like Chameleons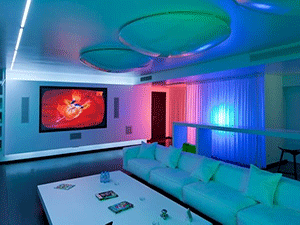 Color changing contemporary interior design ideas
lighting design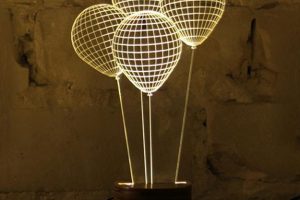 The first reaction, looking at this condo photographs, is that contemporary interior decorating ideas are painfully bright, but just wait for visual surprises and color changing lighting design… This huge apartment (the area is about 3700 sq ft or 400 sq m) is a unique interior redesign project by Budapest AAStudio in Romania. Spacious and airy contemporary interior design ideas actually redesign an old place, offered interesting interior lighting ideas, bright neutral room colors and stylish rooms with elegant home furnishings and large windows overlooking the forest.
Modern interior design and living room decorating with light created bold and impressive living space, but the most interesting home design feature is an unusual and creative lighting system that changes room colors like a chameleon. Before redesign room colors were dull. The living room design with two ordinary size windows was lacking any interest. Bedrooms decor felt dated, as well as interior decorating design in the kitchen and in the bathroom.
Now the living spaces look stylish and bright. Modern interior design ideas enhanced by new large windows, that are twice wider, turned rooms into gorgeous interiors. Enriched by breathtaking views add beautiful architectural details, interior design feel spacious and luxurious, adding chic to contemporary apartment ideas.
Contemporary interior decorating ideas with unique lighting design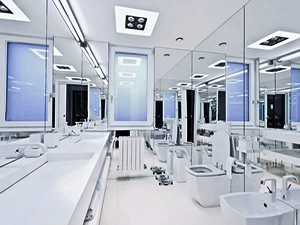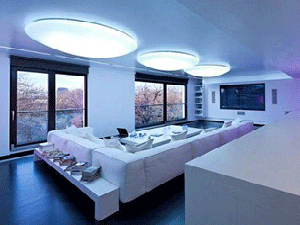 Designers from AA-Studio changed an old interior decorating style, the entire interior decorating design and room colors in the bathroom, dining room, living room and guest bathroom completely, and added contemporary master bedroom, dressing room, shower room and guest bedrooms to luxurious apartment ideas.
The fresh and bright modern room decorating ideas and contemporary interior design style created an impressive blend of creative approach to interior architecture and design with innovative lighting design and rich room colors. Color changing interior lighting creates unexpected and surprising effects, transforming home interiors like a chameleon which changes its outer skin color.
Color changing Chameleon lighting design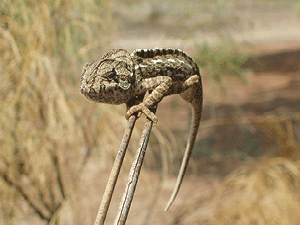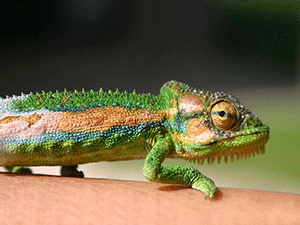 Chameleons are interesting lizards. They are distinguished by their parrot-like feet, separately mobile  eyes, very long and rapidly moving tongues, swaying gait, and the possession by many of a prehensile tail, crests or horns on their distinctively shaped heads. Some chameleons have the ability for outer skin color changing. Different chameleon species are able to change various colors and demonstrate pink, blue, red, orange, green, black, brown, light blue, yellow or turquoise colors, exactly what these unusual interior decorating and color changing lighting design do.
Some varieties of chameleons, such as the Smith's dwarf chameleon, use its color changing abilities to blend in with the surroundings, as an effective form of camouflage. Color changing is also used as an expression of the physiological condition of the lizard, and as a social indicator to other chameleons. Some research suggests that color changing is social signaling, and that camouflage is a secondary concern. Chameleons have specialized cells that lie under their transparent outer skin. The cells in the upper layer contain yellow and red color pigments. There is another layer of cells below, that contain the colorless crystalline substance guanine. They reflect the blue color of light. If the upper layer appears mainly yellow, the reflected light becomes blue color plus yellow color, which is green.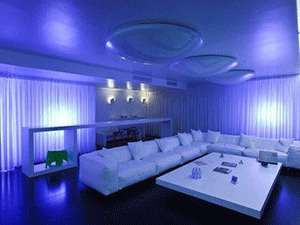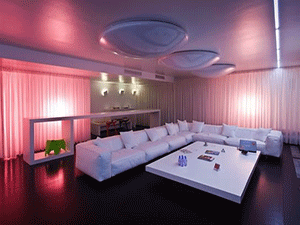 Dispersion of the pigment granules in the cell grants the intensity of the appropriate color. If the pigment is equally distributed in the cell, the whole cell has intensive color. If the pigment is located only in the center of the cell, cell appears to be transparent. All these pigment cells can rapidly relocate their pigments for color changing.
Modern color changing furniture design trend

Color changing interior design ideas
Expressing human emotions, people can change interior design colors of their environment also. The effect is called interior lighting scenography. The word Scenography is of Greek origin and coming from the words Skini meaning Stage and Grapho, meaning To write. So the actual meaning of the word is To describe something on stage.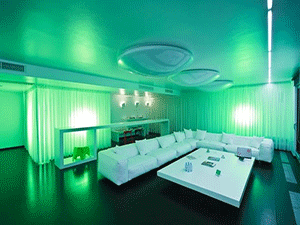 People describe their rooms, creating impressive interior design with color changing lighting. Recently the word is also used for the art of color changing in modern interior design. Color changing effects are used for enhancing contemporary interior decorating ideas and creating impressive presentations. In a way the purpose is similar to the task of home staging, that use various modern interior design ideas and bright room decorating techniques to create beautiful and stylish home interiors.
Green accent wall and color changing lighting design, contemporary apartment ideas
This unusual apartment decorating is an example of using scenography in modern interior design. Color changing lighting fixtures start the show at night, when chameleon-like lighting turns white decorating ideas into red, blue, violet, yellow or green, creating eye catching glowing in the dark design.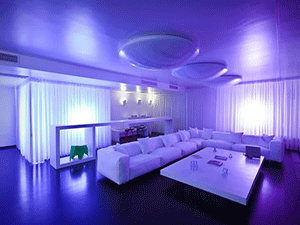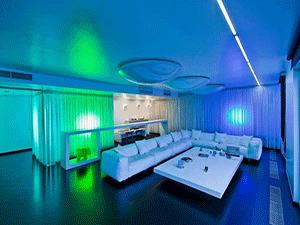 The architects and interior designers added custom-made furniture design in minimalist style. Simple shapes and straight lines create room decorating that feels contemporary and stylish. Crispy white decorating, paint colors and home furnishings add a clean and dramatic effect to apartment ideas. Contemporary furniture design, – the coffee table, shelving units and beds, look like large wooden boxes, adding stunning details to room decor and blending the functionality and style.
Magic wall mirror with color changing little bubbles
White paint colors and home furnishings, combined with simplified shapes and simple lines create an amazing effect of spaciousness in the bedroom. The bed seems floating in the air, adding a mystical touch to room decorating with color. The bedroom designs with a big TV screen TV and a bonsai plant bring an oriental flavor into interior design, and enhances the elegant functionality and spaciousness of minimalist style. Natural daylight, color changing effects and decorating with modern lamps create  bright and airy living spaces.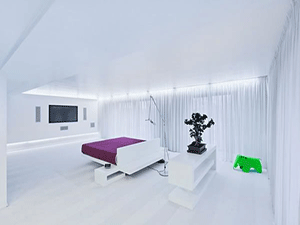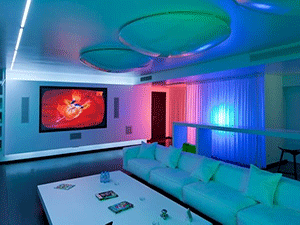 White decorating ideas, – white paint colors for the ceiling, walls and furniture, white window curtains and furniture upholstery fabrics, combined with the contemporary interior design in minimalist style create appealing home interiors that look calm and elegant. Light apartment ideas are not overloaded with home furnishings. Stylish living spaces, bright bathroom and modern kitchen design demonstrate clean and simple lines.
Modern interior design ideas
The art of interior design, the future of the furniture
Hotel experience in redesigned old planes
Interior design of the year, ideal car for busy women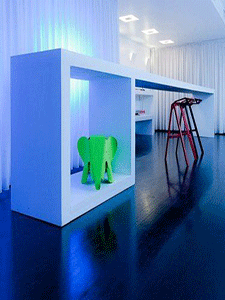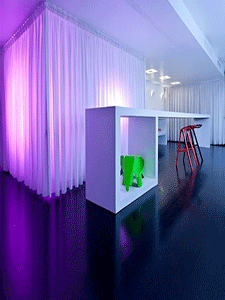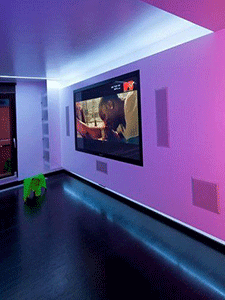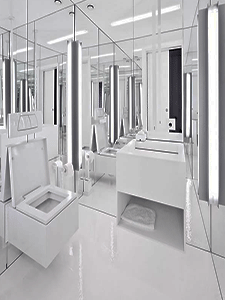 More from interior decorating

Home textiles and fabric prints are stylish ways to personalize modern interiors and give a touch of style to any room...
and enjoy free articles sent to your inbox