Changing Color Modern Furniture, Glow in the Dark Trend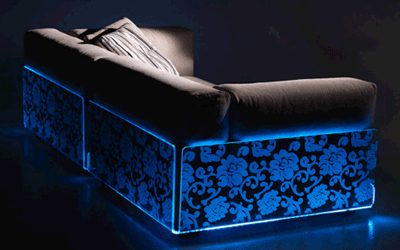 Floral upholstery fabric with blue LED lights, modern interior design ideas
living room furniture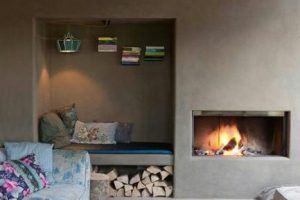 Modern furniture from Calico proves that traditional living room furniture is not a permanent element of interior design any more. Changing a color of a sectional sofa with decorative lighting offers many exciting ideas for transforming interior design and creating surprising, interesting and modern homes.
Changing a color with decorative lighting, that is integrated into modern furniture pieces, creates new opportunities for modern interior design and room decorating with various hues. It is possible to change the way your living room furniture upholstery looks and give a new look to your room. Contemporary and very decorative, the lighting, placed inside the sofa, makes it easy.
The sectional sofa Asami with modern energy saving LED lights can change the way it looks in no time, creating a new living room furniture item and adding carious hues to interior design color schemes. Lighting design is great for special occasions and romantic evenings, changing color mood and creating surprising living room design.
Color changing living room sofa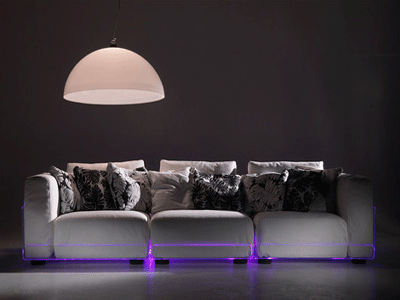 This modern furniture design with decorative lighting creates the color changing effect with hundreds small, energy saving LED lights, that are built into the sofa frame. Using the remote control you can explore various interior design ideas, changing a color of the sectional sofa pieces and creating a spectacular living room.
The atmosphere in the room with decorative lighting can differ dramatically. Changing a color of modern furniture and controlling the brightness of LED lights allow to achieve any desired mood in the room, offering innovative, interesting and playful interior decorating ideas for days and evenings.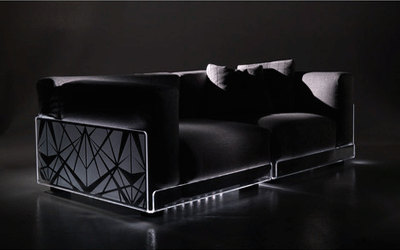 During the day the contemporary sectional sofa looks striking and elegant. This modern living room furniture item impresses with its elegant frame and stylish floral or geometric fabric patterns that cover the decorative lighting.
Bathroom decorating with beautiful bathtub and LED lights
Creative home lighting design for visual comfort
Modern interior design ideas can be enhanced by living room furniture design trends that bring LED lights into living spaces while creating a festive atmosphere and offering delights of colorful and unusual contemporary interior decorating.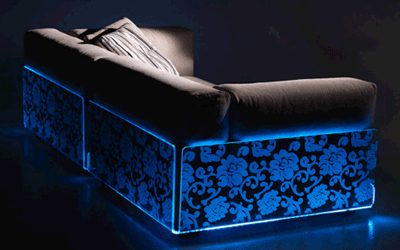 The sofa with energy saving LED lights is a gorgeous piece of living room furniture for creating unique, luxurious and comfortable interior design. This glowing in the dark sofa can have flo0ral or geometric fabric, which adds personality to modern furniture item and brings a modern decoration pattern into room design.
Modern eco style and wall tile designs with LED lights
Cappuccino kitchen lighting design
Rain curtain, home decor accents
Decorative LED lights help to stretch holidays with a festive atmosphere and improve the flexibility of living room design. Color changing ideas turn the living room sofa into a spectacular and stylish accent that delights and amuse.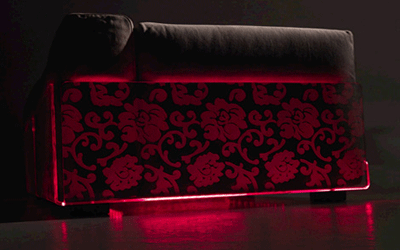 Decorative lighting design, integrated into modern furniture, is a reflection of one of novel contemporary trends. Changing a color and its brightness is an interesting interior design idea that turns simple living rooms into favorite places to spend time with a family. Glowing in the dark, modern and unique sofa with LED lights looks inviting, always fresh and surprising.
Interior design with lights that change room colors like chameleons
Modern decorating with custom made eco lamps
Yin and Yang bathroom tub for two, color changing design idea
This unique and innovative furniture piece is perfect for modern interior design. It adds beauty and charm to living spaces and create cheerful mood.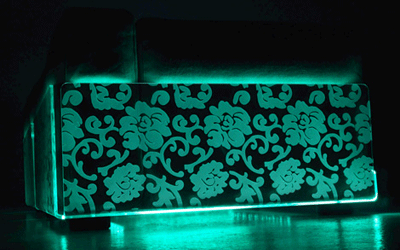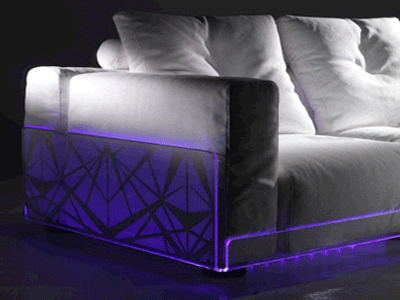 Christmas color schemes can blend traditional and fresh hues and give a stylish twist to your holiday decor. Whether you decide...
and enjoy free articles sent to your inbox