Feng Shui Color for Home Design, Color Meanings
---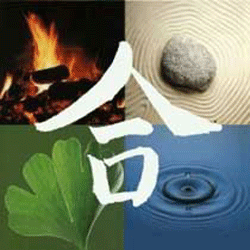 Five elements to Feng Shui home design
It is easy to shift your room energy and create balanced living spaces with good Feng Shui decorating choices and color design. Each Feng Shui color has meanings and corresponds to a specific area in your home.
The easiest way to shift your home energy is using Feng Shui color. It is important to select a good Feng Shui color for home design that helps create harmonious and relaxing living space. Each Feng Shui color has meanings, adds symbolism and beautiful decorative accents to home interiors.
If you practice Feng Shui and believe in Feng Shui principles, follow Feng Shui tips for color design. Pay attention to details. It is not possible to Feng-Shui home interior, if just one of many Feng Shui home design elements are thought about. The approach to home decorating, including color design choices, should be systematic.
Feng Shui colors express Feng Shui elements, – Water, Wood, Earth, Metal and Fire. (Chinese Feng Shui home colors and symbols) Each of these elements are applied to specific areas on Bagua, the energy map. Color design in accordance with Feng Shui energy map creates pleasant home interiors that are balanced, harmonious and inviting.
Feng Shui home design zones and symbolic elements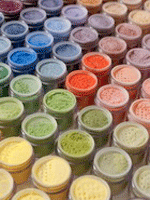 South – Fire – red, orange and pink;
South-East – Wood – green;
North – Water- blue and black;
South-West and North-East – Earth – brown, beige and yellow;
West and North-West – Metal – white, golden, silver.
Yellow tones to Feng Shui home design
Yellow is the Feng Shui color of Intellect. The third man's state, the solar state, is yellow. Yellow is the Feng Shui color of wisdom, clear mind and tolerance. No wonder the rulers of China preferred yellow and golden symbols.
Yellow color design is especially recommended to Feng Shui kitchen, dining room and home office, since yellow room paint and furnishings help with work and decision making. Yellow color design is not recommended for bedroom interior decorating. (Yellow color design, interior decorating and color psychology)
Brown in Feng Shui design
Comfortable brown is the Feng Shui color of Earth. Brown shades are the Chinese symbol of reliability, usability and consistency. Feng Shui home design experts do not use brown tones excessively. Dark brown is not good for wall painting, but it is perfect for furniture, curtains or carpets, especially to Feng Shui the bedroom or living room interiors, creating comfortable, warm and cozy decor. (Modern interior decorating with purple-brown paint and furnishings)
Yang and yin
Cool Feng Shui colors include various shades of blue, green and purple. These are yang colors, that symbolize rest, peace, relaxation and tranquility.
In classic Feng Shui warm or cold color design corresponds to different zones and energy, yin or yang energy. For example, kitchens and living rooms belong to the yin group of home interiors. Feng Shui home design experts recommend to use warm color design for rooms in the yin group, and to choose yang colors, (selecting light shades of cool Feng Shui colors,) for bathroom, office and bedroom color design. (Bedding color symbolism)
Green color to Feng Shui room
Green is the Feng Shui color of Movement. Green is the ancient symbol of a man's heart state, the symbol of nature. Green tones are perfect for yin color design also. Green shades are recommended for library, study room, bathroom and bedroom decorating. (Home decor colors, most popular blue-green hues)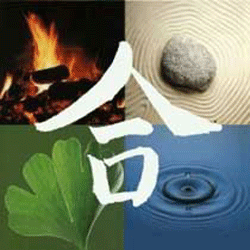 Blue color design
Blue is the color of Peace in Feng Shui. The fifth state is blue. Blue color design radiates peace, security and trust. Chinese Feng Shui home design guide recommends blue tones for bedroom and bathroom decorating. Blue color design is perfect for medical office design also. (Blue color symbolism and decorating ideas)
Purple color to Feng Shui home
Feng Shui purple is the color of Spirituality. The sixth state, the famous third eye, is colored purple. Purple is associated with intuition and meditation. This Feng Shui color is the symbol of devotion and idealism.
Purple color design is recommended not for home interior decorating, but for places of worship, classrooms and rooms for practicing traditional medicine. Purple color design is great for decorating the corner in the bedroom, which is used for meditations. (Purple color schemes for room decorating)
Metallic colors
Metallic colors, white, gold and silver interior decorating objects or design details symbolize  Entrepreneurship and Versatility, according to Feng Shui masters. You can use metallic color to design more spacious room, adding interesting, bright and light interior decorating accents.
Whites
White is the Feng Shui color of Purity. The seventh state, the crown state, is white. Europeans call all transparent objects white, but in the East white color design is not colorless.
In Eastern cultures and in Feng Shui white objects have deep meanings. Indians and Chinese mourning clothes are white, because white is the symbol of non-existence. White brings a special meaning, energy and power of Purity to Asian interior decorating style.
White is the symbol of freshness and renewal. Feng Shui home design experts suggest to add white to other room colors wisely. White color design is not ordinary. White shades have deep meanings and should be combined with different interior design colors for proper Feng Shui home decorating. (Black and white room decor)
Black and gray colors in Feng Shui
Black is the Feng Shui color of Force. It absorbs all colors. Black is the symbol of strength, knowledge and mystery. Chinese Feng Shui decorating experts suggest to use black color for home design and decorating carefully, because dark tones can become the source of  depression and bad mood.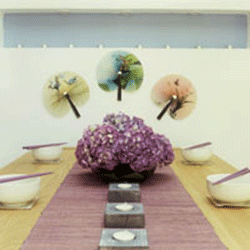 Gray is the color of Restraint. Feng Shui design teachers do not recommend a lot of gray in room color schemes. Ancient Feng Shui practitioners advised that gray color design can create an atmosphere of tension and fear. (Black and gray decor ideas for home design)
Elegant light gray is a good Feng Shui color for interior decorating ideas that help create pleasant spaces for rest, for offices and receptions, where self-restraint and quiet atmosphere are appropriate. Also pleasant shades of calming gray, combined with warm colors, create a sense of joy, excitement and romance. Feng Shui color experts recommend to combine other colors with a neutral gray color for home design, especially to Feng Shui the bedroom.
Good Feng Shui design tips:
Feng Shui color for home design, roof color
Year of Rabbit, Feng Shui color schemes
Feng Shui home with lucky rugs and floor carpets

Bright home interiors and amazing views of the ocean make this beach house a dream place. Large windows, light, neutral room...