Blue Room, Color Symbolism and Unpretentious Decorating Ideas

Blue Room

Furniture Accessories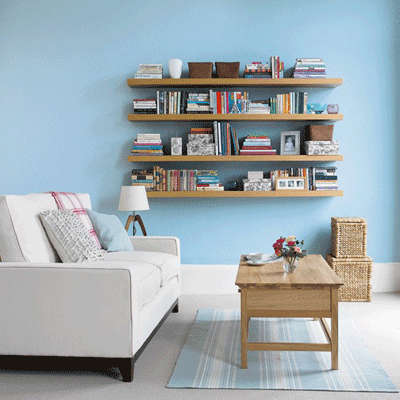 White-blue living room decorating ideas, light blue paint, wood furniture, striped rug and blue cushions
living room designs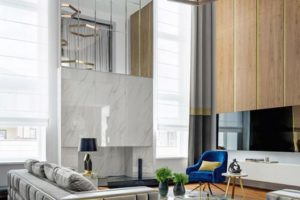 Blue room decorating ideas are peaceful and relaxing. Light blue color makes home interiors look more spacious and airy, visually increasing rooms size and adding more light to home decor. Turquoise and light blue decorating ideas feel calming, bringing freshness and harmony into modern homes and creating rejuvenating atmosphere.
Color meaning
Light blue color is the symbol of gracious waves, beautiful lagoons and cool rain. Light blue decorating ideas symbolize peace and tranquility. Sky blue color associates with renewal and purity. Light blue shades mean the endless sky, calm air and fresh water. White-blue decorating creates crystal clear spaces and offer tranquility. (7 popular decorating color combinations)
Symbolism of color
Light sky shades symbolize cold, stability, unity, trust, truth, confidence, conservatism, cleanliness and loyalty. is purification, calmness and restraint. According to ancient Feng Shui home design philosophy, sea color is the symbol of harmony and security. (Read about bedding color symbolism, bedroom decorating ideas or Feng Shui home colors)
Blue fabrics, striped cushions, living room decor, light blue room decorating ideas
In ancient China it was believed that light turquoise, black and white color combinations help treat deafness, cataracts, bleeding and insomnia. Calming light blue decorating ideas were recommended to people suffering angina or rheumatism. Those who have seasonal depressions should avoid blue color schemes, choosing bright and warm room decorating ideas. (Turquoise colors to Feng Shui the house)
Color psychology
Teal, turquoise and ultramarine backgrounds, heather-blue or burgundy-blue color schemes for room decorating help concentrate and resolve conflicts. With energetic orange or happy yellow blue decorating ideas encourage people to find creative solutions and improve home organization. Bright sea color tones with white offer relaxation and pleasure.
Unpretentious small bathroom decorating ideas, simple curtain
Light blue wall painting ideas, living room decorating ideas
Light blue decorating ideas help sleep peacefully. Indigo, sapphire, turquoise and ultramarine shades produce a sedative effect on human body, and too much blue in color schemes is not recommended for kids room design.
Blue decorating ideas for weight loss
Bluish tones are  appetite suppressants. The only room, where even light bluish hues do not work, is the dining room. Especially bluish gray color schemes are not recommended for kitchens and dining room decorating. Back to our primitive instinct we do not like bluish food, so we try to avoid blue room decorating ideas for spaces where we enjoy meals.
Blue decorating ideas, light blue wall painting, blue and white decorating
Blue and white decorating, blue and white decorating in bedroom, blue curtain and bedding
Bluish wallpaper patterns or blue flowers on the dining table suppress appetite. Blue paint colors, a blue curtain or a vase, blue tablecloths and napkins are very helpful, if you want to lose weight.
Simple blue room decorating ideas and tips
1. Light blue decorating ideas creates a sense of space in the room. Light blue wall painting and home decor color schemes make small room interior design feel larger. Choosing light blue color for the ceiling helps increase the living space even more.
White-blue living room decorating ideas, blue paint and cushions, white living room furniture and carpet, light living room decor
2. If turquoise colors or blue color schemes seem too extreme for your room decorating ideas, you can experiment with heavenly light blue curtain or a small accessory. (Turquoise colors for bathroom design)
3. Certain room decorating ideas and interior design styles are not that important, when you use turquoise colors or white and light blue color schemes. Blue room decorating accessories work well for all interior design styles.
4. Light blue room offers classic and elegant atmosphere, if blue tones are combined with white, brown, light orange, red or neutral black and white decorating colors.
White-blue living room decorating, light blue paint, wood furniture, striped rug and blue cushions, white0blue-color schemes
4. Blue color looks great in contemporary interiors also, including minimalist or hi-tech interior design styles. This wonderful room decorating color easily finds a common language not only with wooden furniture, but with glass, steel and concrete.
Blue color decorating ideas:
Decorating interior in sky-blue for spacious look
5 modern decorating color schemes
Sky blue Christmas colors for holiday decorating
White-blue bathroom, purple-blue wall painting, turquoise curtain
Living room decorating ideas, light blue curtain, white-blue color with wood

Here are great ideas for kids toys storage and wall decoration with small cars that everyone would love. DIY organizers, like...
and enjoy free articles sent to your inbox