Decorating with Purple Color, Room Color Schemes

Feng Shui Home

Interior Design Ideas

Living Room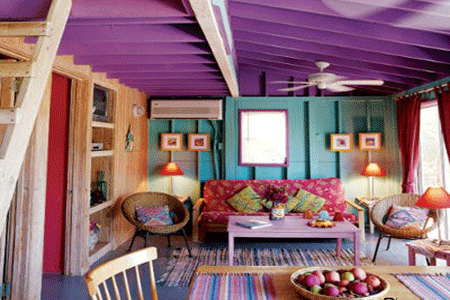 Purple decor, purple rugs stripes and ceiling purple paint, living room decorating ideas
feng shui color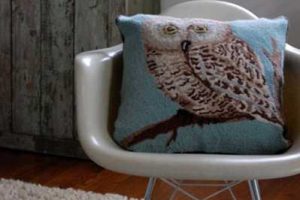 Deep purple is a powerful decorating color. Deep purple and light shades of purple symbolize kindness, love and wisdom. Deep purple decorating color schemes are the choice of leaders. Light shades of purple, inspired by beautiful purple flowers, are symbols of tender feelings and spiritual thoughts.
Stylish room color schemes with shades of purple color help balance interior decorating ideas. Deep purple color brings physical and spiritual energy. People who prefer deep purple color have creative personality, inclined to mysticism. Dark shades of purple in color schemes are great for meditation room decorating ideas. All tones of purple paint colors are good choices for solitary life room decor and spiritual reflections.
Ancient Chinese Feng Shui home decorating guide suggests to intensify the zone of wealth with a purple color scheme. Classic Feng Shui home decorating teachers believed that purple paint and purple color room decor accessories inspire and stimulates the imagination. Deep purple color or light shades of purple are good Feng Shui decorating ideas that set up the room decor for home owner's financial success in any business venture.

Purple room decorating ideas, including deep purple paint or room decor accessories in light shades of purple color, look stunning. Probably, deep purple is the only decorating color that can cause so much disagreement. People have opposing views about purple room color schemes, and especially deep purple paint colors. Usually there are no people who feel neutral about shades of purple in room decor color palette.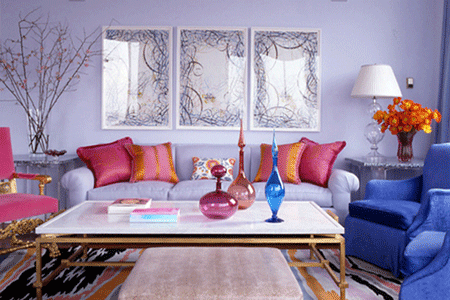 Some people love purple paint colors and include room decor accessories in all shades of purple color into their home decorating color schemes. Others do not like the color of wisdom so much, that can't live even with small room decor accessories in deep purple color, like purple rugs, curtains or cushions. (Look at red-purple modern kitchen design.)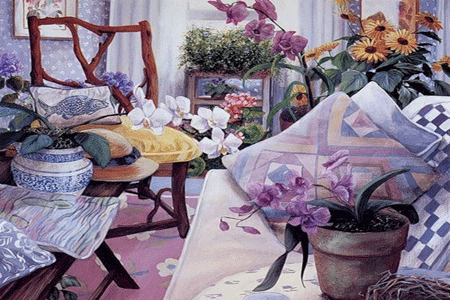 There is a psychological reason for avoiding purple color palette or including purple paint colors, furniture and accessories into room color schemes. All shades of purple influence the spiritual life of a man.
Purple decorating color schemes help get rid of deep fears. Very light or deep purple paint colors teach to draw from consciousness to powerful and creative inner force. (Look at black and white room decor.)
Decorating room color schemes, that include deep shades of purple color, radiate modesty and dignity. Light shades of purple in room color schemes bring  joy and comfort. (Look at modern decorating color schemes.)

Purple paint colors with matching room decor  accessories create very attractive decorating room color schemes. Purple color palette with warm colors makes interior decorating ideas feel balanced and harmonious. (Read about matching interior design colors and modern room color schemes.)
Purple shades and warm hues, like yellow, orange, golden or deep red are included in all modern interior decorating color schemes for fall and winter 2010-2011. Diluted purple paint colors and light purple or lilac room decor accessories  or decorating fabrics create beautiful and stylish room color schemes also. (Look at yellow decorating ideas and room color schemes.)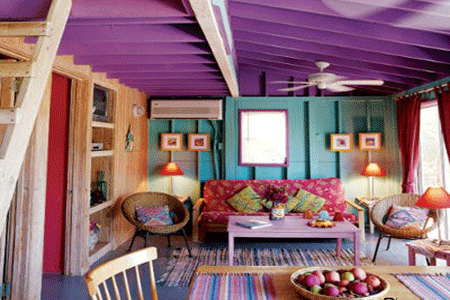 Purple paint colors, furniture and decor accessories create unique room color schemes that are between the red and blue tones. Modern purple, including lilac, brown-purple and deep red-purple shades, unite the passion of red color and fatalism of blue tones. Stylish and relaxing purple paint colors offer the harmony of contradictions, creating attractive room color schemes for modern home interior decorating.
Recommended:
7 popular decorating color combinations
Fall trends, interior decorating color schemes, flowers and light
Wall decor ideas, decorating with ordinary frames for exceptional look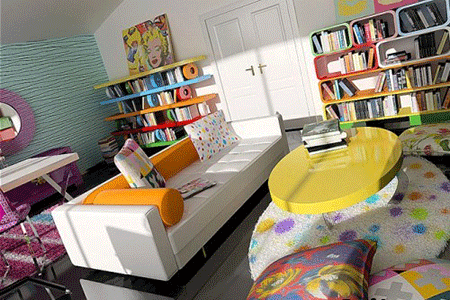 Modern house design in Japanese style celebrates the functionality and elegance of minimalism. Airy, bright rooms look inviting and comfortable. Natural...
and enjoy free articles sent to your inbox