Skylight Windows Adding Contemporary Flair to Spacious, Modern Kitchens
Interior Design Ideas

Kitchen Ideas
contemporary kitchen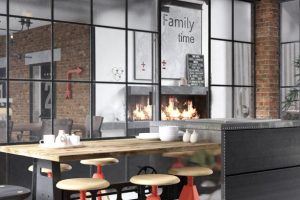 Modern skylight windows open up kitchen interiors, create comfortable, bright and stylish spaces. Inclined roof windows add a contemporary vibe to modern kitchens, emphasize gorgeous interior design ideas, and bring twice more light than ordinary wall windows. Skylights are perfect for any room design and create spectacular kitchen interiors and dining rooms. Lushome brings inspiring ideas for home renovation projects that bring more light into kitchen and dining spaces.
Ceiling windows are great architectural features and beautiful element of decor. While offering a functional and practical solution for spacious and small kitchen designs, roof windows invite natural light and add a spectacular display of night skies with stars and the moon in the evening.
Stylish modern kitchen designs benefit from ceiling windows that add character and chic to the interiors.
White kitchen designs that feature large skylights look fantastic. Light gray paint for the walls, dark gray kitchen furniture, and accessories look pleasant and comfortable with plenty of light. Colorful details and sunlight can jazz up any kitchen design. Modern kitchens with a large dining area look terrific in bright light that amplifies the beauty of colors, and create open, light, and inviting spaces.
Glass walls and big windows for no boundaries interior design
Skylight windows stretching small kitchen interiors visually
Window sills, modern design materials
Spacious kitchens with ceiling windows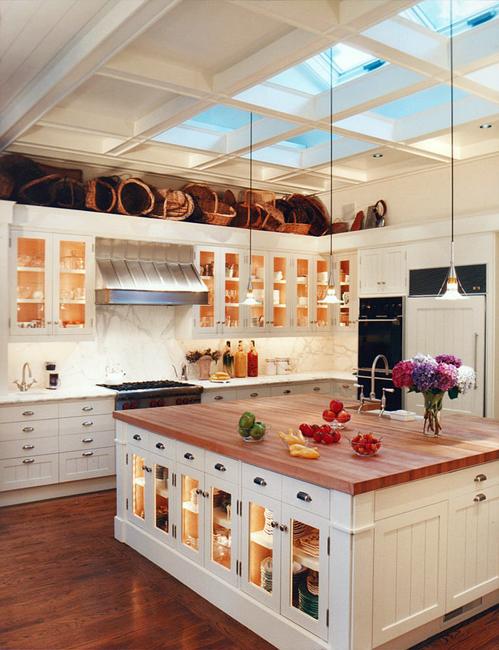 Each roof window illuminates the floor area ten times bigger than the glass size. Adding skylights is a stylish and functional way to make kitchen interiors bright and comfortable. Glass is a versatile material that works with rustic and finely finished wood, metal, and ceramic tiles. Windows are a mistake -proof design solutions for all home interiors.
1. Maintenance.
All windows require regular cleaning. Plastic windows in comparison with wooden window designs, offer practical, contemporary solutions for low maintenance interiors.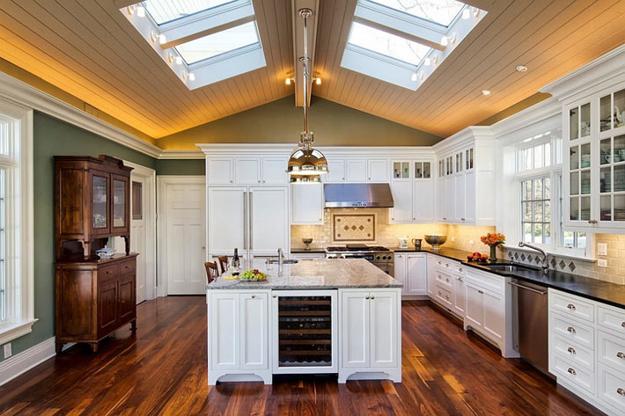 2. Open plan kitchens.
Open plan kitchens call for large windows to balance spaces and harmonize interior design. Small kitchens with dark furniture benefit from skylights changing interiors from dull to exciting and modern.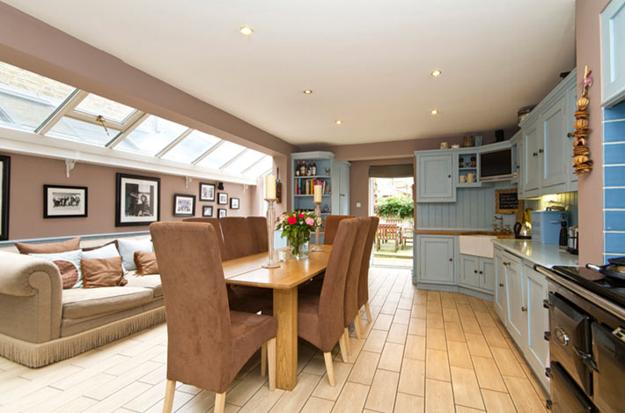 3. Accent wall designs.
Skylight designs can dramatically transform kitchen interiors with stone, concrete or exposed brick walls, loft kitchens and small spaces with inclined walls or beveled ceiling designs. Natural light brighten up dark kitchen colors, rustic textures, and highlight unique architectural features that add personality to modern kitchens with a vaulted, high ceiling.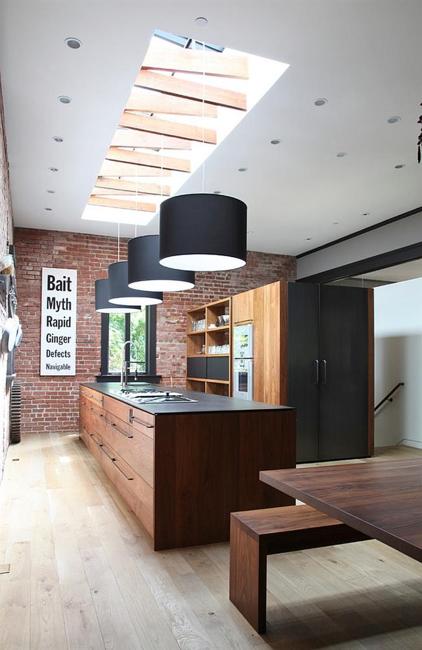 4. Exposed ceiling beams.
Skylights accentuate beautiful rustic texture and natural colors of ceiling beams, adding charming brightness to reclaimed wood designs.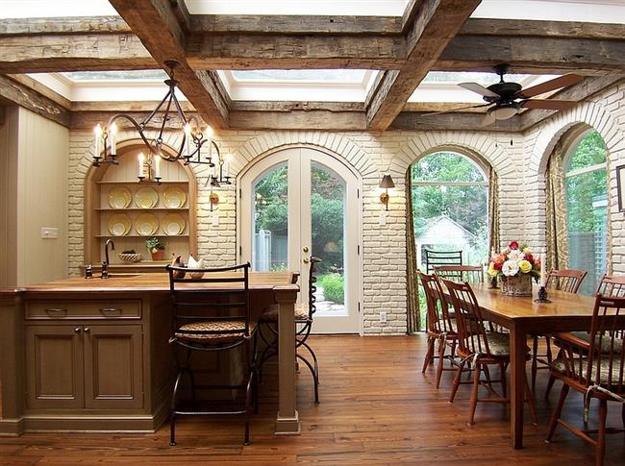 5. Lacking interest kitchen interiors.
A single skylight window can transform a dull kitchen interior taking it from boring to stylish, bright, and comfortable.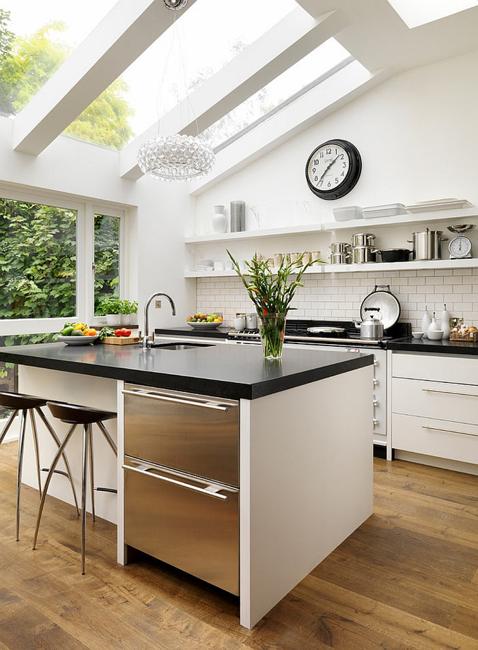 6. Panoramic views.
A few skylights create a huge change in the way a kitchen looks and feels. Inclined wall windows connect kitchen interiors with the surroundings, invite nature inside, beautify living spaces by adding gorgeous views, and stretch home interiors outdoors.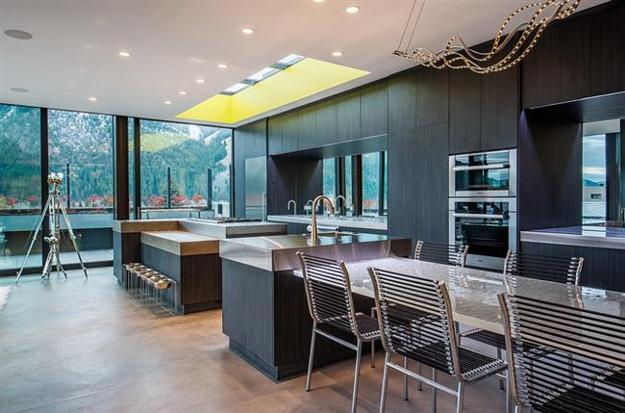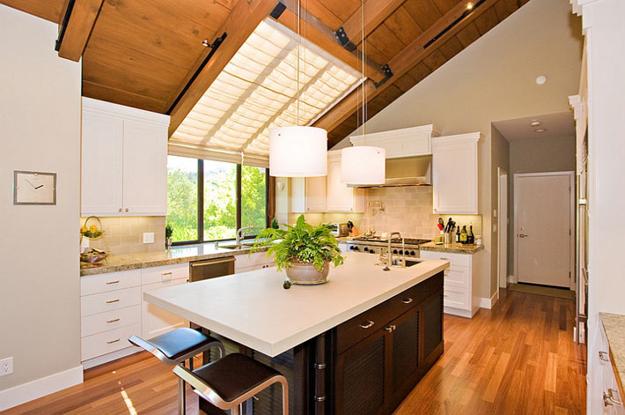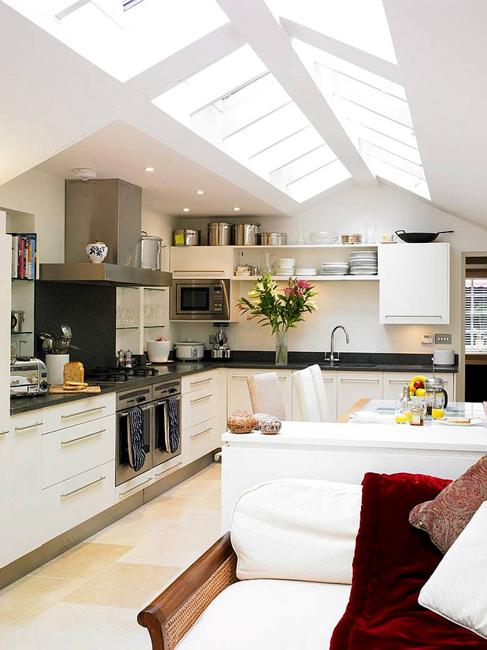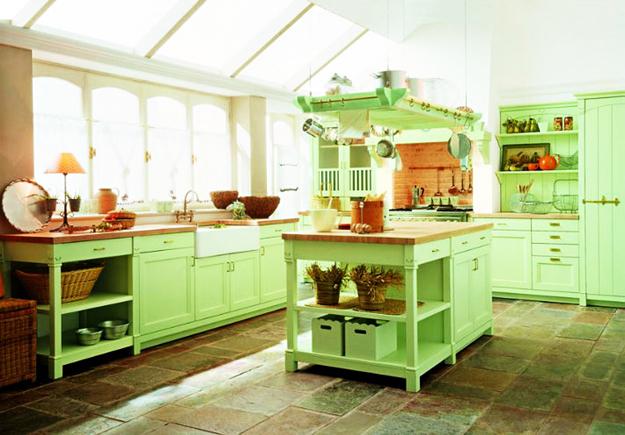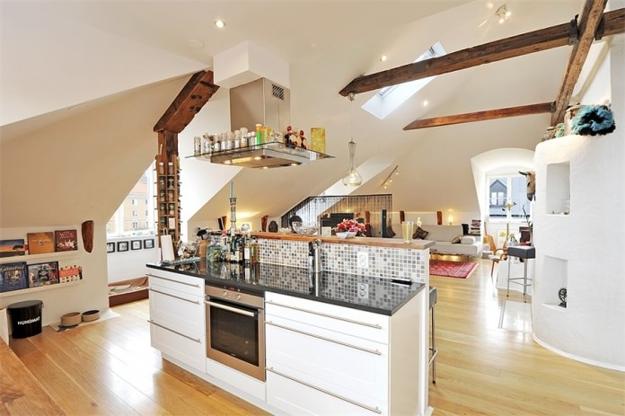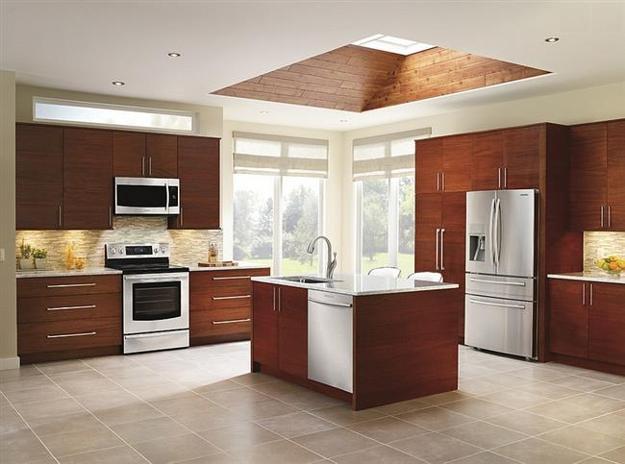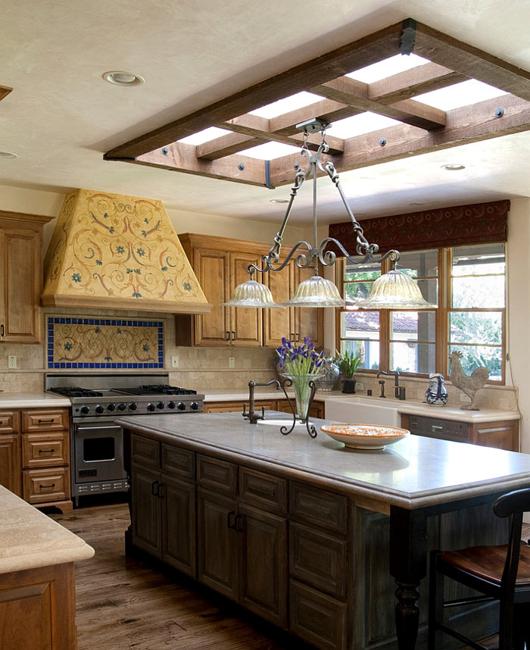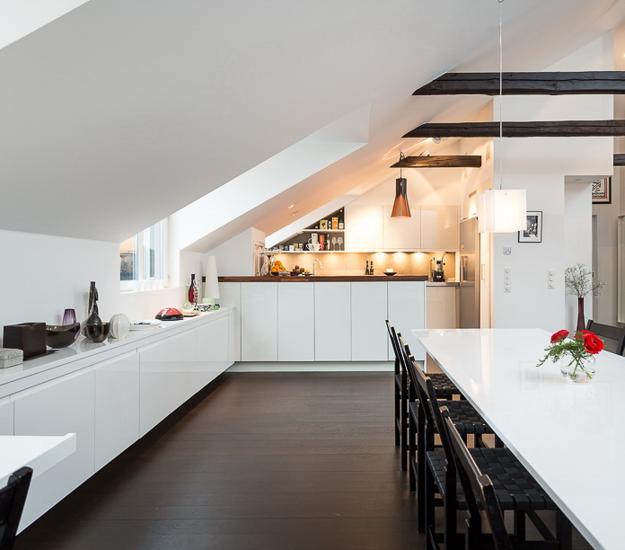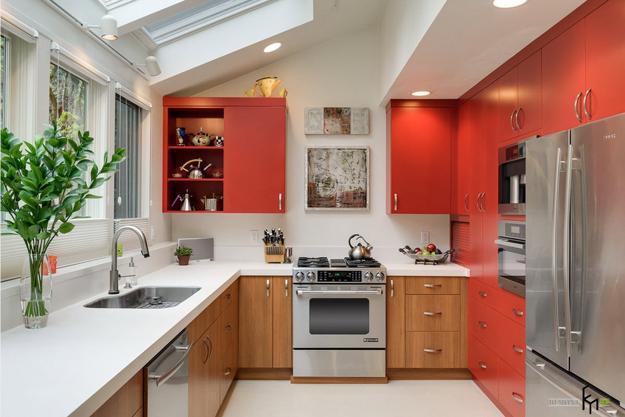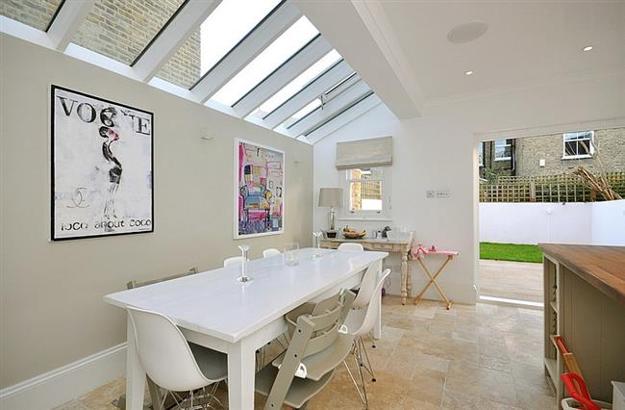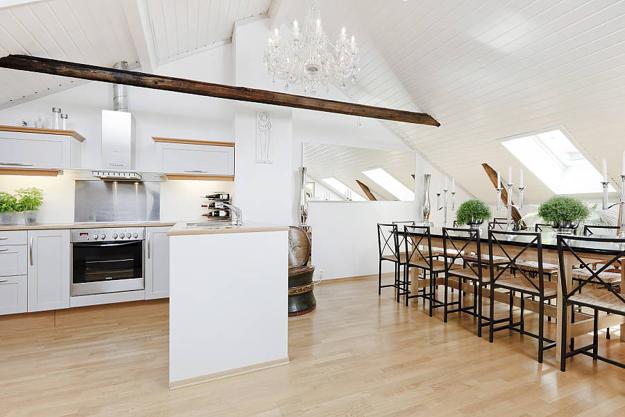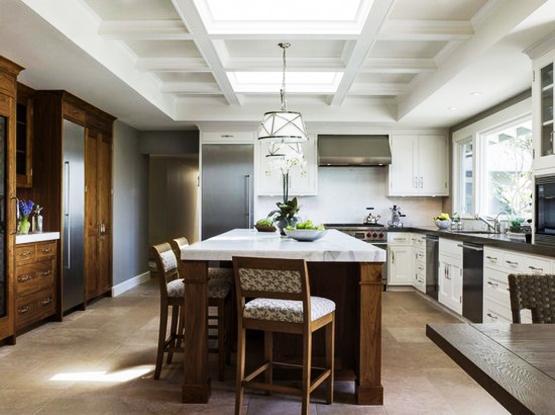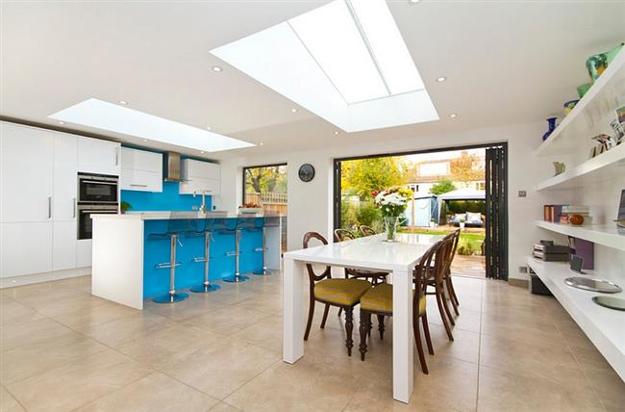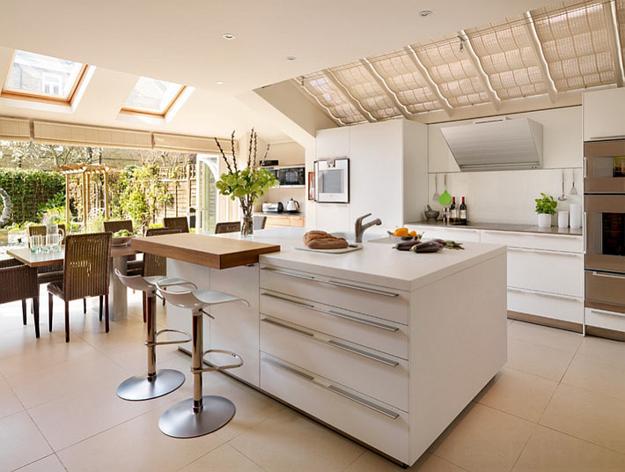 Warm metal accents are easy to incorporate into modern kitchen designs. Metal lamps, hardware, metal tiles, elements of kitchen designs will...
and enjoy free articles sent to your inbox