Framed Photographs in Interior Decorating, Modern Wall Decorating Ideas
---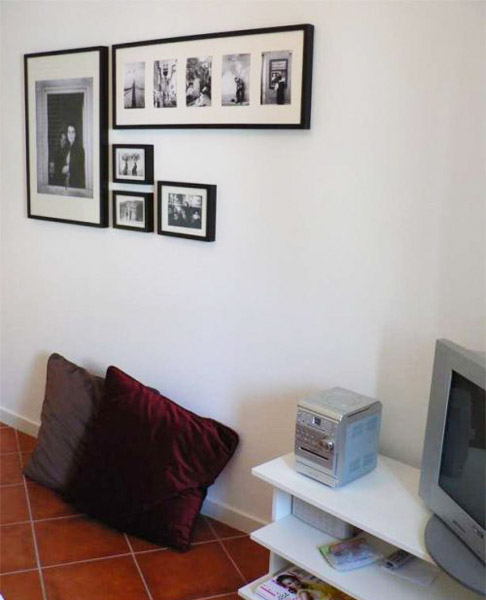 Creative wall decorating with framed photographs
Framed photographs are amazing home decorating ideas that make empty walls look stylish and interesting, giving unique character to interior decorating. Photographs bring good memories and pleasant emotions into interior decorating, adding more color and impressive images to home interiors.
Even if photographs are not taken by professional photographers who use expensive equipment, they evoke happy and nostalgic memories, making people smile. Beautiful framed photographs that look neutral are perfect for any interior decorating and home staging also.
Photographs are one of common items that clutter homes. Using photographs for interior decorating help declutter storage boxes, wall shelves and drawers and let happy moments photographs lift the spirit, bringing more smiles into your life.
Tips for interior decorating with framed photographs on the wall
One photo or few framed photographs, attractively grouped together, can be used for one wall decorating or decorating all empty walls in the room. Useful tips for interior decorating will help you find right places for your photographs and decorate empty walls in your room in elegant style.
Tastefully arranged framed photographs on the wall look charming and bright, creating comfortable and relaxing interior decorating.
1. How to select photographs for decorating empty walls
We all have lots of photographs which can be framed and look gorgeous on the wall. Interior decorating experts suggest to select photographs that support the functional zone which they will decorate.
Modern interior decorating ideas, large art prints for wall decoration
Pendant lights decorated with photographs
Family photographs are good for bedroom interior decorating, although photographs of neutral images should be used for home staging to sell your house.
Kids photographs are perfect for decorating empty walls in children bedrooms. Kitchen interior decorating will look more beautiful and interesting with creative photographs of food, cooking or eating people and picnics.
It is great when photographs support the room decorating theme, emphasizing functionality, favorite colors and objects that are used in interior decorating.
Modern wall decoration, 11 simple diy wall decor ideas
Empty picture frames, stylish wall decoration ideas
2. How to arrange photographs on empty walls
A single framed photographs or few photographs, arranged horizontally or vertically, randomly or along an imaginary line around the central photograph, look attractive and organized. The central photograph  should be place at eye level, and other framed photographs should be arranged in accordance with its position.
Alternating photographs sizes makes interior decorating more interesting. Photographs in different sizes, placed in one size frames create simple and elegant arrangement and look stylish on empty walls.
3. How to choose frames for photographs
If you want to decorate the wall with many photographs, choose simple frames. If you have ony two or three photographs in the room, expensive, eye catching, antique, unique and carved wood frames work well for sophisticated and classy interior decorating.
Wall decor ideas, decorating with ordinary frames
Empty picture frames, stylish wall decoration ideas
Ten framed photographs look wonderful, if simple frames match colors of furniture or decorative fabrics used for interior decorating, adding more harmony to your room decor.
4. How to find the best location for photographs on the wall
It is important to find the best place for framed photographs on the wall. Photographs should be visible from more than one place in the room, but out of the way, creating attractive, safe and comfortable interior decorating.
Framed photographs can arranged on the wall above the sofa,coffee table, storage cabinets or fireplace mantel in your living room.
Empty picture frames, framing objects for bold wall decor
Decorating with old picture frames, money saving wall decoration ideas
Well chosen and arranged framed photographs create beautiful modern interior decorating and pleasant atmosphere that reminds of important events in life. Framed photographs are inexpensive and very decorative accents that create unique interior decorating in every room, creating homes that are comfortable, unique and relaxing.
More from decorative accessories

Throw pillows in various colors, designs, and patterns are one of the easiest ways to refresh your room design and inject...