Unusual Places for Pendant Lighting Fixtures

Lights Appliances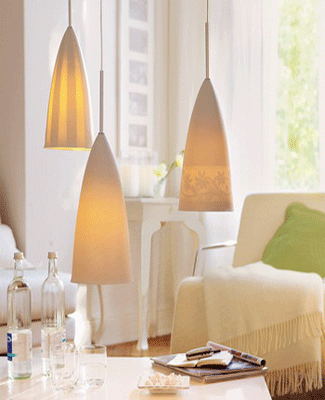 Stylish contemporary living room decorating ideas, lights above a coffee table
MODERN WALLPAPER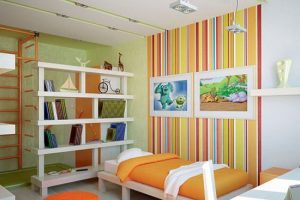 Ceiling can look modern and interesting. Stylish pendant lighting fixtures turn a boring ceiling into a canvas for expressing personality and style. Contemporary lighting fixtures are perfect decorative items to make a statement. Every room has a good place for beautiful pendant lighting that save space while decorating it.
It does not matter how many of them you want to have in one room or where you choose to hang stylish contemporary lighting fixtures, selecting pendant lighting fixtures for home decorating is a right decision for creating modern room decor. They look great on high ceilings, but there are many models that have short bars and allow you to enjoy attractive pendant lighting design, even if you have a low ceiling. (Home decorating with custom made eco lamps)
Most of designs are adjustable and can wonderfully decorate your home ceiling. With pendant lighting, you need to decide whether you want inverted lamps for indirect light and stylish decorative effects or downward lighting fixtures for greater illumination and brighter room decorating. You also need to choose shades that diffuse the light adequately and prevent glare. Pendant lighting can make any room decor look modern and beautiful, you just need to find the perfect place and hanging lamps for your room that satisfy your taste.
Modern interior design and room decorating ideas, glass pendant lighting fixtures near the wall
Modern pendant lights and room decorating ideas
1. Bathroom pendant lighting fixtures are cheap decorations for stylish bathrooms. There are bathroom pendant lighting with a dimmer option that allow to change the intensity of the light and create a different mood in the bathroom. Asian or African style lanterns are good decorating ideas for bathroom interiors that look very romantic and sensual. (Look at African lanterns and Moroccan style home accessories)
2. Kitchen pendant lights are elegant decorations for modern homes that provide comfort and add style. Most of the kitchen pendant lights are designed for decorating the part of the ceiling above a kitchen island. They do not provide enough light to illuminate the whole kitchen space. More kitchen pendant lights can be added in different areas of the kitchen, – above the shelves, window bench, eating area or in the corner for creating cozy, warm and welcoming modern kitchen design. (Kitchen lighting design for coffee lovers)
Red contemporary lighting fixtures for decorative accents near the wall, modern interior design
3. Lighting fixtures for home entrances and hallways make the first impression that should be the best impression. Lighting fixtures for home entrances and hallways must be functional and inviting. Unique pendant lighting design is a great choice for large or small entrances and narrow hallways. (8 modern home ideas for entry and hall redesign)
4. Pendant lighting fixtures, added to the ceiling above the stairs, create a unique look and functional lighting design for safety. Also modern pendant lighting help showcase pictures on the wall, emphasize unique staircase design or add more interest to a boring staircase.
Bedroom pendant lighting fixtures, modern interior design and room decorating ideas
5. Low watt pendant lighting fixtures in a bedroom create a focal point, that is offering soft lighting. Two pendant lighting fixtures above night stands are contemporary bedroom decorating ideas that are as functional as a traditional lamps, but offer more stylish look and save space on night tables.  A group of mini pendant lighting fixtures with dimmers make bedroom decorating ideas more interesting and cozy, especially if they are placed at different lengths and arranged at different heights.
6. Simple modern pendant lighting designs can be comfortable, stylish and cheap decorations for the home library, family room and kids rooms also. Pendant lighting with dimmers work well in all rooms that benefit from soft and bright lighting. (Personal library decorating and design style)
Modern interior design, personalized room decorating ideas, photographs on contemporary lighting fixtures
7. Pendant lighting fixtures look great in the entertainment room and in a cozy reading corner. Pendant lighting design is popular for pool tables and home bar tables. (Home bar sets) Modern pendant lights look good above a piano or an exercise bike, in craft rooms or laundry rooms.
8. A single pendant lighting design or a group of pendant lighting fixtures create stylish decoration, when placed above low shelves or storage units. Another unusual places for modern pendant lights are above a coffee table or side tables in the living room. A large lamp or a group of modern pendant lights, arranged low and at different heights, create beautiful lighting design accents for elegant room decorating.
Stylish contemporary living room decorating ideas, modern pendant lights above a coffee table
9. Wall sconces take some space on the walls. Pendant lighting fixtures can work well instead of them, providing space for displaying photographs or adding green house plants to wall decor.
10. With modern pendant lights, a sun-room can be used in the evening and look nicer and brighter during gloomy fall days.  Pendant lighting fixtures, placed in out of the way areas, are beautiful inexpensive room decorating ideas that add coziness and style to modern homes.
Modern interior design trends, craft room decorating ideas, large metal pendant lighting fixtures
Wicker, metal or frosted glass pendant lighting fixtures do not create a glare and feel comfortable in bright rooms with large windows. Chinese paper lanterns with flowers, handmade and decorated with painting, are elegant, pleasant and cheap decorations for patios, gazebos and home interiors also. (Easy to make Chinese lanterns)
Versatile modern pendant lights are beautiful, functional and cheap decorations that attractively decorate your home. Get creative, find a perfect spot for modern pendant lights  for your room decorating and create personal, comfortable and stylish lighting design for your home.
Lighting design and room decorating ideas:
Dresses for lights, a la mode lighting design
Eye catching table lamps, contemporary lighting, designer lamps
Lighting fixture designs to magnify home beauty
Modern interior design trends, glass pendant lighting fixtures, contemporary room decorating ideas
More from modern interior design

Here is a new design concept of Ibis Hotel in Sao Paulo, Brazil. The contemporary and original interior design invites everyone...
and enjoy free articles sent to your inbox