Modern Home Library Design, Lighting Ideas for Bookcases and Shelves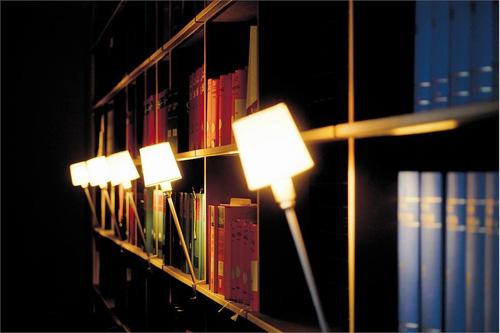 Modern lighting ideas for bookcases and shelves make home library design comfortable and decorative, visually increasing small rooms size. Contemporary lighting fixtures are smart ideas for decorating small spaces, like home libraries, storage spaces and tiny home offices. Small home library designs with modern lighting fixtures look stylish and functional, welcoming and attractive.
Decorating for small spaces is about thinking vertical, simple and light. Modern lighting fixtures on extending to the ceiling bookcases and shelves are functional, decorative and impressive. Simple track lighting or modern pendant lights help visually balance small rooms size when draw the eye up. Functional and decorative contemporary lighting fixed on bookcases shelves make storage space more convenient and attractive.
Home library design with vertical storage spaces helps expand floor area. Traditional built in book shelves or floating wall mounted bookshelves in contemporary style, combined with decorative lighting, create dramatic displays and make small rooms with book storage feel cozy and inviting. Investing in modern lighting fixtures and bookcases or shelves is a good idea for decorating small rooms with books and creating enjoyable home library design.
Book shelves, personal home library design style
Small home library designs, bookshelves for decorating small spaces
Lighting ideas for bookcases and shelves
Lighting fixtures are very important element of modern home library design. Practical and decorative lighting fixtures make room decorating ideas feel soft and comfortable.
Contemporary track lighting and modern pendant lighting fixtures add an elegance and charm to modern home library design. Contemporary floor lamps and small lights mounted on built in book shelves of bookcases or wall mounted bookshelves are great options for decorating small rooms with books and lights.
Functional home libraries require modern lighting for book shelves to create attractive, healthy for reading (Green office interior design, healthy environment) and modern interior decorating ideas that can add charm to simple book storage solutions. Classic or modern chandeliers provide general lighting, and few small contemporary lighting fixtures give unique character to custom made libraries, blending functional and stylish room decorating ideas.
Home library design and lighting fixtures
Track lighting fixtures or sliding lights create very attractive dynamic room decorating ideas and add functionality to modern home library design. Modern lighting fixtures, mounted on the ceiling, walls and ladder for book shelves help select a book, offering bright decorating for small rooms. A small sofa or a soft chair for reading, relaxing or meditation and writing desk make home library design very comfortable.
15 healthy home office interior design tips
Large bookcase, sliding bookcases and shelves
Home library design tips
– Do not hide books in wooden bookcases or bookshelves behind wooden doors. Books are unique interior decorating ideas that add interest and charm to room decor.
– Do not place books in a bright spot, choose a darker corner for a bookcase, wall mounted bookshelves, built-in book shelves and storage cubes. Books do not like natural light, their covers fade and pages become yellow very fast.
– Open bookshelves should not be near windows. Moisture and light can damage books, wood book shelves and bookcases.
– Avoid keeping antique valuable editions on open bookshelves. Unique and expensive books require special conditions and good protection from dust, moisture and light.
Modular shelving, wall decorating ideas
Contemporary home office design, big concepts for small spaces

Modern interior design ideas offer fantastic solutions for small spaces. Simple and effective, space-saving ideas add fun to decorating small apartments...