Kitchen Feng Shui for Wealth and Prosperity

Feng Shui Home

Kitchen Ideas

Lights Appliances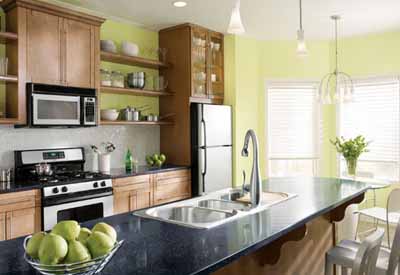 Kitchen Feng Shui cures, modern kitchen design
feng shui for wealth

Kitchen is about a stove, cooking and food, which have been associated with prosperity and wealth in Chinese Feng Shui home for centuries. Feng Shui paintings with images of harvest, fruits and vegetables create positive energy, symbolize and attract wealth and health.
Good Feng Shui kitchen design requires fresh or artificial fruits on kitchen island or dining table. (Feng Shui home, dining room decorating) It is believed that fruits multiply the positive energy and invite positive changes into homes, ancient Chinese Feng Shui masters explain.
Kitchen stove represents power, wealth and prosperity in Feng Shui home. A stove takes a special place in modern kitchen design also. Its location is very important for creating comfortable and pleasant kitchen design that allows energy freely flow through home interiors.
Feng Shui for wealth, kitchen design
Pears and apples kitchen decorating ideas
Green apple kitchen design and color inspiration
Good Feng Shui kitchen decorating with fresh fruits, ideas to Feng Shui table
1. Feng Shui for stove
Ancient Chinese Feng Shui home design guide can be used for modern kitchen decorating ideas to create balanced homes that attract positive changes. A stove is one of the most important kitchen appliances. Modern kitchen design and the position of a stove affect people, who cook and eat in the kitchen. (Feng Shui home, kitchen triangles)
Wall tiles and fresh fruits, good Feng Shui for kitchen stove and kitchen island top, light kitchen design
According to ancient Feng Shui home design guide, kitchen stove top should not be ever  left empty after cooking food. A nice clean pot on the top of the stove is a good Feng Shui kitchen decoration that symbolizes the presence of food in Feng Shui home, attracting wealth and prosperity. (Feng Shui for wealth with fish tanks)
Small kitchens, good Feng Shui kitchen design in neutral colors
Burners should be used equally for preparing meals. Choosing to cook most of the times on one of them, which is easier to reach, for example, is considered bad Feng Shui practice.
The stove position should allow a cook to have a full view of the entire kitchen. Modern kitchen design offers bad Feng Shui stove position near the kitchen wall. Because walls and stoves can not be moved, Feng Shui kitchen experts suggest to hang a mirror on the wall in front of the cook above the stove or use glassy tiles for wall decoration.
Kitchen Feng Shui cures, fresh fruits and tea pot on stove top, modern kitchen design ideas
The bigger Feng Shui mirror or area, decorated with wall tiles, the better. The larger Feng Shui cures, the greater their benefits. Kitchen stove should not be beside fridge or sink also.
Feng Shui practitioners suggest thorough kitchen cleaning at least once a week to Feng Shui stove, kitchen table top and all kitchen surfaces. (Feng Shui home decor with miniature indoor house plants)
Ancient Chinese Feng Shui tips for modern kitchen design to Feng Shui stove, sink and fridge
2. How to Feng Shui the fridge
Clutter free fridge, good organization and fresh food that are easy to reach, Feng Shui the fridge. (Feng Shui and clutter, space clearing) Removing old items from kitchen fridge, while thinking 'I am cleaning my fridge and purifying my mind. I am ready for a new life' is a way to Feng Shui your kitchen.
Kitchen decorating to dress up the fridge
The list of common useless items that clutter your home
Less traditional good Feng Shui room design consultants recommend to keep a bottle of champagne or wine in the fridge. It helps Feng Shui your kitchen and sends a message to the universe that your home is thriving, attracting wealth and pleasant surprises.
Simple ideas to Feng Shui kitchen appliances, fridge shelves
More from interior design

Bright home interiors and amazing views of the ocean make this beach house a dream place. Large windows, light, neutral room...
and enjoy free articles sent to your inbox