Feng Shui Home Decor with Miniature Indoor House Plants

Feng Shui Home

feng shui for wealth

Decorating interiors with indoor plants create healthy, attractive and relaxing living spaces. Chinese Feng Shui home decorating principles help balance the energy in your house, design the harmonious, comfortable and productive environment. Large or small houseplants are a beautiful element of good Feng Shui. They add a splash of gorgeous green colors, optimism, and positive energy to the rooms.
According to ancient Chinese decorating principles, green houseplants balance the negative and positive energies, absorb negativity, and Feng Shui home spaces. Indoor plants help circulate the energy-flow and attract fortune. Round leaves represent coins; wooden elements help create stability. Beautiful shiny and healthy green plants symbolize health and wealth in your house.
Green houseplants for good Feng Shui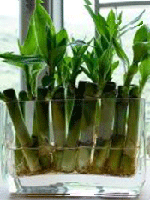 Bamboo, Ficus, Rubber plants, edible herbs or African violets are beautiful houseplants that add green colors to your room decor and Feng Shui your home. Indoor house plants absorb electromagnetic waves, creating peaceful and healthy atmosphere. Even small houseplants, grass and moss protect home interiors and Feng Shui rooms. Indoor plants make living spaces feel peaceful and attract fortune.
Quick and inexpensive ways to good Feng Shui decorating are decluttering your home, cleaning it and clearing the spaces. Painting walls light colors, bringing green plants, flowers or inspired by nature home decor accessories, and using natural materials Feng Shui homes.
Animal theme and leather for good Feng Shui home decorating
Feng Shui and clutter, space clearing
Miniature indoor plants, flowers, and eco-friendly decor accessories, like glass terrariums, are perfect ideas. Wooden walls and table decorations, metal, glass, and stone vases make exceptional accents and work as right Feng Shui decorations that bring natural forces and positive energy into your house. Feng Shui for your home means creating a light, bright, organic, and healthy environment for you and your family.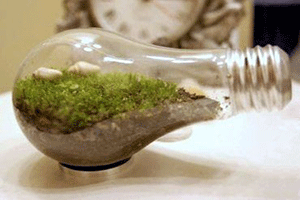 Miniature home decor accessories
Cactus plants and Feng Shui decorating
Feng Shui color for home design, color meanings
Unique miniature moss terrariums for decorating with green plants are from Instructables, www.instructables.com/. A burned light bulb creates a mini table decoration. The most dangerous and challenging part of making this tiny moss terrarium is disassembling a light bulb. The stuff that is inside is toxic.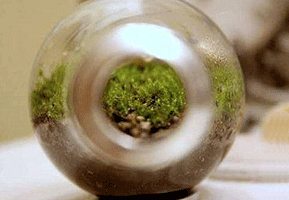 Green colors and plants
Glass terrariums, modern terrarium ideas
Green colors are symbols of peace, harmony, freshness, and growth. Healthy houseplants have vibrant foliage that brightens up a room and Feng Shui home. Green leaves of indoor plants and beautiful flowers add warmth to interior decorating and create attractive accents in modern home interiors.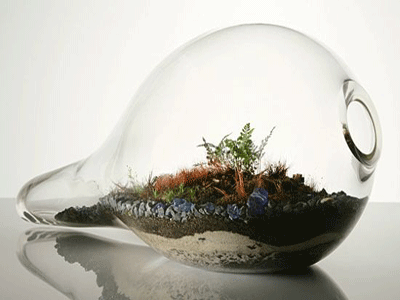 Small house plants and glass terrariums
A glass terrarium with plants, small rocks, and moss, used as eco-style table decorations, are one of the modern interior trends. Miniature plants in small glass terrariums look cute, making beautiful eco gifts and creating an attractive focal point for a window or table decoration.
Lilliputian table decorations and gift ideas, mini plants
Feng Shui home, colors and Chinese symbols
Green houseplants are an essential element of Chinese Feng Shui philosophy. Indoor plants help the energy flow freely around and through a house. Houseplants represent longevity, balance, and prosperity. They are perfect Feng Shui accessories to attract good luck.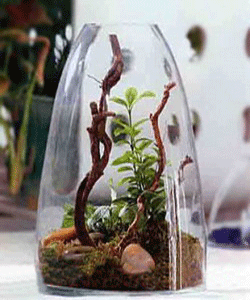 Large or small house plants and flowers are ideal window or table decorations. Mini plants and fresh flowers are great gift ideas also. A glass terrarium with small plants, succulents, moss, grass, small rocks, and driftwood pieces is one of the modern interior trends in decorating. Miniature plants in glass terrariums look lovely, creating beautiful Green decor.
Feng Shui, lucky rugs, carpets
Handcrafted, impressive, and unusual gifts, made of natural materials, flowers, and mini plants are attractive accessories, perfect for stylish, eco-friendly, and original table decoration. Mini plants make eco homes feel exciting, harmonious, and pleasant. Miniature houseplants are versatile, suit all room decor styles, and help activate the positive energy. Green home decor attracts happiness and helps Feng Shui for wealth, according to Chinese Feng Shui experts.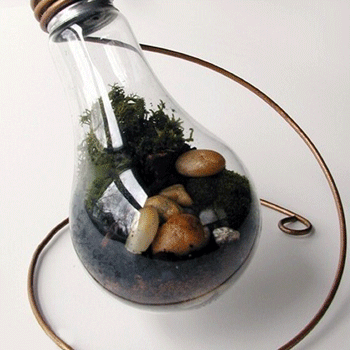 More from decorating with glass

Red Creek House is built on the shores of the picturesque Peconic Bay in Long Island in California. The fabulous, luxurious...
and enjoy free articles sent to your inbox