15 Interior Design Ideas to Stay Healthy in Home Office

Feng Shui Home

Furniture Accessories

Home Office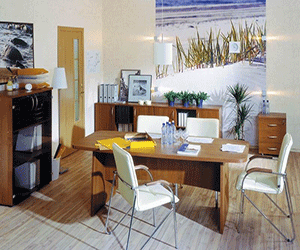 Office decorating with strong color contrast creates energetic interior
home office designs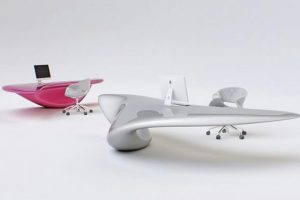 Are you thinking about your office design, redesign, better organization or re-decorating in modern style that will make your office interior more efficient, attractive and comfortable? 15 healthy home office ideas will help create functional, beautiful and modern office decor that looks stylish and attractive, and creates a gorgeous place for work.
Everybody feels tired and unproductive in a boring, dark, uncomfortable and disorganized office. It is harder to sell your home with gloomy and cluttered rooms, including your home office interior. You can choose any home office interior design style and decorating ideas for your work space, but there are a few important home office ideas for creating more comfortable and healthy home office interiors to consider before your start your redesign project.
Whether you plan to design a new office, redesign your existing home office interior adding more style or comfort, or re-decorating for  home staging, following these simple interior design and home staging tips helps arrange healthier, more efficient and attractive office design.
Healthy home office design and decorating ideas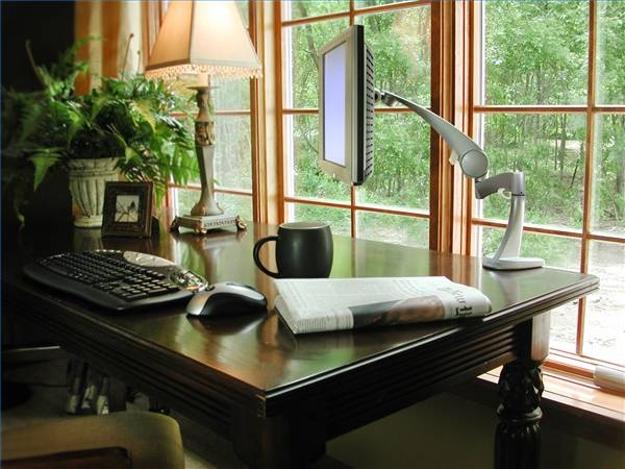 1. Soundproofing is a very important element of comfortable interior design. You do not want to hear the TV or your children when your are working in your home office. Peaceful and calming interior design helps you concentrate on your tasks without wasting time and energy.
Do not neglect the soundproofing part of your office design, as it helps create more productive environment and pleasant interior design. A quiet and relaxing office interior helps finish your work faster.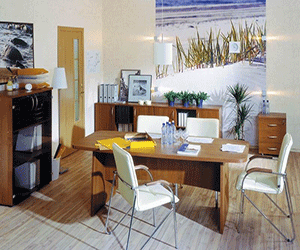 Interior colors
2. It is better to select bright interior design colors for your office decor. Walls, ceiling and floor that create strong contrasts with office furniture and decor accessories, help design bright and energizing interior decorating. Researches say that cheerful office designs help people work longer without feeling tired. Contrasting color shades create bright and dynamic office designs.
3. Psychologists suggest that cool background colors are better for office decorating, as they create more business-like atmosphere. Modern interior design in cool colors is great for decorating rooms that are used for meetings and discussions also.
Softer background colors, selected for office interiors, stimulate creativity, so the combination of cool room colors and soft color shades is ideal for office decorating.
Home office furniture
4. Get a modern ergonomic office chair and a functional home office desk that will look good in your office interior, matching other home furnishings with texture, color and design style. Your home office furniture should be comfortable, providing plenty of storage space and supporting your home office design style.
5. Expensive home office furniture pieces are not required, particularly for a small office design. An attractive and functional desk made of solid wood or glass is a good choice for healthy and eco friendly interior design.
It is important to select an ergonomic office desk with a large top surface that allows to arrange all items you need for work. The cost of modern office furniture should be taken in consideration also, but the highest priority is your comfort and productivity during the day.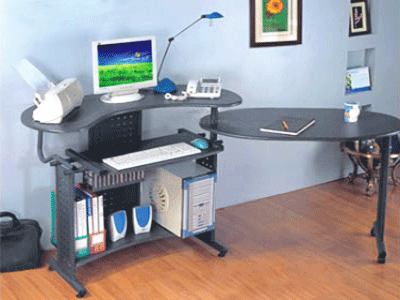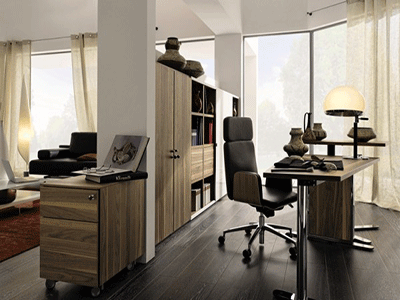 6. Choose a high back ergonomic chair that can be adjusted to different body positions, has a lumbar support and armrests. A modern ergonomic chair is the most important element of healthy and effective home office design.
How to Feng Shui home office design
7. Your chair should not be positioned its back to the office door or windows, according to ancient Feng Shui office design recommendations. Good Feng Shui prevents a stagnation of the positive energy flow around a person sitting at the office desk facing the door. It also helps avoid glare on a computer screen and protect your eyes.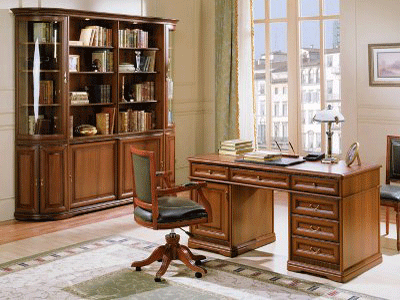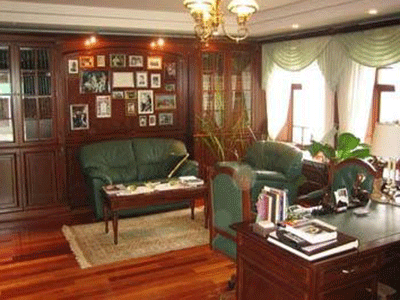 8. Do not choose modern office furniture with sharp corners. Sharp edges are not good Feng Shui choices. Do not position your desk in the corner, instead create a spacious room layout to Feng Shui office design. If there is no other ways to arrange your desk, use Feng Shui cures for corner furniture to solve the problem.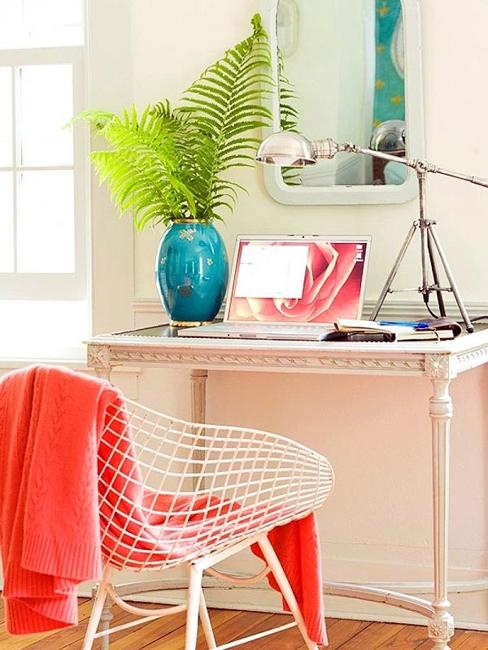 9. Declutter and do not fill the entire interior with furniture and decorations. Do not try to have everything, – book shelves, guest chairs, a mini-bar and the TV in your small home office. Leave some free space empty, creating an efficient and functional interior design and allowing the positive energy freely flow around the room. Avoid unnecessary decor accessories. Your home office is the place to work, so nothing should destruct you. It is a good idea to purchase a small computer desk for your printer and fax machine, if you have enough space in your home office. You will enjoy the comfort and attractive look of a decluttered desk top.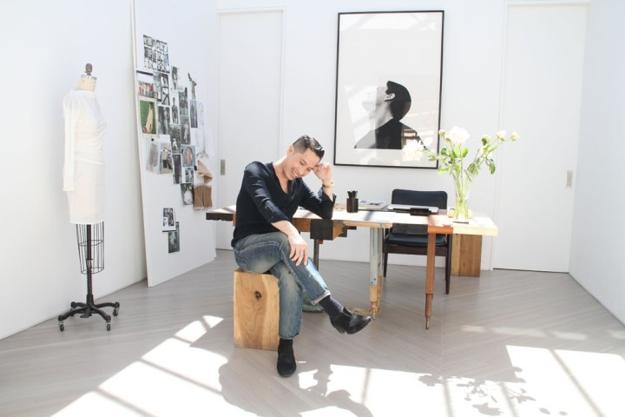 10. Often small storage for books and papers is sufficient. If you need a large storage space, declutter the room and arrange a large shelving unit which helps organize your office design. Home office book shelves and bookcases that look half-empty create stylish and relaxing interior design.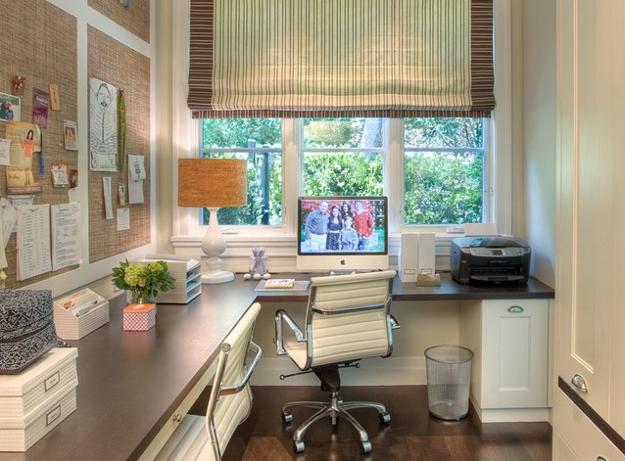 11. You can hang 1 – 3 paintings on the walls, but they should be very pleasant, peaceful or cheerful. Green color seems easy and relaxing to human eyes, so choose green landscape prints for your office decor. Keep only wall decor items that you absolutely love. Otherwise working in the room for long time can become difficult, Feng Shui practitioners say.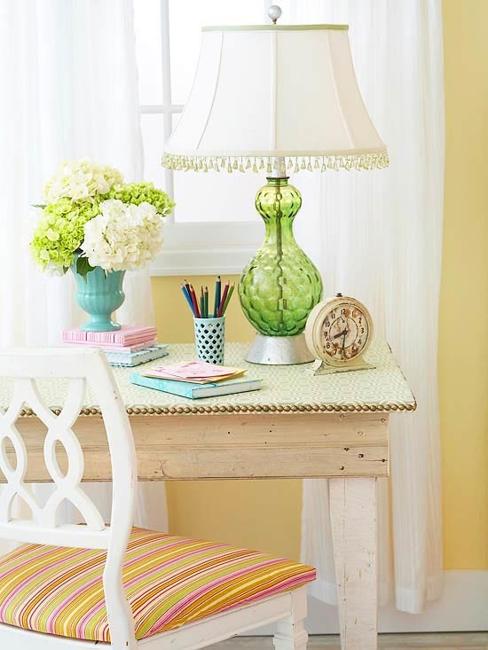 12. You need modern lighting fixture and the task lighting in your office. Human eyes get tired in the room with too many sources of light, so two different light sources are recommended for small interior design. Decorating with custom made lamps and energy saving LED lights or handmade lamp shades in your favorite colors add personal touches to modern interior design and give character to your office decor.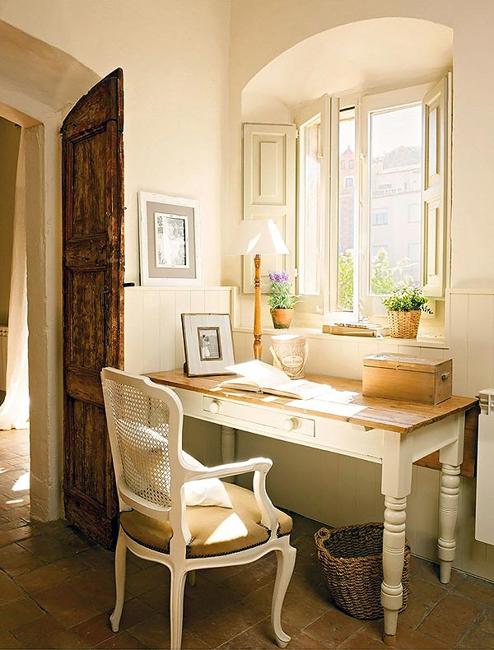 13. When choosing the desk lamp design and bulb type consider the bluish light, which spectrum is closer to the natural day light, instead of yellowish traditional light.
Green office decor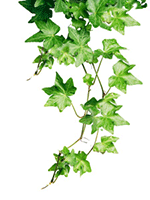 14. Green indoor plants are an important element of creating healthy office decor. Green house plants bring beautiful natural accents into interior design and connect homes with the nature. Green indoor plants produce oxygen and keep the humidity level in the room constant. Green color and eco decorating ideas feel relaxing and help people concentrate.
Interior-decorating with maranta plant or ferns is a beautiful way to add green accessories to office decor. Low light tolerant plants can decorate dark corners and top shelves. The Green accessories add a natural feel to office decor and create healthy, pleasant and efficient working spaces.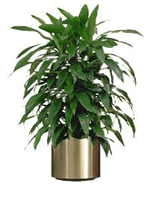 15. Attractive ivy, date palm and dracaena plants can be used as green accessories inctead of useless office decorations. Inexpensive house plants are excellent for cleaning the air and protecting you from harmful radiation, that all electrical equipment and home appliances produce. Green house plants and a natural air freshener are the best ways to keep the air in your home fresh and healthy.
Simple and effective home office design and decorating ideas will turn your working space into an attractive, pleasant and healthy room that feels open, organized, stylish and functional.
Home office design and decorating ideas
Home office furniture, ergonomic elegance
Interior decorating plan for saving your effort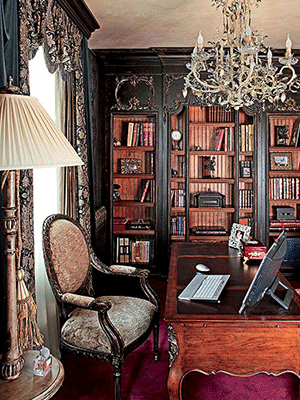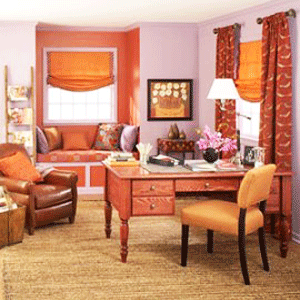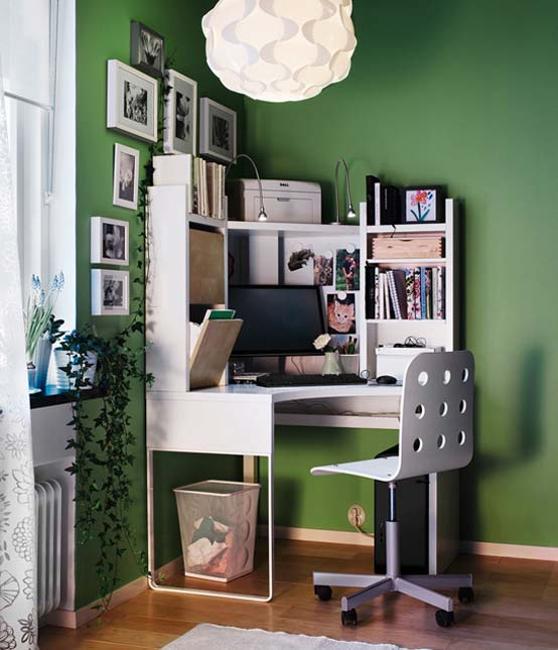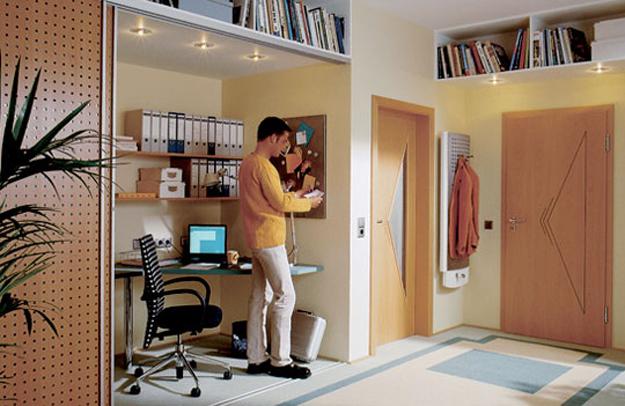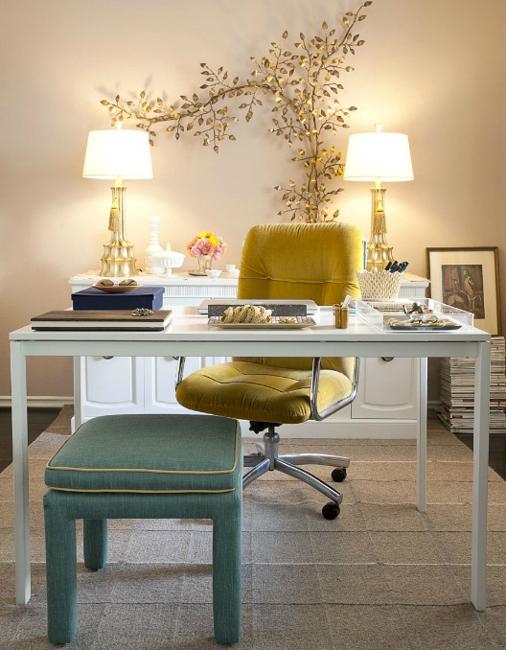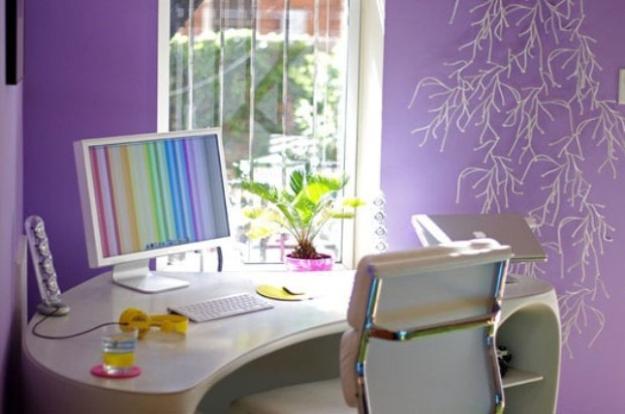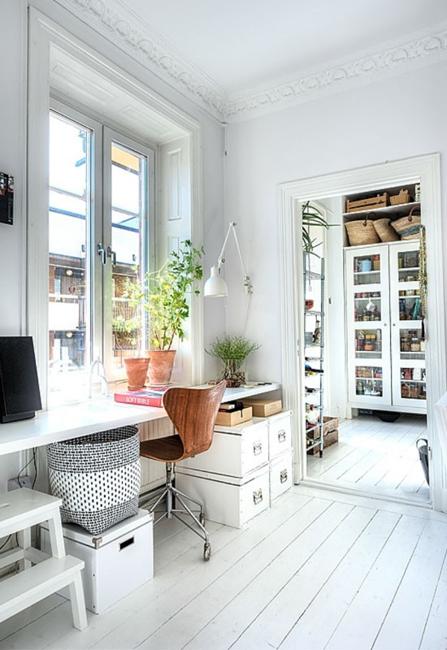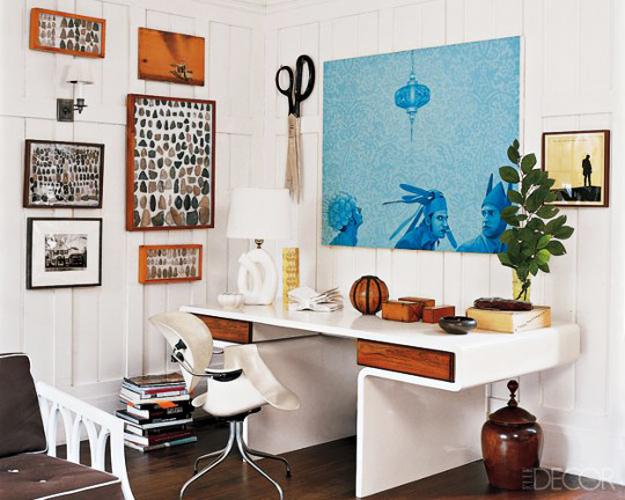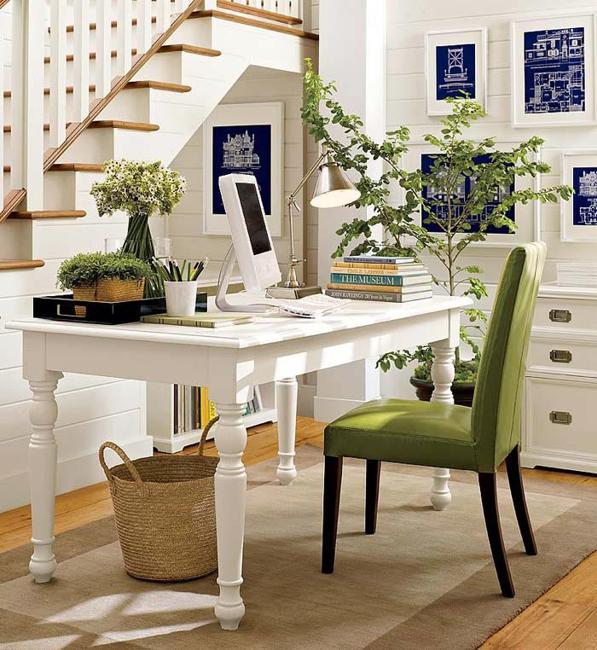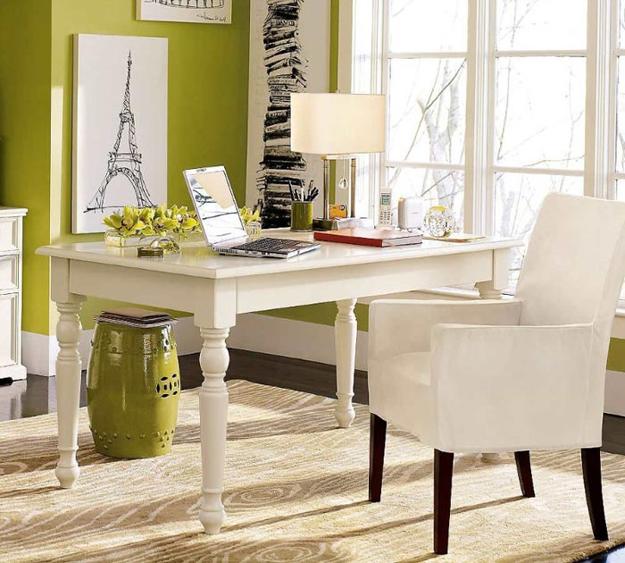 More from home staging tips

Modern interior design trends come and go, and it is impossible to change your home interiors fast enough following them. To...
and enjoy free articles sent to your inbox