Home Office, Contemporary Design Using Big Concepts for Small Spaces

Home Office

Interior Design Ideas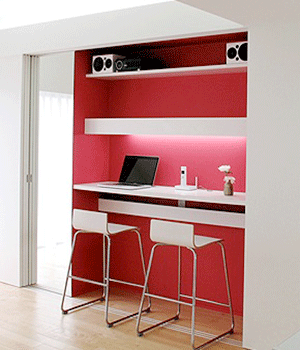 Contemporary home office design in the closet, modern home office decorating
office storage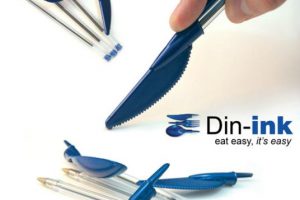 Home office furniture and its placement are exciting topics. Modern computers are becoming smaller, but many people need more space for their working areas and prefer larger home office desks. Computer desks, designed for computers, feel too small to accommodate all papers and office equipment people need in a modern home office.
Today many people use laptops and do not need old-fashioned computer desks. A small computer desk in the corner of a room is probably comfortable enough, but what people are looking for is creating an ergonomic home office design with storage and a large work surface. Convenient and ergonomic home office furniture placement, good office organization ideas, functional, modern office storage furniture, create comfortable, efficient, and attractive home office design.
Contemporary office desks have no keyboard shelves. Modern computer desks show light, minimalist-style designs. High-quality wood used for home office furniture or a glass desktop is an attractive home office design idea that adds a natural feel, warmth, and brightness to modern interiors. A computer desk and an ergonomic chair, combined with simple home office decorating ideas and functional storage solutions, create a beautiful, comfortable, and healthy home office.
Healthy home office design ideas
Home library bookshelves, personal library decorating, design style
Space-saving ideas for kids bedroom or home office design
Space-saving ideas, home office designs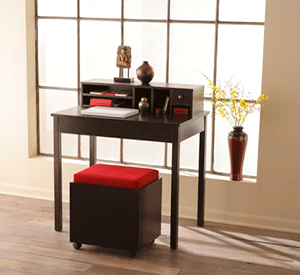 Small computer desks
Designers from Office Max offer a small writing desk and a stool on casters with storage space to utilize room under a seat cushion. The space-saving ideas create this small contemporary home office furniture with elegant, hidden storage in an original filing cabinet.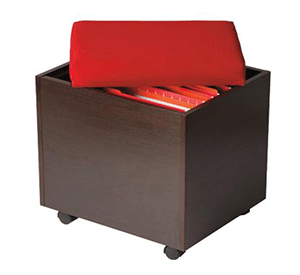 A small computer desk with a functional, comfortable, and ergonomic stool and storage offers an elegant solution for a small home office design in a bedroom. If you can keep the desktop clean and organized, your room will look beautiful. The Trovato desk and stool are perfect for all small rooms. The beautiful home office design incorporates big space-saving ideas into small spaces and offers modern office furniture pieces from Office Max for $ 149 US.
Some people prefer to buy corner office furniture. Corner desks for computers are excellent space-saving ideas for small rooms also, but small computer desks can offer attractive alternatives. A small desk and a chair, placed in front of the window, can improve the functionality of a bedroom, a den, a media room or enhance the small home office design providing a pleasant view.
Built-in closet computer desk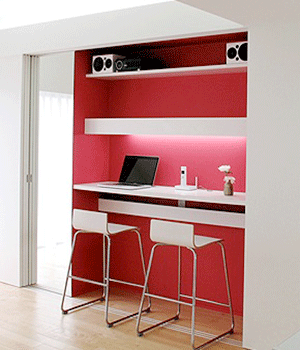 A computer desk in a tiny Japanese apartment is attractive and functional. Furniture designers from Bakoko, based in Japan, solved the small home problem by creating this space-saving office desk with modern lighting in the closet. Plenty of storage space on shelves and an attractive contemporary look make a functional small home office for an organized and free-of-clutter lifestyle.
Keyboard stool design, recycling plastic keyboard buttons
Home office furniture, ergonomic elegance
If you work at home, a comfortable modern computer desk made of natural materials is a must. Also, functional office storage is critical for your work efficiency. Contemporary office lighting fixtures and ergonomic office chair design are necessary for keeping you healthy in your home office.
Big concepts for small office designs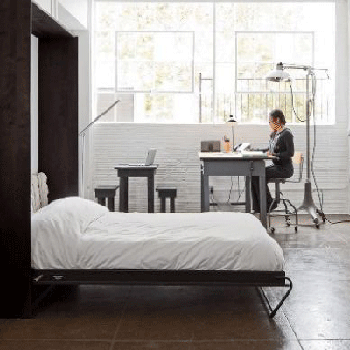 You need to declutter and organize your home office desk regularly. Your functional and attractive work surfaces and office furniture should be free of clutter and feel comfortable. Here are a few big concepts and space-saving ideas for small home office designs that help create a beautiful illusion of an airy, spacious workstation.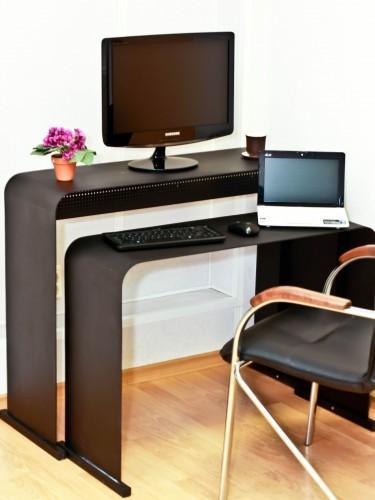 1. Separate the computer desk and working area from your living zone. If you do not have a room for your home office, design a workstation with a computer desk, storage furniture, and home office equipment. Add a contemporary home office shelving unit to your room design to separate your small office from the living area.
2. Create an ergonomic home office design with a comfortable layout and ergonomic office chair and lighting design. Add all you need for work and keep everything in the home office zone.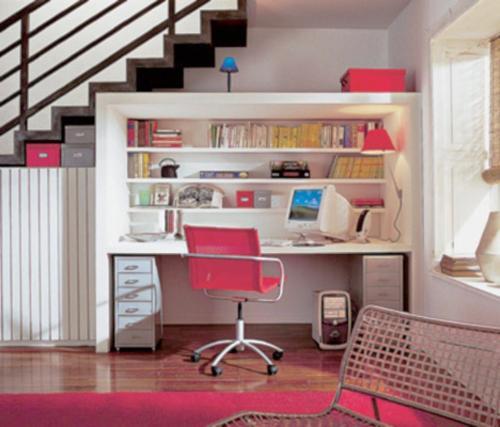 3. Good lighting design is vital for productive work and beautiful home office decor.
4. Make sure your modern home office design has proper ventilation, a heater or air conditioner, and a clean filter.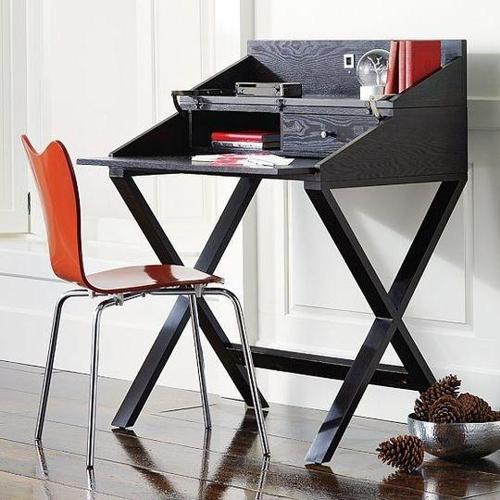 5. Get rid of clutter regularly and keep the computer desktop clean of business papers at the end of the day. Or decorate with items that clutter your home, using them to design wall decor that gives character and improves your home office storage.
6. Avoid distracting decorations. Get rid of unnecessary items and keep your small home office design functional, organized, and neat.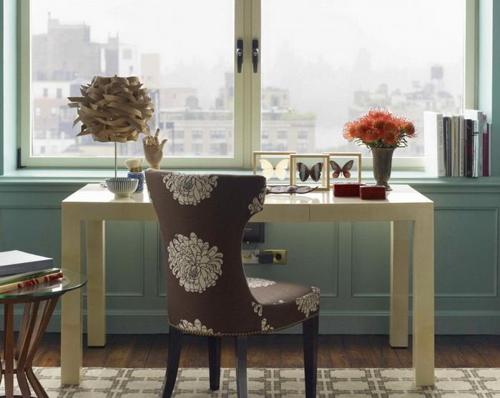 7. Green house plants are the cheapest home decorating accessories that look fabulous, clean the air, and protect from the radiation around electrical equipment. Green house plants are great for healthy and attractive small office designs, computers desks, office shelves, or wall decorating.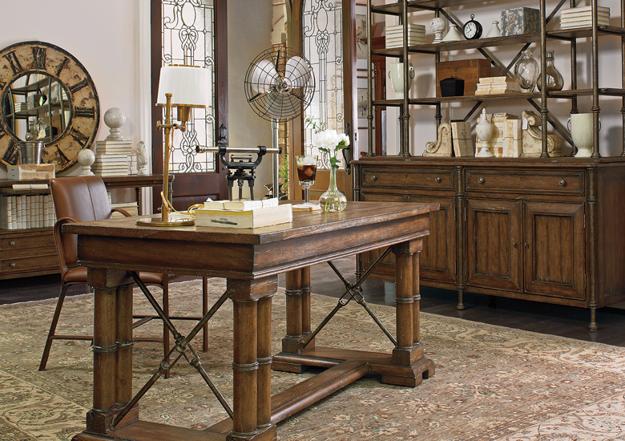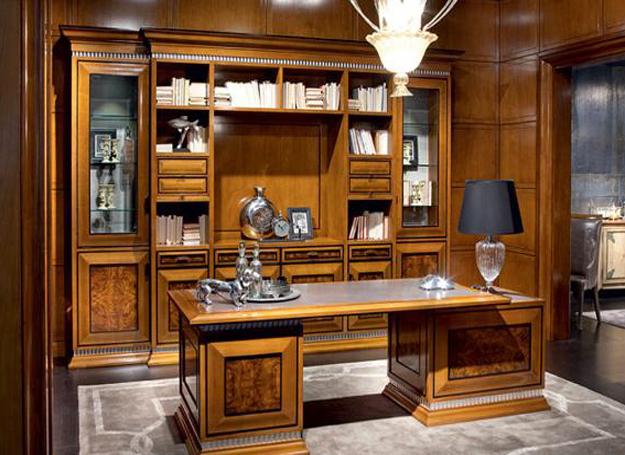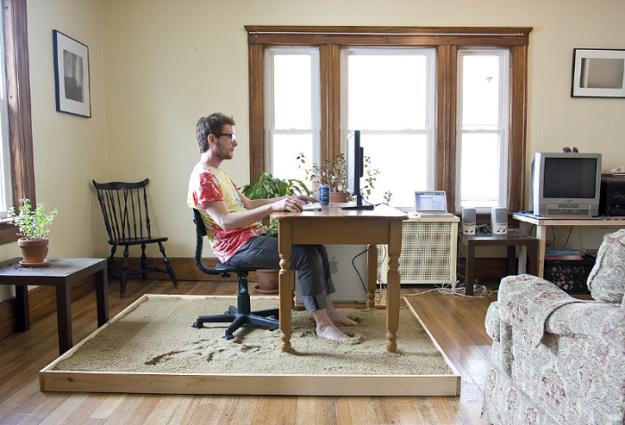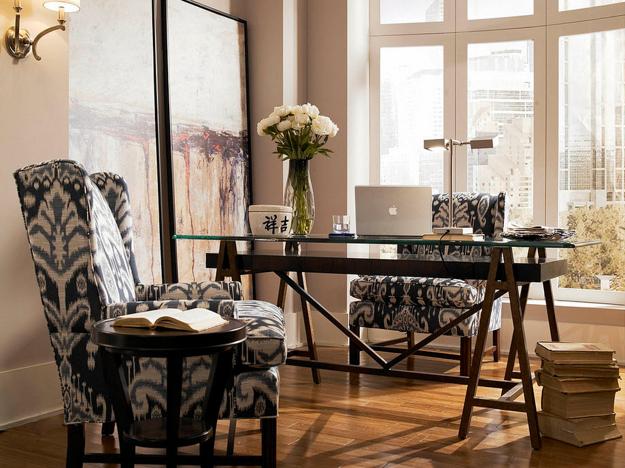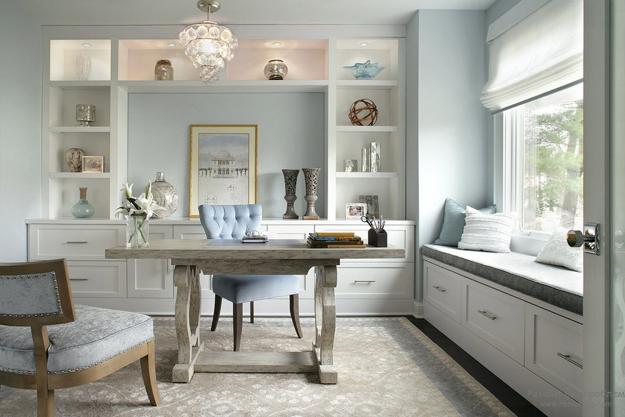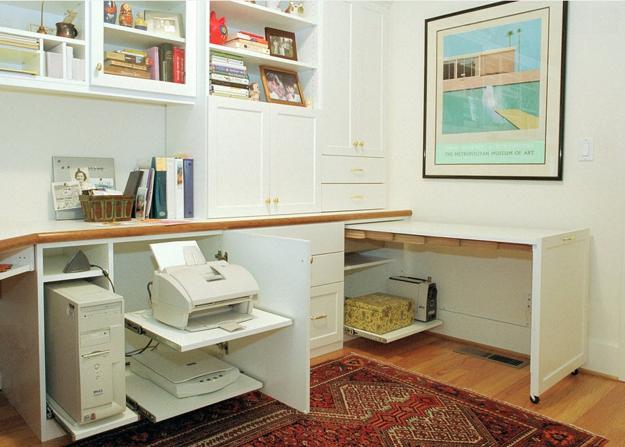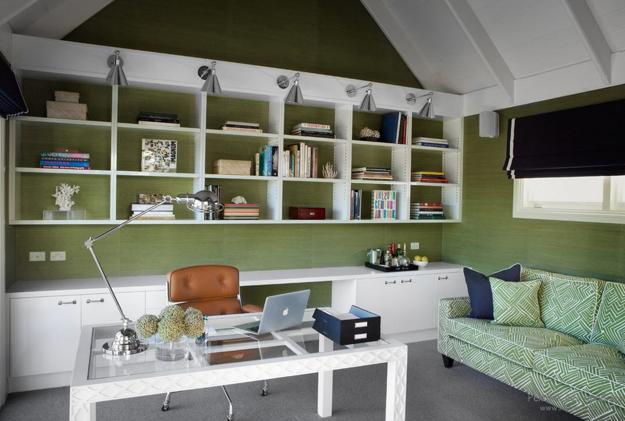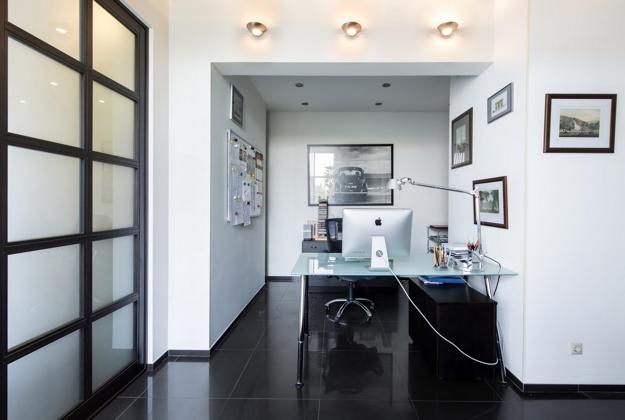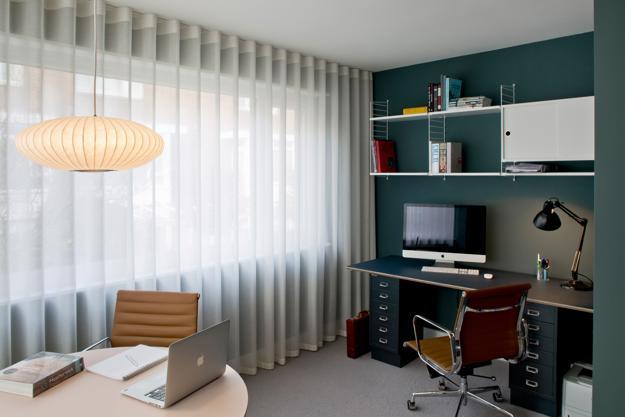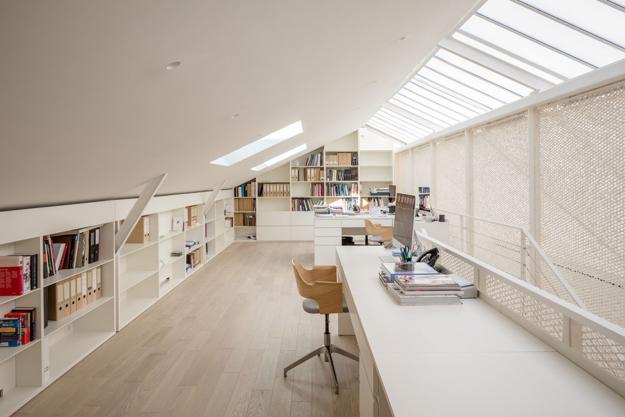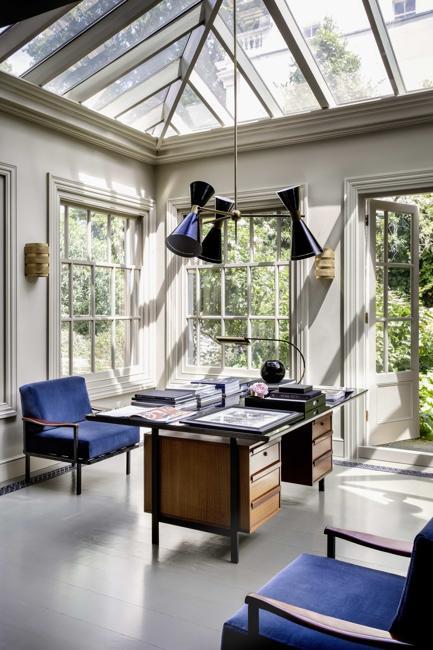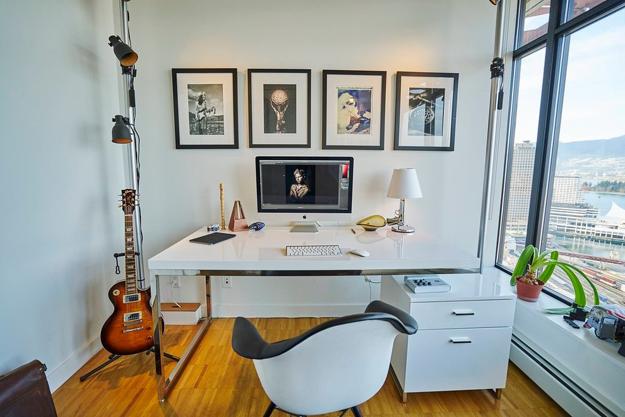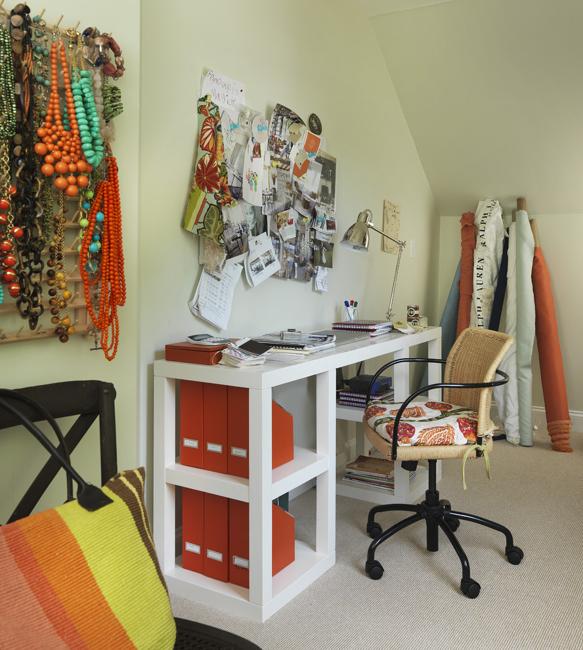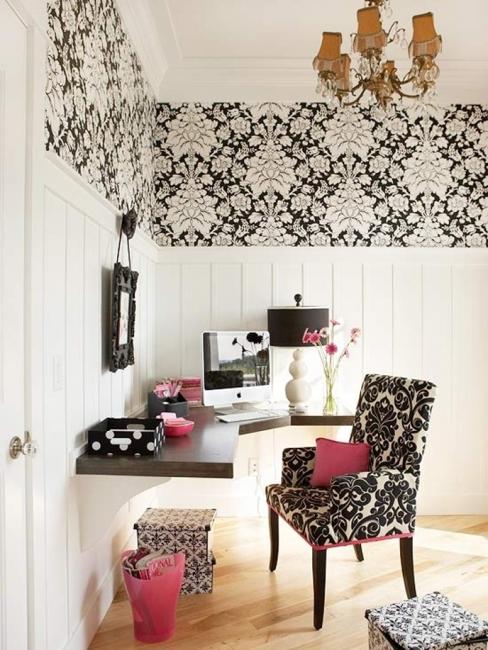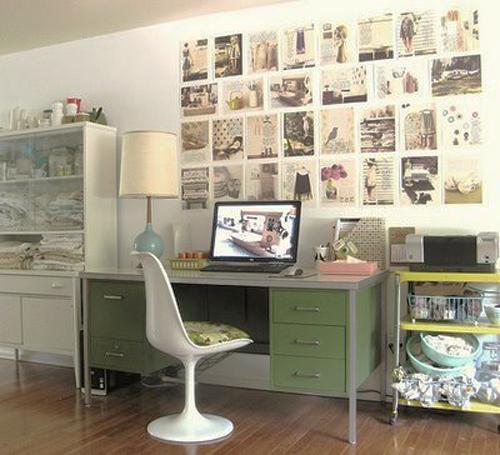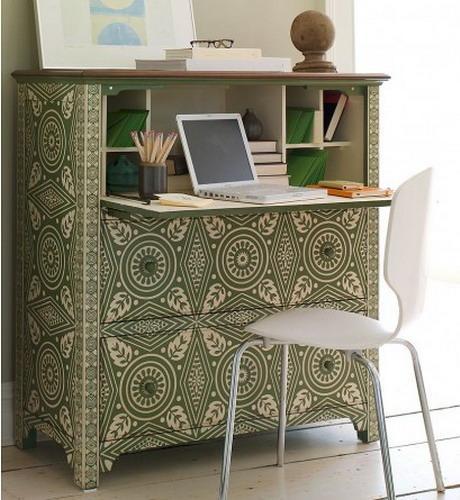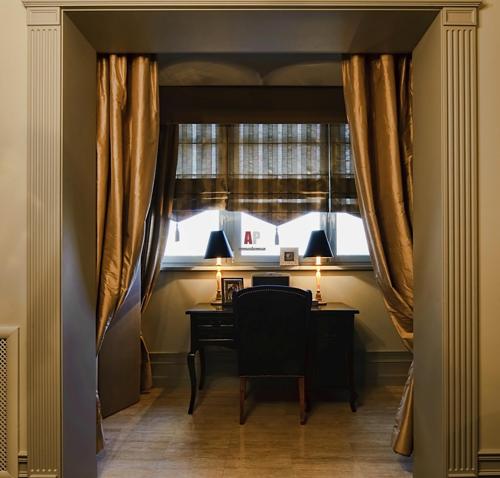 It is possible to find enough space for a small bedroom even in a tiny apartment or home. Here are smart...
and enjoy free articles sent to your inbox