Glass Plant Terrarium Ideas

Decorating Ideas

Plants and Flowers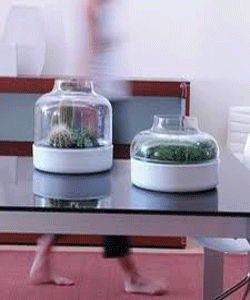 Miniature glass plant terrariums, mini garden design for eco friendly green home decorating
indoor plants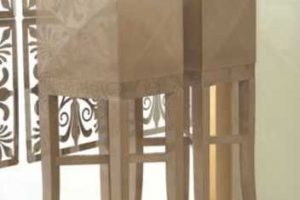 Glass terrarium designs are unique and attractive room decorating ideas. Glass terrarium containers look great in offices and bathrooms, in kids rooms and dining rooms, offering inexpensive green home decor accessories. Mini terrarium designs with small houseplants are easy-to-make. These eco-friendly room decorating accessories are excellent DIY projects for kids and adults. It is a lovely idea to create a mini garden with small plants and flowers in a clear glass bottle, jar or glass plant tank.
Green decor miniatures and glass-plant terrarium designs were used for creating luxurious room decorating in 18th and 19th centuries. Today glass terrarium containers are fashionable Green decor accessories once again. Mini gardens in a glass plant terrariums are beautiful home decorating ideas. Also, a plant terrarium gives a unique opportunity to design a beautiful floristic arrangement and grow flowers and plants which are difficult to grow in open plant pots or outdoor gardens.
Glass plant terrarium ideas, stylish home decor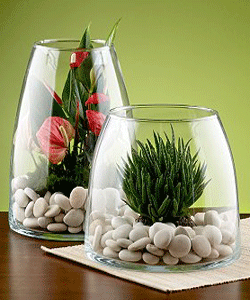 Terrarium design is not complicated. Small, shade-loving and tolerant to high humidity environments plants are perfect for any room, including bathroom decorating. Taking care of flowers and small indoor plants in the containers is simple. To design these beautiful Green decorations you need tools which are long-handled miniatures of traditional garden tools. Barbecue grill utensils are ideal for reaching into terrarium garden enclosures without damaging small plants inside.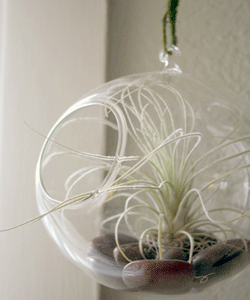 Tightly closed glass plant terrariums provide a unique environment for indoor plants, the specific humidity level, and temperature conditions. Glass terrarium containers protect small houseplants from a draft while decorating homes in the attractive eco style.
Maranta plant for decorating interior
Modern glass terrarium containers can be any shape, cube or round, pear or apple-shaped, free-shaped or cylinder, and allow to arrange unique compositions for stylish Green decorating with plants. Glass flower terrariums are perfect for growing delicate flowers that require specific conditions.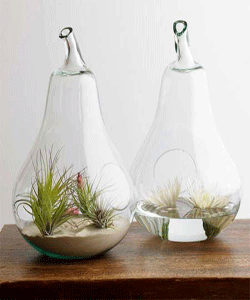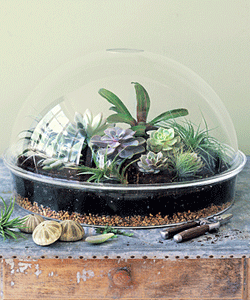 Glass terrarium containers are excellent places for moisture-loving small plants and beautiful flowers that turn them into gorgeous room decor accessories. Contemporary and traditional terrarium designs allow growing healthy and happy flowers at home and accentuate Green home decorating.
How to decorate kitchen with green plants and save money
Green home decor that cleans the air, top eco-friendly houseplants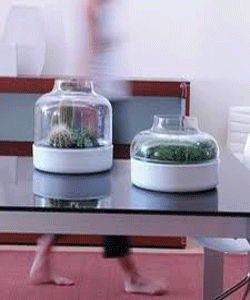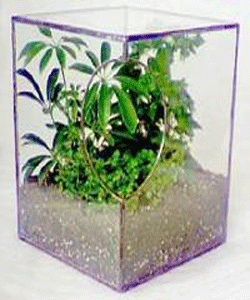 More from home decorating ideas

Bright home interiors and amazing views of the ocean make this beach house a dream place. Large windows, light, neutral room...
and enjoy free articles sent to your inbox