Recycling Old Shoes for Home Decorating with Green Plants and Flowers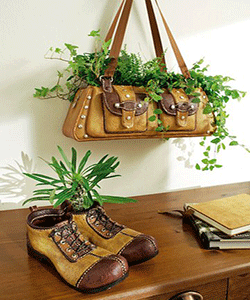 Environmentally friendly home decorating ideas, planters made of shoes and bags
plastic recycling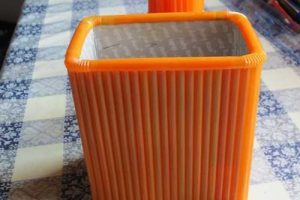 Everyone knows how much women like to buy shoes, boots and bags. Today men buy shoes, boots, sneakers and slippers often also. Each household has many pairs. It is not easy to decide what to do with winter boots, when we are relocating to warmer areas, and how to reuse and recycle those shoes and boots that do not fit or are simply out of style.
One of the possible environmental solutions is shoe recycling for decorating homes with plants. Creative plastic recycling of old ski boots and plastic shoes offers great, environmentally friendly home decorating ideas, money-saving opportunities and fun. Shoes and boots recycling for planters with flowers or house plants beautifully decorate homes and gardens on a dime.
Small house plants and seasonal flowers do not mind growing in planters made of old or no longer needed shoes and boots. Small greenhouse plants, flowers or tiny bonsai trees in unique, custom made, shoe recycling planters look great in every room and outside. A green plant on the coffee table in the living room or on the kitchen window sill, in the bathroom or beside a computer in the office is a beautiful, healthy and inexpensive eco-friendly decoration that connects interior design with nature and reduces household waste.
Eco-friendly decorating ideas and shoe recycling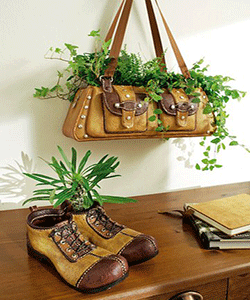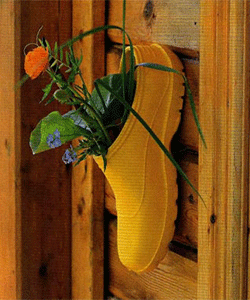 Greenhouse plants and seasonal flowers in creative planters can make beautiful blooming decorations for your front door, outdoor garden or patio. Made of old shoes and boots, painted bright colors or tastefully decorated, handmade planters with blooming flowers or greenhouse plants create modern, original and environmentally friendly decor for modern eco homes.
Shoe recycling and making planters for flowers or green plants are versatile ideas that suit any outdoor or indoor garden design and room decorating. Green plants, growing in made of old shoes or boots planters support Green home decor ideas and always attract a lot of attention.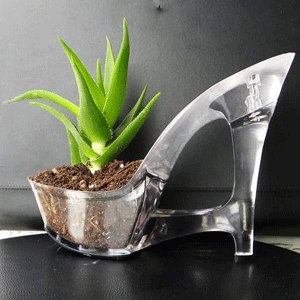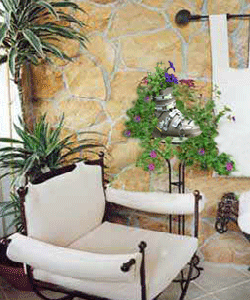 Plastic recycling and home decorating ideas
One of the easiest environmentally friendly home decorating ideas for plastic recycling is using rain boots, plastic shoes or old ski boots for designing unique handmade planters.
Eco friendly room decorating ideas with felt
Eco friendly green building with old empty bottles
Large shoes, boots, rain boots or ski boots offer more space for house plants roots. Artistic recycling ideas create impressive eco friendly decor accessories and add originality to modern eco friendly decor.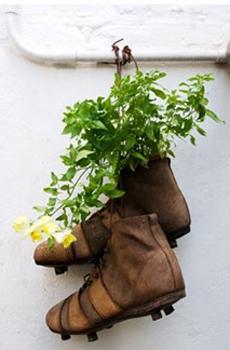 Eco friendly home decorating with house plants
Natural air freshener made with plants
House plants for eco friendly home decor that clean the air
Usually old shoes and boots have worn soles, but it is not a problem for patio planters, front door and home entryway decorating or your outdoor garden design. Large shoes and boots, especially ski boots and rain boots, are perfect for growing small house plants. Creative and unusual planters make recycling fun and turn old and useless items into interesting room decor accessories and impressive, but cheap decorations.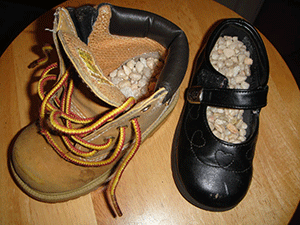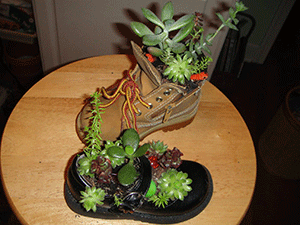 DIY project, recycling shoes for planters
Maranta plants and home decorating ideas
Egg shell and flower centerpiece ideas for eco friendly Easter decorating
1. Remove insert sole layer from old shoes or boots, make a few holes for excess moisture to escape.
2. Use fine sandpaper, then paint old shoes or boots, using acrylic paint.
3. Create interesting abstract or traditional floral designs, adding green, red or yellow leaves to colorful floral patterns.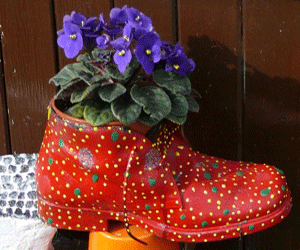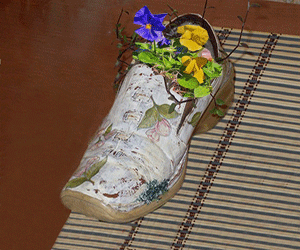 4. Make a thin layer of small rocks before filling up your planters with soil and potting small house plants in your handmade pots, created of old shoes or boots.
Symbolic house plants for home decorating and gift ideas for St Patrick's Day or Christmas
5. Choose small or medium size house plants that do not have deep roots, do not require  large planters and can comfortably grow in your old shoes or boots.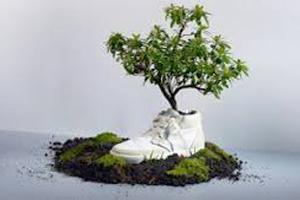 Your imagination and taste are the best helpers for designing unique planters for plants and flowers. Your color selection to match your home decor style and interior design color schemes will enhance room decor and add a personal touch to home decorating.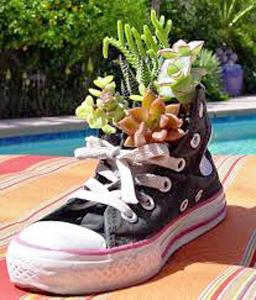 Small house plants for Green home decorating
Grow cacti (cactus plants are great for eco friendly home decorating, but leafless cactus plants are not always good to Feng Shui your home) plants, ferns, geraniums, edible nasturtium flowers, aloe plants, small succulent plants, a tiny bonsai tree, Irish plants or colorful flowers to celebrate changing seasons and to enjoy attractive, inexpensive and environmentally friendly home decorating with fabulous planters.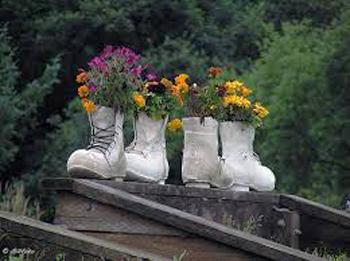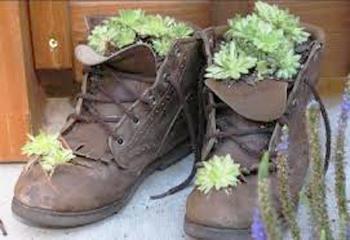 Creative Easter ideas offer many quick and easy techniques for spring eggs decoration. Instead of dyeing eggs, try decoupage turning Easter...
and enjoy free articles sent to your inbox