Colorful Paper Craft Ideas, Contemporary Wall Art, Paper Flowers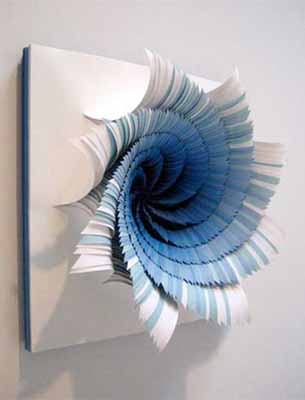 Colorful paper craft ideas for kids and adults, inspired by contemporary wall art or wall decorations in ethnic styles, create unique room decor accessories for modern home interiors. Realistic or futuristic, fabric or paper flowers craft ideas are fun room decorating projects to do with a child.
Paper flowers craft ideas for adults and kids help decorate a home for holidays, special occasions or different seasons, saving money on wall decorations and giving a great opportunity to enjoy quality time with kids. Paper craft inspirations, coming from folk art and contemporary wall art works, offer beautiful paper craft ideas for creating unique wall art decor for home interiors.
Colorful handmade wall decorations can be placed in anywhere in the house, adding a personal touch to room decorating ideas. Bright small and light wall decorations with paper flowers or large paper flowers craft sculptures are excellent for bringing charming decorative accents into your kids room decor or brightening up other home interiors.
3d paper craft ideas from Jen Stark
Young artist Jen Stark, jenstark.com/ lives in Miami, creating striking contemporary wall art works. Her impressive contemporary wall decorations, gorgeous abstract paper flowers and craft ideas, inspired by geometric patterns and sea shells, create amazing visual illusions and offer unique 3d paper craft ideas for adults and kids.
The artist designs bright paper flowers and craft artworks, inspired by nature, that demonstrate her unique talent and contemporary wall art vision. Her creative 3d paper craft ideas and wall art decor inspire people to experiment with bright colors and paper craft ideas, making unusual wall decorations and enjoying paper flowers craft ideas, inspired by fascinating contemporary wall art works.
The Rainbow is her favorite theme.  Bright and impressive wall decoration ideas in all rainbow colors look beautiful and fresh. Amazing abstract paper flowers sculptures and wall decorations with geometric patterns inspire new 3d paper craft ideas for adults and interesting, but easier to make paper craft ideas for kids.
Jen designs her paper flowers and contemporary wall decorations with abstract geometric patterns, focusing on symmetry and radiant colors that bring positive energy and improve mood. The Outer Space decorating theme and abstract paper Flowers are wonderful wall decoration ideas for kids room decor and living room decorating.
Craft ideas for wall decoration
Colorful pencils for making decorations with kids
Wall decor ideas, decorating with ordinary frames
Simple paper arts and crafts for kids
Creative craft ideas for kids and adults, inspired by the artist, can help to design and make attractive contemporary wall decorations for Kaleidoscope Colors or Beautiful Sunsets room decorating themes.
Colorful paper for crafts offer a wonderful material for decorating gift boxes and making wall decorations, including bright paper flower crafts. Beautiful and versatile paper for crafts are great for creating holiday and special events wall decorations, home office, craft room and kids room decorating ideas that save money and stimulate creative mind.
Beautiful paper flower crafts, pom-poms, party favors, kids rooms wall decorations and room decor accessories, place cards and personalized gift boxes are only few fun ways to use paper for crafts. Hanging from the ceiling, light and colorful paper flowers or 3d paper craft ideas for wall decoration add charming unique character to any party room decor.
Recycling craft ideas
Recycling decor, old shoes for green plants
Handmade Christmas decorations and ideas for cheap eco friendly gifts
More from decorating with flowers

Roses make beautiful, romantic gifts and attractive, fresh table centerpieces. Premium quality gold dipped roses are contemporary floral designs that blend...