Feng Shui for Wealth with Fish Tanks

Feng Shui Home

Furniture Accessories

Pet Design

aquarium and decoration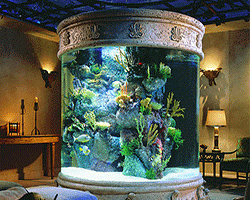 Fish tanks and natural items for aquarium decoration are stylish home decor items that make rooms look more interesting and Feng Shui a home for wealth. Fish tanks attract good luck and abundance, protect homes and people, according to ancient Chinese Feng Shui masters.
Feng Shui home design and decorating philosophy uses Water element to Feng Shui homes. A fish tank, the right furniture placement and attractive aquarium decoration create relaxing atmosphere, add color to room decor and Feng Shui a home for wealth. (Good Feng Shui, colors and Chinese symbols)
Each house is unique and built in its own style. Each house has different places suitable for glass aquarium tanks. Fresh water in a fish tank, beautiful fish and natural aquarium decoration strengten the Feng Shui chi flow, add light to your home and Feng Shui it. (Feng Shui room with an aquarium)
Living room decorating ideas, glass fish tank, good Feng Shui design and aquarium decoration
Chinese Feng Shui and fish tanks
Feng Shui is the art of living in harmony with the universe and its energy. Room decorating ideas that include glass aquariums, improve the energy flow, creating beautiful and balanced home decor with all five Feng Shui elements, – Water, Wood, Metal, Earth and Fire. Tropical fish aquariums bring harmony into interior decorating and offer an impressive decoration for modern eco homes.
Many factors can influence Feng Shui house energy flow. Fish tanks and natural aquarium decoration, that include aquarium corals, small rock, fish and plants, increase the flow of Feng Shui chi and allow more Feng Shui wealth energy come into a house. (Feng Shui and clutter, space clearing)
Dining room decorating ideas to Feng Shui a home for wealth, large fish tanks,
Feng Shui tips for aquarium decoration
Green plants are an important aquarium decoration that represents Wood element and brings natural decorating accents into your home. Small rocks, sand and gravel represent Earth element.
Red, golden and orange tropical fish in an aquarium add Metal element to your aquarium decoration. Gold fish is good Feng Shui fish, one of the symbols that help Feng Shui for wealth. (Feng Shui fish, tortoise and good Feng Shui)
3 fish symbolize growth and development, 6 fish bring wealth and prosperity, 9 fish are the Chinese symbol of long life. 8 is the lucky number (for years between 2004-2024) that attracts money and financial stability.
Fish tanks that have structural parts made of metal add Metal element to aquarium decoration, helping create balanced Feng Shui design. Glass aquarium tanks or acrylic fish aquariums are missing Metal element. Aquarium decoration that includes small metal objects or silver coins add Metal element to balance fish tanks design and create good Feng Shui room decor.
Corner fish tanks, space saving room decorating ideas, good Feng Shui placement and aquarium decoration
Good Feng Shui placement
Chinese Feng Shui masters suggest to place a fish tank, a furniture piece for an aquarium with fish or a small water fountain in the south-eastern part of your home, that represents Abundance. Good Feng Shui furniture placement helps attract positive changes and opportunities to improve your financial situation.
There are also some places with negative Feng Shui house energy that should be avoided, like sinks and toilets. A fish tank, placed in negative energy zones will multiply problems and create more troubles, Chinese Feng Shui experts explain.
Modern bathroom decorating ideas, sink-aquarium with fish, bad Feng Shui placement
Learning good Feng Shui tips is a way to follow wise teachers who know how to bring balance and harmony into your home and into your life.
Feng Shui for wealth
If your life is like a constant race, it is important to redesign your interior and turn rooms into a cozy retreat where you can relax and be yourself.
Entry room decorating ideas, tropical fish aquarium, space divider, good Feng Shui aquarium decoration
Chinese Feng Shui masters help people to achive the balance between spiritual and physical life, providing good Feng Shui tips and room decorating ideas that are strengthening health and attracting wealth.
Feng Shui ideas:
Turquoise colors to Feng Shui
Feng Shui color meaning
Year of Rabbit, Feng Shui color schemes
Unique aquarium decoration for dining room and living room, decorating ideas with large fish aquariums

Here are great ideas for kids toys storage and wall decoration with small cars that everyone would love. DIY organizers, like...
and enjoy free articles sent to your inbox