Home Staging Tips for Room with Aquarium

Furniture Accessories

Home Staging

Pet Design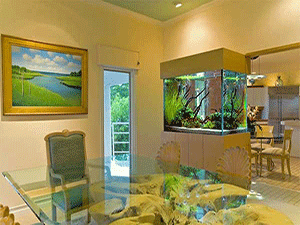 A large aquarium used as a room divider between kitchen and dining areas
aquarium and decoration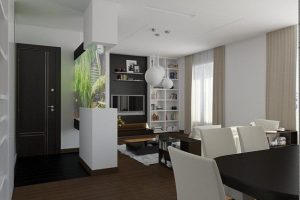 Home staging is the art of creating inviting and spacious rooms to sell your house fast. Aquariums are beautiful home decor items that attract a lot of attention. Glass aquarium tanks are impressive and create a challenge for home staging. A small aquarium tank can be moved or removed from a room for homestaging, but medium-size and large tropical fish aquarium tanks make home staging a bit complicated.
Fish are mysterious, gracious and beautiful pets. No wonder a lot of people have them at home. Fish or live rock aquarium tanks are modern home decor items that are always in style. Fish aquarium tanks entertain people, their friends and family members and create a peaceful atmosphere. A topical fish aquarium always attracts so much attention that can make home staging difficult.
A small fish aquarium is easy to move, but a large aquarium tank stays in the room during home staging and selling your home. Tropical fish aquarium tanks can not be moved without thinking about fish. Home staging and interior redesign should be thoughtful and eco-friendly. Nobody wants fish to die while the owner is rearranging furniture and moving an aquarium tank to prepare a house for sale.
Home staging tips for a room with an aquarium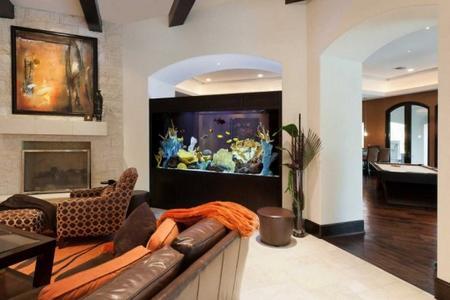 If necessary and possible, homestagers may suggest moving a large fish aquarium to your friends' house until your property is sold. Small children, living in the house, can get upset about it. Talking to little kids is an important step before moving an aquarium to another house that helps creating less stress.
1. A tropical fish aquarium can attractively decorate a wall or a dark corner in your room. It makes the focal point of interior decorating. Living room furniture, decor accessories and lighting can be arranged around a glass aquarium tank for watching fish in comfort and creating a pleasant and peaceful atmosphere for conversations.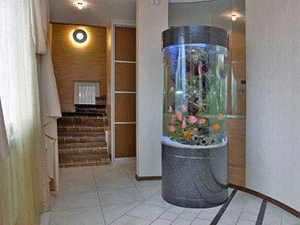 Home staging game Clutter Hunt
2. Wall mounted glass aquarium tanks should be treated like colorful wall paintings. Basic recommendations for homestaging a room with art works can be applied to tropical fish aquarium tanks also.
Interior decorating with a glass aquarium on the wall does not need many decor accessories. Less is more. Declutter a room and create visually more spacious interior design.
3. Keeping window curtains open during house showings helps present your property in the best way. Light visually expands small spaces and increases rooms size visually. Light and bright rooms sell homes faster, but fish prefer moderately lit, soft environment to survive, so find the balance to keep your fish happy.
4. A topical fish aquarium is spectacular. Aquarium tanks grab visitors' attention, pleasing kids and distracting adults from house viewing. Prospective buyers can get so distracted that they would not remember your home after leaving.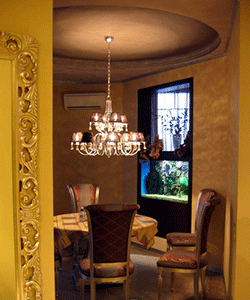 Homestaging should find a creative way to redirect their eyes from an aquarium to house architectural features and demonstrate a large window, beautiful flooring or high ceiling designs.
5. Potential buyers should notice all positive details and architectural features of your house, even when they are a bit destructed by an eye catching tropical fish aquarium.
Skillfully staged homes and attractively decorated modern interiors will demonstrate that a house has more than a beautiful glass aquarium to offer.
6. A fish aquarium is a piece of furniture and an art work at the same time. Home staging and decorating a room with a large aquarium should be similar to homestaging a room with an impressive wall artwork.
Home staging tips for empty glass aquarium tanks
7. Empty glass aquarium tanks, if it can not be removed from a house, should be transformed into attractive displays without fish. Totally empty glass aquariums look boring and do not help create welcoming, bright and warm homes.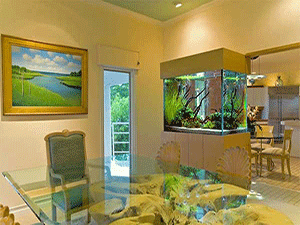 8. Aquarium corals, figurines, colored beads, sea shells, sand, plastic aquarium plants and rocks in the water attractively decorate a glass aquarium. Simple and beautiful aquarium decoration ideas add charm to a room and helps home staging for sale.
A glass fish aquarium can be an impressive art piece, which makes a room look relaxing and welcoming. Glass aquarium tanks with clean water, healthy fish and attractive aquarium decoration add harmony to staged homes and make interior decorating look more beautiful, interesting, bright and inviting.
Modern ideas for homes with pets
Design ideas for stylish furry pets
Mini pigs home redesign tips for safety and fun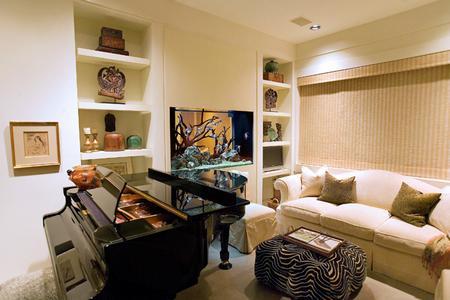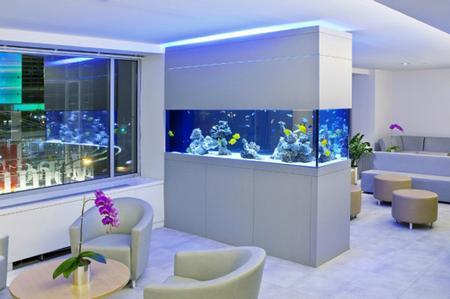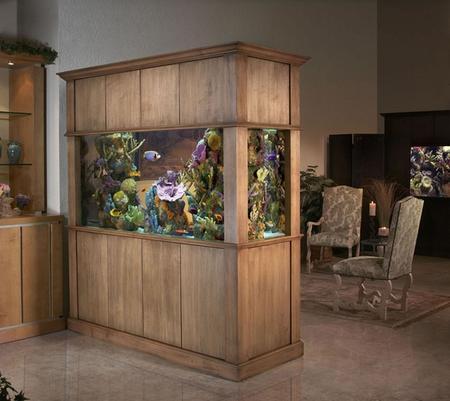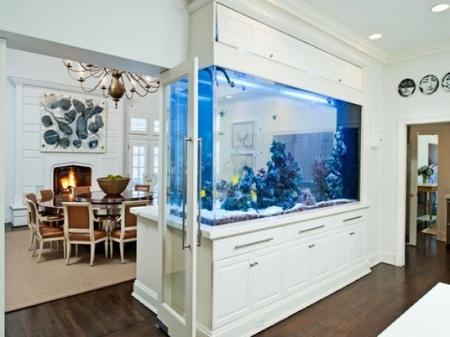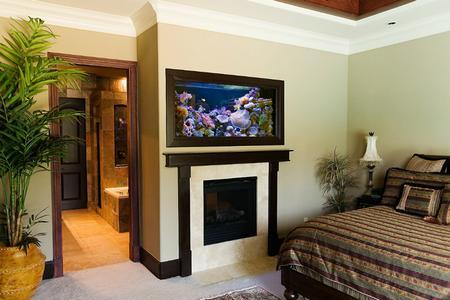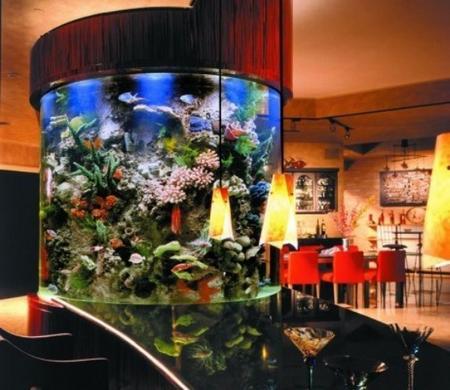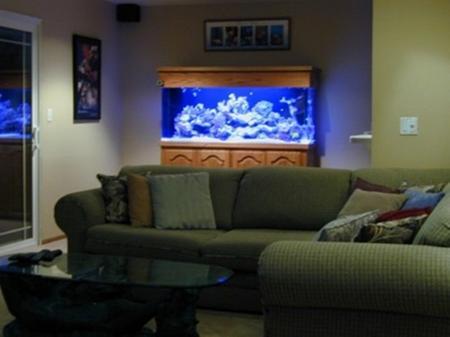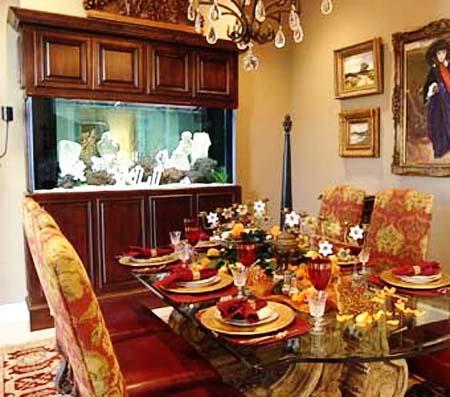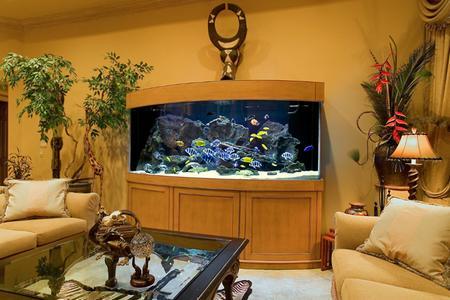 More from home staging tips

Modern interior design trends come and go, and it is impossible to change your home interiors fast enough following them. To...
and enjoy free articles sent to your inbox