10 Mini Pigs Home re-Design Tips for Safety and Fun

Interior Design Ideas

Outdoor Living

Pet Design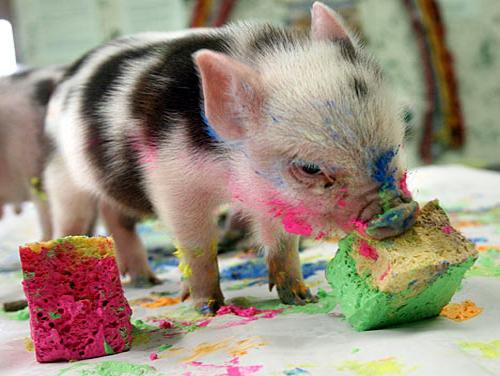 Miniature pigs having fun
pets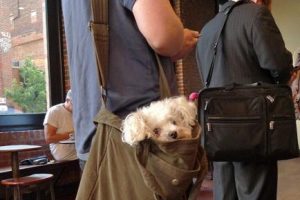 Miniature pigs gained popularity as small pets. If you are allergic to cats, or your children need a friend which will not scratch or bite, fish or mini pigs are the right pets for your family. Mini pigs are quiet miniature home pets. These tiny exotic animals are tender, smart, clean and odor free.
Mini pigs are well-behaved, cute and intelligent, but these exotic pets are just animals, and you need to make some changes at home, redesign your interior and backyard for creating safe home design and fun atmosphere for your pot bellied pig to stay healthy and happy.
1. Miniature pigs need some space to exercise, but these wonder pets can damage your backyard landscaping. Plan and design the small area where your pot bellied pigs can enjoy the nature, run and rest enjoying the fresh air, sunshine and shade.
Fun loving and caring pets, miniature pigs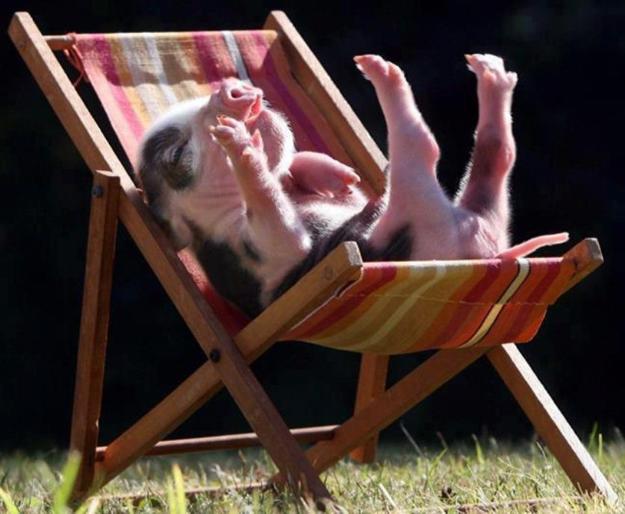 Backyard ideas for miniature pigs
2. Miniature pigs love to swim. Pot bellied pigs do not sweat, and they need to cool down in the water. Pigs enjoy water, and you need to take care of your miniature pet health providing an opportunity to cool down and have fun. If you do not have a pool, design a miniature pet paradise for your Oink swimming with a small tub.
Any shallow tray can be used also. Fill it up with water to a half of the size of your miniature pig. The water should be warm, at the room temperature in winter and in summer. Miniature pigs are sensitive to cold.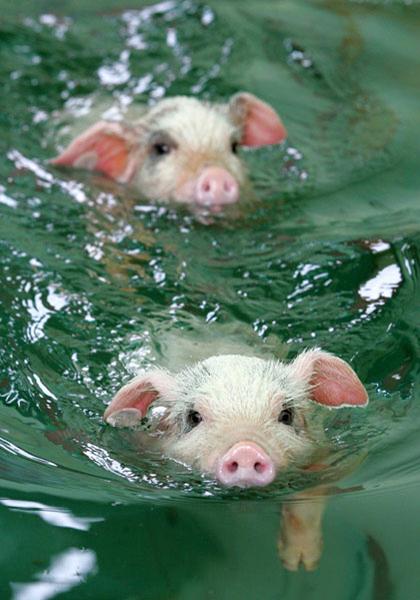 Miniature pet grooming
3. Pot bellied pigs do not require pet grooming. Miniature pigs do not shed, and their skin does not smell. However, pigs should be washed. You need to design a comfortable place for your mini pigs bath. Usually miniature pigs have nothing against the bath. You can wash pot bellied pigs at the same spot where your miniature pet enjoys swimming.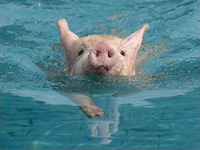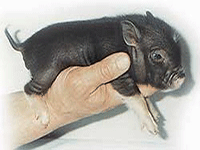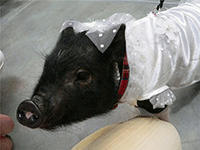 Purchase a special pet shampoo from a local pet store or online. If you can not buy miniature pigs shampoo, wash your pet with clean water and natural bristle brush. Also you can rub miniature pigs skin with a brush without shampoo, rinse, then wrap the pet in a warm towel to dry. Tender pigs can catch cold.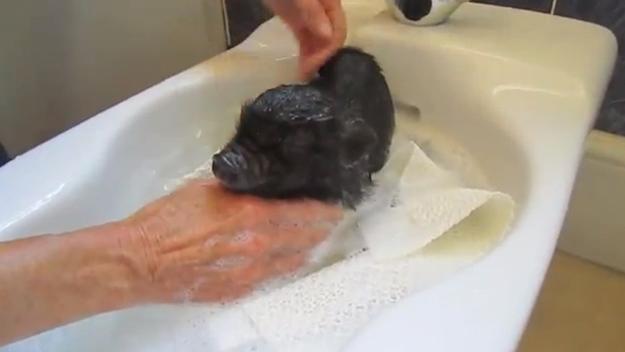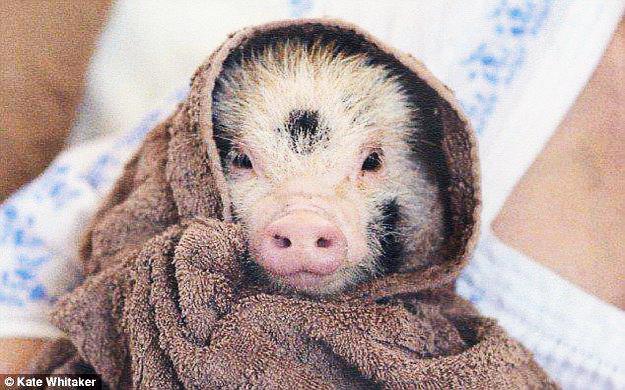 Miniature pet training
4. Pet training is easy for these family pets. Well-trained miniature pigs go to a litter tray or to the bushes outside. Pot bellied pigs need to go several times a day. Like it or not, but twice a day at least. When it's cold outside, it is better for these small pets to stay home. Mini pigs will not mind it and will look pleased, if you arrange a tray for them at home.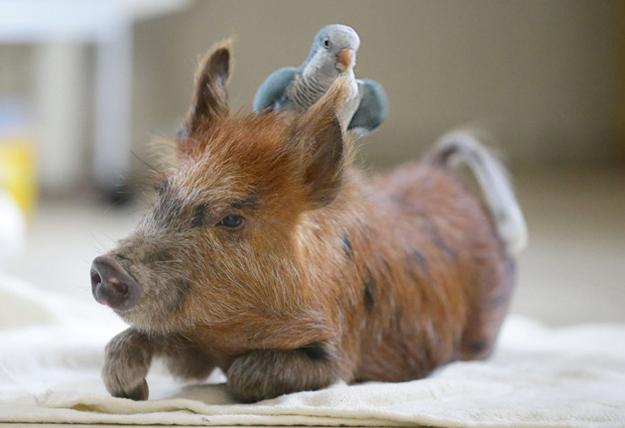 The tray for your wonder pet can be similar to the one for a cat, but large and not too deep. Miniature pigs move a lot, choosing the right spot, so the tray should be much larger than for a cat. If such models are not sold in your local pet store, you have to be creative, design and arrange something suitable for your mini pig at home. Think about rubber mats also.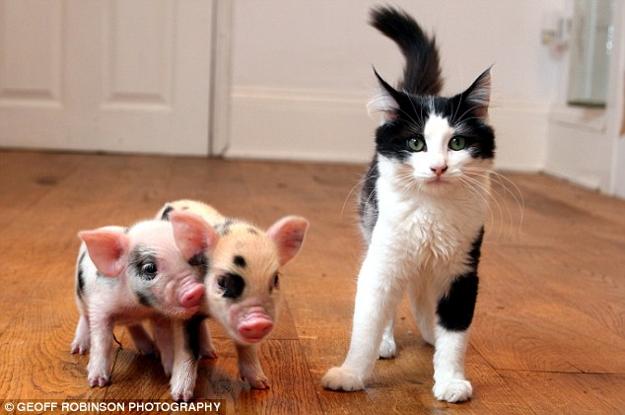 5. Mini pigs get used to the tray in a couple of weeks. How to do it? Ask cat lovers, they will tell you. Just remember that whatever you are teaching miniature pigs, food is the best reward for these unique and exotic animals.
Healthy food for miniature pigs and kitchen ideas
Miniature pigs should eat vegetables, fruits, cereal, bread, and a little of fish, meat and milk. Oatmeal with fruits or vegetables for breakfast if the right pet food for miniature pigs. Everything should be free of sugar and salt. Mini pigs like cucumbers, sweet peppers and croutons. Pot bellied pigs happily eat cheese also.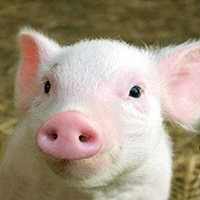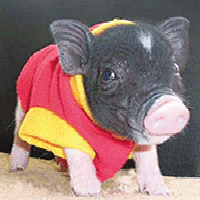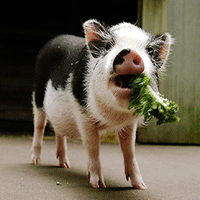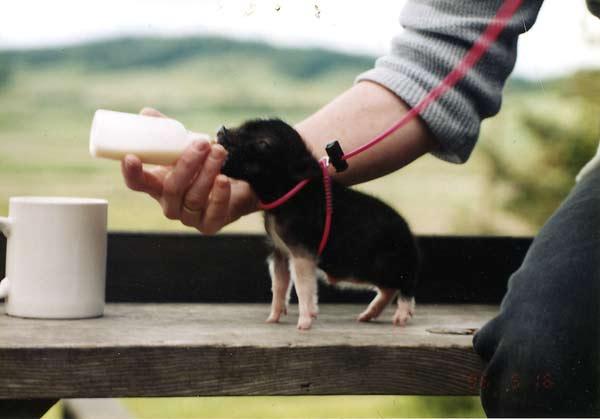 Food means a lot for mini pigs, and a refrigerator immediately becomes the object of adoration. Miniature pets quickly realize how to open the fridge. (Kitchen decorating to dress up the fridge) You need to think about, buy or design something that can work as a lock for the fridge. Miniature pigs weakness for food can become a health problem.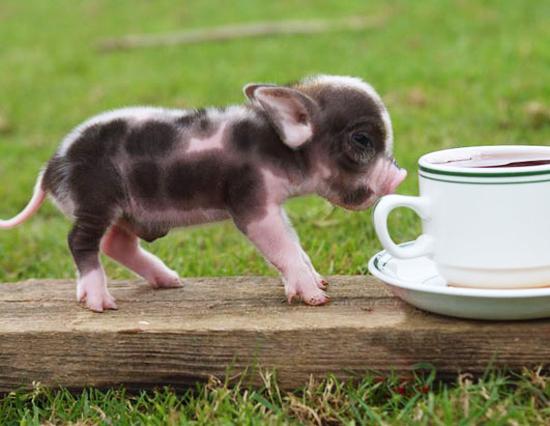 Mini pigs safety, home redesign and organization
6. Mini pigs can chew plastic, fabric or wood and get sick. Piglets can break a tooth even. Pot bellied pigs can get excited about cables or an electrical socket, well, you understand… So organize all cables and wire, rearrange floor lamps and appliances, redesign your home interiors, creating safe space for your small animal. They should have fun and stay healthy.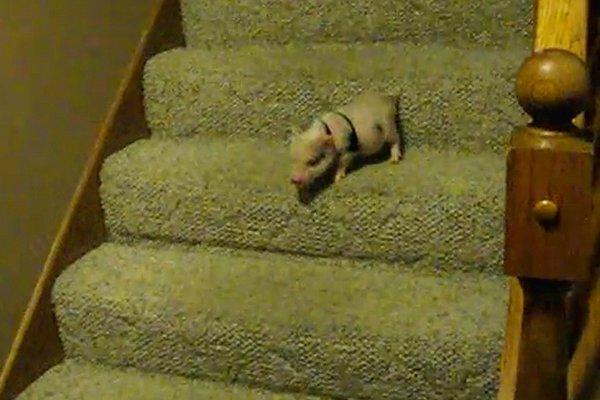 Mini pigs are curious. Miniature animals will explore every corner and crack in the house. You need to inspect your home interiors and make all necessary changes or small repairs to protect your miniature pets from any possible dangers: electrical cables and sockets, household chemicals, heavy, sharp or cutting objects. Do not worry about home furniture, your mini pig will not spoil it.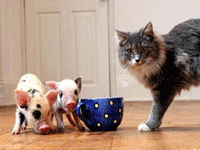 Floor design for miniature pigs
Pot bellied pigs love to dig up. The floor should not be slippery for mini pigs. Change the floor material or cover the floor with rugs, otherwise your mini Oink can slip and get injured. It can be a big problem for a miniature pet, and even a surgery may require.
Wood flooring and ceramic or metal tiles can be dangerous for a mini pig. Before you buy a pet, make sure you can redesign your home interiors and create comfortable and safe environment for a mini pig.
7. Mini pigs do not like drafts and can get sick. Make necessary changes and small repairs to prepare your home for your miniature pet that will live on the floor.
Miniature pigs entertainment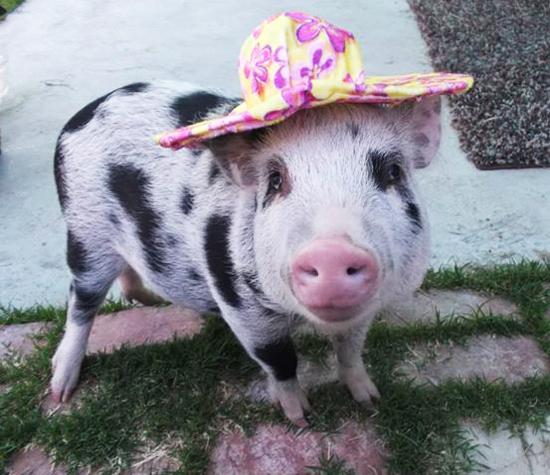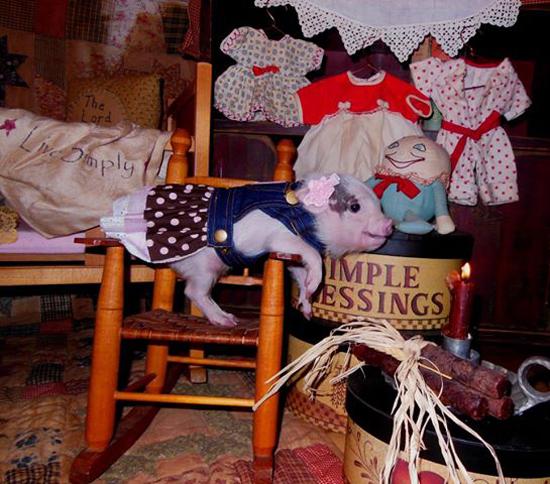 8. Mini pet pigs are very social and sociable. If you don't pay attention and do not play with your miniature pet, your pig will start chewing carpets, wallpaper and house plants pots. You have to spend enough time with your pot bellied pig, enjoying pets company, otherwise having a mini pig at home makes no sense. Just leaving with you in the house does not make your miniature pet happy.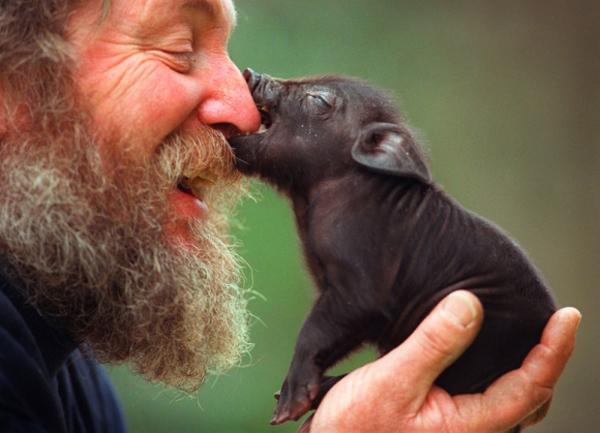 Pot bellied pigs toys
You need to organize the entertainment for pot bellied pigs. Typically, these home pets like to play with plastic toys and balls. It is better to buy soft pet toys for mini pigs. Experiment, you never know what would be the favorite toy for your mini pet. Some mini pigs have no interest in balls, but like to have fun rolling on the floor with water bottles.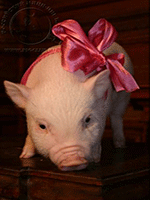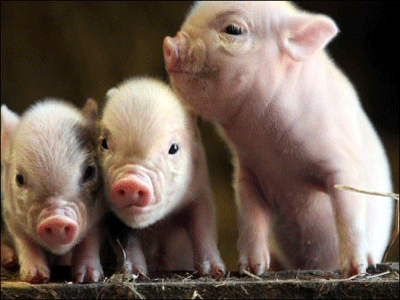 Pot bellied pigs and other home pets
9. Mini pigs are intelligent, and they are trainable like dogs. Commands Sit, Give me a paw, Bow are not a problem for a mini pig. Mini pigs get along well with dogs, cats and other pets in the house, and can easily learn to bark, to meow, and even to pronounce the words. It is good to remember about the pet talent, if you live in a condo with neighbors.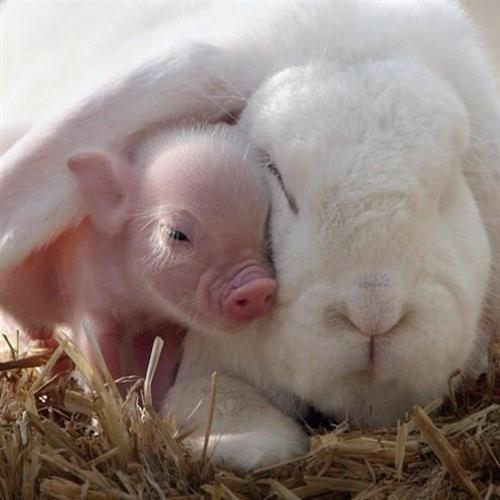 10. Generally, mini pigs are not loud and absolutely not seen or heard in the house, except that mini pigs are sociable, love their owners a lot, miss them and follow them around the house constantly. If you are watching the TV, your mini pig will be right there asking for your attention.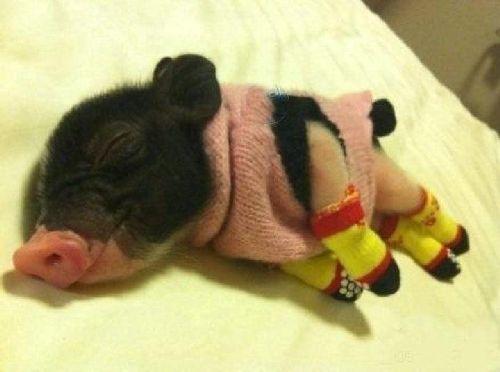 Because of miniature pets size, mini pigs safety is one of the most important factors of your home interiors redesign. Make sure you create comfortable, cozy and safe environment for your tiny friend Mini Pig.
Modern pets and design ideas
Home staging tips for the room with aquarium
Mini pig bench and chair for eco style decorating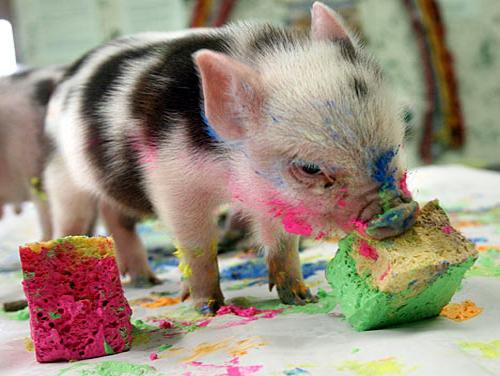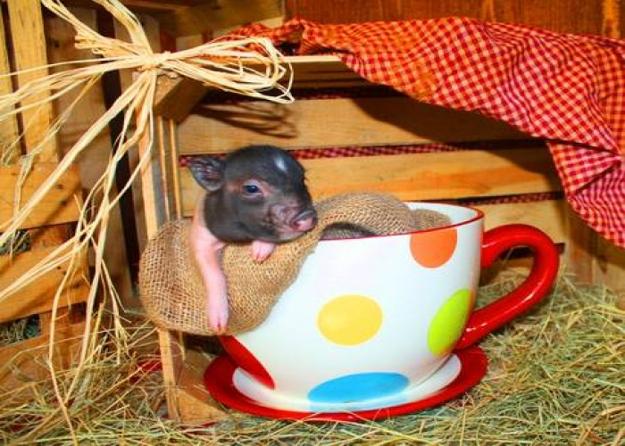 More from home staging tips

Modern interior design trends come and go, and it is impossible to change your home interiors fast enough following them. To...
and enjoy free articles sent to your inbox