Modern House Design with Indoor Garden, Broadway Penthouse Renovation

Green Design Ideas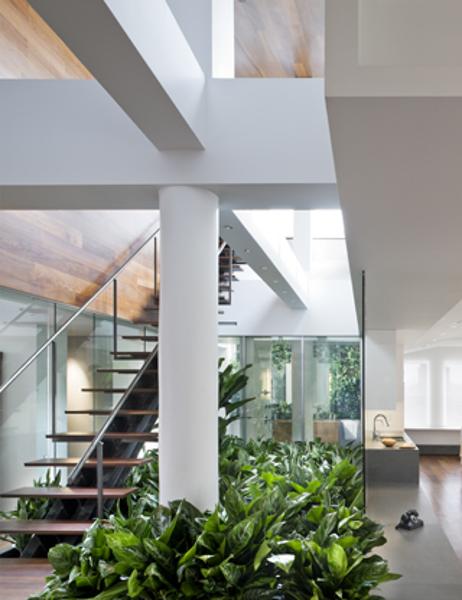 Staircase design and indoor garden
MODERN WALLPAPER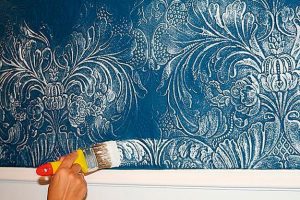 Modern house design with an indoor garden and a green rooftop garden allows to enjoy the freshness of the green areas in a busy urban environment. The house design with an indoor garden brings the charm of country living style into dynamic and noisy New York.
Broadway Penthouse is a loft renovation and interior design project developed by Joel Sanders Architect studio, www.joelsandersarchitect.com/ presented this gorgeous home for green living in a large city. Comfortable and stylish Broadway penthouse is a nice way to enjoy a green garden in your home, that makes balconies, interior design and decor in eco style more attractive and pleasant.
In large cities, as a crowded and bustling New York, USA, people are lacking an opportunity to relax in green gardens. The indoor garden is an element of nature, help adapt modern house design ideas to current trends and create beautiful interior design and decor in eco style.
Modern apartment ideas and loft renovation inspirations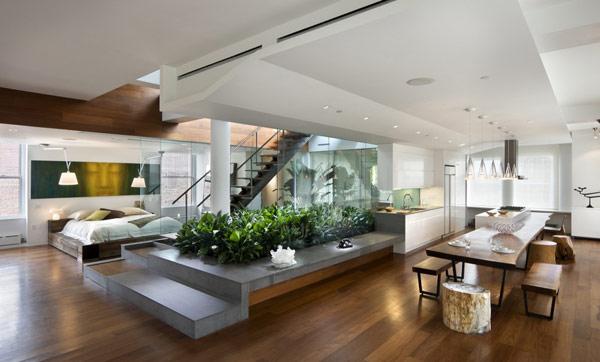 The American house design studio Joel Sanders Architect have developed an impressive green living design, offering the spacious penthouse, located on Broadway.
Reclaimed wood pieces add walnut tree color to modern interior design and decor, creating contrasts with white walls. Warm wood soften the elements of industrial space and create comfortable and cozy atmosphere. Recycled glass pieces create the indoor garden walls, offering a beautiful view and providing a visual connection between the green zones located at various locations and apartment interior decor.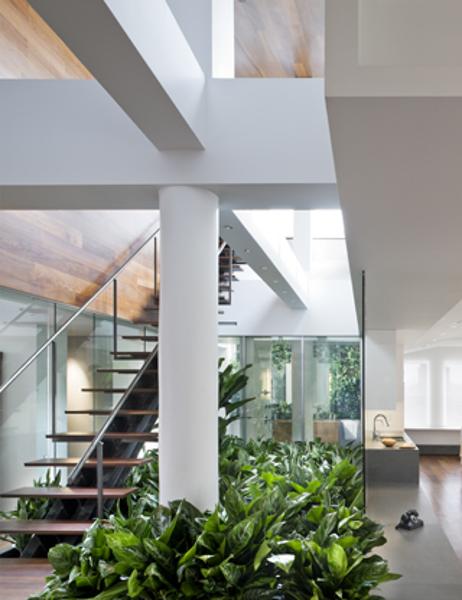 Gorgeous green design, spacious modern interiors, lots of light and air, simple and elegant furniture and decor makes this dream home a true retreat for those who appreciate eco homes in contemporary style.
Parisian penthouse apartment ideas, modern penthouses and interior design
Glass house design with indoor garden, green ideas for modern eco homes
Pushing green design beyond the familiar, this loft renovation and apartment ideas rethink the notion of an urban garden by literally bringing the outside in. Exterior wood decking and vegetation flow into the heart of the loft forming a planted core, a living green veil that screens the public living room and dining room from the private master bedroom.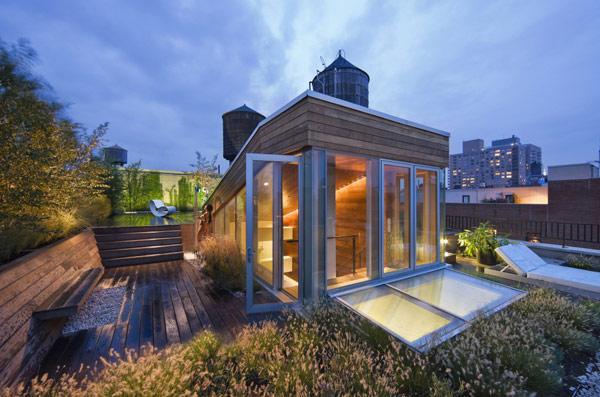 The stair bulkhead doubles as a skylight and provides access to a roof terrace planted with small bushes and grasses. The owner can bathe surrounded by lush vegetation visible through a glass wall that separates the bathroom from this planted zone. The rear of the bathroom is clad with modular plant panels. Surmounted by a skylight, this living wall is yet another element that vertically links roof and interior.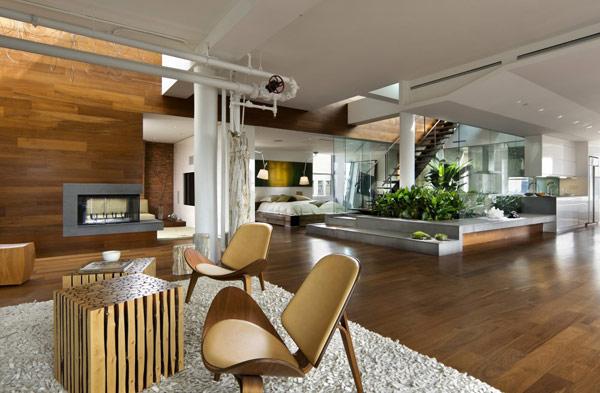 An eco friendly color palette of natural and synthetic materials confound traditional distinctions between natural and artificial. When seen from entry, the planted core merges with the living space. The upholstered floor and seating evoke a textile garden. The interior design and decor counterpart to the roof terrace, where plants define a beautiful outdoor room.

More from reuse and recycle

Recycling is a creative, Green, modern way to create something new, exciting, original, stylish for your home interiors. Do-It-Yourself projects are...
and enjoy free articles sent to your inbox