Summer Kitchen, Outdoor Rooms, Modern Backyard Ideas

Decorating Ideas

Outdoor Living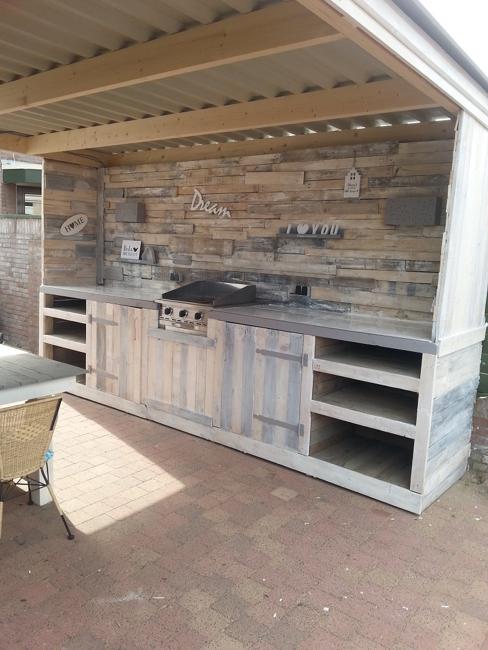 outdoor rooms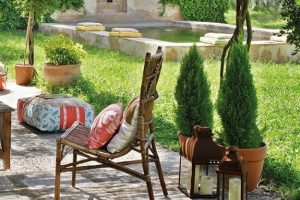 Outdoor rooms are perfect for gatherings and outdoor entertaining in summer, late spring, and early fall. Adding summer kitchens and dining areas to backyard designs are modern trends that create a perfect atmosphere for starting a day with a cup of coffee, enjoying a summer picnic, lunch, or inviting friends for a barbecue party in the evening.
Outdoor rooms add more fun and comfort to backyard ideas. The summer kitchen and dining area are lovely additions to backyard designs that make cooking, dining, and jams outside enjoyable. Outdoor kitchens can become the center of summer fun, providing an excellent opportunity to enjoy warm days.
Cozy and comfortable outdoor rooms, summer kitchens, and dining areas look inviting, bringing more style to backyard ideas and increasing your house sale price. Outdoor kitchens, basic or fully equipped with a sink, small fridge, stove, kitchen cabinets, and shelves for storage, make family life more exciting and help sell properties faster for better prices.
Modern kitchen design trends, portable stove, kitchen appliances
Empty container house, small house designs
Summer kitchen design ideas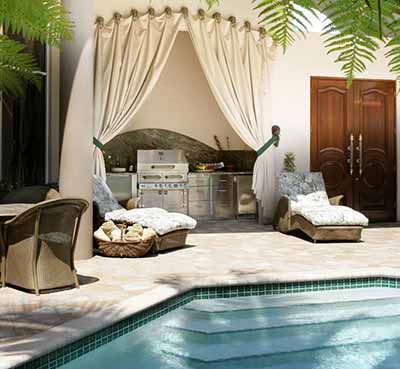 The summer kitchen, located close to the pool and seating area, with a fridge, sink, BBQ, and dining furniture, adds unique character to your backyard ideas, creating a vacation-like atmosphere. Outdoor kitchens with a fireplace, BBQ, and comfortable garden furniture add chic and luxury to modern backyard designs, offering pleasant opportunities to connect to nature, enjoying cooking, and relaxing.
Cork furniture, eco-friendly contemporary furniture design
Portable kitchen appliances, yellow-silver stove
People build summer kitchens in outdoor rooms, guest houses, on covered porches, and terraces. Outdoor living spaces can have a light design for summer parties or be a strong structure, insulated and well-equipped for use all year round.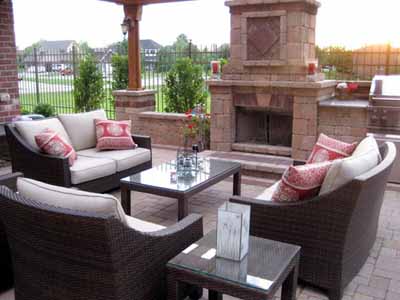 If you like cottage life and enjoy outdoor rooms, equip a summer kitchen with all modern home facilities and kitchen appliances for a comfortable and functional design.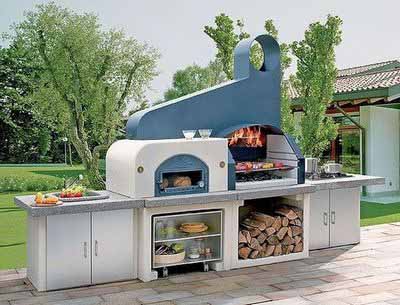 It is easier to build outdoor kitchens close to houses, saving money on bringing water, gas, and electricity to new outdoor rooms.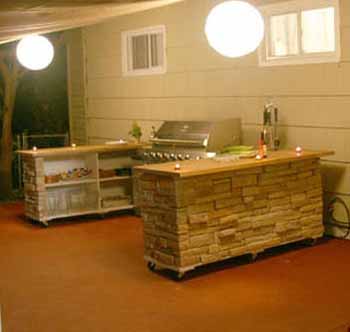 Outdoor kitchens with dining furniture
Garden furniture, dining table, and chairs for a summer kitchen and outdoor rooms can be plastic, wicker, wooden, cork, aluminum, or wrought iron.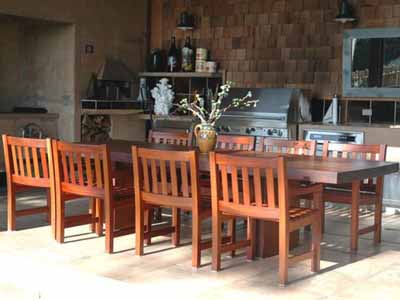 Wooden and wicker furniture create a very cozy and relaxing country cottage-like environment. Forged lighting, wrought iron dining furniture, and garden benches add a stylish French Provence touch to the summer kitchen and dining area decorating, creating elegant chic backyard designs.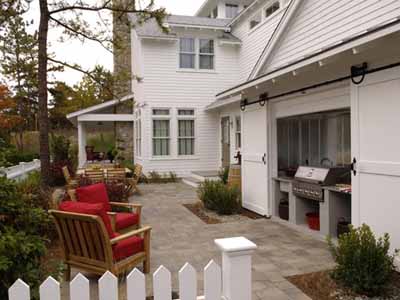 Contemporary plastic tables and chairs in bright colors are perfect for cheerful and energetic modern kitchens and dining areas. Aluminum and cork furniture designs are exciting new trends that are practical and fresh. Contemporary dining furniture designs combine various materials – wood and metal, glass and metal, bamboo and fabrics, wood and fabrics, metal and glass, or rattan and glass- are also comfortable and functional.
Outdoor kitchen lighting for style and safety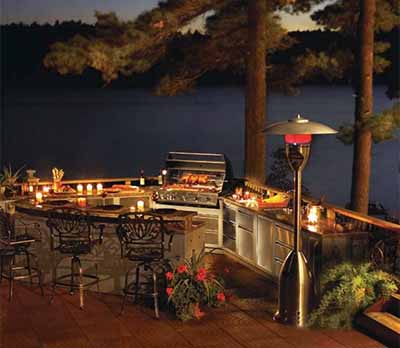 Summer kitchen lighting can define functional zones and beautifully decorate the summer kitchen and dining area, providing more comfort and creating beautiful outdoor rooms. One bright lamp is excellent for a small summer kitchen design. Few small lights in the dining room and functional summer kitchen lighting make outdoor living spaces more stylish, comfortable, and cozy.
Portable and sectional patio bar furniture, light outdoor home bar designs
Kitchen lighting design for coffee lovers
Dresses for lights, a la mode lighting design
Proper lighting for the summer kitchen and night lights along the path to the home is vital for creating a safe backyard design. Well illuminated at night path from the summer kitchen to your house protest people from accidental injuries.
Roof or canopy over the outdoor kitchens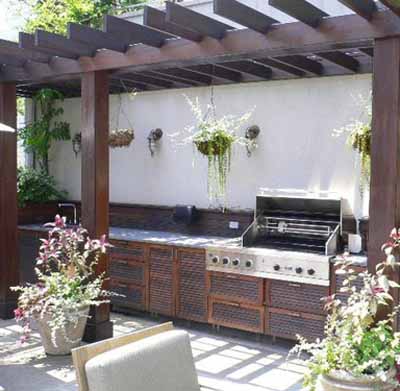 Light wooden or fabric canopy over the outdoor rooms protects from the sun or rain. Gazebos and summer houses shutter or light removable screens made of glass, plastic, or wood add more comfort to the summer kitchen design, protecting from the rain and wind. Traditional umbrellas and modern canopies made of light contemporary fabrics effectively protect the dining area from the bright sun and light rain.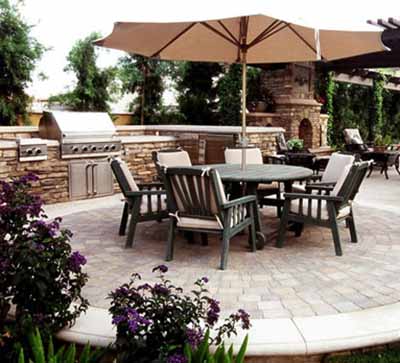 Practical materials for summer kitchen design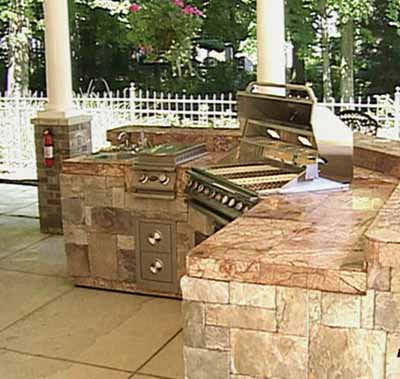 You can select materials for the summer kitchen construction, dining furniture, and kitchen appliances that require minimum maintenance. Ceramic tiles and decorative paving stones are the ideal floors covering for a summer kitchen. Stainless steel and natural stone are perfect materials for summer kitchens.
Summer kitchen ergonomics
Ergonomic hammock for indoor and outdoor living, modern backyard ideas
Ergonomic kitchen accessories for modern kitchens
While developing a summer kitchen design, remember the triangle rule that creates an ergonomic arrangement. The functional triangle is comfortable. The plan requires minimal effort for moving between kitchen appliances and a fireplace.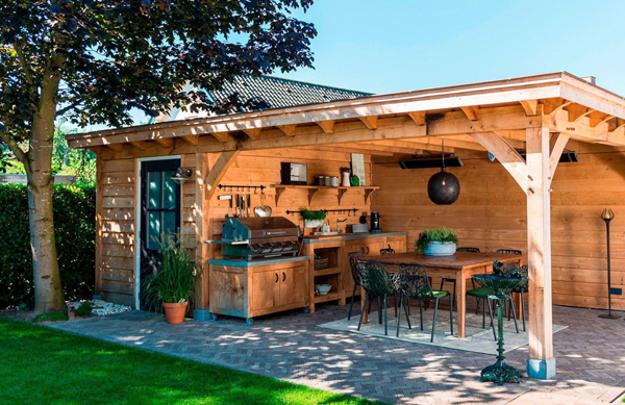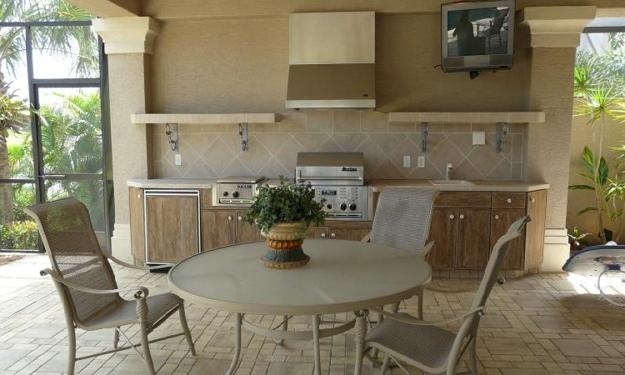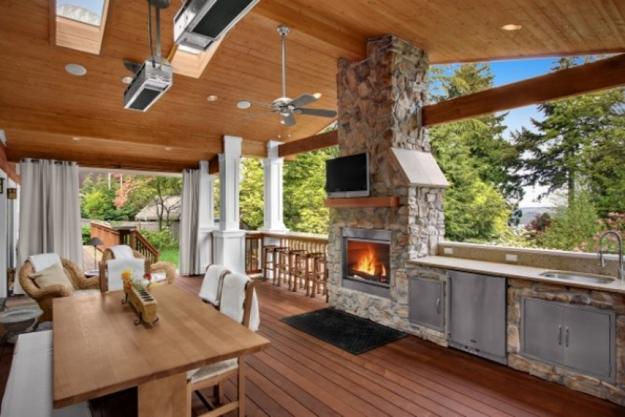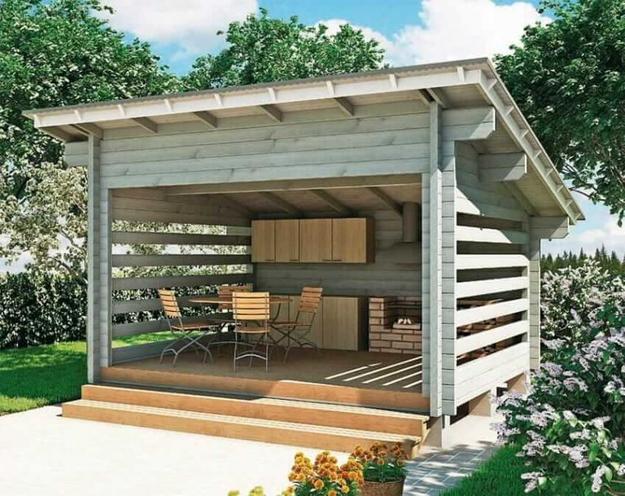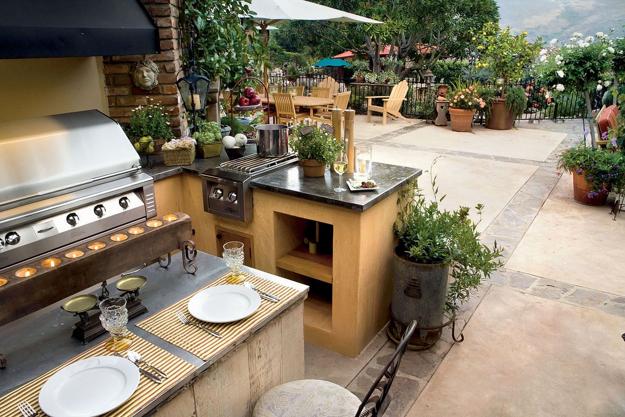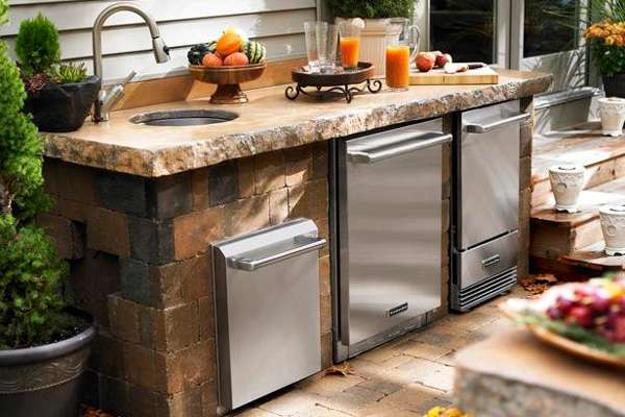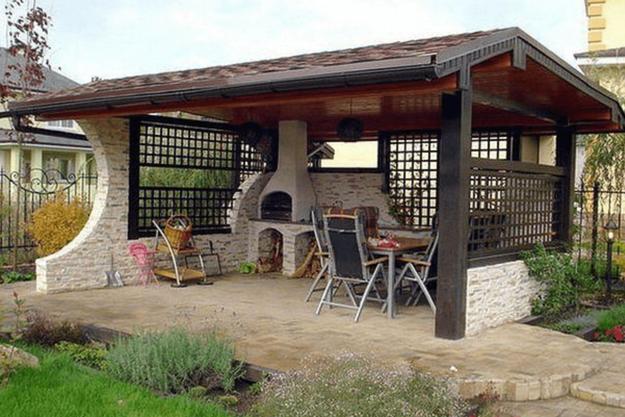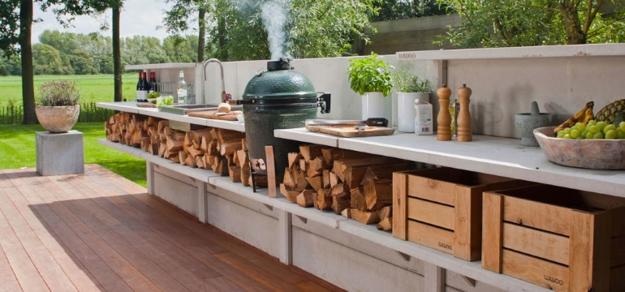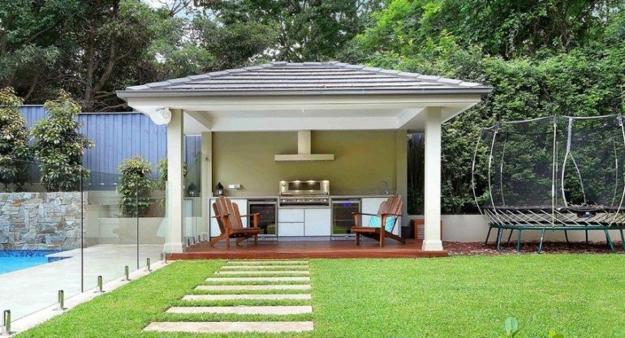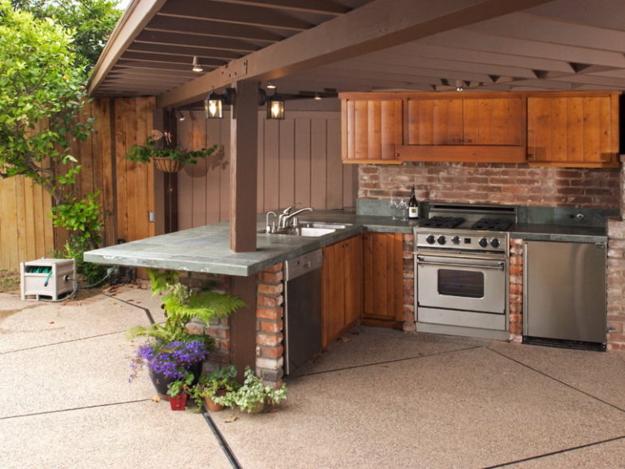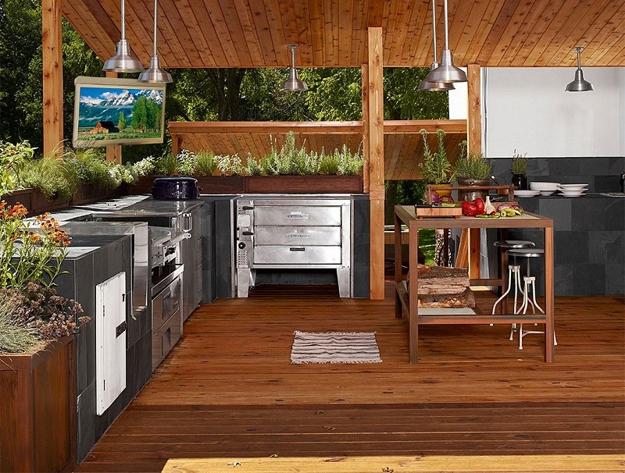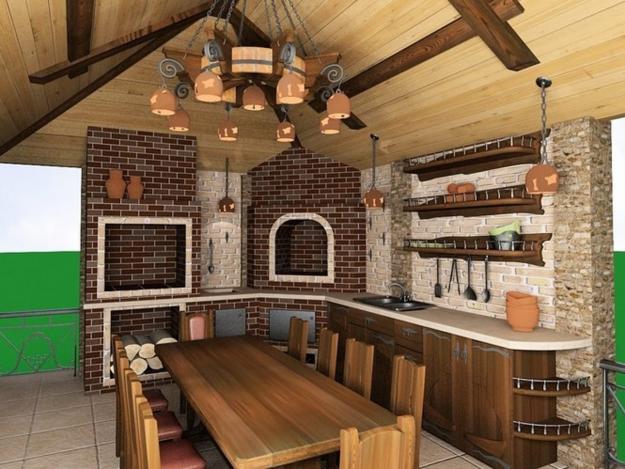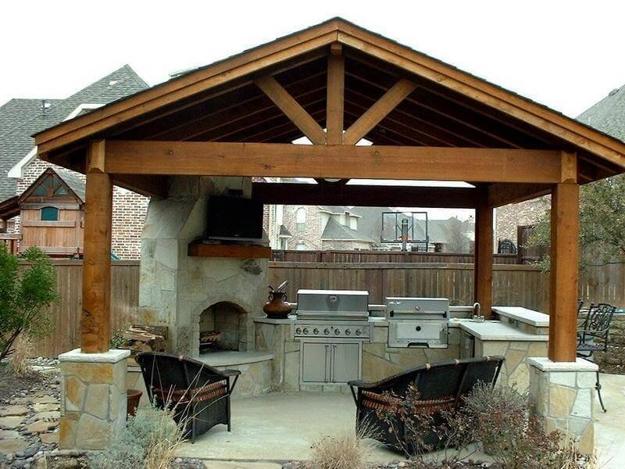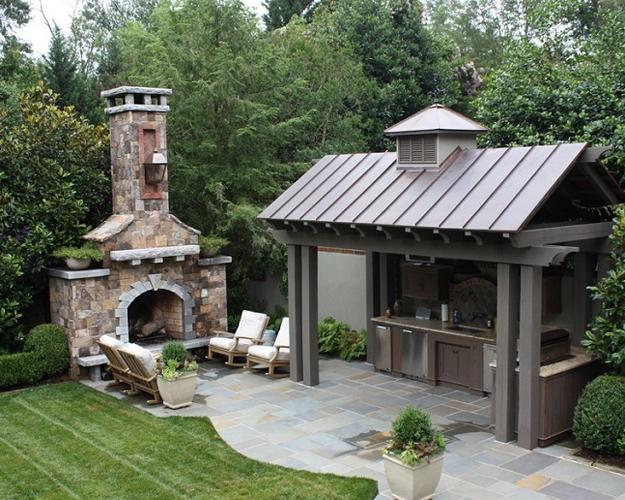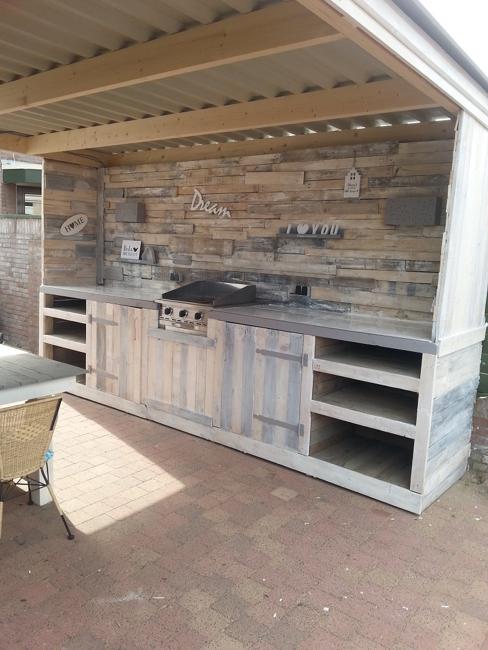 More from modern kitchens

From traditional ceramic tile designs to trendy wood-like, shiny metal, and mesmerizing glass, there is seemingly unlimited ways to brighten up...
and enjoy free articles sent to your inbox