Dresses for Lights, a la Mode Lighting Design

Furniture Accessories

Lights Appliances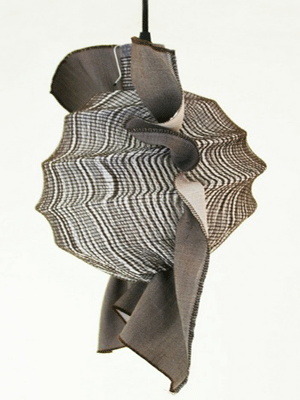 Contemporary lighting design, pendant light
lighting design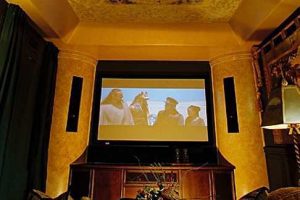 Dresses with LED lights are already old news. Designer lights in dresses are contemporary lighting design ideas that look unusual and interesting. Stylish dresses for pendant lights are making a strong a la mode statement, offering fresh contemporary lighting design ideas for interior decorating.
Impressive lights are perfect for unique and stylish home design. You can alter dresses or create your own dresses and  new decoration for unique contemporary lighting design in your room.
Lighting fixtures are an important element of home design. Lighting design has to work well with home interiors. Selecting proper lighting fixtures that match home design style, interior decorating ideas and colors is an important decision. Contemporary lighting design is getting more popular, offering unique eye catching interior decorating ideas for modern home design. (Look at modern tile designs that glow)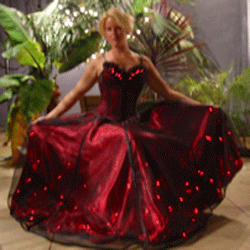 Selecting contemporary lighting fixtures is a good choice, if you want to create personal and stylish interior design. Contemporary lighting design can be a focal point that defines room theme and colors.  (Look at coffee cup shaped kitchen lighting design) The choice depends on how bright your room should look.
Pendant lighting design is a perfect choice for dining areas, kitchens, living rooms and bedrooms for creating relaxing and pleasant atmosphere. (Look at beautiful bathroom decorating and bathtub that glows in the dark)
You can find pendant lighting fixtures in all styles, sizes and colors today. Traditional or contemporary pendant lights range from simple to sophisticated lighting fixtures. (Lighting fixture design to magnify home beauty)
It is not easy to find the perfect pendant lights for your interior decorating project, but there are a lot of pendant lighting fixtures to choose from.
Pendant lighting design is beautiful. Simple or luxurious pendant lighting fixtures are embedded directly into the ceiling, eliminating cords and creating elegant interior decorating. Hanging lights are charming and eye catching. It is makes pendant lighting design a modern favorite.
If you want something impressive and trendy, contemporary lighting is a good choice. Lighting designer from London, UK Henny van Nistelrooy (www.studiohvn.com) makes beautiful dresses for pendant lights that look stylish and unique. A collection of dresses for pendant lights got a lot of attention during London Design Festival.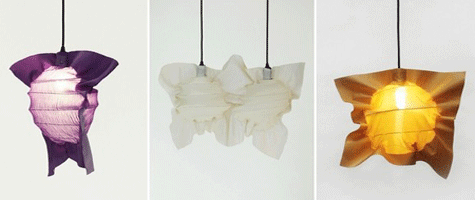 Costume designer sews dresses for lamps of jacquard fabric and believes that this material is best for decorative accents. His pendant lights dresses are nice to the touch and thin, allowing to create any shapes for contemporary lighting fixtures.
Contemporary lighting design, pendant light decorated with fabric
Pendant lights are attractive, and if you like you can create similar contemporary lighting  design for your home. (Eco friendly home decorating with lamps and simple diy ideas)
Dresses for designer lighting fixtures are made of fabric bags with metal frames, in which light bulbs are inserted. A low wattage small bulb and transparent fabric feel safe for easy to make decorative lighting.
Making pendant light dresses, contemporary lighting design for modern interior decorating
Single pendant light or a group of pendant lighting fixtures in dresses make wonderful decoration for modern homes. (Changing color, modern furniture trend)
Lighting design and interior decorating ideas:
Interior decorating with lights that change room colors
Creative home lighting design
Eye catching table lamps, contemporary lighting design ideas
Contemporary lighting design, modern interior decorating ideas, dresses for pendant lights

Here are great ideas for kids toys storage and wall decoration with small cars that everyone would love. DIY organizers, like...
and enjoy free articles sent to your inbox