Modern Kitchens, Functional Kitchen Accessories and Ideas

Furniture Accessories

Kitchen Ideas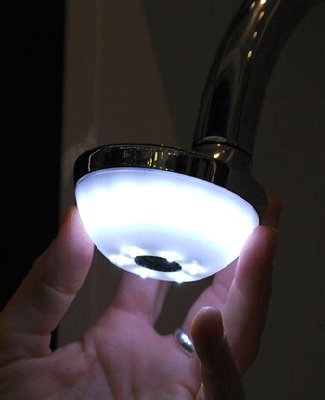 Green design ideas for eco homes kitchen water saving faucet with LED lights
eco friendly products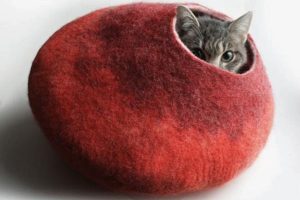 Today modern kitchens are not just functional places where people prepare meals. Modern kitchen designs offer comfortable and attractive interiors that are great for cooking, dining and entertaining. Designers and leading manufacturers offer stylish and functional kitchen accessories and develop interesting contemporary kitchen ideas for creating ergonomic and elegant modern kitchens. (Modern kitchen color trends, elegant white designs)
Functional kitchen accessories are not only comfortable, but simple and elegant. Contemporary kitchen ideas offer interesting storage solutions, unusual shapes, relaxing eco style colors and no useless details for modern kitchens. Ergonomic kitchen accessories are often multifunctional,which allows to minimize the effort and save time, making modern kitchen design efficient and pleasant. (Modern kitchen design trends)
Contemporarydesigners are creative artists that are able to see new kitchen ideas in old and ordinary things. (Small kitchen ideas, stimulating coffee decor) The wooden cutting board from OOOM Design Studio is a glass holder and a plate that represent busy urban lifestyle. Every guest can have a personal puzzle piece of wooden cutting board for caring food and a glass of wine. Two of these pieces make long enough cutting board for a French baguette.
Modern kitchen accessories and ideas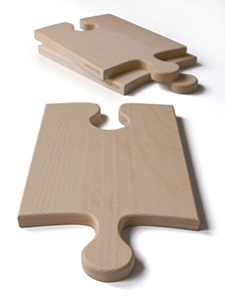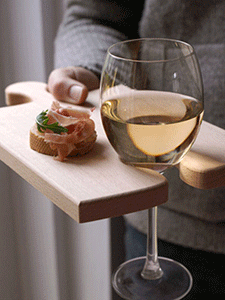 The wooden cutting board is designed by Guido Ooms and Karin van Lieshout, www.oooms.nl/ Dutch designers mainly focus on developing eco friendly products for modern kitchens and contemporary home accessories.
Ergonomic contemporary kitchen ideas
Modern kitchen design provides comfortable conditions for cooking and entertaining. Ergonomic kitchens offer effective storage solutions with pull out shelves and simple organizers. (Modern kitchen designs)
Modern kitchen ideas include neutral eco style colors, – white and black, light gray tone and comfortable brown shades, and natural materials, like glass, wood and stainless steel.
Ergonomic and functional sink designs, water saving faucets and efficient lighting are important parts of creating modern kitchens that feel comfortable, functional and pleasant.
Designers are looking for new kitchen ideas that can make modern kitchens more relaxing, eco friendly and efficient. The style, convenience and functionality dictate the size and shapes of modern kitchen accessories and materials.
Simple and practical, modern kitchen accessories, sinks and faucets represent contemporary urban lifestyle. Contemporary kitchen cabinets provide enough space for all kitchen accessories and small appliances.
Large appliances, – refrigerators, microwaves and ovens, – have panels at the eye level, providing additional comfort for a cook.
Modern kitchen accessories are an important element of kitchen design that adds stylish accents to working and eating areas. Attractive and functional kitchen accessories add more interest to modern kitchen design.
Traditional wooden blocks and knife holders are bulky. Deglon offers a different approach to knives storage. Four knife set Meeting Knives includes the knife for cutting vegetable, bread knife, fillet knife and chef knife. Four knives are made of stainless steel.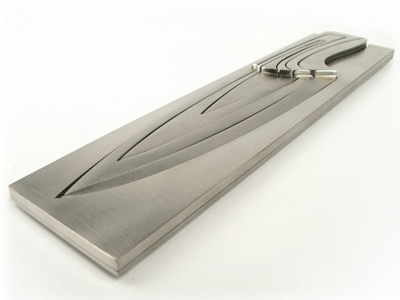 The sizes remind the integer sequence of Fibonacci numbers, – 1, 2, 3, 5, 8, 13, 21, 34, 55, and it makes stainless steel knife holder design unique and interesting.
The knives and knife holder does not take much space, bringing a contemporary accent into your home. Meeting Knives won the first prize at the 5th European Award for kitchen accessories design in Cutlery Creation competition that took place in Thiers, France.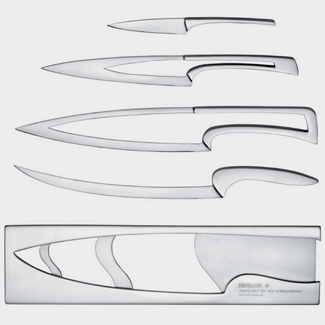 Stainless steel sink Kohler Prologue is ideal for modern kitchens. It offers the set of functional kitchen accessories that allow you to create a comfortable place for cooking. Simple and convenient kitchen accessories are perfect for small kitchens, where the working surface is limited.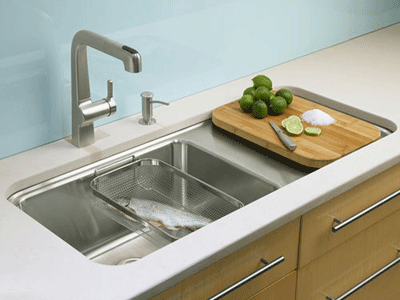 A sink faucet from Nobili Spa has few advantages over traditional faucet designs. The faucet has two kitchen accessories that make this kitchen design functional, innovative and eco friendly. The faucet has the LED light, water temperature and pressure sensors and flexible chrome hose.  The light turns on and helps adjust the water pressure and the water temperature. (Unique lighting design for coffee lovers)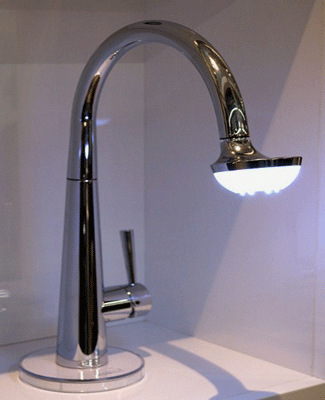 Kitchen ideas:
10 modern kitchen design trends
Modern kitchen color trends
Green apple kitchen decor and color inspiration

Here are great ideas for kids toys storage and wall decoration with small cars that everyone would love. DIY organizers, like...
and enjoy free articles sent to your inbox