Modern Kitchen Color Trends 2011
---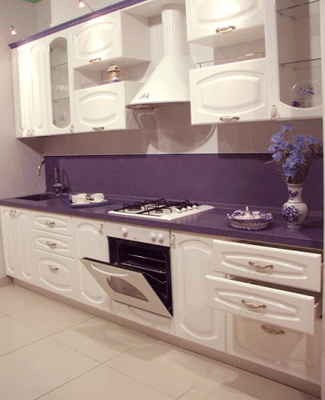 Purple and white kitchen cabinets design trends
Color plays an important role in modern kitchen design. Human perception of new kitchen designs is based on kitchen cabinets colors. It is very important to choose right modern colors that evoke positive emotions. Pleasant modern color adds stylish accents to old or new kitchen designs and creates inviting kitchen interiors. (Wine kitchen colors, modern color schemes)
White, light and dark blue, emerald green and turquoise, yellow and orange, red and red-purple, gray and black are modern kitchen cabinets colors for 2011-2012 designs. (Modern decorating colors) Traditional kitchen designs and kitchen color schemes, that include tones of brown wood kitchen cabinets color stay modern in 2011-2012 as well. Bright or pale pink and purple kitchen color ideas are stylish choices and modern kitchen design trends for 2011-2012. (Modern kitchen design, purple color schemes)
Buying modern kitchen cabinets or just painting kitchen cabinets modern color can highlight your home and increase its value with modern kitchen design. Choosing right kitchen color schemes is very important. Kitchen color ideas should match your home interior design style, creating modern, harmonious, welcoming interior decorating design and pleasant mood.
Modern brown tones of wood kitchen cabinets and stainless steel appliances for stylish kitchen design
Natural wood traditional kitchen designs and modern brown kitchen cabinets colors, contemporary silver, pearl or stainless steel kitchen ideas of new kitchen designs look beautiful and stylish.
Pastel kitchen cabinets colors are light and soothing. Sky blue, pale turquoise, light blue tones, cream, pale pink and white kitchen cabinets are modern kitchen color trends for 2011-2012. (Pink kitchen color schemes)
Cream and blue cupboards, modern design color trends for 2011
Pink cupboards and island paint colors with black, modern color schemes and design trends
Yellow kitchen cabinets color with shiny stainless steel kitchen cabinets details and appliances creates trendy kitchen color schemes for 2011-2012 designs. (Look at yellow color decorating and design ideas.) Vanilla kitchen color ideas look great when combined with modern olive, tobacco, dark gray, ebony or black kitchen cabinets, accessories and appliances.
Yellow color schemes for modern kitchen design
Yellow, orange and red kitchen cabinets colors are sunny and warm color trends for new kitchen designs in 2011-2012.
Furniture, appliances and cabinets design, orange kitchen color schemes, modern design trends for 2011
Contemporary red kitchen cabinets with black and silver gray appliances, bold color design trends
White kitchen cabinets with trendy white or shiny stainless steel appliances and metal handles create modern kitchen color schemes that offer freshness and stylish open kitchen ideas. (Modern kitchen design, elegant white kitchens)
Bold new kitchen designs and bright kitchen color schemes, that include two or three contrasting colors, are perfect for contemporary home design in 2011-2012.
Purple and white kitchen cabinets design trends, modern white color appliances
Resurfacing and painting kitchen cabinets bold colors, like red, burgundy, pale-pink-purple, light purple, chocolate-purple or red-purple, help refresh old traditional kitchen designs. Bright color and black kitchen cabinets are perfect for old and modern kitchen designs to create stylish interiors in 2011-2012.
Deep purple kitchen cabinets color trends for 2011, contemporary lighting and appliances design
Blue and emerald green appliances and cabinets are retro-new trends. Blue and emerald green wood kitchen cabinets are recommended for supporting country style kitchen ideas. (Read about modern green color for home decorating.) Painting kitchen cabinets modern color helps move away from wood color shades of traditional kitchen designs.
Recommended:
Interior decorating and paint colors trends for 2011
5 modern decorating color schemes for fall-winter
Kitchen decorating and design trends for 2011
Modern blue and black kitchen cabinets colors and design trends
Green wood kitchen cabinets for country style design and decorating
by Ena Russ
last updated: 10.01.2012