Modern Kitchen, Cabinets Storage Design for 2011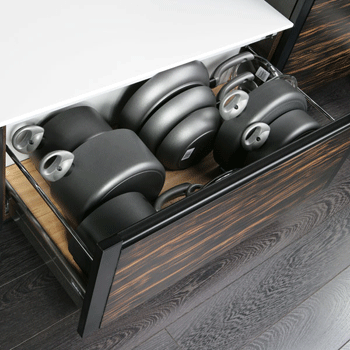 Ergonomic storage solutions
kitchen organization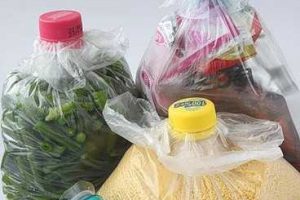 The true essence of kitchen design is hidden in kitchen cabinets and storage systems. Good kitchen organization is not possible without functional and accessible modern kitchen cabinets and contemporary storage systems that help to keep drawers storage space in order. The best kitchen cabinets design for 2011 offers convenient and simple storage solutions that help effectively use storage ideas for utilizing all available space inside modern kitchen cabinets.
Choosing the best kitchen cabinets design and the most effective storage systems is a very important part of creating ergonomic kitchen design. Most people will change their kitchen cabinets and redesign storage systems every 7 – 10 years, but many people can adopt new kitchen design ideas once in 20 years. If contemporary kitchen design ideas, including  modern kitchen cabinets designs and advanced storage solutions, are not carefully considered at the stage of designing, then people live every day during these years without modern kitchen organization.
Ergonomic storage solutions allow to avoid unnecessary movements, wasting time and effort. Modern kitchen organization and storage ideas minimize the time people spend for cooking and cleaning. Ergonomic storage systems, that modern kitchen cabinets designs offer, organize kitchenware items like tools in a workshop, providing functional and convenient order. The best kitchen cabinets have no slamming doors and drawers and make everyday kitchen chores pleasant.
Functional storage solutions
Contemporary kitchen design ideas, that include advanced built-in storage systems to help utilize all available kitchen cabinets space, are modern kitchen cabinets designs trends for 2011. Modern kitchen cabinets designs for 2011 solve typical problems of  traditional storage, – lack of space and inefficient built-in storage systems.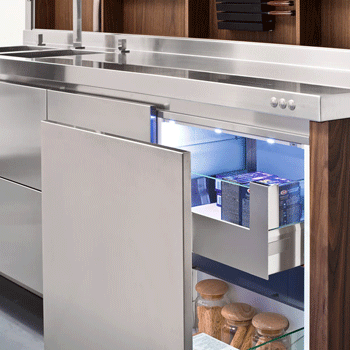 Modern kitchen cabinets designs for 2011 offer various useful built-in storage systems and drawer organizers, sliding and  roll-out storage systems with thoughtful and functional storage solutions for kitchen organization.
Stronger kitchen cabinets designs will allow to increase the load on drawers guides. Contemporary kitchen design ideas create more comfortable built-in storage systems for orderly, offering functional storage solutions for ergonomic kitchen organization of each work area. (Look at kitchen tea kettle for functional comfort and safety.)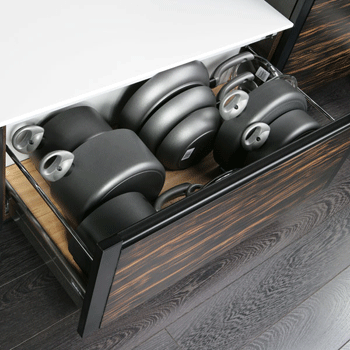 The best kitchen design is not only about modern color trends or style of kitchen cabinets and home appliances. The best kitchen design ideas make every movement of a cook reasonable, saving the energy and time for cooking, creativity and fun.
Recommended:
Home design ideas from artistic engineer
Edible flower cuisine and gorgeous food presentation
Kitchen decorating and design trends for 2011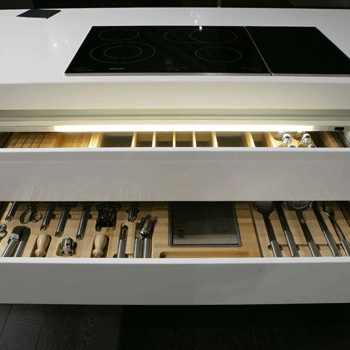 Open kitchen shelves are one of the modern interior trends. Decorating kitchens with corner shelves is inexpensive and stylish. Open corner...
and enjoy free articles sent to your inbox