33 Modern Interior Decorating Ideas Featuring Stylish Brown Colors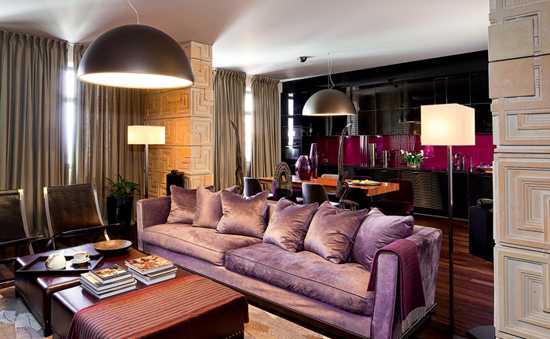 Light purple and brown color combination for modern living room
DECORATING SMALL APARTMENTS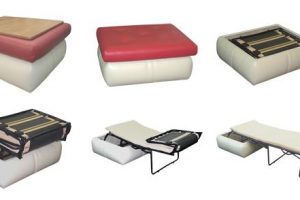 Comfortable brown color shades look almost neutral, softening interior decorating ideas and creating inviting  rooms. Modern wallpaper, interior paint and home furnishings in brown colors bring harmony into interior design, uniting the ceiling designs, floor decor, wall coverings or decoration patterns, furniture and home decor accessories into beautiful and pleasant home interiors.
Brown colors fill living spaces with natural energy, creating positive and relaxing mood. Brown color shades vary tremendously. From golden brown to reddish brown and dark brown color shades are the colors of trees and soil, autumn leaves and mountains, bark and straw.
Brown colors feel natural and cozy, symbolizing the solidity and stability. Brown color shades are among men s favorite interior decorating colors. Modern wallpaper, interior paint and home furnishings in brown  colors are perfect for calm and balanced people.
Modern interior decorating with brown colors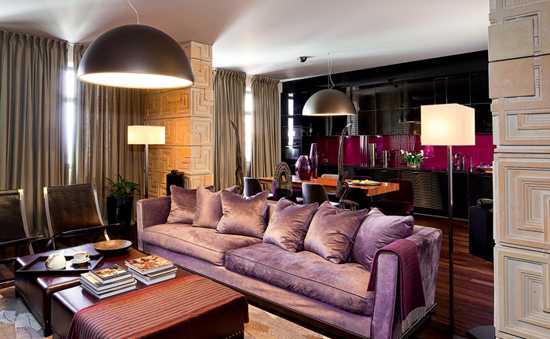 Interior decorating ideas that include lots of brown colors create a very positive effect on people. Brown color schemes look calming and soothing, comforting and safe. Brown color shades are neutral and have a universal appeal. All shades of brown color, from beige and caramel to dark chocolate, are excellent for nature inspired, eco home interior decorating.
Brown colors can be added to interior decorating with wooden walls and ceiling beams, wood furniture and decor accessories, modern wallpaper or interior paint. Interior decorating ideas that include brown color schemes feel strong and durable, solid and very comfortable.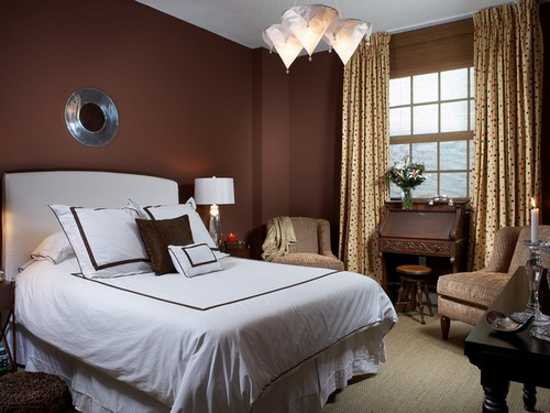 Brown colors, combined with terracotta and ruby red colors, soft green and yellow color tones, white and cream, orange and gray color shades, create gorgeous, naturally looking interior decorating color schemes that balance rooms and invite to relax.
Modern small bathroom decorating in eco style, neutral colors and green accents
Brown gray and black bedding sets, neutral bedroom colors
Blue interior paint and wallpaper patterns, furniture and decor accessories in bluish color tones add cooling accents to interior decorating with natural brown colors, creating calming rooms. Brown colors of different intensity can be mixed into a gorgeous blend of nature inspired interior decorating ideas. Other color accents bring vivid details, and fill the rooms with energy.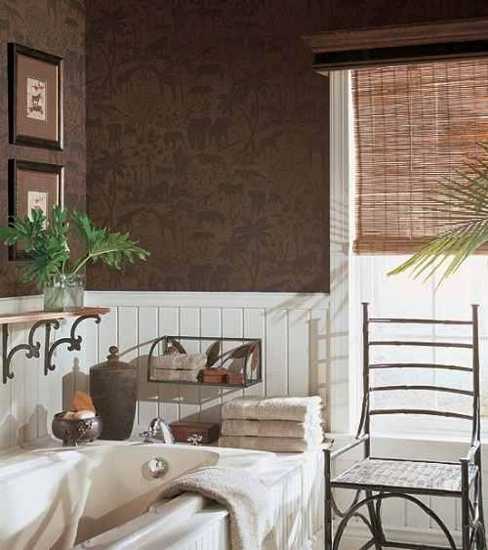 Brown colors are excellent for creating dynamic interior decorating scheme with contrasting colors, like white, cream, black and gray. These interior decorating color schemes are perfect for home decor in neutral colors. Dusty pink, light purple and pale blue create unusual stylish decorating color combinations, giving a contemporary flavor to interior design.
Wooden walls, ceiling design and solid wood furniture, modern eco homes
Brown cream interior decorating color schemes
Nature inspired fabric designs, geometric or abstract decoration patterns, created with brown interior paint or wallpaper on walls and furniture look attractive. Brown interior paint or wallpaper patterns, home furnishings and decorative materials in brown colors are suitable for any interior decorating style, beautifully matching any home decor.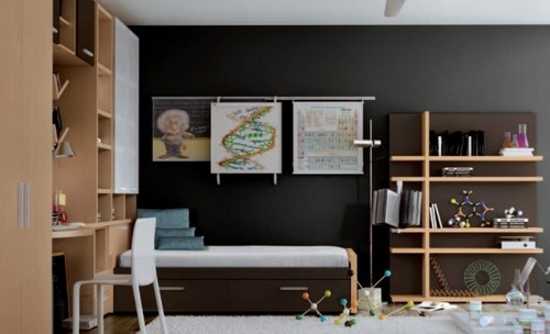 Brown color shades are stylish and timeless color choices. Brown colors have always been the main color for furniture and wood floor decor. Brown interior decorating schemes merge harmoniously with existing home furnishings, antique furniture or decor accessories in retro styles.
Interior design ideas, textures and colors for men and women
Neutral color, interior decorating with modern beige tones
Brown colors are readily used by designers and artists. Modern interior decorating with brown color shades looks harmonious with many other colors, softening bold color tones and filling rooms with a peaceful mood, comfort and coziness.
More from interior colors

Bright home interiors and amazing views of the ocean make this beach house a dream place. Large windows, light, neutral room...