Kitchen Decorating to Dress up the Fridge with Wall Stickers and Paint

Decorating Ideas

Kitchen Ideas

Lights Appliances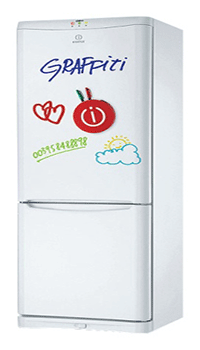 Drawing on white fridge door
kitchen trends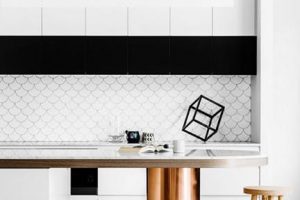 Does a plain white or black fridge door seem too boring? Colorless fridge door is not an exciting option for decorating kitchen interior. Modern kitchen appliances, including refrigerators, need to be bright, stylish and interesting. Kitchen fridge can be painted any color and decorated with various exciting images to create energetic mood and add more interest to home decorating. Today colorful fridge is a part of modern kitchen design.
Fridge door can become the focal point of modern kitchen design, because the fridge is one of the largest interior decorating elements. It is not hard to turn an ordinary fridge door into an impressive art piece with modern decorative stickers or paint. Buying a new stylish fridge or repainting an old one are modern kitchen decorating ideas.
Bosch, Smeg, ARDO and other large kitchen appliances manufacturers have been experimenting with the look of fridge doors for some time, and now contemporary graphic design artists are offering red, yellow, orange, light green, blue or purple fridges, beautiful images and colorful fridge door decorating ideas.
Fridge door decorating with wall stickers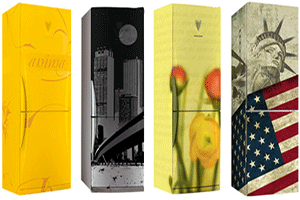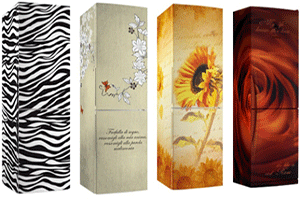 All modern kitchen appliances become brighter and more interesting. Creative fridge door decorating ideas come in all colors and designs for modern kitchen makeover.
Another way to decorate kitchen cabinets, fridge door and small kitchen appliances is creating modern kitchen decorations with an old technique of painting bold images or attractive patterns on surfaces.
Painting ideas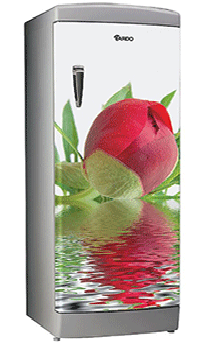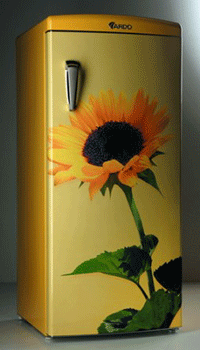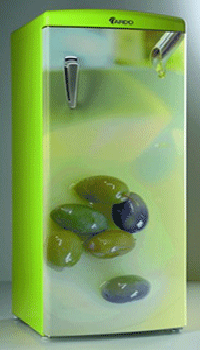 To inspire customers, LG adorned their red Art Flower fridge door with tender floral design and Swarovski crystals. Kitchen appliances manufacturers Smeg and ARDO offered bright modern kitchen decor ideas also: yellow or red fridge door decorating ideas with colorful modern stripes design, retro shape and patriotic British flag colors. New hi-tech refrigerators look like fridges in 50s and have their soft retro fridge feel.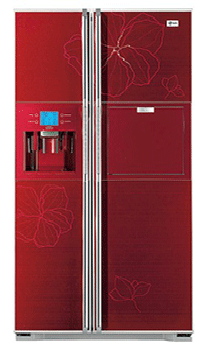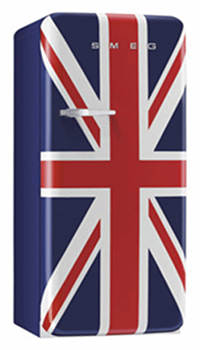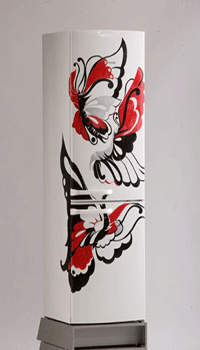 ARDO fridge designers came up with 'a la vintage' kitchen fridge decorating ideas, Vintage Mediterraneo and Vintage Paint. Their fridges are painted vivid colors and have prints of green plants. Floral decor ideas, cheerful sunflowers or tender rose petal decoration are beautiful fridge door decorating ideas for creating inviting and pleasant modern kitchen decor in eco style.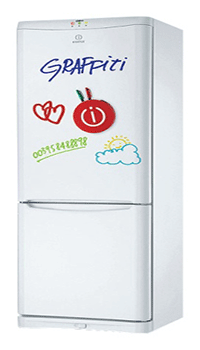 Designers with Italian Coolors gave vent to their imagination. Their sketches reveal modern designs and fresh kitchen ideas for decorating fridges.
A fridge, painted like a zebra or a flower field, brings dynamic colors and patterns to modern kitchen interior and create positive mood with cheerful fridge door decoration.
Modern fridge door decorating ideas include skyscrapers and the Statue of Liberty. Unusual kitchen decor themes add beautiful colors and interest to kitchen design that previously had plain white or black fridge.
Fridge manufacturers offer many door decorating ideas to match your kitchen decor colors. For particularly creative customers and their children modern kitchen product designers developed unique plain black and white fridge designs that have a special coating for drawing with ink markers.
You or your kids can experiment with different door decoration images and change themes, creating personal kitchen decor and developing unique fridge door decorating ideas.
Modern kitchen decorating ideas
The modern kitchen, simple and sleek masterpieces
How to decorate kitchen with green plants and save money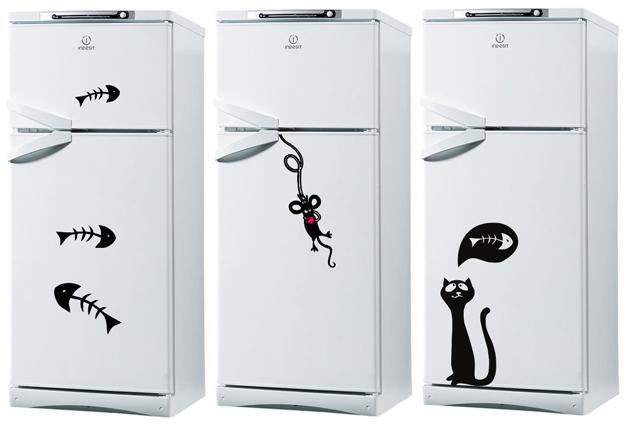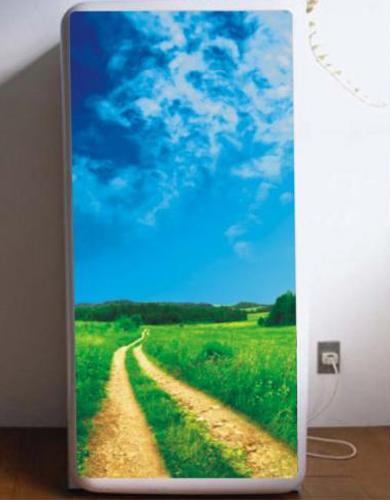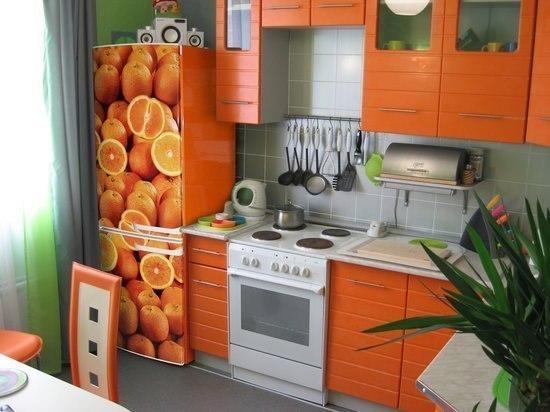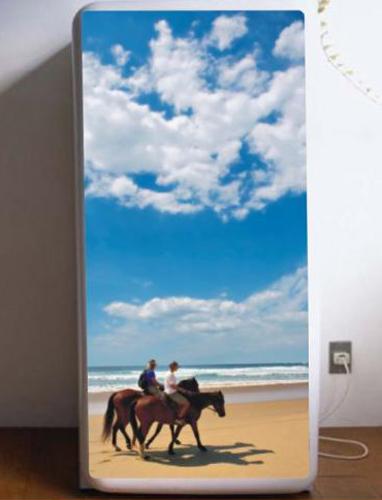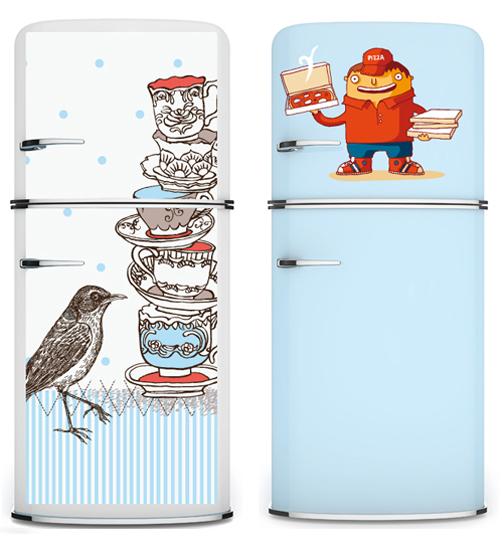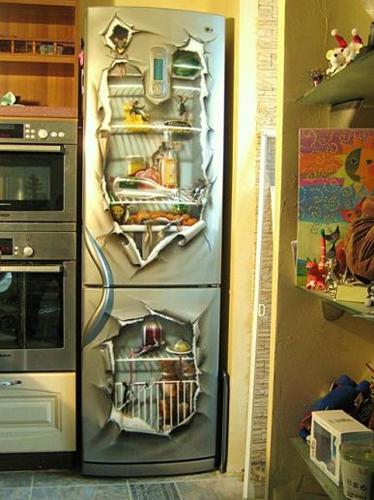 More from home decorations

What time is it? It's singing bird o'clock! This unique timepiece is bringing the fresh vibe into spring decorating, making elegant...
and enjoy free articles sent to your inbox