Tender Rose Petals for Food Decoration and Gourmet Recipes

Dining Room

Food Design

Plants and Flowers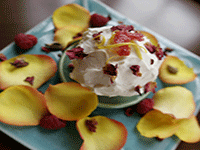 Gourmet ice cream with nuts and edible roses
edible decorations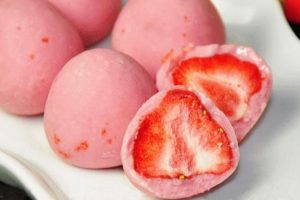 Red rose bouquets are symbols of love and affection. Roses and other beautiful flowers make wonderful gifts, gorgeous dinner table decorations and add fragrant natural accents to dining room decor. Edible flowers, and especially bouquets of edible roses, are unique gifts that surprise and delight. Tender edible rose petals are perfect for garnishing gourmet food, romantic wedding table decorations and impressive meal presentation.
Rose hips are edible also. Rose hips and rose flower petals have been used for making sweet rose flower syrups and jellies since ancient times. Edible flowers and rose hips are great for preparing aromatic tea. Rose flower petals have been used for making wine and fragrances for centuries. Today edible rose petals are used for decorating meals and drinks.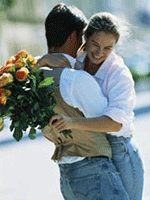 Rose hips are extremely high in vitamin C. Healthy recipes with edible flowers petals and rose hips have been used to treat sick people in ancient cultures. During the World War II rose hips were grown in England for preparing syrups, rich in vitamin C, and today health food stores sell rose hips as an ingredient of herbal tea.
Edible flowers for table decoration
White, pink or red roses and other beautiful flowers are traditional romantic wedding table decorations. Edible flowers, including edible roses, make fabulous personal gifts and elegant dinner table decorations. Edible flowers add beautiful natural accents to interior decorating bringing wonderful textures, colors and fragrance and spice up meal presentation. Edible roses and all edible flower petals create exclusive and luxurious table decoration for a special event and turn plates into spectacular displays.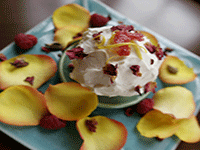 Edible flowers are grown in many countries. Organic edible roses in many different colors are grown in Ecuador.  Their tender petals and pleasant aroma are used in creative food design, meal presentation and unique dinner table decoration in expensive restaurants.
Red and white dinnerware with floral pattern
Edible flower cuisine and gorgeous food presentation
Edible rose petals are unique ingredients that can decorate gourmet food, drinks and desserts, creating unforgettable meal presentation. Edible flowers can be added to meat and pasta recipes or used for colorful and stunning salad decoration. Edible bouquets are perfect for all special occasions, wedding or birthdays.
Edible roses create attractive holiday dinner table decoration and festive dining room atmosphere. Edible flowers, combined with colorful vegetables and green edible plants look impressive in salads. Edible rose petals are wonderful for gourmet recipes and special meal presentation.
Rose flowers add the unique aroma and reminiscent of cherry taste to gourmet food. Edible roses or petals on the plate add artistic touches and exquisite accents to elegant dinner table and dining room decor.
Edible flowers for gourmet food decoration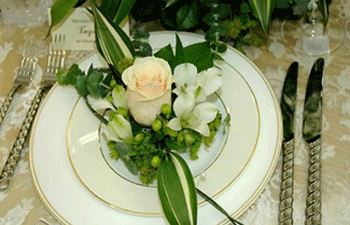 Edible flowers are popular among food stylists, meal presentation and food decoration specialists. Flower petals allow to experiment with food presentation ideas and color palette.
Colorful edible rose petals are perfect for gourmet cake decorating, unique fruit or vegetable salad decoration, meat and pasta meals designs or adding tender flavor to sweet treats. Organic edible flowers are beautiful and healthy ingredients for vegetarian recipes.
Edible roses look elegant on the plate, offering striking dinner table decorations. Unique and romantic wedding table decor that includes edible roses will be remembered. Gourmet food looks truly special with edible rose petals that add stylish accents to meals and table decor.
Tender and beautiful edible rose petals add unique aroma and outstanding appeal to meals. Chicken and beef meals with edible flowers look seducing and delicious, especially with small edible bouquets on each plates.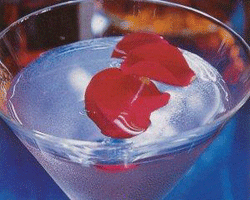 Skillfully designed edible bouquets make the dining room feel relaxing, but festive, emphasizing modern food design ideas, creative meal presentation and unusual dinner table decoration. Here are popular recipes with edible rose petals to try.
Gourmet Pork Steak with Edible Rose Petals and Salsa
Marinate 4 pork steaks in a mixture of 3 tbsp of olive oil , 1 tbsp grated lemon peel and black pepper each for one hour. To make the salsa, mix 1 finely chopped red onion, 2-3 tbsp French dressing and chopped thyme. Roast meat on the barbecue or grill, decorate with salsa and 3 tbsp of edible rose petals before serving.
Delicious Gourmet Duck Breast with Edible Rose Petals, Port and Orange
Incise the skin of four duck breasts and season. Bake for 18-25 minutes at 210C until duck meat is cooked. Heat 1/2 cup of orange juice, 3 tbsp port wine and 1 cup of chicken broth. Bring to boiling and cook for 10 minutes. Then add 2-3 tbsp of starch and 1 Tbs edible rose petals to the the sauce. Serve the duck with green peas, mashed potatoes and sauce. Decorate with1 tbsp of fresh edible rose petals or other edible flowers.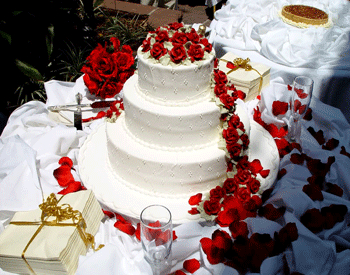 Creative decorating ideas
Edible flowers for blooming table decoration
Green plant decor and gift idea for St Patrick's Day or Christmas
Interior design of the year, ideal car for busy women
Food decoration with edible flowers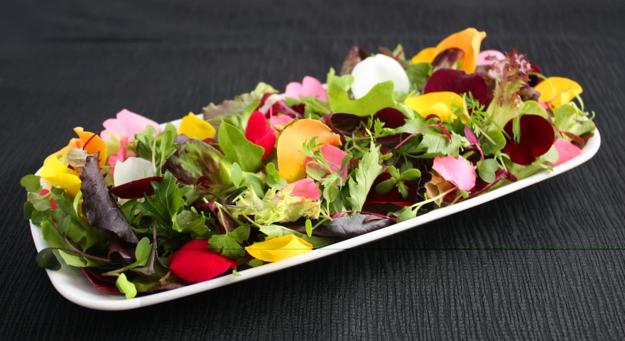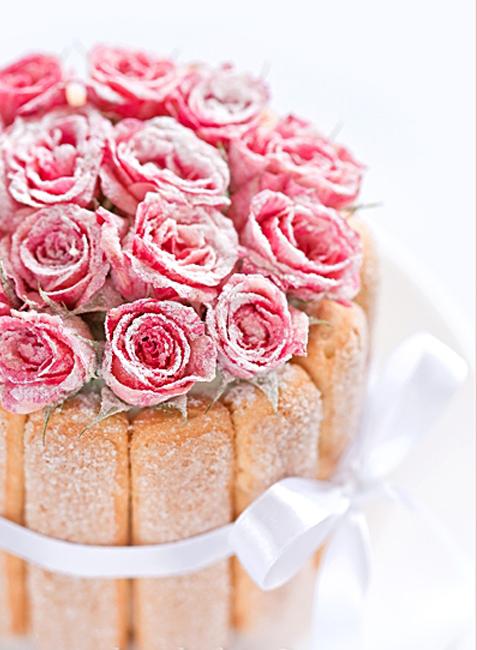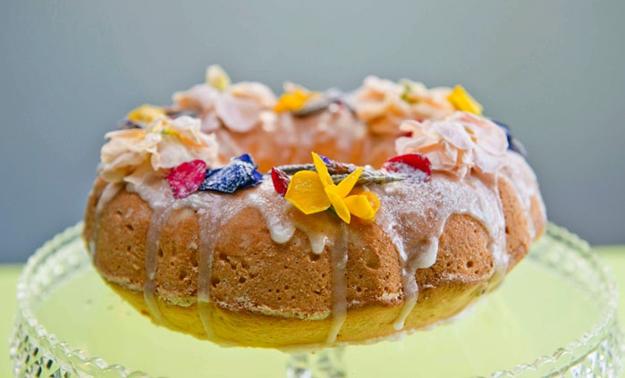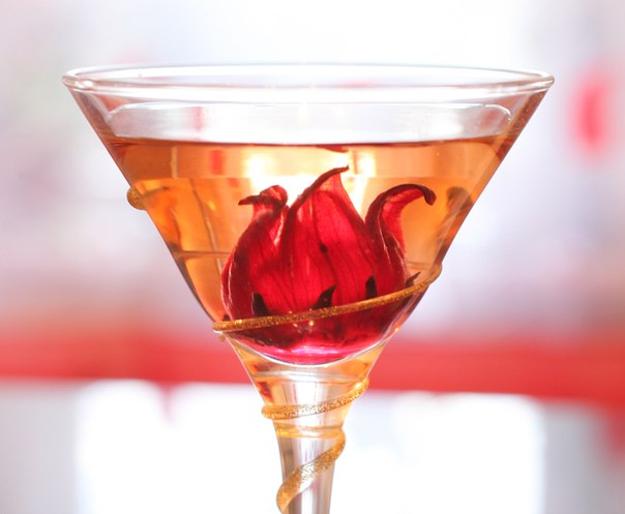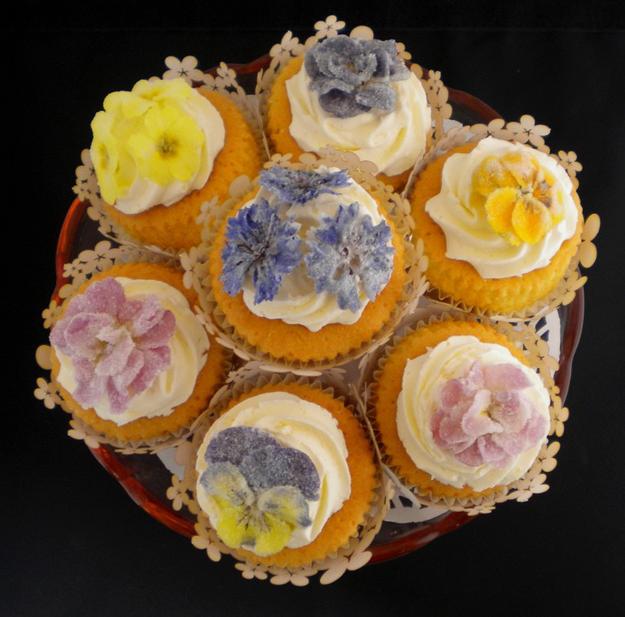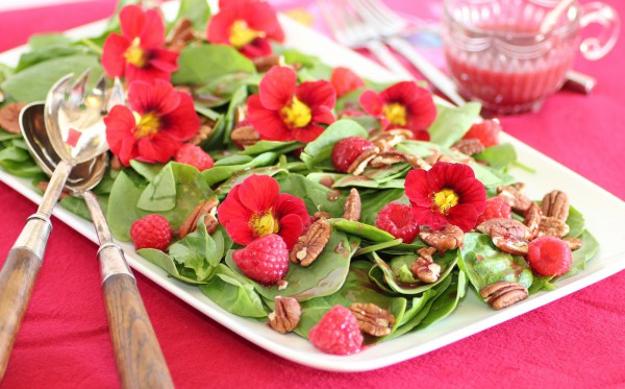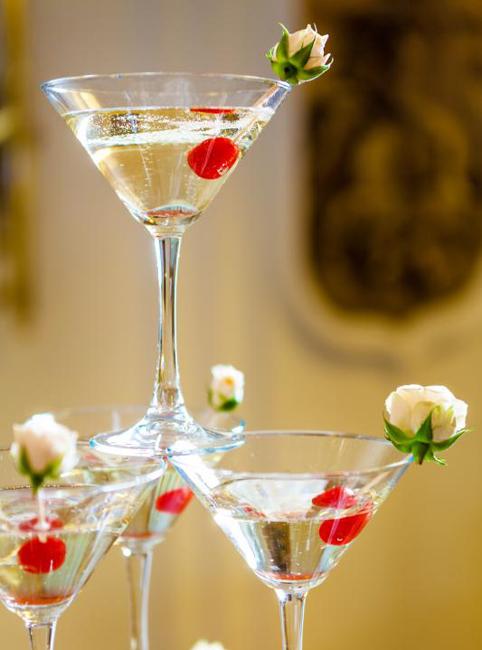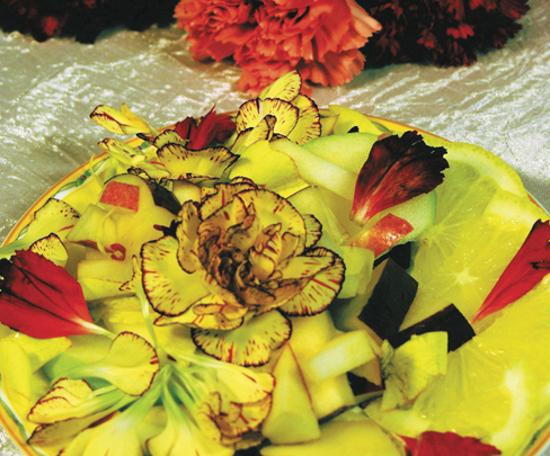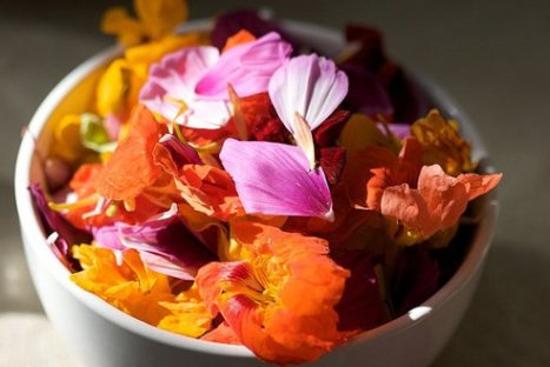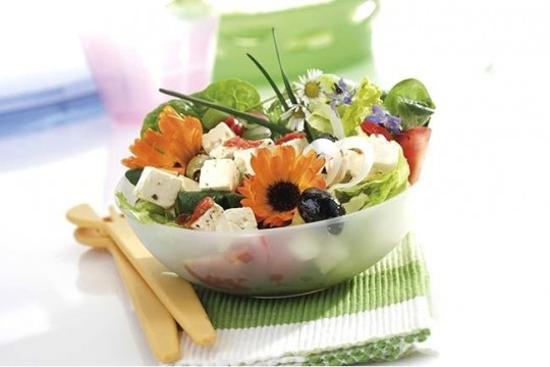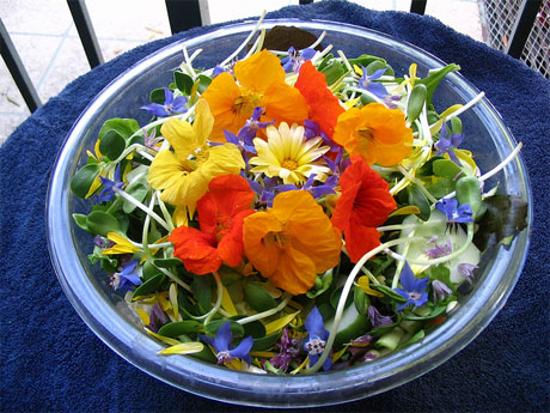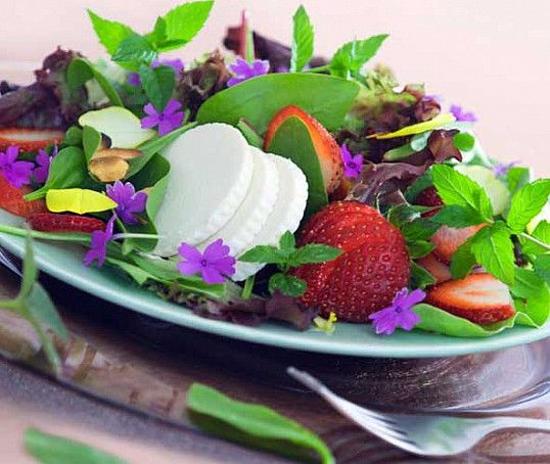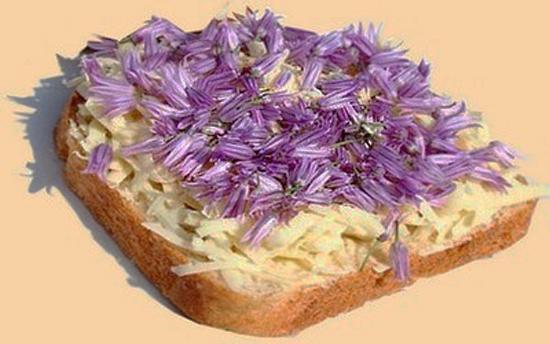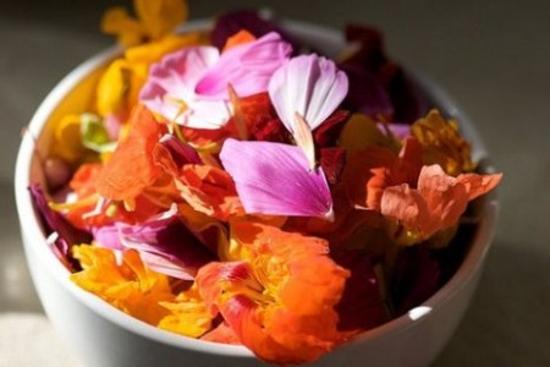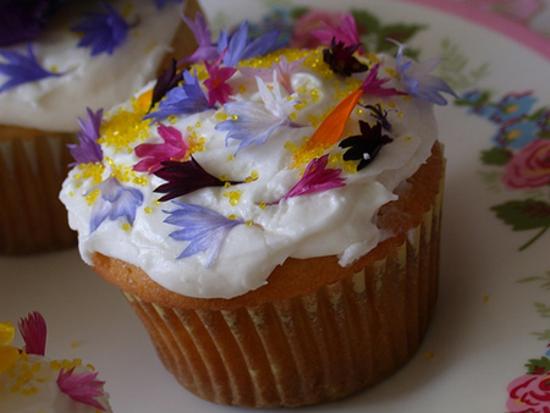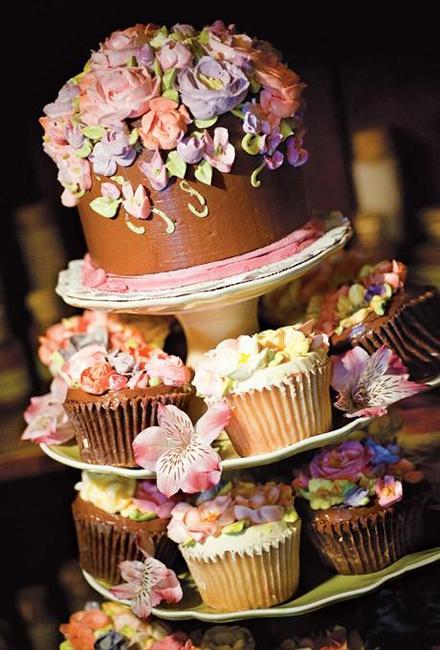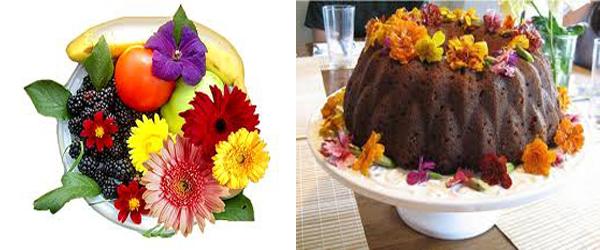 More from decorating with flowers

Fabulous designs take modern food decoration ideas to the next level blending innovative concepts with traditions and exploring new ways to...
and enjoy free articles sent to your inbox