Feng Shui Home, Step 5, Dining Room Decorating

Decorating Ideas

Dining Room

Feng Shui Home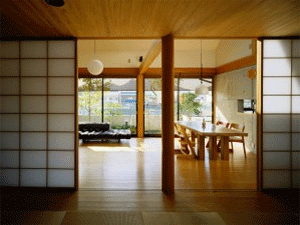 Visually separated dining room, good Feng Shui home design
feng shui color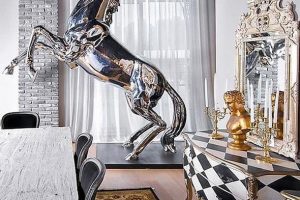 Often the dining room and the living room are combined in one open space. According to ancient Feng Shui home design guide, you need visually separate the dining room from the living room. Creating a dining room zone, where the family can enjoy food and table decoration, makes home design more comfortable and healthier.
Step 4. Feng Shui home design, bedroom …
Step 6. Feng Shui home, living room decorating
15 Feng Shui tips for dining room decorating
1. A room can be divided with open shelves or other similar Feng Shui furniture items that attractively decorate home interiors and create the dividing line.
2. Feng Shui room decorating with analogous interior design colors that are slightly different for the dining room and living room interiors, create visually separate zones in one inviting space.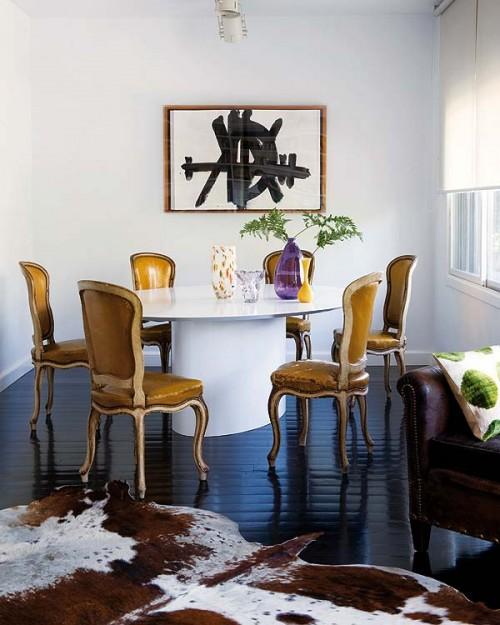 3. You can achieve similar effect, separate and Feng Shui the dining room with a tall house plant, strategically positioned between two zones.
4.  Another Feng Shui decorating idea is to use a wall mirror that reflects pleasant images, indoor plants or photographs, and expands the interior space visually.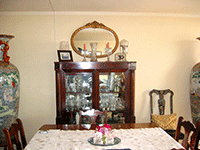 5. People feel better, enjoy meals and relax, when they eat in spacious rooms with high ceiling, so it is a good Feng Shui decorating choice to raise the ceiling visually.
Room decor with stylish stripes illusion
Use sconces on the dining room walls with soft light directed upwards. Sconces that are too bright can destroy comfortable Feng Shui room atmosphere, Chinese Feng Shui experts say.
6. A Feng Shui mirror is a favorite element of Feng Shui room decorating design. It is recommended to add a mirror to dining room decor. A Feng Shui mirror amplifies the natural light in the room and creates the illusion of larger space.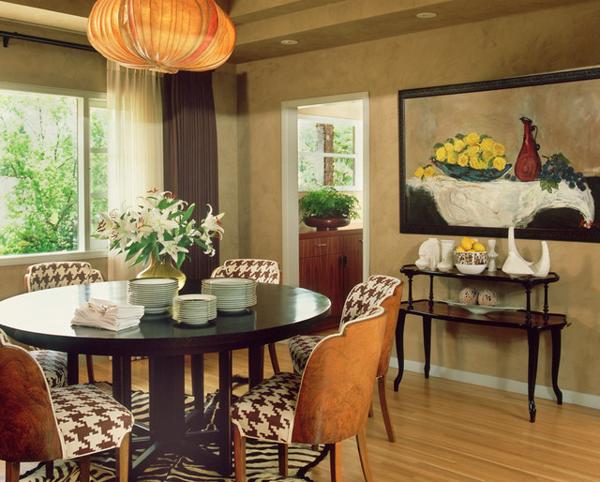 7. A large Feng Shui mirror doubles the number of dishes and glasses on the table, making table decoration more impressive and the dining room decor festive.
Ideas for home staging and decorating with wall mirrors
Dining furniture and good Feng Shui placement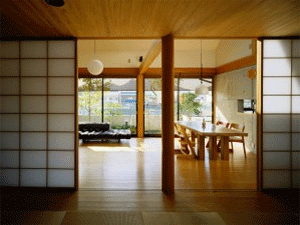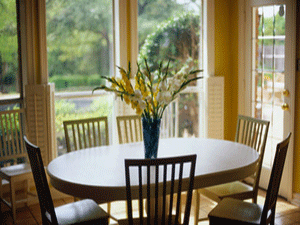 8. An even number of chairs in Feng Shui dining room is ideal.
Feng Shui a room with an aquarium
9. Ancient Feng Shui room decorating guide suggests to place dining room chairs near the walls after dinner. Rearranging chairs is not very practical in modern homes, and not always possible in small dining rooms and kitchen nooks, although removing few chairs creates more spacious dining room interior.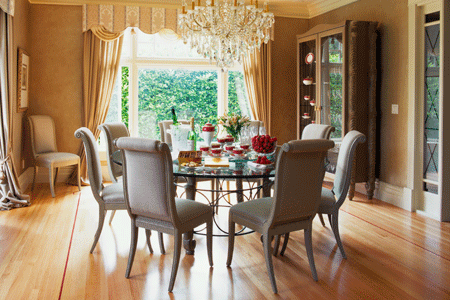 10. Placing the dining room table on the line that connects the window and door is not good Feng Shui room decorating design.
Interior decorating with sky blue color
11. People at the dining room table should not face a bathroom door either, according to Feng Shui home design recommendations. It is believed that seeing a bathroom door affects not only appetite, but also health and welfare of the family members and guests. If a dining room is adjacent to a  bathroom, it creates health problems, Chinese Feng Shui experts say.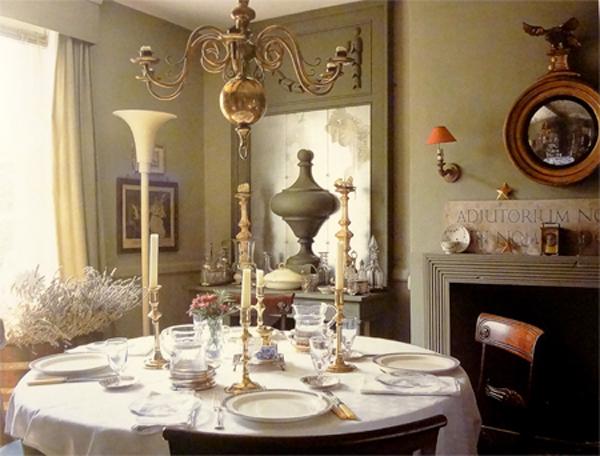 12. Good Feng Shui placement of the dining room table is important also. Placing the dining room table on the line between two doors contributes to unhealthy design. Chinese believe, good luck, happiness and health can float away from the house. If you can't position the dining room table differently, hang an attractive Feng Shui wind chimes or bells to correct the positive energy flow through home interiors and create  good Feng Shui room decorating design.
Edible rose petal decoration for gourmet meals and treats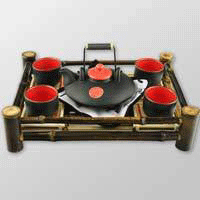 Good Feng Shui colors for dining room
13. You can add Feng Shui colors to jazz up your dining room decorating with fabrics, bright tableware, crystal glasses and accessories. Napkins and table cloth designs and colors should be selected in accordance with the dining room table position. Feng Shui room decorating guide suggests blue color for the table in the northern zone of the dining room. Greens are Feng Shui colors for the eastern parts of the room and the house.
Decorating interior in sky blue for spacious look
14. If you prefer neutral colors or like stylish dark or elegant white table cloth, try to add more Feng Shui colors with napkins, flowers, candles, napkin rings, tableware and vases to spice up your dining room decorating design.
15. There is another important Feng Shui room decorating detail, – coasters should correspond to the shape of the table in Feng Shui home. If you have a round dining room table, use round coasters and get oval for the oval dining room table, and so on.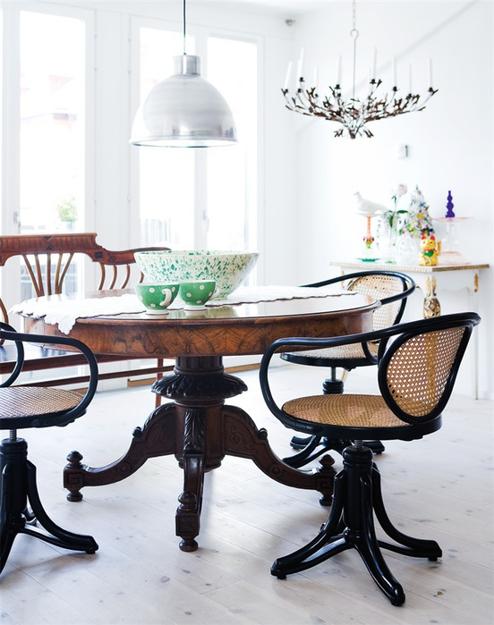 One of the most important and easy to follow Feng Shui tips for dining room decorating: never use cracked or chipped plates and glasses. Ancient Feng-Shui teachers say that it brings troubles into the house. Also they suggest to serve glasses with transparent liquids for dinner. Shiny glasses make attractive table decoration and can play the role of individual Feng Shui crystals that stimulate the positive energy flow and attract wealth.

Feng Shui bathroom decorating ideas
Modern ideas for dining room decorating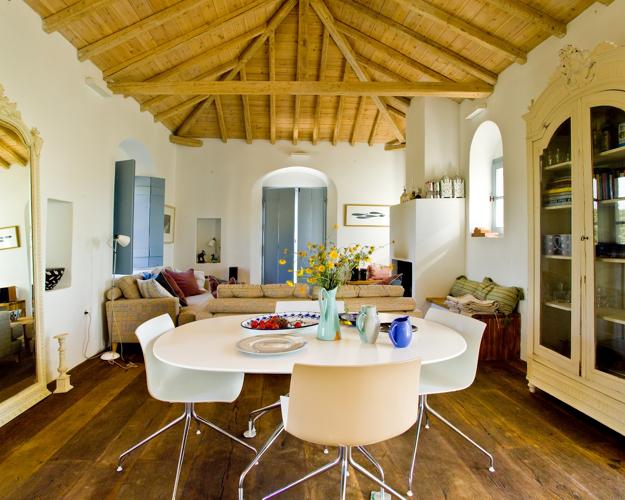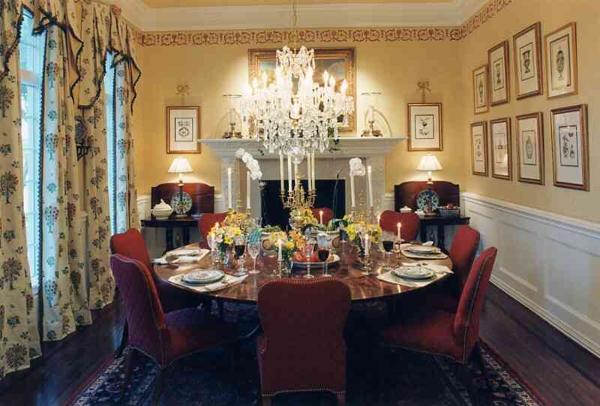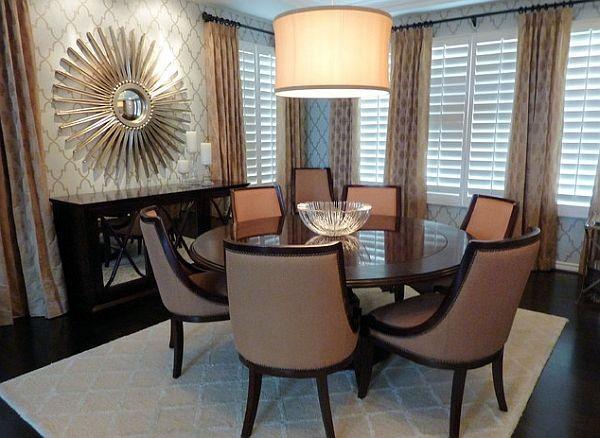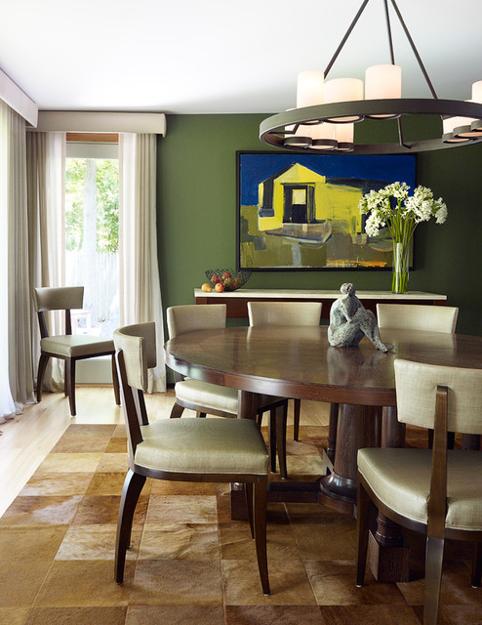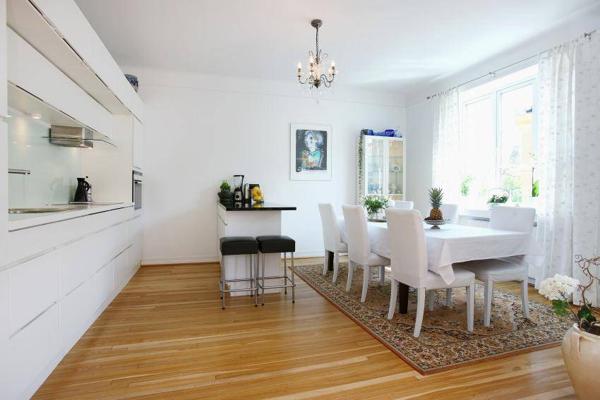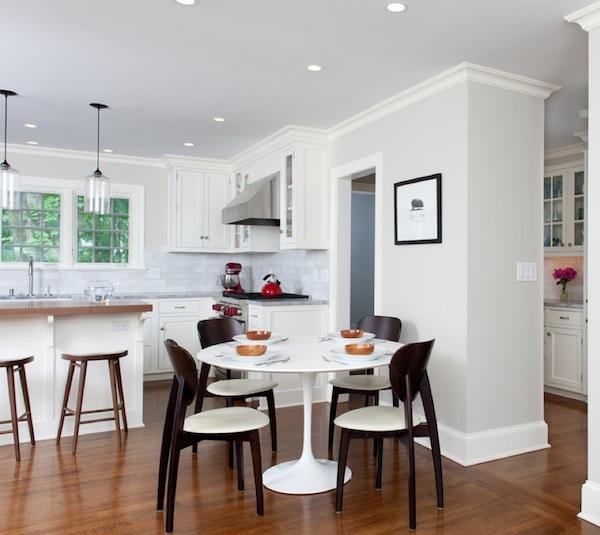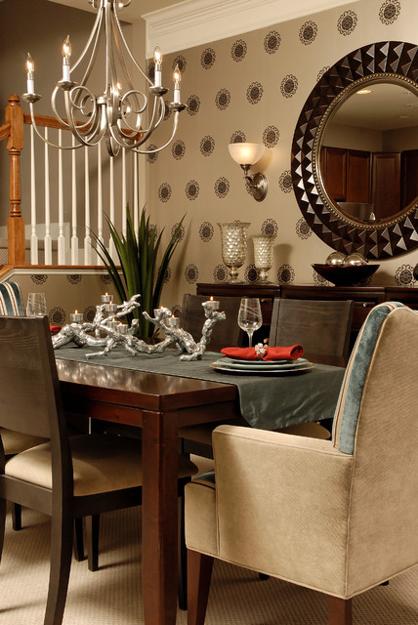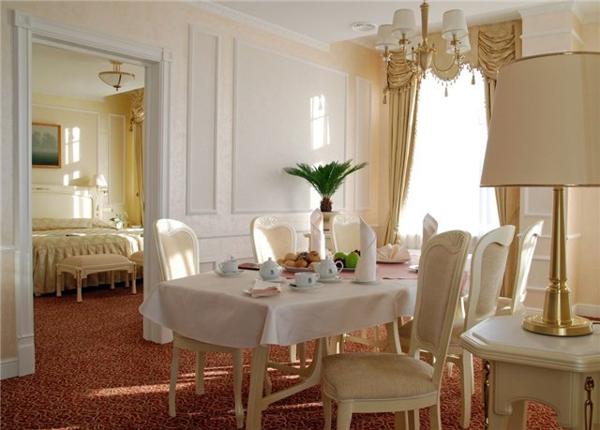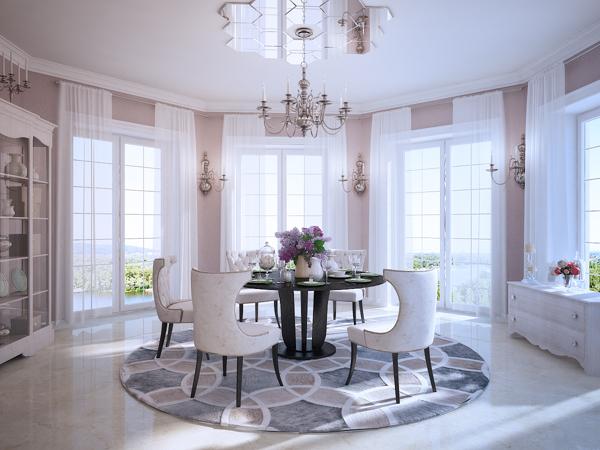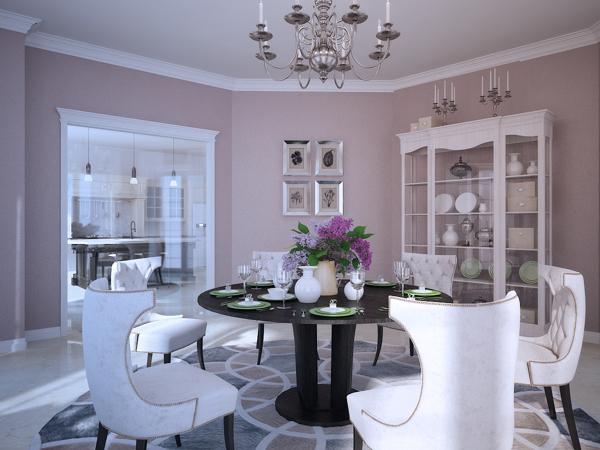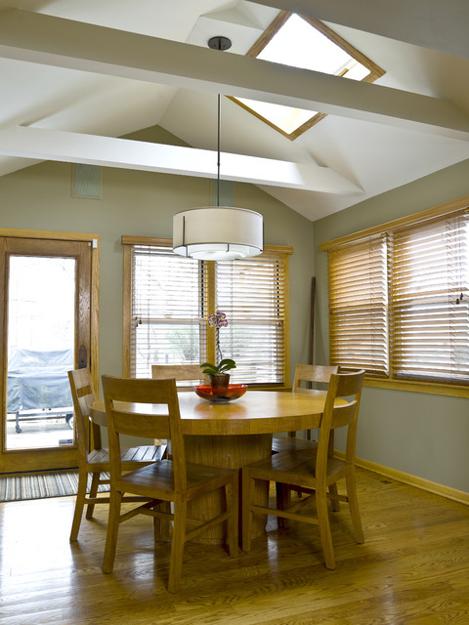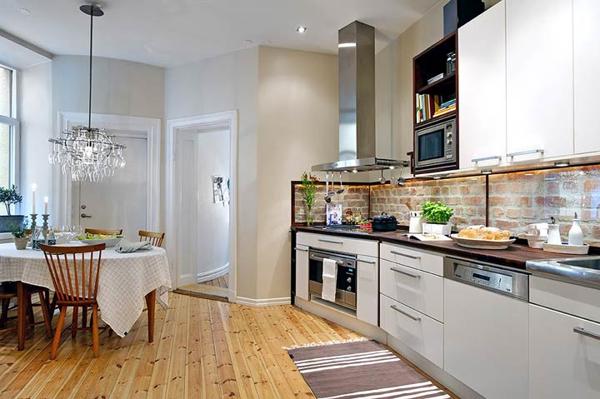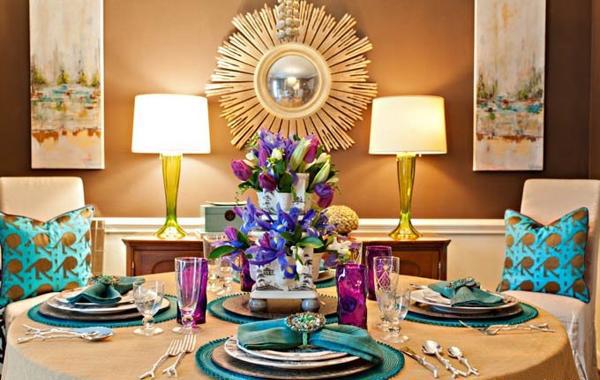 More from room decorating

Throw pillows in various colors, designs, and patterns are one of the easiest ways to refresh your room design and inject...
and enjoy free articles sent to your inbox