Feng Shui Home Design, step 4: Feng Shui for Bedroom

Bedroom Designs

Feng Shui Home

Neutral and Brown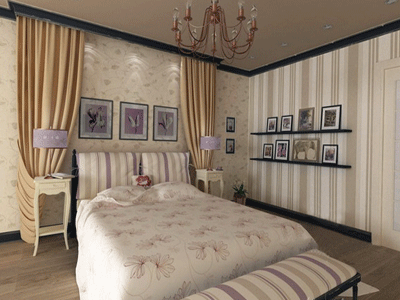 Beige-gray-white stripes on walls and home furnishings to Feng Shui bedroom
furniture placement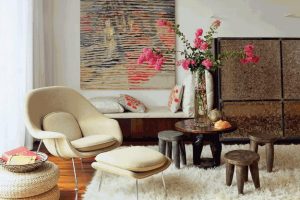 15 tips and bedroom decorating ideas for creating peaceful Feng Shui design and comfortable bedroom decor with light colors, soft lights, round edges and proper furniture arrangement.
Ancient Feng Shui home design guide is an attempt to explain how to create harmonious, balanced and relaxing home interiors. Classic Chinese Feng Shui bedroom decorating ideas help arrange light bedroom designs and comfortable decor for people to enjoy inner peace and pleasure in beautiful bedrooms.
Step 3. Feng Shui home, bathroom decorating …
Step 5. Feng Shui home, dining room decorating …
15 Feng Shui tips and bedroom decorating ideas
Relaxing bedroom colors, soft corners, proper furniture placement and comfortable bedroom decor are main elements of good Feng Shui bedroom design.
Feng Shui placement
1. A bed in a bedroom should be as far as possible from the bedroom door. The bed should face the door, in this case Feng Shui bedroom decor gives people a sense of security. ( Look at comfortable modern bedding collections and bedroom decor themes)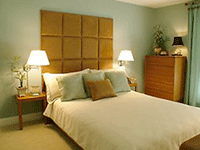 2. It is better, if a bed is not positioned directly in front of the bedroom door. Sleeping in a line with the door is not recommended. It can contribute to stress, irritability and health problems, Feng Shui experts explain.
3. It is a bad Feng Shui placement, if a bed is on the drought line between your bedroom window and door.
4. The bedroom in Feng Shui home should be as far as possible from the front door.
5. Chinese home design experts suggest to keep the bathroom door closed, when people are asleep, to create peaceful atmosphere in the bedroom.
6. Moving the bed to the wall for support is another important element of good Feng Shui bedroom design. Make sure you have a strong and stable bed headboard that, according to Feng Shui home design guide, give you the strength, allows to face interior space and the life directly, both literally and symbolically.
Bedroom design
7. Open concept room designs with visible ceiling beams above the bed are not good Feng Shui bedroom ideas. It is believed that a ceiling beam is creating a tremendous pressure on sleeping people. Good Feng Shui bedroom design avoids open ceiling beams that emit destructive energy, Feng Shui experts explain. It is not recommended neither to sleep, nor to work, eat or prepare food under open ceiling beams.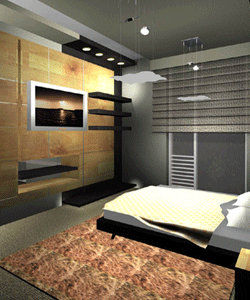 8. The space under the bed in Feng Shui bedroom should be free of clutter or bed linens and comforters storage. (Modern bed linens and comforters)
Bedroom colors
9. Pastel bedroom colors and soft wall, table or floor lighting, instead of ceiling lights, are ideal Feng Shui bedroom decorating ideas. (Bedding color symbolism)
10. Spacious, warm and cozy bedroom decorating accessories, green house plants and matching night tables with rounded edges prevent negative energy to concentrate around the bed.
11. Soft pleasant colors and comfortable bedroom decor add stability to your relationship. (Black and white modern bedding sets)
To Feng Shui bedroom with open beams
Feng Shui experts say that bedroom design that has open beams will not only suppress the possibility of improving the financial situation, but adversely affect the health.
Feng Shui home interiors, and especially bedrooms, should not have open beams that trigger headaches, depression, digestive problems and back pain, Feng Shui teachers advise.
12. They suggest to paint ceiling beams, drape it with fabric or hang over a beam bamboo flutes, tied together with a red ribbon, to decrease the visual load and to Feng Shui bedroom interior.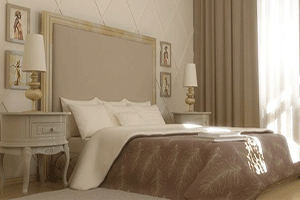 13. Other classic Feng Shui tips for protection from the ceiling beam pressure are: covering the ceiling, hanging a mirror on a beam or making a 45 degree angle cut to create softer ceiling.
14. Feng Shui home design does not include a work desk or a computer station in the bedroom. Never work in the bedroom, Feng Shui practitioners say.
Feng Shui crystals for wealth (or superstition)
15. Fill a beautiful vase with semi-precious stones, your jewelries and Feng Shui crystals and hide it in the bedroom closet or wardrobe.
The wardrobe should not be positioned directly opposite to the bedroom door. Keep the vase in the bedroom to attract financial success and good luck to your home.
Bedroom decorating ideas:
Artistic bed designs for inviting modern bedroom interior
Floral bedroom decorating theme
Black bedding for romantic bedroom decor

Here is a new design concept of Ibis Hotel in Sao Paulo, Brazil. The contemporary and original interior design invites everyone...
and enjoy free articles sent to your inbox