Artistic Bed Designs for Inviting Modern Bedroom Interior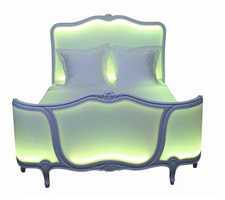 Green lighting and bed design, modern bedroom furniture
DECORATING SMALL APARTMENTS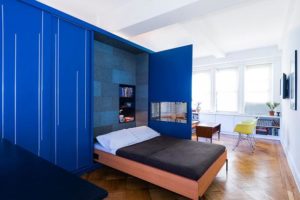 Interior designers enjoy experimenting with new bed decorating ideas for creating modern bedroom decor. Every year they develop more comfortable bed designs and offer fresh colors, functional decorating ideas and interesting themes. Contemporary designer bedding sets feel inviting with embroidery and knit fabric details. Attractive fabric colors and unexpected bedroom decorating ideas help arrange stylish and pleasant bedrooms.
Modern textile designer Angela Missoni presented her latest bed design, inspired by The Princess and the Peas, a short story for kids by Hans Christian Andersen. Her bed decorating ideas combine classic red and blue checkerboard fabric with thin Italian knit fabrics and wonderful lace. Inspired by romantic bed decorating ideas and designer bedding colors, you can use similar color palette and fabric combination for creating romantic modern bedroom in your house.
Traditional pattern feels fresh with unusual bed decorating ideas, like small embroidery and beads, lace and knit fabric pieces, that  bedding is adorned with. Off season clothes can be organized and neatly stored inside this bed, making modern Princess bed design more functional.
Designer bedding and bed design, inspired by The princess and the Pea, modern bedroom decorating ideas
Few mattresses, a lot of soft pillows, warm bed comforters and bright modern bedroom decorating colors are perfect teenage bedroom ideas for creating The Princess bed at home.  Your young Princess will love the elegant and tender look, as well as unusual and very personal bed design.
French designer Philippe Boulet has developed glowing in the dark bed designs. The advantages of bed decorating ideas with light are obvious. Finding the bed in the dark is easy.
Modern bedroom decorating ideas with lights, glowing in the dark bed design, contemporary hi-tech bed decorating ideas
Also different light colors create an opportunity to change modern bed designs every night and enjoy unique atmosphere and personal bedroom decor. Glowing bed designs are modern trends. Beds have small computers, which allows to wake up, enjoying various colors that feel cheerful and refreshing in the morning. ( Beautiful bedding sets and bedding color symbolism)
Inviting modern bed designs, modern bedroom decorating ideas
Glowing bed designs, modern bedroom furniture
Italian modern bed designs are convenient and practical, offering simple and functional bed decorating ideas for busy lifestyle. Zip Bed design has contemporary look. Stress free modern bed decorating ideas include a zipper, luxurious designer bedding fabric and bright decorating colors. (Modern bedding sets and colors)
Zip bed design for modern bedroom
Making a bed becomes unnecessary, a zipper creates neat and inviting modern bedroom decor in no time.
More bedroom decorating ideas:
Black bedding for romantic bedroom decor
Feng Shui home: bedroom decorating ideas
Modern bedding collections, bedroom decorating themes
Inviting and comfortable bed designs, Hamburger bed

Here are great ideas for kids toys storage and wall decoration with small cars that everyone would love. DIY organizers, like...