Feng Shui Home, Step 6, Living Room Design and Decorating

Feng Shui Home

Furniture Accessories

Living Room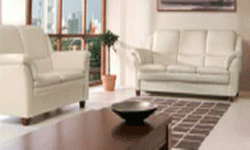 Living room furniture placement to Feng Shui home, white leather furniture for living room
feng shui for wealth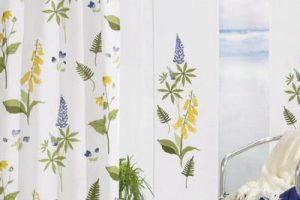 Ancient Chinese Feng Shui is the art of interior decorating that creates balanced, relaxing and attractive rooms to add harmony to people's lives. Classic Chinese Feng Shui home design philosophy teaches how to achieve balanced, take care of health, protect homes, attracting wealth and happiness.
Step 5. Feng Shui dining room …
Step 7. Feng Shui colors and Chinese symbols …
17 tips to Feng Shui living room design
1. Seating area is a cozy zone, a gathering place for family members to watch TV or just relax together. Good Feng Shui design makes a living room comfortable, welcoming, well-lit and warm.
2. According to Feng Shui living room furniture placement guide, people sitting in the living room should be able to see everyone who is entering the room.
Living room furniture placement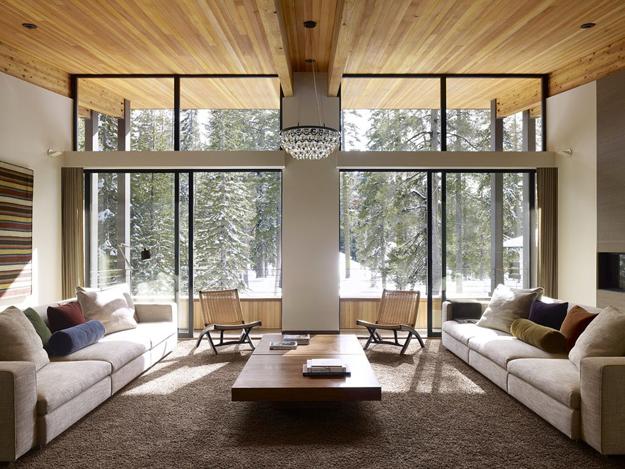 3. Feng Shui practitioners say that the center of the living room is the good luck zone. In Feng Shui it is important to decorate a living room with some open space in its center to attract good luck and Feng Shui a home for wealth.
4. Feng Shui living room decorating ideas ensure that there is no objects in the middle of the room that prevent people from entering the room. The objects and furniture pieces that obstruct the smooth flow of positive energy need to be removed.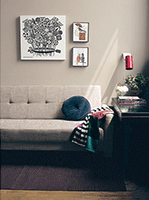 5. If the living room design has an alcove, the positive energy can stagnate in the house. Indoor plants and living room furniture items with rounded corners and soft edges help to improve the energy flow.
To Feng Shui living room decor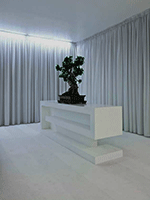 6. Chinese Feng Shui for room decorating suggests hanging a mirror on the wall that creates a sense of depth and stimulates energy movement.
7. Green indoor plants, flower arrangements and soft living room lighting help create a pleasant atmosphere and Feng Shui a room in accordance with the Chinese Feng Shui decorating guide. Right furniture placement and green indoor plants help the positive energy move around the room, allowing living room furnishings to breathe and creating an open and airy room design.
8. The living room furniture placement guide recommends pushing armchairs and sofas back to walls, creating an inviting, simple and elegant interior design.
9. The TV set, placed in the corner, is a living room decorating element that attracts prosperity, creating a centerpiece that improves the Feng Shui wealth zone.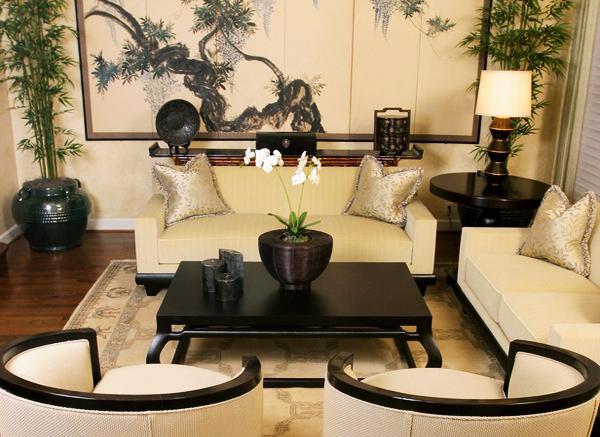 10. Living room design that includes traditional bookcases with doors instead of storage furniture with open shelves is recommended by Chinese Feng Shui teachers.
11. Bookcases and cabinets can emit destructive energy, so they should be kept closed to make the living room design look organized and neat, and Feng Shui home interiors in elegant style.
How to Feng Shui corner furniture
How to Feng Shui bookshelves and bookcases in living rooms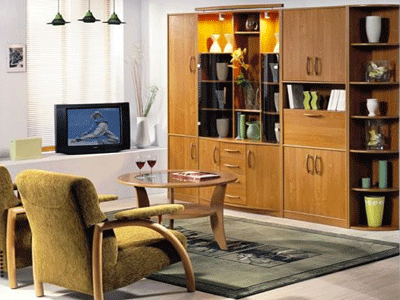 12. Books on open shelves can lead to illness, bad mood and depression over time, classic Feng Shui practitioners say. If you had books on open book shelves in the living room for a while, the Feng Shui room decorating guide recommends positioning the roots of your indoor plants at the level of shelves edges (basically to place house plants on the shelves in the living room) and reduce the harmful effect of open storage furniture. No doubt, book shelves decorated with green indoor plants will look more beautiful in your living room.
Home book shelves and personal library design style
13. Living room furniture placement guide does not recommend having wooden shelves in the southwestern, north-eastern or central parts of your living room.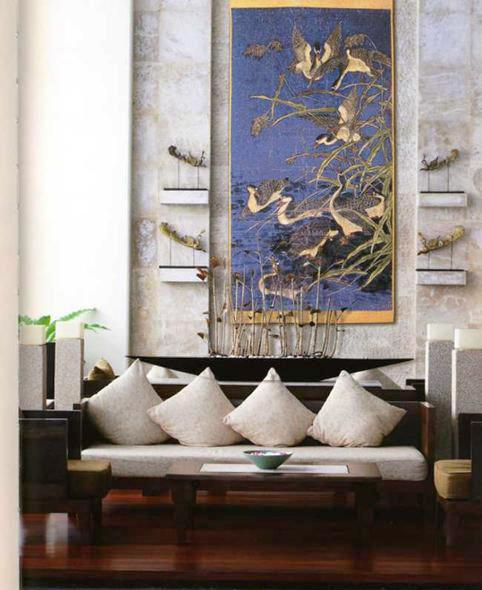 14. Feng Shui teaches not to suggest decorating with glass shelves if your living room is located in the northern part of the house.
To Feng Shui living room walls with family pictures
15. You can decorate living room walls with your family photos, but the collection must include photographs of all family members living in the house, as Feng Shui room decorating experts suggest.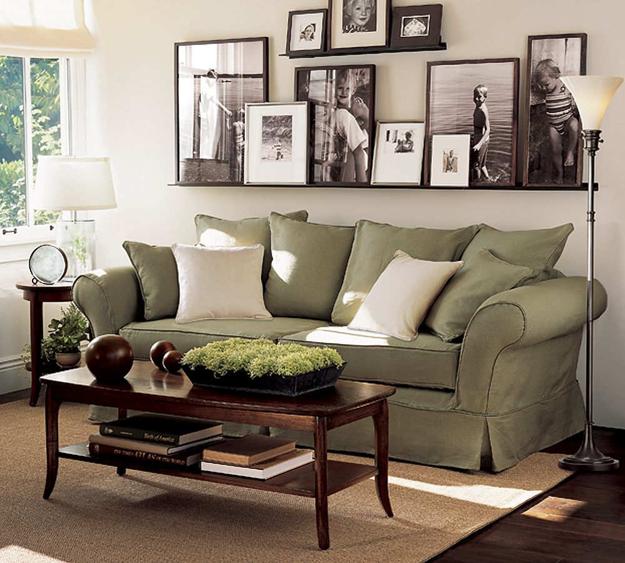 16. People in the photographs should be alive and look happy. Only happy photos bring good luck, according to classic Chinese Feng Shui practitioners, and decorate your living room with cheerful and pleasant images.
To Feng Shui living room corners with indoor plants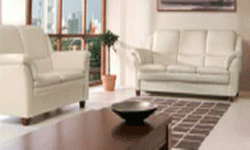 17. Living room furniture corners and columns should be rounded or cut at a 45° angle to help the energy flow. Room corners and sharp edges can be decorated with beautiful indoor plants with rounded leaves and climbing house plants.
The ancient Chinese Feng Shui home decorating guide recommends using live indoor plants or artificial plants to hide room corners. Indoor plants help the positive energy flow freely around the living room and through all home interiors.
Modern interior decorating ideas
Decorating interior in sky blue for spacious look
Room decorating with custom made eco lamps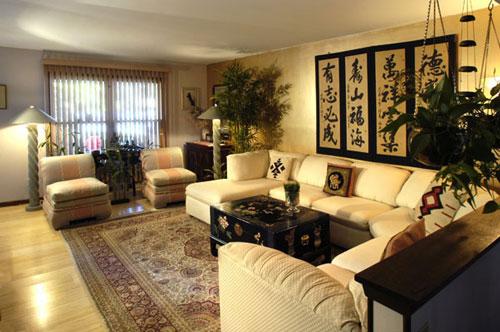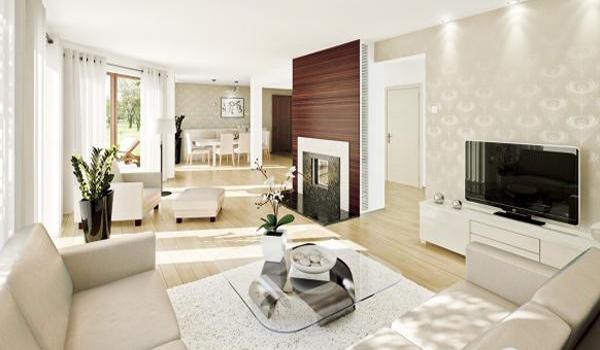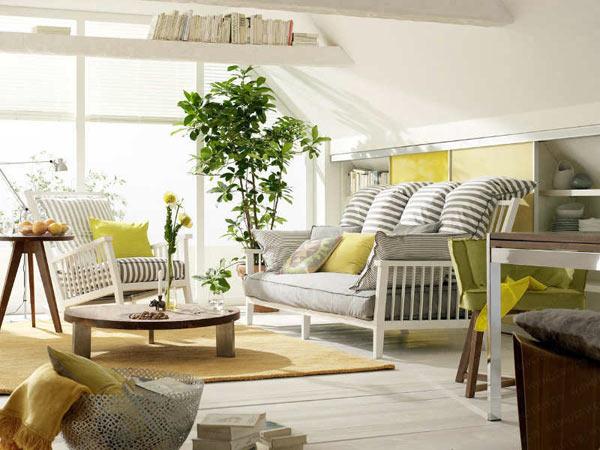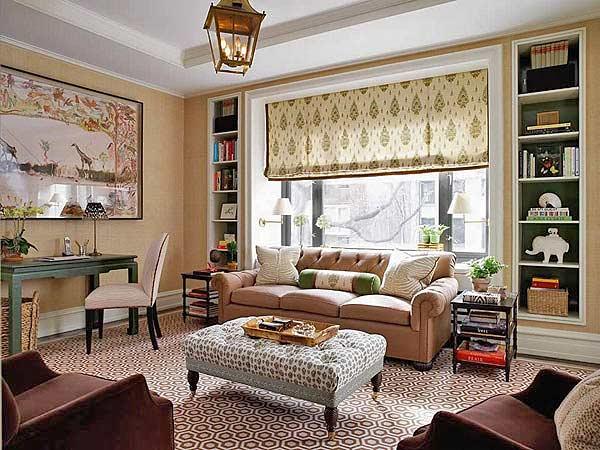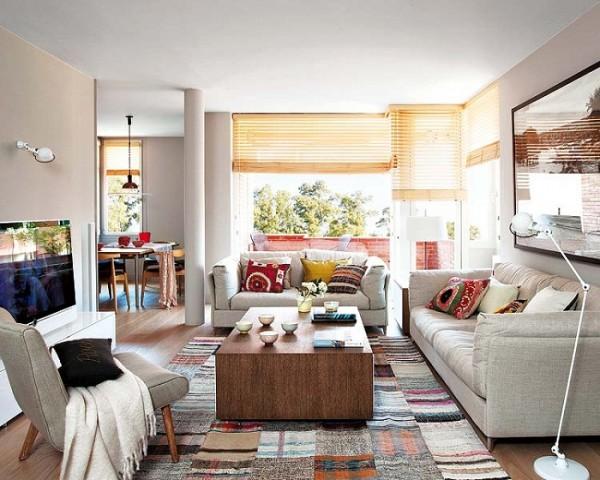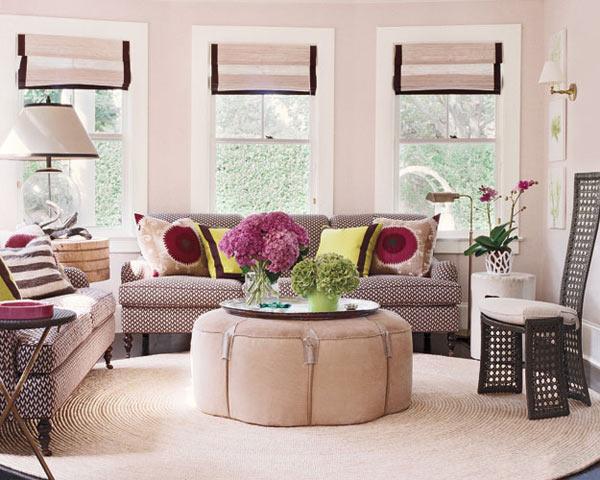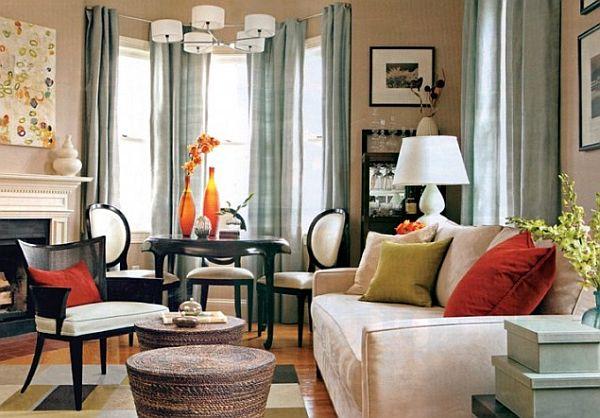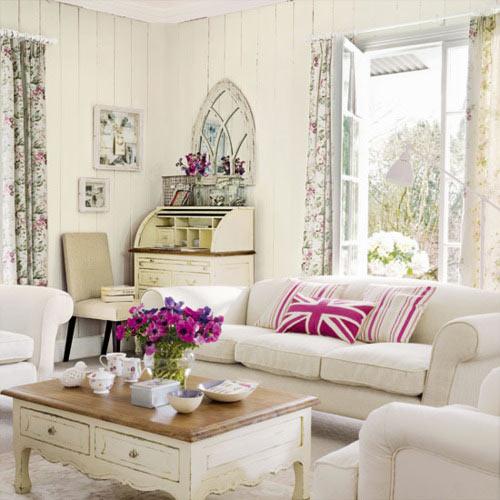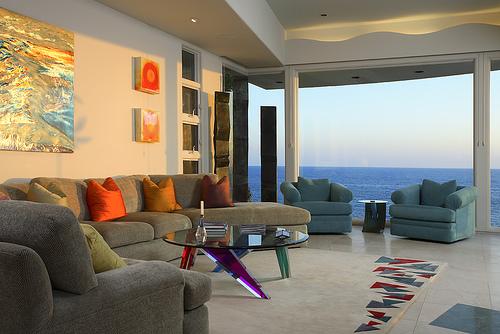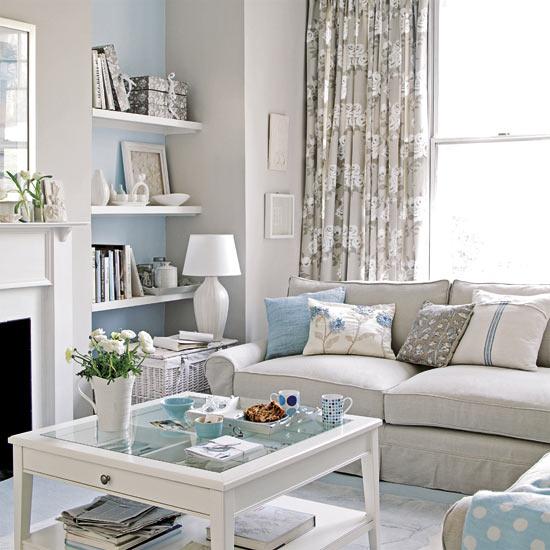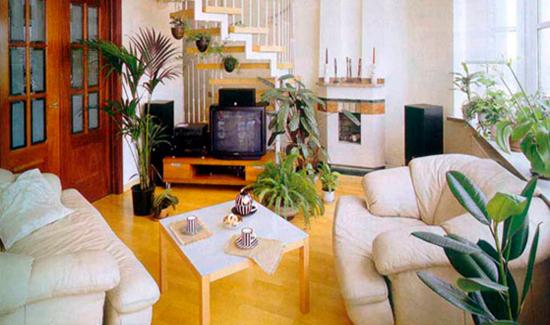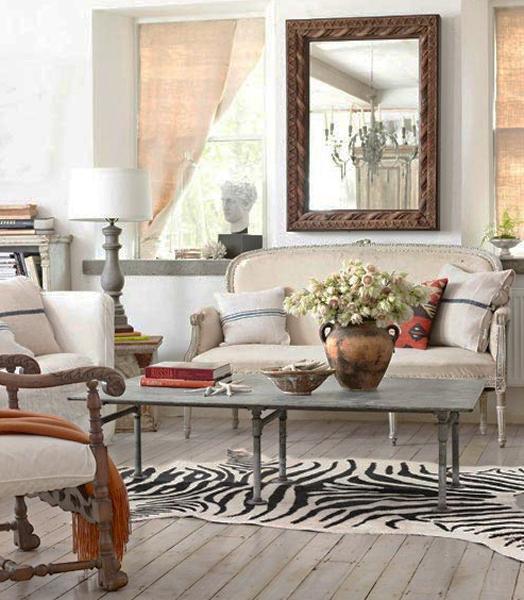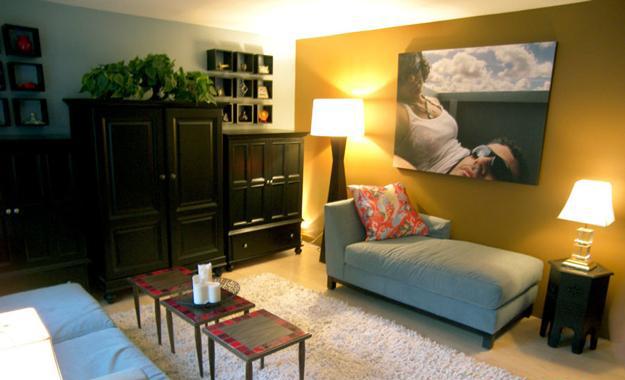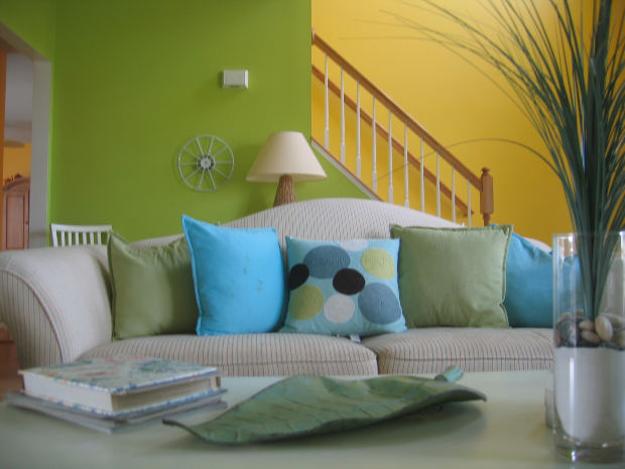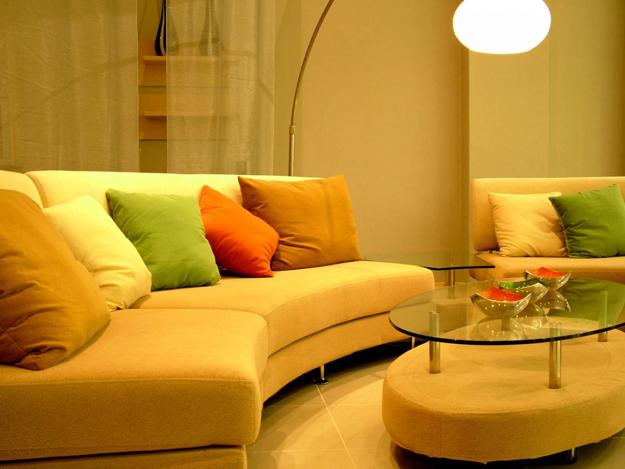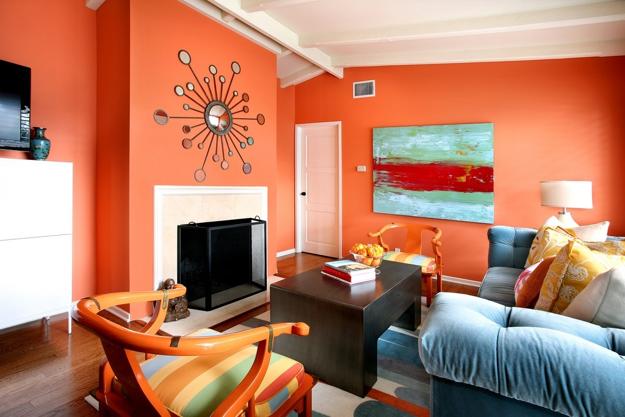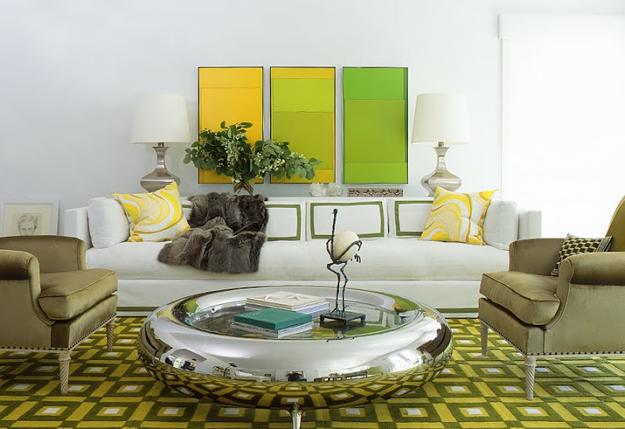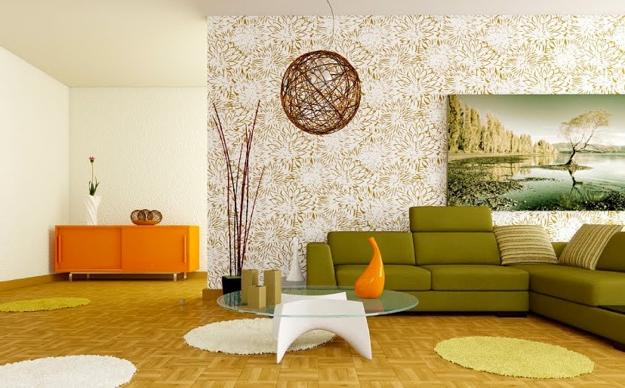 Piggy wall decorations bring humor into homes and can beautifully enhance the farmhouse theme. Colorful pigs on walls are excellent ideas...
and enjoy free articles sent to your inbox