Modular Shelving, Wall Decorating Ideas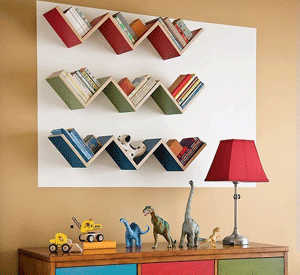 Wall decorating with books, wooden shelves, modular shelving design
Built-in bookshelves and wood bookcases look familiar and functional. Classic wooden shelves create book shelving systems that compact and practical, offering traditional wall decorating ideas. Contemporary interior design requires modern bookcases and book shelving units that support light and spacious room design concept and encourage choosing interesting wall decorating ideas that utilize available storage space better.
Contemporary interior designers develop attract and light wall decorating ideas, offering space saving wall shelving units for wall decorating with books. Modern modular shelving units can be arranged in very small room, providing convenient storage ideas and impressive decorating with books design. Modular furniture with shelving units and modular storage cubes can effectively replace less comfortable racks, open storage shelving  units, custom made built-in bookshelves or bulky wood bookcases. (Look at home book shelves design ideas.)
Modern book shelving systems, especially modular shelving units, allow to change wall decorating ideas and book storage space design. Modular shelving units work as functional wood bookcases or built-in bookshelves and light wooden shelves or racks, making modern interior design ideas feel comfortable and elegant. Wall decorating with books can be interesting, unusual or classic. Modular shelving units help quickly change wall decorating ideas, room design style and the atmosphere in the room. (Contemporary design ideas for large bookcase with sliding bookcases and shelves.)
Book shelving systems with modular storage cubes – wall decorating with books
Modular shelving systems with modular storage cubes, contemporary storage ideas, modular furniture design
Although unusual wall shelves or shelving units, custom built-in bookshelves and unique decorating with books ideas look impressive, they do not allow to experiment with book shelves arrangement and try new contemporary wall decorating ideas very often.
Wooden shelves and unique storage ideas, modern bookcases, contemporary storage furniture design
Wall decorating with books, wooden shelves, modular shelving design, kids room book shelving systems
Contemporary modular shelving units, particularly modular modern bookcases with adjustable shelving systems, wall shelving units on wheels or modular storage cubes are perfect for creating various book storage space designs and enjoying new wall decorating ideas.
Contemporary modular wall shelves, adjustable shelving units, modular furniture design, modern book shelving systems
Modular office storage ideas offer convenient and efficient design of modular storage systems with modular storage cubes for books, papers and documents, utilizing storage space and making home office wall decorating ideas look organized and light. (Look at closet storage organization.) Modular storage cubes can add beautiful colorful accents to book storage design and wall decorating ideas. Modular shelving units can be easily rearranged or quickly moved to another room.
Modern bookcases with rotating or rolling book shelving units, modern modular furniture on wheels, book shelving systems with various size modular storage cubes offer freedom, comfort and style.
Modular shelving units, modern book storage ideas, white shelves with modular storage cubes
Collapsible stackable storage cubes, modular shelving units, photo from www.brickbox.es
Interesting storage furniture design and simple wall decorating ideas with modular shelving units and modular storage cubes are developed by Brickbox. Modular shelving units with collapsible stackable storage cubes are perfect space saving book storage ideas for small room design.
Modern interior design ideas, wall decorating with books, modular shelving, shelving units without modular storage cubes
Modular book shelving systems allow to create personal room design and select classic or impressive wall decorating ideas. Modular furniture is convenient and can be attractively arranged in any room, regardless of its size or shape. Modular storage cubes make book shelving systems more comfortable and flexible. Modular shelving units can build high modular bookcase for a large library or make light shelving units design for a small room.
Modern bookcases and modular shelving units on wheels
Modular bookcase, wall shelving units, wooden shelves on wheels,
Modern book shelving systems and modular bookcase design are more convenient if have wheels. Also there are interesting storage furniture design ideas, like a sofa, a bench or a chair with book shelves. Unique modern bookcases and storage furniture with built-in bookshelves are impressive room design elements. Modern storage furniture designers like eye catching, space saving and convenient design ideas of furniture decorating with books.
Storage furniture with built-in bookshelves
Built-in bookshelves, book storage furniture and shelving ideas, chair with book shelves, decorating with books
Teen and kids can enjoy cozy seat design with book shelves, adults can add soft cushions to decorating with books and make the chair more comfortable. Storage furniture with shelving units (look at ergonomic bedroom furniture for teens,) allows decorating with books and other home decor items. Kids toys or collectibles are  great choices for the chair's built-in bookshelves decorating also.
Recommended:
Urban home book shelves design, office decorating ideas
Shoe storage for staging spacious entry
Kitchen organization for home staging
Built-in bookshelves, space saving storage furniture design, living room chair with book shelves, decorating with books
More from wall decorations

Modern house design in Japanese style celebrates the functionality and elegance of minimalism. Airy, bright rooms look inviting and comfortable. Natural...