Felt Wall Decorating for Contemporary Interior and Traditional Room Decor

Decorating Ideas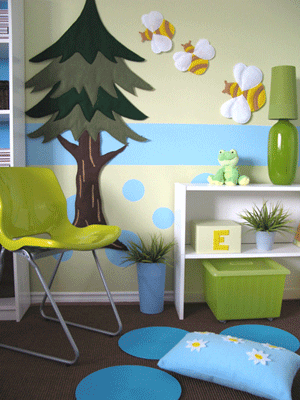 Felt for modern wall decor, boys decorating, green-blue wall decoration
wall panel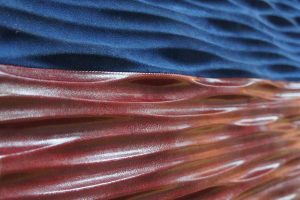 Felt is fun. Felt wall decorating looks soft and modern. Although felt fabrics are dense, it is easy to work with felt and create modern wall decorations. All you need is sharp scissors and imagination. A long time ago, felt was one of the traditional materials for wall decoration. Today's latest trends in decorating reinvent felt wall decor and create a contemporary interior design with eco-friendly felt.
Felt fabrics, made from natural fibers, were used for Eastern traditional interior design. Also, people made felt blankets, mattresses, pillows, hats, shoes, and clothing of wool felt. Now one of the oldest traditional materials for interior decorating regains its importance and popularity. Natural wool and eco-friendly felt fabrics make shoes, clothes, and contemporary home decorating, creating impressive and unusual modern interior design.
Anne Kyyro Quinn design studio in London, www.annekyyroquinn.com/ creates stylish decorative wall panels made of modern felt fabrics. These colorful and unique wall decorations are made for public spaces and home interior decorating. Designed of decorative felt, the contemporary wall panels are handmade. The felt wall decoration is flexible and creates an attractive, original, and modern interior design.
Contemporary chairs and lamps made with felt and knits
Carved wood wall paneling in trendy room decorating
Home decorations made with felt and fabrics, DIY gift ideas
Wall decorating with felt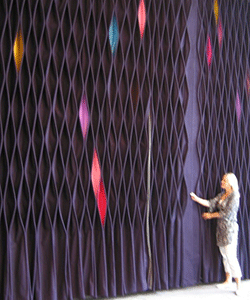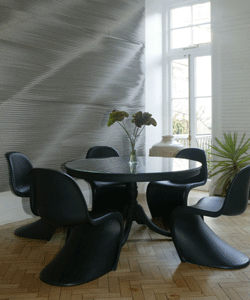 Modern wall decorating with felt is the art that requires skills and flexible, high-quality decorating fabrics, and a creative approach to modern wall design. Ordinary things, like felt fabrics, can transform empty walls and create fabulous accent wall design ideas in contemporary style.
Felt kids furniture design ideas
Rain curtain, home decor accents
Clothing from closets for contemporary textile sculptures
Today, almost forgotten traditional materials, felt fabrics are a modern interior design trend.  Contemporary felt wall decor accessories and decorative wall panels made with eco-friendly felt became stylish home or apartment decorating elements.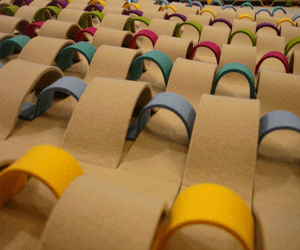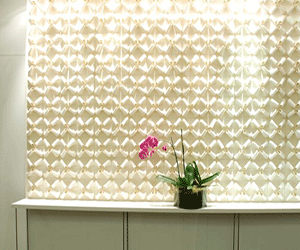 The production of felt is a big industry today, constantly improving its technology and producing eco-friendly, beautiful, and modern interior decorating materials in many colors and with a different degree of flexibility. Felt wall panels and felt wall decorations are versatile and great for creative contemporary interior design or country-home decorating.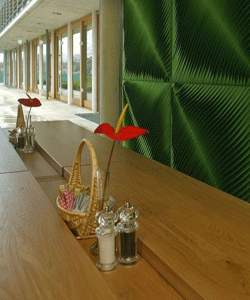 Felt fabrics that can be soft or hard, thin or thick, colorful or neutral colors turn empty walls into gorgeous displays, adding attractive and modern wall decoration to home interiors in any style.
Eco-friendly felt, modern interior design ideas
Commercially produced felt for modern wall decoration is formed from acrylic fibers. Plastic recycling makes this contemporary material eco-friendly. Stylish wall panels and wall decorations, furniture, and decor accessories, made of eco-friendly felt, are perfect for original designs that add texture and color to modern interior design in eco style.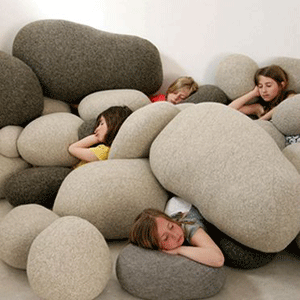 Created by wet felting, fluffing (shrinking), knitted or woven materials add beautifully textured surfaces and contemporary flair to modern interior design. Needle-felt (also called prefelt) is halfway between commercially produced and handmade felt fabrics. It is pure wool and excellent for making gifts and wall decorations for kids room design
Needle-felt kids' decorations feel soft and pleasant because of the loose material formed from lightly felted fabrics. These eco-friendly and attractive fabrics are great for modern bedroom decorating.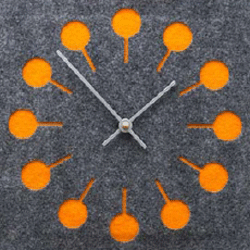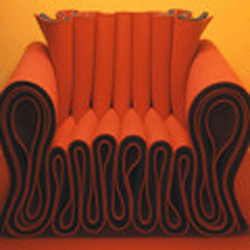 Office decorating and living room designs with felt wall panels, unique furniture, decor accessories, wall decorations, contemporary felt carpets, and rugs designs – just a few ways to add modern felt fabrics to your home decorating. Felt brings warmth, elegance, and softness into contemporary or traditional interiors.
Eco-friendly, made of used plastic bottles, eco spun produces contemporary felt fabrics and fantastic, Green home decorating materials. They help create beautiful handmade, eco gifts, unique furniture, modern wall decorations, curtains, furniture covers, stylish bags, hats, footwear, and many different, stylish, unique interior decorating accessories.
Felt wall decorations in kids rooms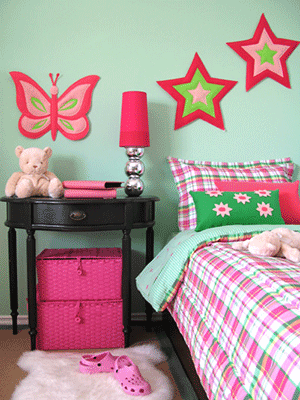 Eco-friendly felt is perfect for making Green Christmas or Valentine's gifts, wall decorations, and modern felt accessories that add a contemporary flair to interior design. Plastic recycling for polyester felt fabrics are great for creating valuable and beautiful items. Unique furniture and modern wall decoration made with felt add warmth and a soft look to contemporary interior design and traditional home decor.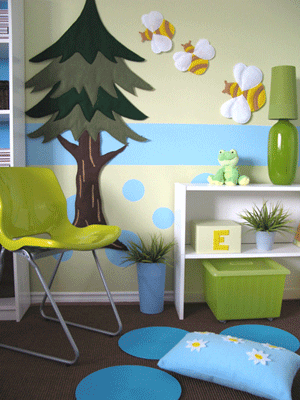 More from wall decoration

Ceramic tiles are beautiful elements of modern kitchens which are not just functional interiors for cooking, but the open living spaces...
and enjoy free articles sent to your inbox