Contemporary Chairs and Lamps Made of Felt and Knitted Fabric, Unique Furniture and Lighting Ideas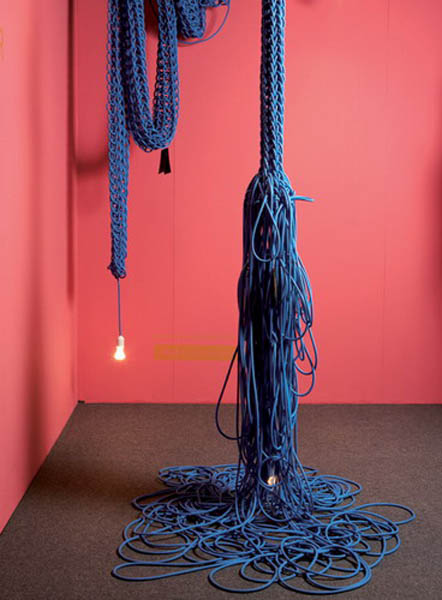 Knitted pendant light in blue color, contemporary lighting ideas
lighting fixtures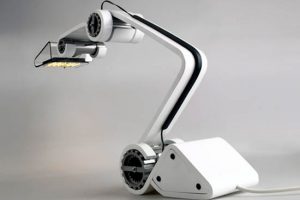 Contemporary chairs and lamps made with felt and knitted fabric look unique and unusual. Knitted fabric and felt are modern interior design trends in lighting and furniture design that bring natural materials and artful designs, surprising forms and creativity into modern home interiors.
Unique furniture, lighting fixtures and decor accessories made of natural wool and eco friendly felt, cotton, silk and wool knitted fabrics look unusual, interesting and very decorative, adding warmth and softness to interior decorating and creating comfortable and cozy rooms.
Lamps made with hats are a creative idea from designer Jake Phipps, UK. Various beautiful black hats create the unusual collection of unique lighting fixtures Jeeves & Wooster Pendant Lights. Silky lining in silver and golden colors add luxurious shine to these contemporary pendant light designs.
Contemporary floor lamps with knitted lamp shades, unique lighting ideas
Pendant lighting Granny with knitted lamp shades, modern lighting ideas
Unique lamps made of black hats
Pendant lights made of black hats, unique lighting ideas
Contemporary chairs made of knitted fabric and felt
Unique furniture design ideas from Luflic are impressive and extravagant. Contemporary chairs In The Round are made of one bended pipe piece, decorated with knitted fabric or felt cover.
Two contemporary chairs are available with felt and knitted fabric, offering different textures, whimsical look and warm feel. These interesting chairs look like modern artworks, but provide comfortable seats also, designers say.
Knitted furniture, contemporary chair made of one piece of knitted fabric
Designer chair made with felt fabric, unique furniture design ideas
Kids furniture made of eco felt, functional design for fun and smiles
Felt wall decorating for contemporary interiors
Knitted pendant lights
South Korean designer Kwangho Lee, www.kwangholee.com/ used cabels and wires for creating unique pendant light designs for modern home decorating inspired by knitted clothes.
Red and green scarves like pendant lights made of a single wire, creative and unique lighting ideas
Knitted pendant light in blue color, contemporary lighting ideas
He designed colorful pendant lights that look like knitted scarves with playful tassels. Each lighting fixture from this Kneat Light design collection is made of one long wire piece from 10 to 200 m ( 330 to 600 ft)
Felt wall decorating for contemporary interiors
Felt furniture design ideas, Big Basket Chair by Ola Gillgren
Unusual pendant light designs have charming elements with knitted patterns that add a handmade flavor to unique lighting ideas.
Knitting and crochet for home decor, handicrafts trend in modern interior design
Modern furniture design by Claire Anne O'Brien, designer chairs and stools with knitted cushions
Inspiring ideas, contemporary furniture and lighting fixtures
More from decoration patterns

Throw pillows in various colors, designs, and patterns are one of the easiest ways to refresh your room design and inject...
and enjoy free articles sent to your inbox