Contemporary Floor Lamps with Knitted Lamp Shades, Unique Lighting Design Ideas
---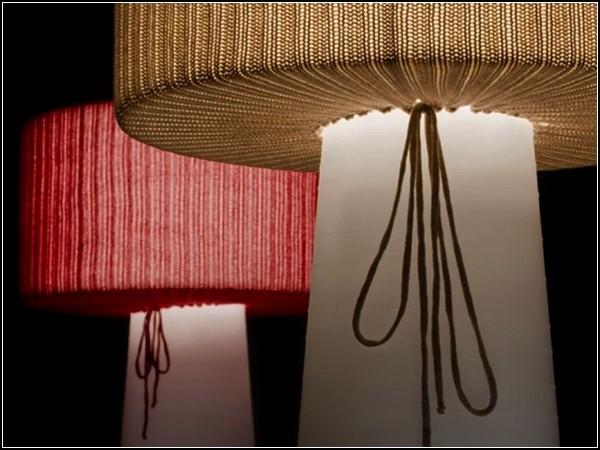 Contemporary floor lamps with knitted lamp shades
Contemporary floor lamps from Up Lamp collection created by Mario Masser can be used for outdoor  living spaces and interior decorating. Made of white plastic contemporary floor lamps feature colorful knitted lamp shades.
Plastic contemporary floor lamps, designed for Lucente, www.lucente.eu/ will look gorgeous on the patio and deck or near the pool. Decorated with knitted lamp shades these lighting fixtures are great home decorations also.
Simple and elegant lamp shades in neutral beige and deep red color transform plastic floor lamps and create soft and warm lighting.
Pendant lighting Granny with knitted lamp shades, modern lighting design idea
Contemporary floor lamps, torchieres for modern homes
Contemporary floor lamps have diodes that create this pleasant glow, making room decor feels cozy and comfortable, adding romantic charm to modern home interiors. The level and intensity of light can be changed, increasing and decreasing the glowing surface.
The collection Up Lamp is an example of a new trend in lighting design with knitted lamp shades. Combined with knitted furniture or knitted decor accessories, they create soft and comfortable, unique and interesting modern home interiors.
Outdoor light design ideas, modern lighting fixtures for glowing backyard designs
Knitting and crochet home decor, handicrafts trend in modern interior design
Portable bar furniture and outdoor lights
by Ena Russ
last updated: 24.02.2012