Dark Ceiling Designs in Modern Kitchens and Bathroom Interiors

Black White Decor

Room Colors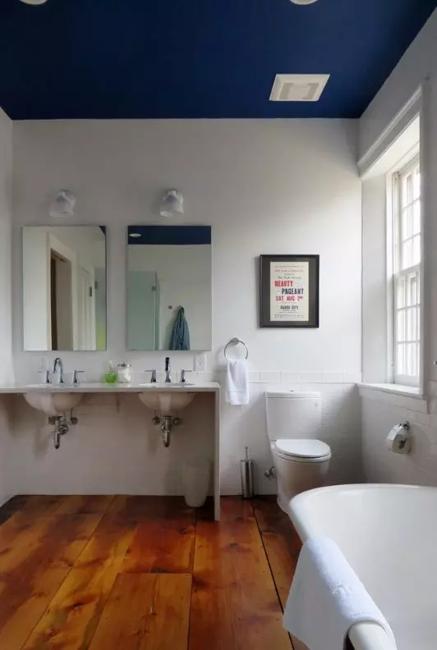 Black ceiling, white bathroom design
paint colors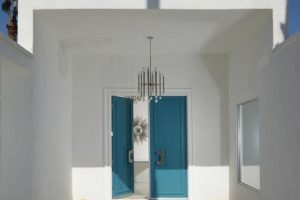 Dark ceiling designs fascinate and impress. Gone are the days of the standard flat white ceilings in bathrooms and kitchens. Now dark colors, even gray, deep purple, navy blue, browns, and black, are popular choices for decorating modern kitchens and bathroom interiors with high ceilings. Dark interior colors add interest to kitchen designs and create elegant contrasts in contemporary bathroom interiors. If you are brave to try something unusual and stylish, consider dark paint colors for your bathroom and kitchen ceilings when choosing the perfect color scheme for your home decorating. Dark painting ideas turn ceiling designs into works of art. Dark paint colors add drama and inject mystery into modern kitchen designs and create elegant, modern bathrooms.
If the ceilings are high, as is the case in many loft interiors and two-story open spaces painting the ceiling, a dark color helps create a cozy atmosphere and balance the space dimensions. Dark colors, like deep red, green, blue, and brown color shades are stylish accent colors for modern ceiling designs. Dark gray tones and black help to bring the ceiling in and make the ample space feel warmer and more comfortable. Dark ceiling designs in spacious interiors can have a fantastic impact on kitchen designs.
How to use dark colors for modern ceiling designs
Matching colors of floor finish, ceiling, and wall design
Dark ceiling designs in contemporary bedroom interiors
It is crucial to consider the size of your spaces and wisely choose your ceiling paint color. The contrasting color schemes that balance the interiors dimensions do not only enhance the spaces but feel congruent with owners personal style while amplifying the beauty of the house architecture.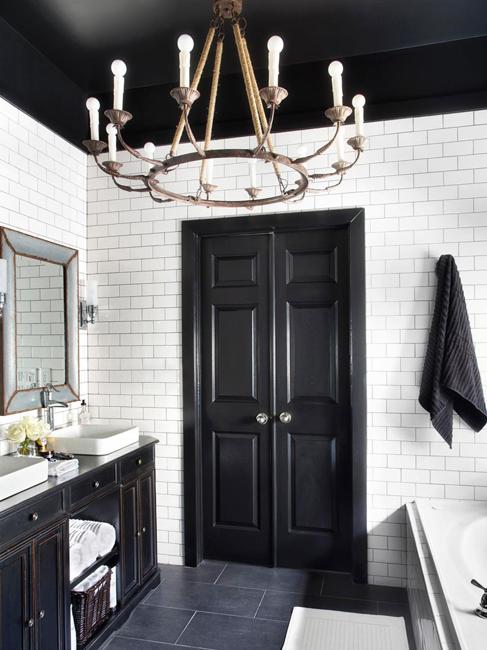 Check out the Lushome collection of modern kitchens and bathrooms with dark ceilings. The designs are impressive and inspiring. Steal the look or create a new, beautiful, functional, elegant interior design bringing more trendy dark colors into your home color schemes. Blue, purple, deep green, and red are a great alternative to gray, black and brown colors. They create elegant and sophisticated ceiling designs and beautify spacious and modern kitchens and bathroom interiors.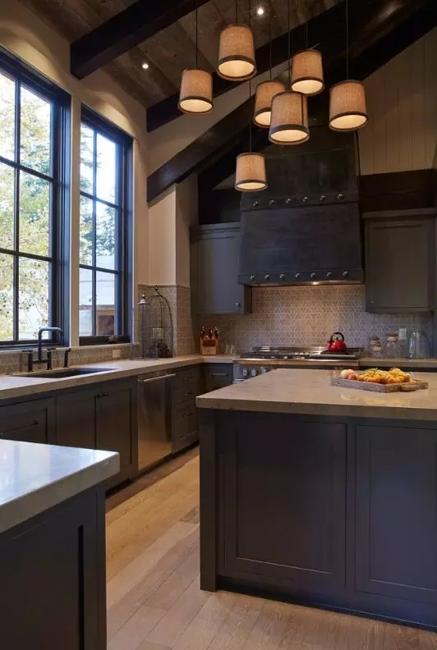 Modern kitchens with dark ceilings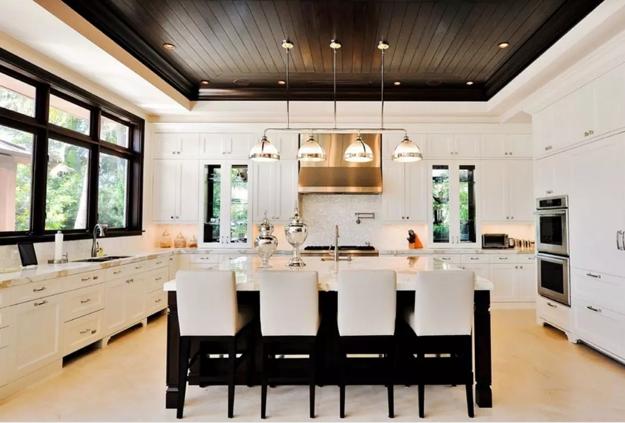 Modern bathrooms with dark ceilings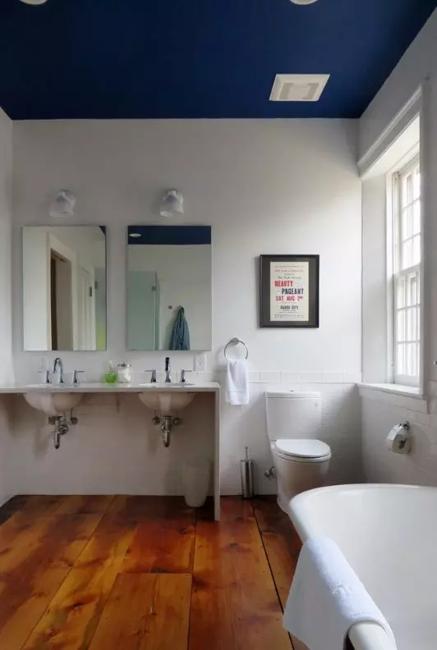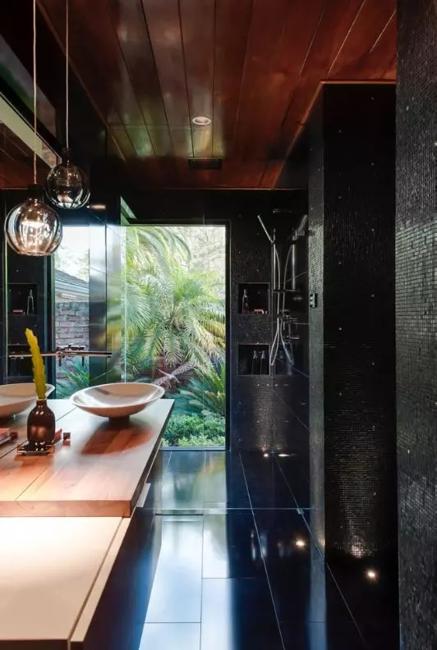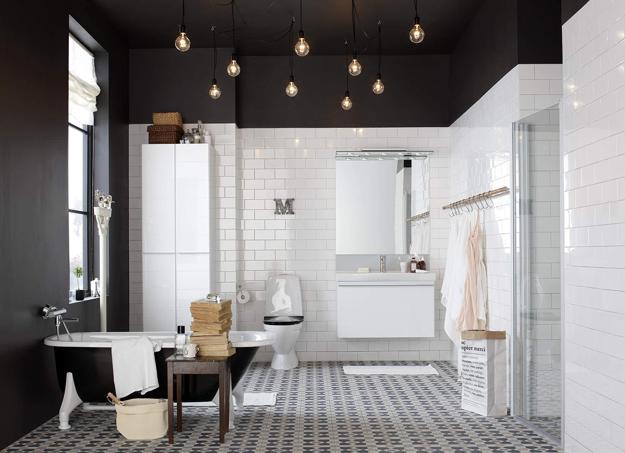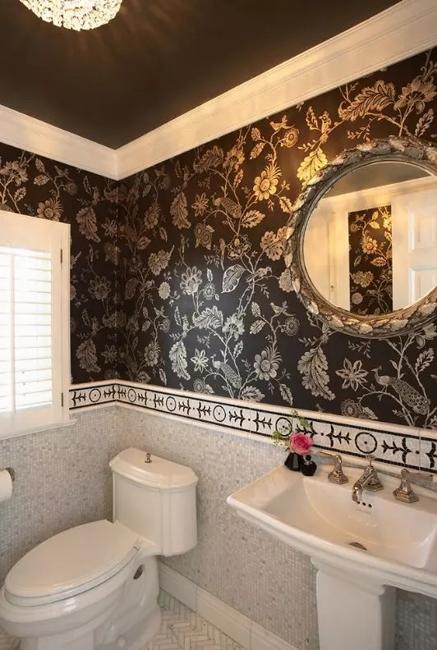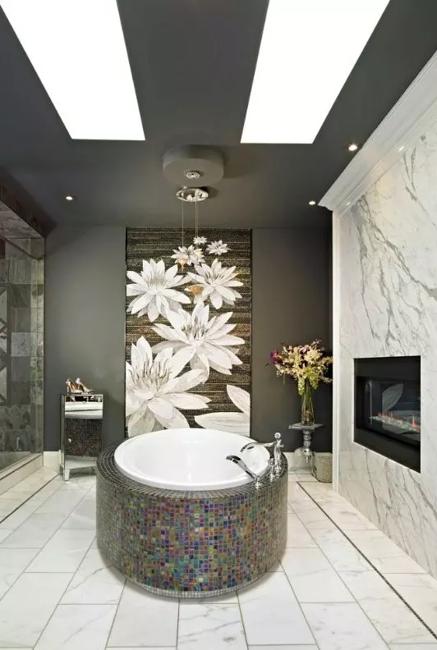 Warm metal accents are easy to incorporate into modern kitchen designs. Metal lamps, hardware, metal tiles, elements of kitchen designs will...
and enjoy free articles sent to your inbox