Contemporary Floor Lamps, Torchieres for Modern Homes

Decorating Ideas

Lights Appliances

lighting fixtures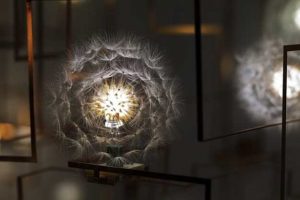 Stylish and comfortable torchieres are available in a wide assortment of sizes and styles, finishes, colors, and materials. Floor lamps and torchieres offer versatility, complementing any interior design style and home decor. Modern torchieres and arc floor lamps provide all of the glamor and none of the glare. Modern floor lamps allow for  higher wattage bulbs and bring a large amount of light in a room, creating elegant and inviting interior design.
Torchieres are great for a den, bedroom, living room or any room corner that can be highlighted with beautiful light and attractive design. Contemporaryfloor lamps are great lighting fixtures that bring more comfort, style and interest into home interiors. A stylish floor lamp with glass shades can provide general room lighting or create cozy siting area atmosphere. A torchiere lamp is perfect for reading by.
From antique to contemporary standing floor lamps and luxurious torchiere with glass shades, floor lamps are modern lighting fixtures that are functional and decorative. Stable, efficient and comfortable tripod floor lamp design is a great choice for stylish room decorating and creating warm, functional and relaxing interior design.
Creative home lighting design for visual comfort
Kitchen lighting design for coffee lovers
Eye catching table lamps, contemporary lighting, designer lamps
Modern floor lamps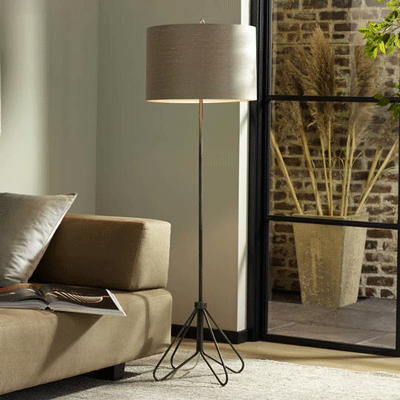 1. Torchieres
Contemporary floor lamps are convenient. Modern torchieres designs prove that floor lamps can be used as traditional ceiling light, creating comfortable and beautiful room decorating. A torchiere lamp, which directs up towards the ceiling, or a stylish arc lamp are great for seating areas, providing general lighting and adding impressive accents to room decor.
Torchieres with side lights provide not only general room lighting, but adjustable reading lights. Halogen light fixtures are especially good for knitting, reading and making crafts.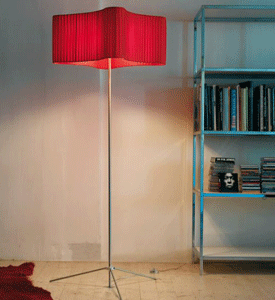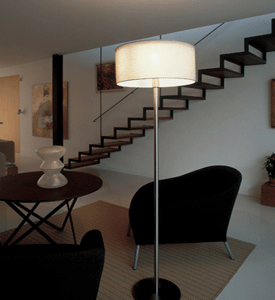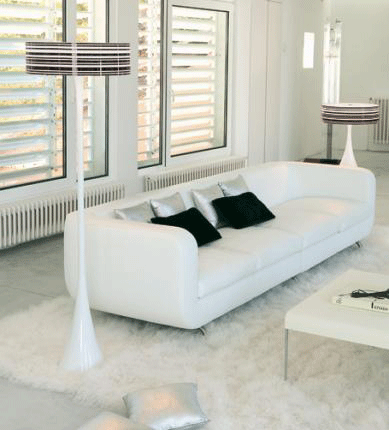 Unique floor lamps
Contemporary floor lamps are stylish and bright decorative accents. Torchieres and standing floor lamps are available in various styles, colors, sizes and shapes, from a traditional floor lighting fixtures to the most unusual designer lamps.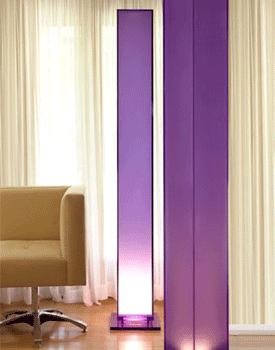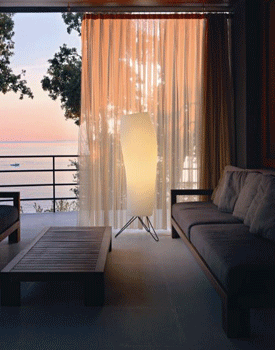 Modern lampshades
Torchiere lamp shades, inspired by nature, with leaves or floral patterns and natural motifs, are an excellent choice for interior design in eco style.
Efficient contemporary floor lamps with halogen and LED lights are attractive modern lighting fixtures for decorating eco homes.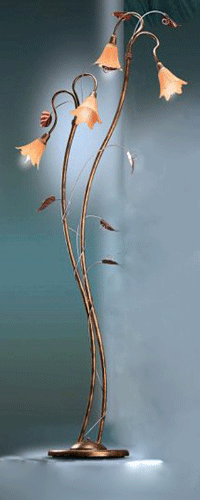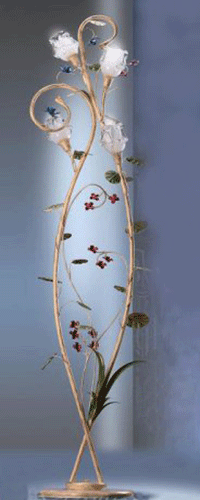 >
Interior decorating with lights
Glowing design idea from the ocean floor
Interior design with lights that change room colors like chameleons
Changing color, modern furniture design trend
Modern interior designers offer interesting and beautiful decorating ideas with LED lights. Unusual ceiling lighting fixtures, recycling materials, changing color furniture and wall tile design with LED lights are modern interior design trends that support energy saving interior design.
Contemporary standing lamps, made of paper, fabric or ceramic, wall sconce and table lamps, inspired by flowers and insects, modern chandeliers  and torchieres, made with crystals and LED lights are stylish lighting fixtures that save energy, bring more light into room decor and support interior design in eco style.
Lighting fixture designs to magnify home beauty
Dog pop recycling and Green lighting design
Home decorating with custom made eco lamps
Torchieres and floor lamps are traditionally designed for the living rooms and family rooms. Now interior designers develop modern lighting fixtures for all rooms, including bedrooms, kitchens and dining rooms. Beautiful contemporary lighting designs does not take much of the floor space, but decorate home interiors with pleasant diffused light and soft shapes.
More from interior design

Bright home interiors and amazing views of the ocean make this beach house a dream place. Large windows, light, neutral room...
and enjoy free articles sent to your inbox