Knitting and Crochet for Home Decor, Handicrafts Trend in Modern Interior Design
---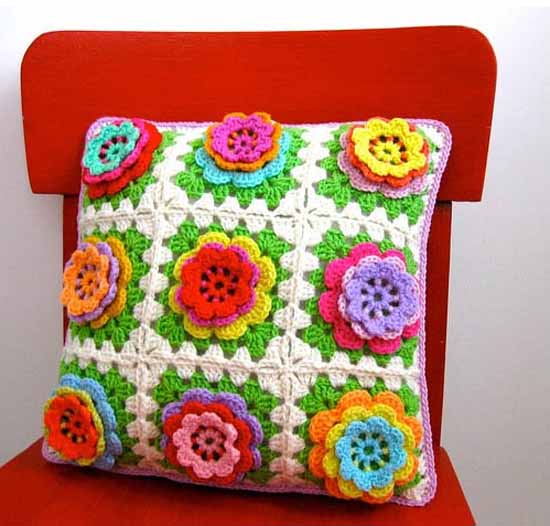 Knitting and crochet patterns are inspiring. Knitting and crochet home decor items, furniture and lamps, floor rugs and wall decorations are one of modern interior design trends that blends ancient handicrafts, creativity and contemporary home decorating ideas.
Knitting and crochet patterns look gorgeous. Crafty home decor, like small baskets and sofa throws, add softness and warmth to modern interior design ideas. Wallpaper designs and furniture upholstery fabrics, inspired by these handicrafts, create cozy and unique interior design.
Knitting and crochet were a popular craft not so long ago. For centuries many women and men have enjoyed these needle crafts and used knitting and crochet skills for surviving (fishing and hunting) and home decorating. Combined with sewing and embroidery, knitting and crochet patterns are transforming modern interior design today, creating amazing, functional and very decorative home decor items.
Cabaret furniture set from Kenneth Cobonpue
Scarfy Lamps, creative contemporary lighting fixtures with crocheted lamp shades
Knitting and crochet decorating trend
Contemporary interior design, inspired by these beautiful handicrafts, brings a new trend into furniture design and decor accessories production industry. New technology allows to create handmade looking home decor items, furniture, lamps,floor rugs and wall decorations, quicker and easier.
It takes time to create unique handmade knitted and crocheted items. Contemporary textile industry offers mass produced home decor items that look like handmade, faster to make and cheaper to buy.
Knitted fabric for modern interior design, white wall decoration
Now knitting and crochet revived the interest and become very popular amongst the younger and older generations, shaping a unique interior design trend that creates warm and strikingly beautiful, functional and creative home decor items, including furniture and lamps with knitted and crocheted upholstery fabric and lamp shades, knitted and crocheted floor rugs and wall decorations, modern wallpaper patterns and decorative accessories, inspired by knitting and crochet patterns.
8 top trends in blankets and throws, modern decorative accessories
Ancient handicrafts and unique techniques got noticed by product designers who are reinventing knitting and crochet skills, giving modern interior design and decor items a new twist and adding a charming patterns to home interiors.
Modern home decor ideas, colorful decorative pillows, crochet craft (photo by Rose Collahan at Metro Daylight studio)
Knitting and crochet patterns create unique textures, allowing to experiment with color combinations, various yarn thickness and different techniques. Long lasting and attractive crafted home decor items make home decor look more interesting and unusual, adding classy and whimsical details to modern interior design.
Piano decorating, ancient craft for contemporary interior decorating
Crochet lace and white Christmas tree decorating ideas
Decorative pillows and floor mats, tablecloths and napkins, floor rugs and wall decorations, furniture upholstery fabric and lamps, storage baskets and boxes, small home decorations and clocks, Christmas tree ornaments and wallcoverings are stylish ways to add gorgeous knitting and crochet decor items to modern interior design.
Crochet home decorations, golden Buddha, handicrafts for modern interior design and home decorating
Knitting and crochet decor items