Piano Decorating, Ancient Art and Craft Ideas in Contemporary Style

Decorating Ideas

Fun Rooms

Furniture Accessories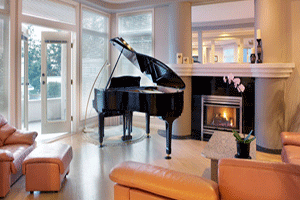 Decorating ideas, grand piano
painting ideas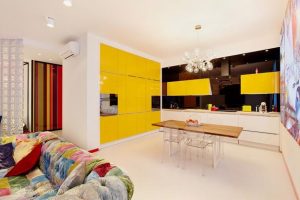 Decorative fabrics and painting ideas can be used for piano decorating, bringing charming accents and unique details into room decor in classic or contemporary style. Grand piano decorating with crochet patterns, sheer fabric covers or painted designs adds more interest and beauty to modern homes, creating impressive and very personal interior design style.
Anybody, who appreciates the ancient craft and art of crochet, will love piano decorating ideas that blend creative craft ideas and contemporary style. Crochet works and room decorating ideas from Joana Vasconcelos, www. joanavasconcelos. com/ look beautiful and elegant, transforming ordinary items and home furnishings into art. The crocheting artist makes large and small room decorating accessories and covers that are exclusive, unique and classy.
A grand piano in the living room and piano decorating accessories could not avoid her innovative decorating approach. Contemporary crochet projects bring the art of crocheting into modern interiors, offering amazing living room decorating ideas. Room decorating ideas, that include crochet designs, look familiar and warm, perfect for creating unique room decor that brightens up living spaces.
Traditional craft ideas for modern piano decorating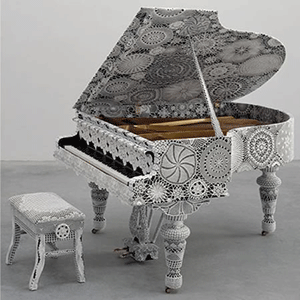 Room decorating ideas with crochet patterns can turn old furniture and a piano into gorgeous centerpieces, demonstrating softness and beauty of crocheted fabrics. Flower crochet fabrics, used for decor accessories and piano decorating, remind of ancient art and craft traditions and combine new and old into creative room decorating style.
Creating large crochet works requires the patience of ancient women, good taste and contemporary vision, and creative imagination of an artist.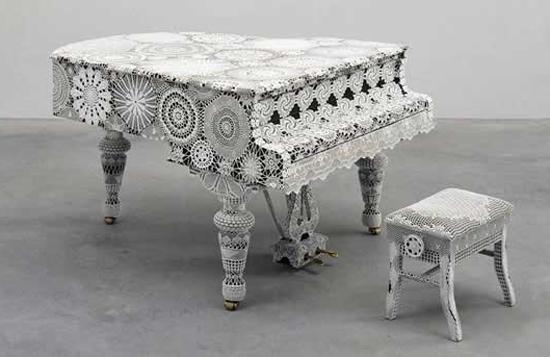 Crochet designs and room decorating ideas
Born in Paris Joana lives and works in Lisbon, Portugal. She started her craft projects when she was a student at the Centro de Arte e Comunicasiao Visual. She prefers white and red decorating colors for her amazing crochet works, designing bright room decor accessories and unique crocheted items. Visit her website to look at charming and inspiring crocheted room decor accessories, artworks and grand piano decorating.




Crafts and handmade covers for piano decorating
Marvelous crochet designs, elegant fabric covers and painting ideas are fantastic ways to create unique room decor, blending elegance, fashionable attitude and traditional crafts into contemporary room decorating. A classic or contemporary, new or used grand piano in the living room benefits from modern decorating accents, floral arrangements, cases or crochet patterns.
Contemporary textile sculptures and craft ideas for recycling used clothing
Beautiful piano painting ideas can add originality and glamor to modern room design with a piano. Creative craft ideas, painting and decorating with sheer fabrics are excellent ideas for personalizing room decorating.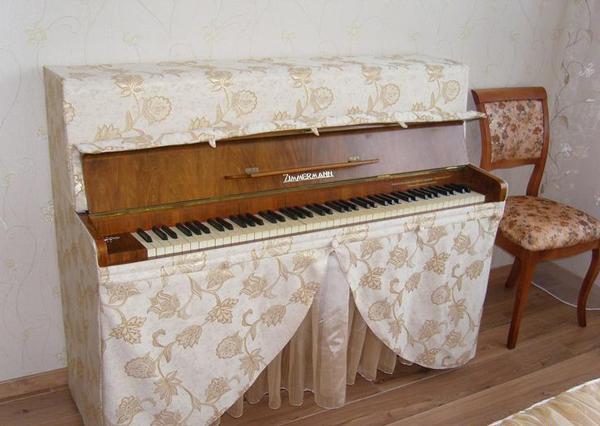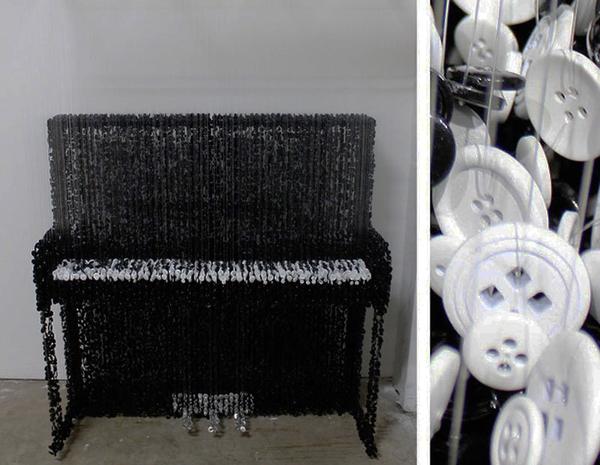 Painting ideas for piano decorating
This fabulous white grand piano with blue painting was presented at the International China Northeast Asia Import Fair in Shenyang, the capital of northern province of Liaoning. Gorgeous and graceful, made of Chinese porcelain grand piano is handmade and hand-painted with floral designs.
Blue paint for living room decorating
Exquisite grand piano decorating with blue paint, unique materials and charming flower designs make the piano look impressive, expensive and timelessly elegant. The combination of attractive large flower patterns, delicate decorating details, bright white and blue colors and ancient painting techniques created this fabulous piano and a  contemporary artwork that is worth of $68,597.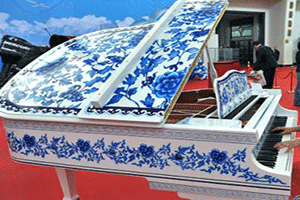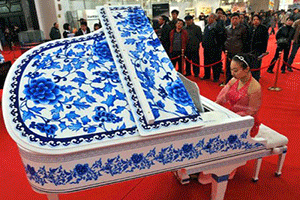 The biggest surprise is that the porcelain piano is a real grand piano. Blue flower designs were used to demonstrate one of creative ways of piano decorating. Flower patterns and bright white-blue painting ideas add chic and luxurious look to this piano which is a real musical instrument. The young Chinese pianist said, it was a pleasure to play the piano. She enjoyed the sound and beauty of the unique piano.
Unique decorating ideas
From log to keyboard stools and stylish chairs
The art of interior design, the future of the furniture
Food design, nature, talent, sensation and action ingredients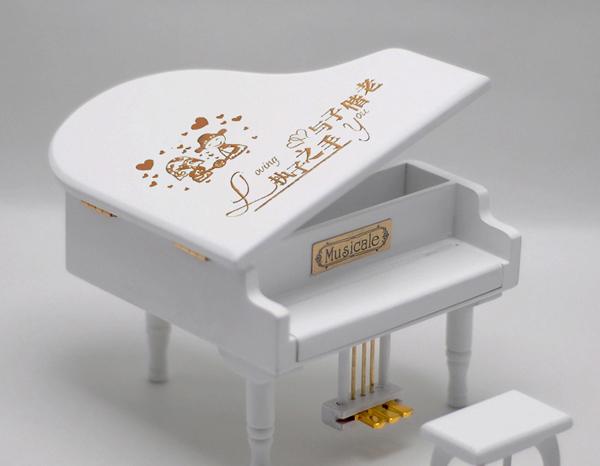 More from decorating design

Colorful handmade birdhouse designs look beautiful on green branches and garden posts. Creative painting ideas turn wooden birdhouses into bright yard...
and enjoy free articles sent to your inbox