Closet Storage Organization for Home Staging

Green Design Ideas

Home Organization

Home Staging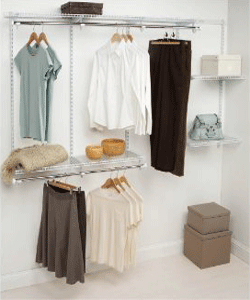 Clothes in the closet, organization ideas, organizing your home for home staging
closet organization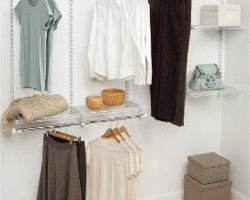 Traditional home staging advice is to declutter and organize your closet storage space, making your closet storage shelves look half-empty. With a few space saving closet hangers and closet organization ideas you will present your home properly, offering potential buyers plenty of valuable storage space.
Organize your home closet storage shelves while home staging, because your home storage solutions, size and your clothes storage design will be evaluated by potential buyers.  Bedroom closet storage  and shelves, bathroom and kitchen storage shelves are especially important for home staging to sell your property fast. When potential buyers are visiting your home, they can be in a 'maybe to buy' state of mind. If they find messy kitchen storage shelves, old fashioned pantry, cluttered and appeared small entry closet or inefficient home storage solutions, they may start to develop negative feelings about your home.
Organizing your home, tidying up clothes closet storage, shelves in the bathroom and kitchen increases your chance to sell the property fast and for better price. Functional storage systems in bathrooms and bedrooms, effective home storage solutions, spacious kitchen shelves, adequate home closet storage size, that allow proper storage organization, are among the top selling features buyers are looking for.
Closet organization ideas
Home storage solutions, clothes closet organization ideas
Clothes closet organization ideas, modern home storage solutions, built in storage systems
People want to have large closet storage with shelves and modern closet storage solutions. Prospective buyers want to see effective closet storage organization that they will enjoy after buying your home. People want to buy comfortable homes with a nice closet storage for linens and plenty of closet storage space in every bedroom, bathroom and kitchen.
Buyers want to find space saving modern closet storage solutions and storage ideas to enjoy in the future. That means you need to organize your home closet storage spaces, because the presentation of all your closet storage shelves is very important.
Home organizing ideas, modern closet organizers, wooden closet organizations ideas
Decluttering, proper home storage organization and home staging prepare your property for quick sale and sell your property fast for the best market price, if  you declutter and organize your closet spaces, arranging simple and functional storage systems and making your closet storage look like a closet in a hotel suite. Think of a stylish contemporary clothes store with almost empty shelves storage systems.
Organize your closet storage similarly, arranging identical clothes hangers in one direction. Take your time, group all similar clothing in the closet by type and color. Attractive closet storage organization with half empty storage shelves shows good potential of your home closets, properly presenting your home for sale, and helps sell your property fast.
Recommended:
Organize cable clutter: forget where sockets are
Kitchen organization for home staging
The list of common useless items that clutter your home
Clothes in the closet, organization ideas, organizing your home for home staging
Bedroom closet organizers and storage systems, modern home organizing ideas
More from storage organization

Here are great ideas for kids toys storage and wall decoration with small cars that everyone would love. DIY organizers, like...
and enjoy free articles sent to your inbox