Decluttering after Christmas in Two Simple Steps

Home Organization

Home Staging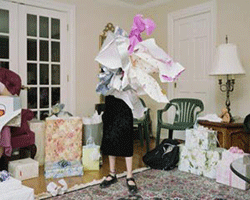 Declutter your home after Christmas holiday
organizing tips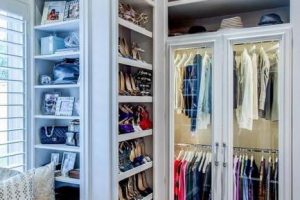 First weeks of January is the perfect time to declutter your home, organizing your storage and rooms, unless you had enough time to clear the clutter from your house before Christmas holiday. Still it is very likely that during Christmas holiday you collected few things that fall into useless things and home clutter items category.
It is important to declutter your home and get rid of clutter items, organizing storage closets from time to time. Maybe organizing your home storage does not look simple, but if you regularly declutter your home trying to get rid of useless items, then organizing storage spaces and closets becomes easier and more enjoyable.
Creating clutter free homes requires an inspiration and patience, because useless things can be attractive and do not look like things you want to get rid of. Home clutter items can be beautiful, rare and very expensive. The only problem is you do not need them. You want to declutter your home, get rid of clutter and continue organizing your home storage and rooms, taking  closets, attic and garage space back.
Declutter your home and get rid of useless things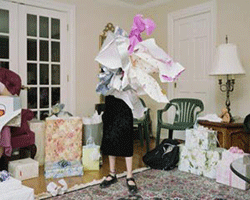 To declutter your home means to collect old gifts, worn clothing and old shoes, broken or uncomfortable clothing, clear the clutter from shelves and drawers, recycle or get rid of clutter items. (Look at the list of common useless items that clutter your home)
Useless things collect the dust and take your space. You want to declutter your home, organizing your storage, making more time for yourself and saving energy for more pleasant activities than rearranging and organizing your home again and again.
Even small useless things, gifts or clothing accessories require your time for taking care of them, rearranging and organizing your storage spaces. So it is better to declutter your home and get rid of clutter for good, and the sooner the better. (Creative kids room decorating with clutter)
Two steps to get rid of useless things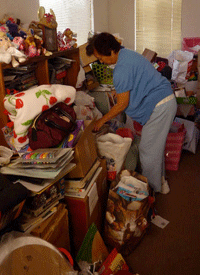 Your struggle with how to declutter your home can be broken into two steps:
1.   First, you agree that useless things create the problem in your house, take your space, time and energy.
2.  Second, you find the strength to collect them and clear the clutter from your storage and rooms, creating more spacious home interiors to enjoy.
Also you can declutter your home, decorating rooms with useless things, but still you need to get rid of those you can't use for your project. (Read about decorating empty walls with clutter)
Do you still think it is hard to declutter your home and get rid of useless things? Actually you can declutter your storage spaces and rooms fast and effortlessly, if you think that you declutter your life to gain more time for yourself.
Getting rid of useless things tips
Get inspired and begin to declutter your home storage, closets and rooms. Take a bag and collect 20 useless items, like a piece of paper, an old bobby pin or a broken pen, and get rid of them. Go around the house, look at your home items and ask yourself the following 10 simple questions: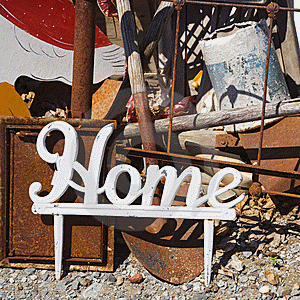 1. Do I really like these things?
2. Do I use them?
3. Is it really useful thing?
4.  Do I have the exact same thing?
5.  Do I have something better?
6.  Do I need two similar things?
7.  Do I love this thing because of emotional memories it brings?
8.  Does it make me feel guilty when I see it?
9.  Do I feel frustrated that these useless things are still in my home?
10.Do I smile looking at them?
Declutter your home and get rid of useless things and anything that does not make you smile. Love yourself and declutter your life to enjoy clutter free home storage, spacious rooms and comfortable lifestyle.
Home staging and decorating ideas
Bath accessories for luxury decorating and home staging
Clothing from closets for contemporary textile sculptures
Home staging property for quick sale before spring comes

Here are great ideas for kids toys storage and wall decoration with small cars that everyone would love. DIY organizers, like...
and enjoy free articles sent to your inbox