Feng Shui Home, Step 8, Ergonomic Kitchen Triangles

Feng Shui is the ancient Chinese philosophy of creating harmony with yin and yang energy, natural environment and ourselves, and find the balance that exist in every object. Fengshui for kitchen harmonizes modern interior design with comfortable ergonomic layout and relaxing Feng Shui colors. Feng Shui for kitchen offers calm, healthy, functional and pleasant modern kitchen design.
Step 5. Feng Shui dining room …
Step 6. Feng Shui for living room …
Step 7. Feng Shui colors and Chinese symbols …
Kitchen design and decor symbolize prosperity in Feng Shui home design. Good Feng Shui kitchen design is simple, peaceful, functional and comfortable. Feng Shui tips help create home design and decor that are balanced and pleasant. Ancient Chinese Feng Shui cures are used to correct unlucky interior design and create lucky Feng Shui kitchen layout, attracting the wealth and improving your health.
1. Ergonomic kitchen design, layout and kitchen location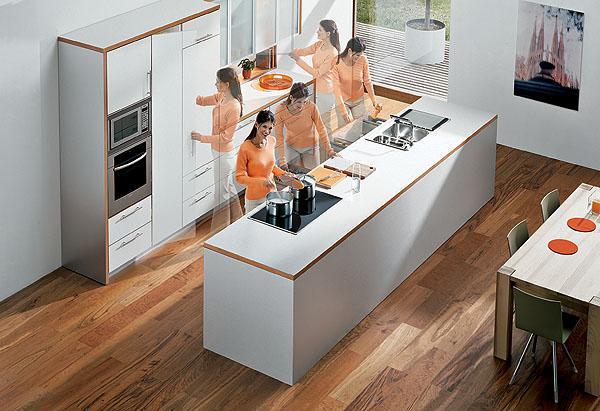 Ideally kitchen should be located on the back of the house, and visitors, coming into homes should not see the kitchen right away. If the front door brings people right into your kitchen, a few simple Feng Shui tips and smart kitchen design ideas can help Feng Shui your home design.
2. Feng Shui cures for open kitchen design layout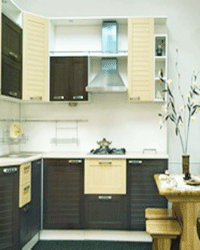 Light decorative fabrics or beaded curtains in your kitchens doorway help separate the kitchen from the front door and your entryway. Eye catching home decorations in a hallway or entryway, something bright and interesting, that takes all the attention away from your kitchen, work as Feng Shui cures for open kitchen design layout.
Modern kitchen, simple and sleek masterpieces
Am imaginary triangle, connecting the front door and entry with your kitchen and a colorful Feng Shui cure, takes the attention from the kitchen and protect it. Feng Shui cures add more interest to entryway decorating and fengshui kitchen design in a natural and pleasant way.
Attractive entryway design ideas, like stylish floor decor or a table lamp, a large wall mirror in a beautiful frame or beautiful Feng Shui pictures on the wall, will be noticed first when guests enter your home, Feng Shui home design experts explain.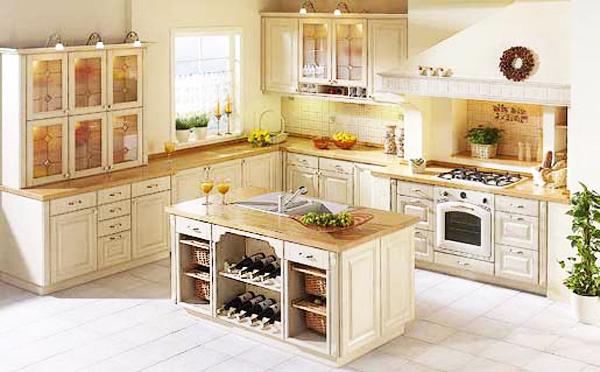 3. Feng Shui kitchen with colors
Neutral and light, soft and pleasant Feng Shui colors are perfect for attractive and harmonious kitchen design and decor.
Feng Shui home for wealth with fish tanks
Fengshui kitchen colors, Feng Shui for wealth and prosperity
Peaceful and relaxing Feng Shui colors, especially green and blue color tones, comfortable brown and creamy white or yellow colors, used for decorating your entryway and kitchen, help Feng Shui your kitchen design and allow the energy flow to travel freely through your home interiors, protecting your living spaces and attracting wealth.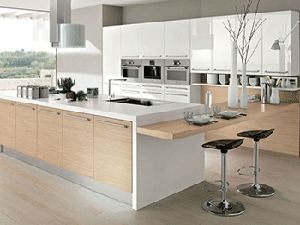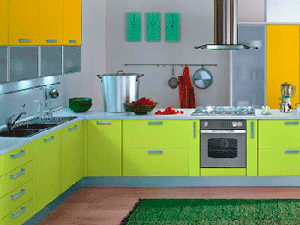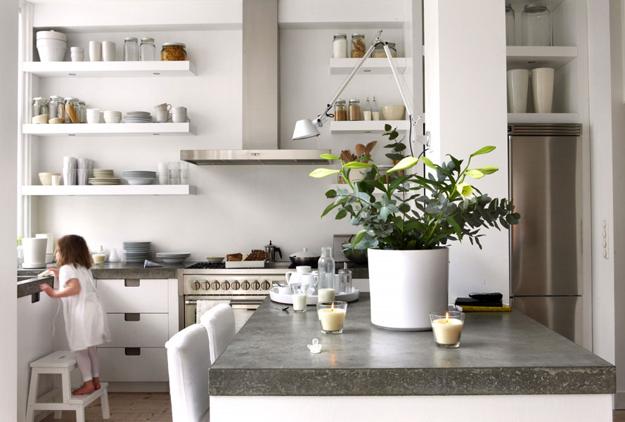 4. Feng Shui kitchen design with ergonomic layout
Good Feng Shui interior design channels the life energy through home interiors. The main element of Feng Shui kitchen design is a comfortable layout and good Feng Shui placement of three appliances, – your sink, stove and refrigerator. Good Feng Shui kitchen layout depends on the right arrangement and furniture placement, which create functional and ergonomic triangles and make modern kitchen design more comfortable.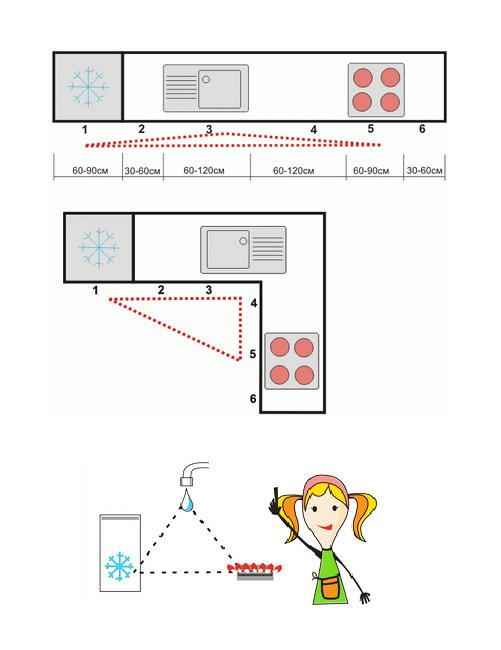 The comfortable distance between the fridge and stove, or the fridge and sink should be 1,5 – 2 m or 5 – 6 ft. Modern kitchen islands with sinks are ideal for creating ergonomic kitchen design. Good Feng Shui for kitchen requires creating imaginary ergonomic triangles, which are not only convenient for work, but create attractive kitchen design that is balanced with the Fire element – your stove, and Water element – your sink and fridge.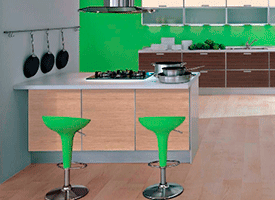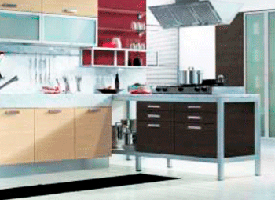 5. Kitchen cabinets and soft corners and edges to Feng Shui kitchen design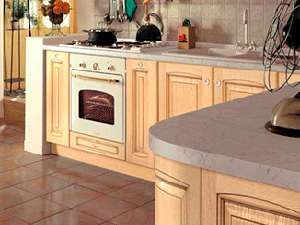 Kitchen furniture, shelves, cabinets, countertops, kitchen islands and dining tables, stools and chairs, that have rounded soft corners and edges, Feng Shui kitchen design and improve the entire home energy balance.
Rounded corners and soft edges allow the life energy to flow freely through home interiors. Selecting low storage cabinets and avoiding bulky and heavy wall-mounted cabinets that can create an oppressive effect, help Feng Shui kitchen design and create spacious and attractive space.
Decorating ideas to Feng Shui home
Room decor with stylish stripes illusion
Decorating interior in sky blue for spacious look
Ergonomic kitchen design ideas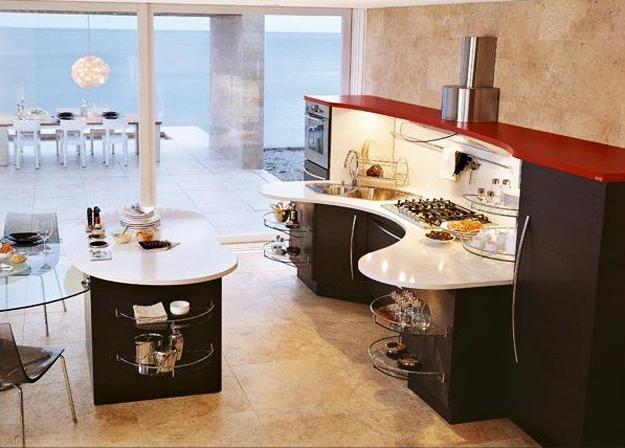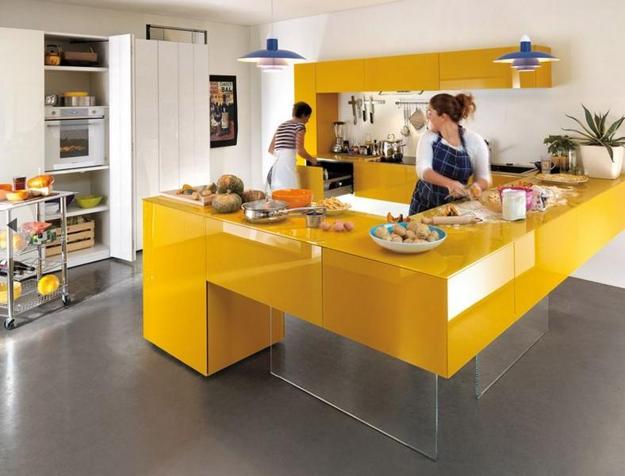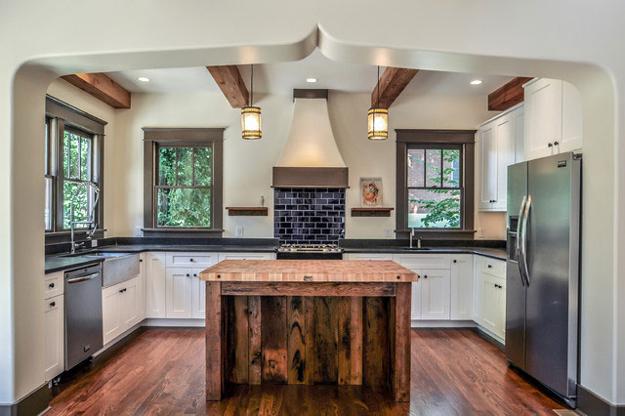 More from interior design

Bright home interiors and amazing views of the ocean make this beach house a dream place. Large windows, light, neutral room...