Green Office Interior Design, Healthy Environment

Decorating Green

Furniture Accessories

Home Office

home office designs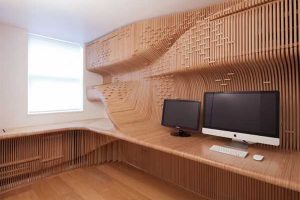 If your eyes are tired from computer work, looking at green room decor accessories, green wall paint, wallpaper or art work helps human eyes relax. Adding green home furnishings to your office interior, living room or bedroom designs, decorating your walls with green wallpapers or wall paint colors create peaceful and pleasant environment and helps your eyes stay healthy. (Green room decor miniatures)
Placing a small indoor plant on a desk, or hanging green landscape painting next to your computer workstation are simple ways of creating beautiful and healthy home office interior design. Adding a green mouse pad or photographs of the forest above the lake make home office interior look interesting, pleasant and relaxing. (Green color for room decorating)
Blue-green ocean waves, beautiful fish ponds or yellow-green grass fields are great for your eyes and mood. Every time you feel tired, look at green room decor items or office walls, decorated with green wallpapers or paint colors, take a minute and feel pleasant relaxation.
Blue-green shades and wall paint colors,brown-green room decor
Also green wallpapers, wall paint colors and green office decor accessories help people concentrate. Green color improves the ability to assess problems and solve them, psychologists say. Green color shades are perfect for an efficient office interior design.
Green colors are easy for human eyes and excellent for large office surfaces, like walls, curtains and carpets, or small room decor accessories, – lamp shades, mouse pads, pens and indoor plants pots.
Classic office interiors, green leather furniture and indoor plants
It is a good idea to decorate home office interior with small indoor plants, like fern or maranta plant that clean the air and do not require a lot of light or care.
Green indoor plants create a pleasant spot for human eyes to rest and make office interior eco friendly, peaceful and healthy.
Small spaces, home office interior design ideas, green wallpaper and curtain
Green colors for office interior design
Traditionally the combination of gold and dark green colors is perceived as rich and respectable. Emerald shades of green color with light or dark brown wood furniture only increase the impression.
Office interior should feel inviting, comfortable and professional. Green colors, used for interior decorating, make office interiors more  productive and pleasant.
Green wall paint, small office, contemporary interior design ideas
Green wall paint, modern computer workstation and wall decoration
Light green color shades, combined with beige and white are perfect for traditional and contemporary office look, rich tones and room decor accessories in bright green colors are perfect for creative office interior design that artists and designers appreciate.
Light green wall colors, green landscape paintings, photographs, prints or wall art pieces warm up the workplace, bring a splash of fresh color and add beautiful accents to healthy office design.
Small spaces, green office interiors, green wall paint
Green office furniture paint, small home office, healthy interior design ideas
Small indoor plants, green room decor accessories and green office furniture pieces are important elements of creating healthy office interior that looks inviting, efficient and stylish.
Office interior design ideas
15 interior design tips for healthy office
Home office furniture, ergonomic elegance
Home office interior design, big concepts for small spaces
Traditional office, wooden office furniture, yellow-green sofa, modern interior design ideas

Here are great ideas for kids toys storage and wall decoration with small cars that everyone would love. DIY organizers, like...
and enjoy free articles sent to your inbox