Large Bookcase, Sliding Bookcases and Shelves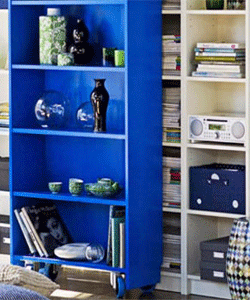 Blue shelves, sliding on rollers, contemporary bookcase design ideas
DECORATING SMALL APARTMENTS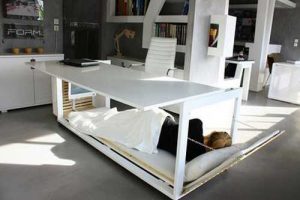 Sliding door bookcase design saves space. Made of glass or attractive wood, sliding door of a bookcase is an attractive and convenient detail of storage furniture design. Contemporary large bookcase design includes few sliding bookcases, providing plenty of invisible storage space and decorating home interiors in style.
A large bookcase design, that includes rotating or sliding solid wood shelves or tall bookcases is a great space saving option for a large library collection. (Look at stylish design ideas for home book shelves and personal library decorating design.) Tall solid wood shelves are hidden behind front bookcases and shelves. Few home bookcases together make one large bookcase design, – double wide bookcase,  triple or quadruple wide design for home office, family room or library storage.
The depth of sliding bookcases and shelves, located inside of a large bookcase, is equal the width of an average book. Space saving large bookcase design can include two or three rows of sliding door bookcases and shelves, utilizing available space to a maximum. (Look at space saving stylish ideas for kids bedroom.)
Contemporary shelving units design ideas, sliding door bookcase design
Double wide bookcase, solid wood storage design, sliding door bookcase
Solid wood bookshelves are durable and can handle a heavy load. Each tall narrow bookcase, that is hidden inside, is designed to slide effortlessly for easy opening and convenient storage. (Wooden bookcases, tall bookcase design.)
Open sections of a wide bookcase can decorate a room with collectibles or beautifully arranged photographs, house plants or decor accessories. Closed sections provide hidden storage for hard to organize small items.
Sliding door bookcase design, three row shelving, space saving design ideas
Sliding on rollers contemporary bookcase design
A large bookcase can be custom made to fit a room's size and shape. In home office a wide bookcase design offers stylish storage and organization solution for small items and documents. Sliding bookcases and shelves are ergonomic storage furniture items that allow to change room decorating style and create a fresh look in no time.
Interesting:
Kitchens: shelves decorating with food, eco style storage
Modular shelving, wall decorating ideas
Urban home book shelves design, office decorating ideas
Sliding door bookcase design, solid wood, sliding home bookcases, double wide bookcase design
Large bookcase design with wooden shelves, modern furniture design ideas
More from storage furniture

The Geometric House is the design by Kagan Taylor and Justin Rice of Knowhow Shop. Located in Los Angeles, the small...