Wooden Bookcases, Tall Bookcase Design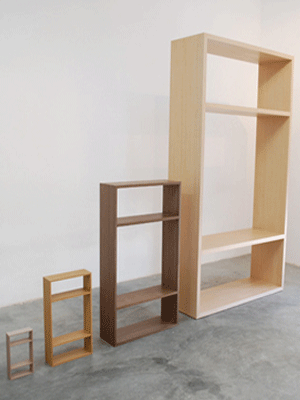 Wood shelf collection, contemporary furniture for decorating, storage and organization
DECORATING SMALL APARTMENTS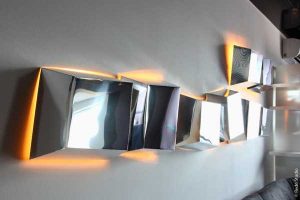 There are several ways to create practical and attractive book storage design in the living room, kids room, family room, library or home office. Contemporary bookshelves in sliding or rotating wood bookcases, traditional wooden bookcases with glass doors and strong wooden bookshelves are functional, elegant and maybe best choices for book storage and organization. Modern bookcases offer sliding bookshelf designs and adjustable shelves height,  making tall bookcase design comfortable. Sliding door bookcase design saves space.
Contemporary shelving units and mounted on the wall shelves add functional storage and organization design to room decorating. A tall bookcase visually increases the ceiling height. Also a tall bookcase with wooden shelves offers attractive, inexpensive, space saving book storage and organization solution. The depth of wooden bookcases, shelving units and open wall shelves, equal to the width of an average book, is perfect for practical contemporary bookcase design.
Wide and tall bookcase design
Latest tall bookcase design trends include few rows of wooden bookshelves, one behind another, providing good storage and organization solution for books, magazines or documents. Also there are modern bookshelf designs and stylish shelving units that remind interior design and room decorating trends in 70-80s. A low room divider bookcase  or tall bookcase design was used for zoning. Dividing room space with an unusual rain curtain, handmade beaded curtains with crystals, open shelf wooden bookcases or contemporary shelving units, decorated with books, collectibles and modern accessories, are in style again.
Tall bookcase design with wooden shelves, three rows of contemporary bookshelves, space saving wooden bookcases, modern storage and organization solution
Interesting bookshelf designs are developed by Hans Tan Studio in Singapore. Shelving units include few bookshelf designs of various sizes for creating a unique, personalized tall bookcase.
Then wooden shelves can be decorated with books, house plants, collectibles or interesting decor accessories. Simple wooden bookcases look great, and together are offering eye catching contemporary bookshelves design, beautiful storage and organization solution for books and stylish furniture design for modern room decorating. Made of plywood, various wood veneer or solid wood, bookcase design set is an art work itself.
Storage furniture for home office or living room decorating ideas, unique tall bookcase design
Wooden bookcases collection, contemporary furniture design for decorating, storage and organization
Various bookshelf designs can be arranged together or separately for creating a tall bookcase or shelving unit for storage and home office or living room decorating in style.
Contemporary furniture design for personal room decorating ideas, www.hanstan.net
Modern room divider bookcase, creative contemporary bookcase design
Another modern tall bookcase design is from www.inewidea.com. Made of wood, tall bookcase with solid wood shelves is perfect for short people and kids. Wooden bookcases with a ladder are very convenient, so fans of transformations and modular storage  furniture design will enjoy these interesting wood boxes-shelves design.
Wood boxes-shelves design, solid wood furniture, sliding ladder steps design
Tall shelves design, made of wood boxes, storage and organization solution
Access to the top shelf of a tall bookcase, especially shelves design stretches to the ceiling, is not easy. Instead of bulky ladder design, that requires storage and organization also, a sliding bookshelves design for Ladder Bookcase solves the problem. Easy to build a bookcase is a great storage and organization solution and a simple diy project for creating tall bookcase design with convenient shelves.
Recommended:
Modular shelving, wall decorating ideas
Home book shelves: personal library decorating design style
Kitchen organization for home staging
Solid wood storage furniture, practical modern bookcases for home office, library or living room decorating ideas, wood boxes for steps

Here are great ideas for kids toys storage and wall decoration with small cars that everyone would love. DIY organizers, like...